« October 2008 | Main | December 2008 »
November 30, 2008
Almaty views
The view from my hotel room in Almaty wasn't particularly great as it looked east and not south. Still, even if it had looked in the right direction it wouldn't have given me the view I got by looking out of my window as there was another building and trees blocking the front!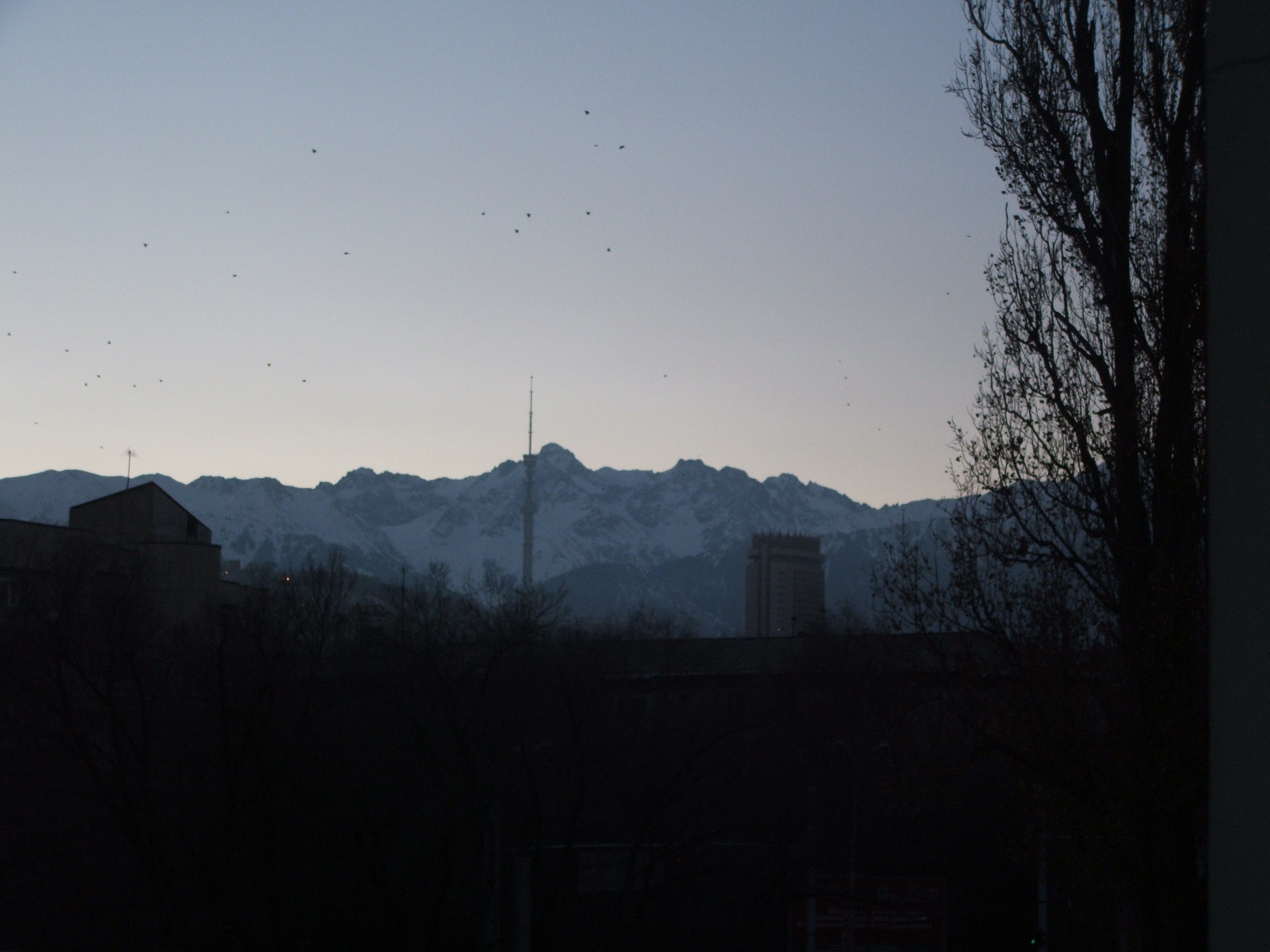 Early morning view from my window in Almaty, the sun strikes the peaks just south of the city.
The mountains are about twenty minutes drive from the hotel and the drive is a precipitate one in terms of the climb. The city is at an altitude of about 900 meetres, but Medeo, the Ice Stadium in the mountains is at around 2,500 metres and there is a ski resort at Shymbulak above the Medeo "Dam" which is at 3,500 metres. You can watch the temperature fall as the car climbs into the mountains - it was 11*C in Almaty when we started and -3*C at Shymbulak. In distance terms, the two points are around 10 kilometres apart.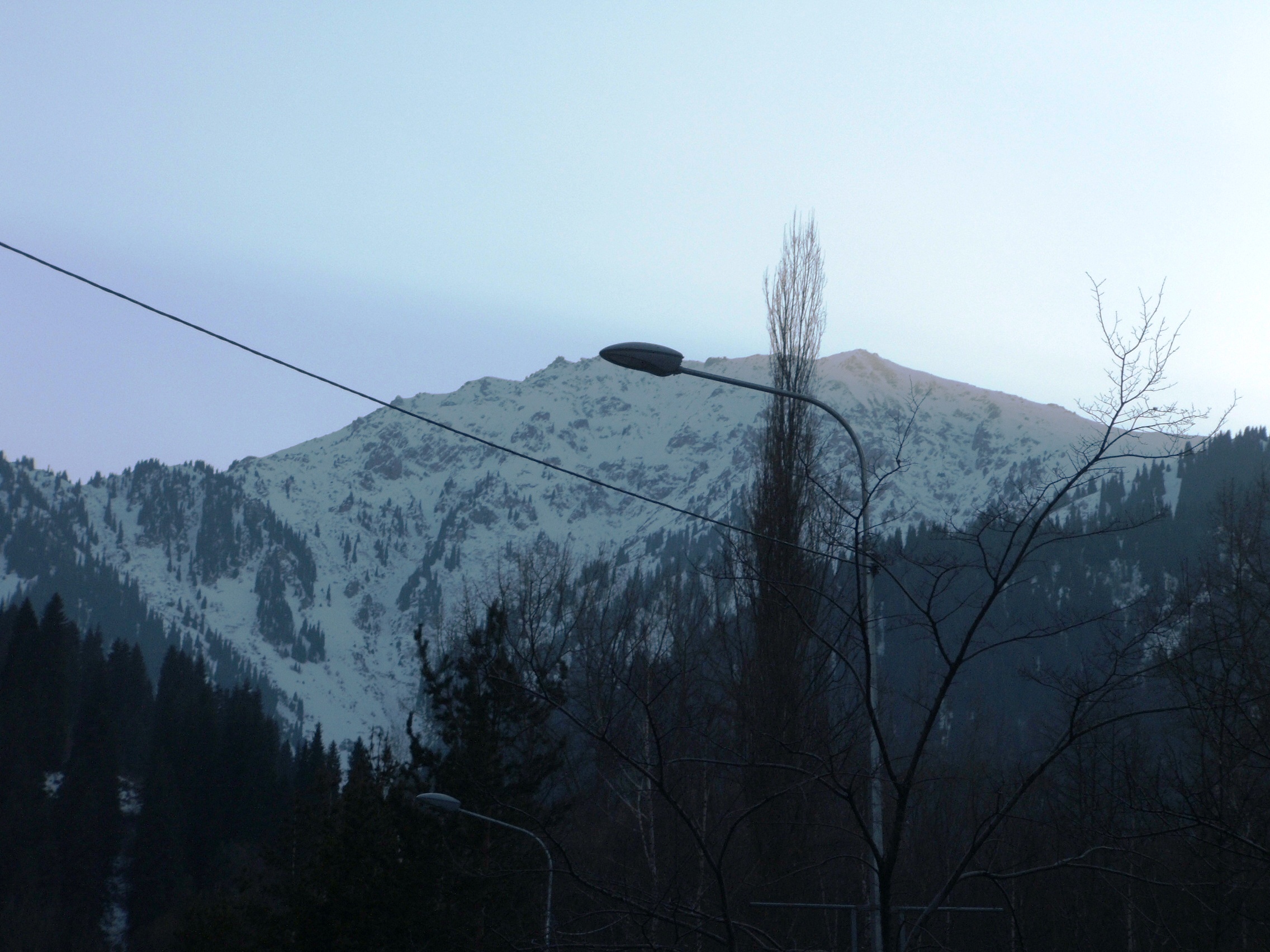 The peaks seen from below the Medeo "Dam" - which there to hold back snow, not water!
Spectacular scenery and really worth the effort to visit - but the road is definitely not for the inexperienced or the faint hearted. Kazakh drivers apart, you do need 4x4 power and a very steady driving style. There is a lot of ice on the road despite ploughing, and much of it is hairpin bends as you climb a long way in a short distance. As I said, not for the faint hearted.
Posted by The Gray Monk at 08:53 PM | Comments (0) | TrackBack
November 29, 2008
Playing catch up
Today has been a busy one, playing catch up. The last few weeks have kept me busy and away from home so that has meant a number of jobs didn't get done when I would normally have tackled them. So today was "catch up" day. I'm happy to say that I am now almost caught up. And I've made a start on the Christmas cards ....
Trouble is, there is still a couple of bigger tasks to be dealt with, ones I couldn't deal with today because they need a lot more concentration and attention to detail - so they will have to be tackled from Monday onwards. But I'm getting there.
Anyhow, that, I'm afraid, is it for today, one of those days when there ain't much to say!
Posted by The Gray Monk at 08:43 PM | Comments (1) | TrackBack
November 28, 2008
Back to normality - almost
Depends I suppose on what you call normality. At least I'm back home and trying to catch up with everything that has been waiting for me here at home. There is certainly plenty needing attention.
The contrast between Almaty and here is a lot more than simply the difference in location and climate, and believe me it's cold there. You notice it as soon as you step out of the direct sun, the temperature in the shade is a lot lower than the sunny areas. Partly I guess this is due to the altitude, after all Almaty is roughly 900 metres above sea level, but the other part is that it is right on the back edge of the Himalayas - and they have a neat blanket of snow. There it is cold a dry - the Gobi Desert is a bare couple of hundred miles to the East - but it is also exposed to the North and, as I discovered yesterday during the flight home, Astana, the new Capital City (and it is new - barely 10 years old, all of it!) is a good two hours flight from Almaty. And where Almaty had some snow in shaded spots, Astana had snow. All of it. And a wind that didn't even make the attempt to go round you, it just drove straight through without even nodding. But then, Astana is on the Southern edge of Siberia.....
It was an incredibly long day. There is a six hour time difference between Almaty and here, plus six hours flying between Astana and FRankfurt an hour and half waiting at Frankfurt and another hour flying to Heathrow, plus two hours from Almaty to Astana and the waiting around at both airports for flights ..... In short, I was up at roughly 0230 GMT and got home at 2330 GMT last night. Then the Jetlag kicked in - and I didn't manage to get to sleep until around 0200 this morning - only to wake again at 0630 because Madam insisted!
Ah well, at least I have managed to get the laundry done, to sort out the mail and a couple of other things, cleaned and tidyied a bit and tried to make a few calls to sort out next week. At least the news on my brother's hip is good, he's back on his feet again and feeling a lot more content with life, the universe and everything.
OK, back to the grindstone - the last of the laundry needs hanging and the temperature is falling fast round here.
Posted by The Gray Monk at 03:03 PM | Comments (0) | TrackBack
November 27, 2008
Sleepy Times
This is the time of the year when cats start to go into hibernation. Yes, alright, we do need more sleep than the average human throughout the rest of the year but during hibernation we can barely stay awake long enough to gobble up all the food we need.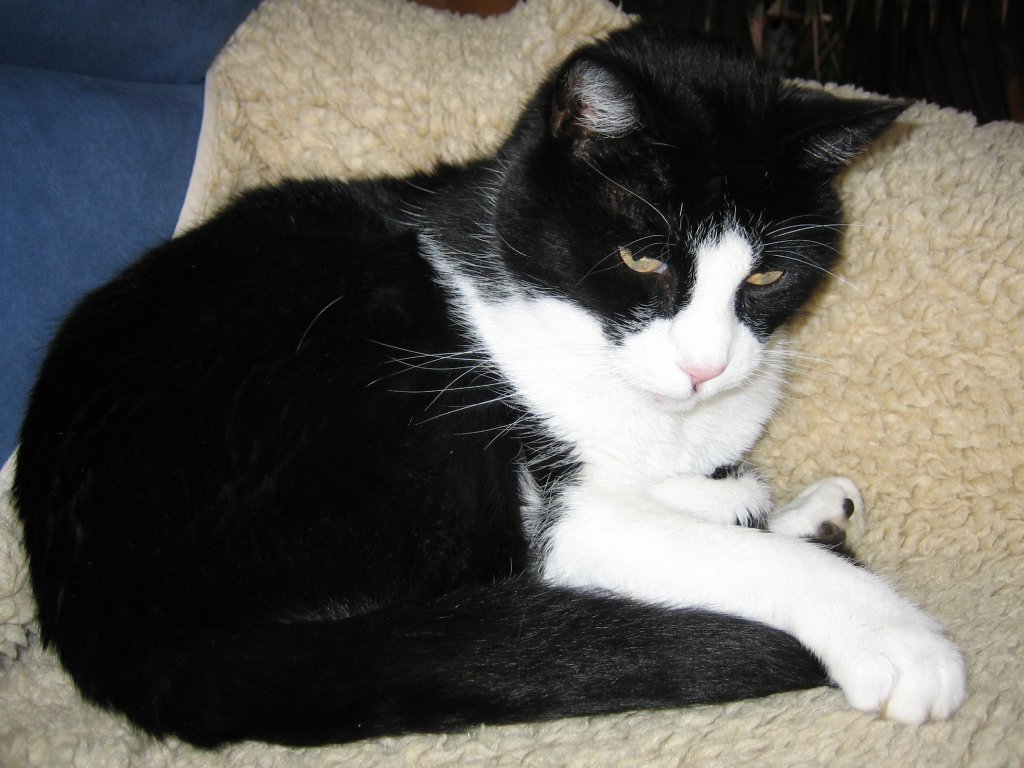 Me, sitting on the sofa contemplating my next move...
There's nothing outside to capture our interest any longer. The mice are deep down in their comfy burrows and hardly ever venture to the surface for the next three months. And who wants a small bird? All feathers, bones and no meat! And what's more: already this year that white fluffy stuff is covering the ground - makes your feet ice cold and your belly wet. Arrrrrgh!
I like to spend my days indoors on the sofa and the nights on a bed. Then I'll do a quick patrol in the morning - can't have the other cats in the village getting ideas, you know - then come back to a full breakfast and off to sleep again... That's what I call a cat's life!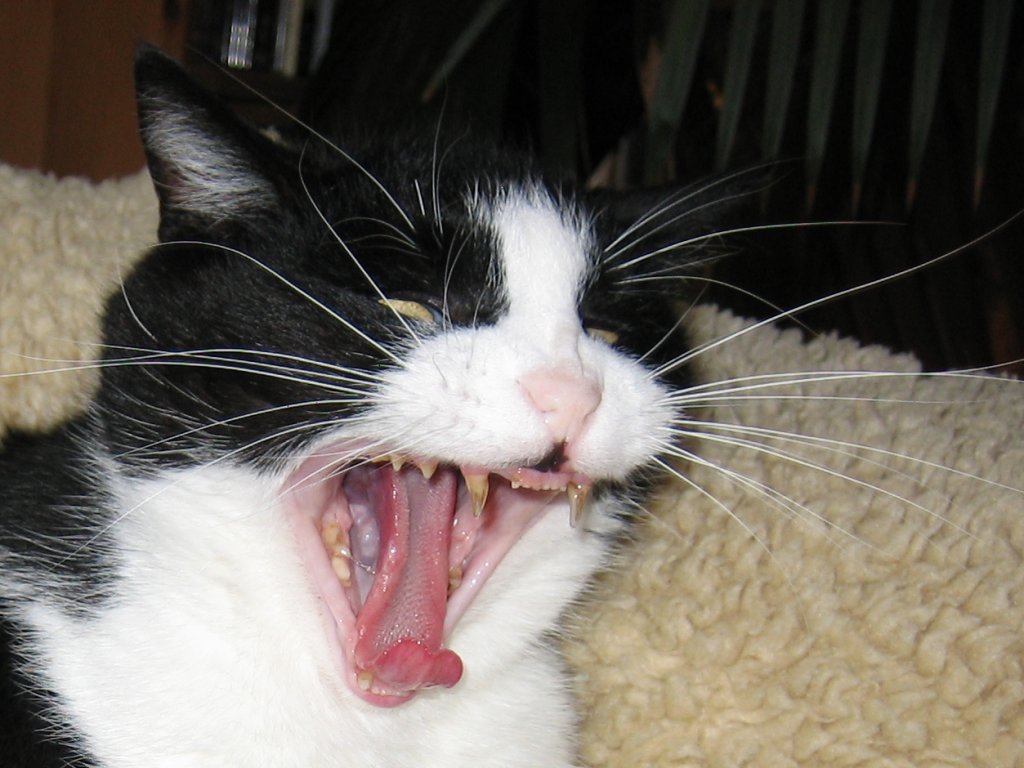 Only had 22 hours of sleep today, no wonder I am yawning my head off...
Posted by Mausi at 07:35 PM | Comments (0) | TrackBack
November 26, 2008
Report from Kazakhstan
The Conference has just closed and I am now waiting to be collected and taken for a brief excursion into the mountains to the South. Almaty is a strange city in one sense, situated in an ancient tribal nation, it is a twentieth Century plantation. Growing out of a border post garrison established in the nineteenth century it has become and industrial and commercial centre. During the Soviet years it was the capital and was also used as a place of exile where anyone considered to be not "Politically Correct" as far as the Communists were concerned, was sent to cool their heels far from the media or the risk of being able to 'infect' anyone else with their ideas.
Today the city suffers badly from smog, a combination of industrial discharge and traffic, which, in a climatic area where wind is rare, tends to hang over the lower part of the city in a desne cloud. It is also a seismically active area, so the city suffers regular damage - in 1912 it was flattened entirely - and the buildings ad the roads show some of the marks of this.
Historically it is important in that it occupies a place where the Akim Khans met their tribesmen in regular 'court' to settle ownership of horses and cattle, decide on marriages and hear complaints. In pre-recorded history it was also the spot where successive tribes of the nomadic people who lived here, buried their dead and built burial mounds. It is now a city trying to regenerate itself and high-rise buildings are the order of the day. There are 167 high-rise structures already and construction or planning taking place on another 32. Enormous investment is being made here, but a striking feature is the absence of supermarkets. There are high class shops and hotels, and plenty of flats, hotels and small shops and markets at the other end of the scale - but nothing in the middle.
At a formal dinner last night I was surprised to be presented with a golden statuette of the city's most famous find - the "Golden Man". A 3,000 year old burial find, the Golden Man was a young warrior dressed for burial in a suit of small gold plates all sewn together to make an impressive suit. Interestingly his head dress is identical to that worn until the Soviet era by the Khan and his retinue.
All in all an interesting visit, made a tad amusing by my having been televised during the presentation of my paper - and this morning being interviewed for Kazak and neighbouring Television news through an interpreter - so now I'm infamous here as well.
Posted by The Gray Monk at 07:36 AM | Comments (0) | TrackBack
November 25, 2008
Advent Calendar
Isn't it surprising how children can't wait to be considered grown up but at the same time cling fiercely to rituals established in their early childhood? Every year during the last week of November Mausi makes this experience with her nieces (13 and almost 15 years old by now).
Almost 15 years ago Mausi embroidered an Advent Calendar for her oldest niece. It's a winter landscape and 24 little rings were sewn into it to which little packages and parcels and be fastened. Mausi thought this calendar would probably keep the children amused until they went to school - but no, every year they are afraid Mausi might forget to send them a parcel with 24 little packages and ask their mother to give Mausi a hint, just in case...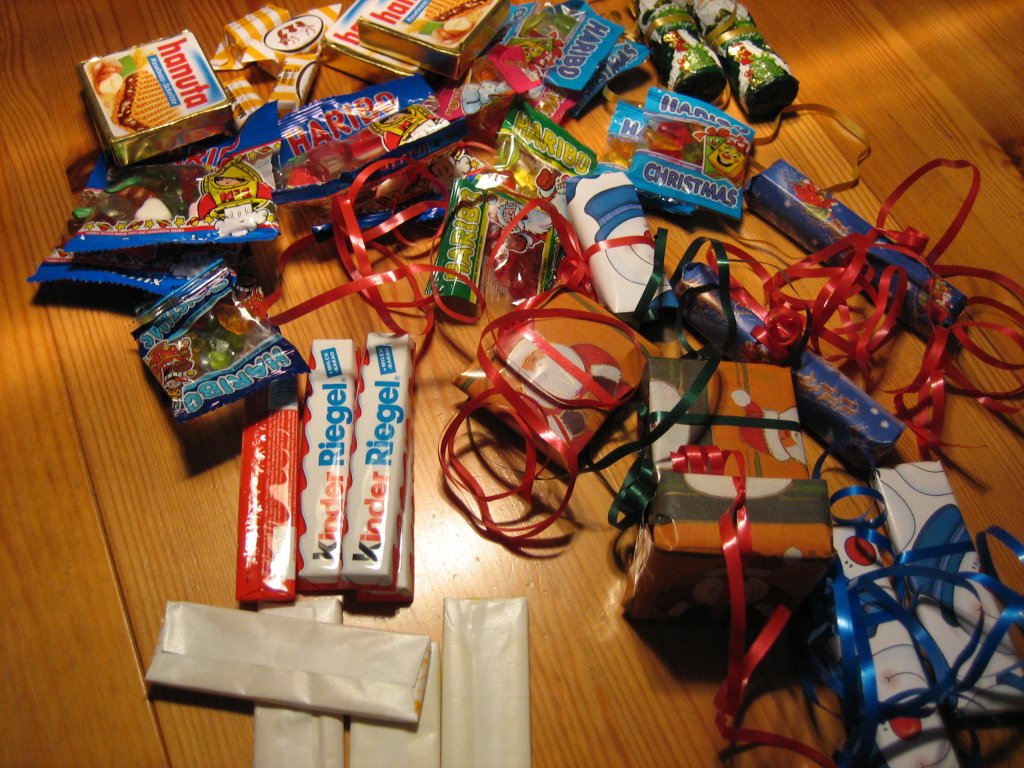 Although Mausi has a lot of experience by now wrapping up the goodies always is a time consuming task
Ah well, isn't it good to know your troubles will be appreciated in the end?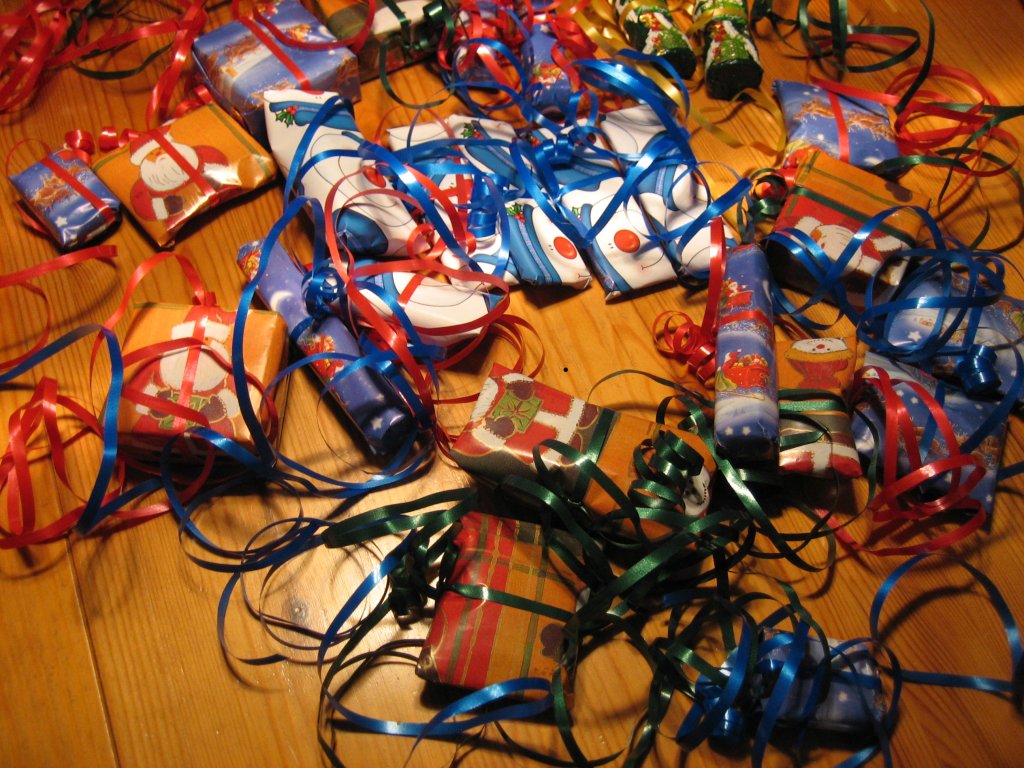 Everything done and ready to go by snail mail tomorrow. Phew!
Posted by Mausi at 07:06 PM | Comments (0) | TrackBack
November 24, 2008
One of those days...
Mausi has taken two days off to sit down at last and start writing the paper she will present at a conference in January. Plenty of time? Yes, but the deadline for the manuscript is December 12! As always, nothing ever goes as planned. Mausi had to leave the office early last Friday. There was a storm raging outside and a severe threat of snow coming down heavily and living in the lower Taunus Mountains Mausi thought it might be a good idea not to get caught in the woods in darkness with trees threatening to fall down on her car. Already the local fire brigades were on duty cutting up trees that were blocking roads in some places. So Mausi didn't finish some urgent work on Friday which she had to do this morning instead. That took most of the morning...
Now she's desperately waiting for inspiration to hit her. As ever in these situations Mausi tends to busy herself with unimportant details like trying to draw up a floor plan she is going to use in the paper on her computer. It's a real draw back if there are several drawing programs to choose from - finally Mausi made up her mind which one to use. Now it should be straightforward and downhill from here on.
Meanwhile Mausi is relieved to hear that the Monk has safely arrived in Kazachstan despite his fears in Heathrow of the Astana Airline's counter not opening up in time and of being left behind. Obviously all went well, he has secured a comfortable hotel room with a view of the snow capped mountains. He was the first speaker this morning but apart from giving the interpreter a bad time all went well and - as Mausi has pointed out to him - he will now be able to enjoy the rest of the conference... His hosts have even promised (or threatened?) him with a sighseeing tour on Wednesday. That will certainly be an interesting experience...
Posted by Mausi at 05:21 PM | Comments (0) | TrackBack
November 23, 2008
Technical Adviser
It occured to me the other day that Madam Paddy Cat hasn't featured on the blog in a year or more. Now a venerable old lady - she is pushing seventeen - she is getting a little stiff in the joints and a little less inclined to chase around. In fact she has some favourite napping places and changes around between them according to phases of the moon and the position of the sun in Taurus or whatever. And she insists on being wherever I am ....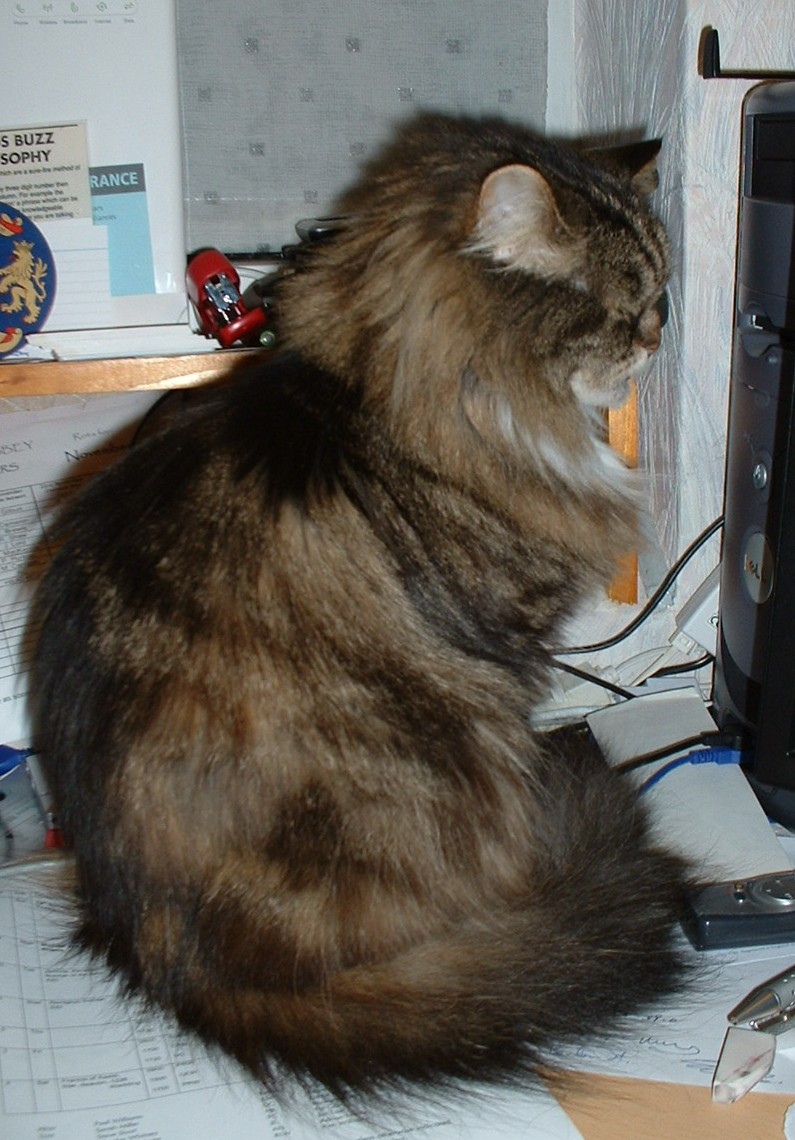 Madam ready to provide advice on my latest project.
Seventeen is a grand age for a cat - somewhere between 95 and 110 human years in real terms and yet she is still very active, very vocal and touchingly affectionate. Most of the local cats have learned to avoid my door when it is open in case Madam hurtles down the stairs and attacks in defence of her territory.
How many more years I shall have the pleasure of her company is an open question. I shall miss her terribly when the day finally comes even though her trick of cleaning my ears with her tongue and grooming my eyebrows when she can get me lying down can be a little startling and quite ticklish! Long may she continue.

Posted by The Gray Monk at 09:23 PM | TrackBack
November 22, 2008
To the East
The Monk is off travelling again. This time to Almaty in Kazakhstan which he has been informed is a bit cold at this time of the year. Not surprisingly one supposes as it is on the uplands at the back of the Himalaya mountain chain and on the Chinese border, though in Kazakhstan, once part of the former USSR.
It is a lengthy flight even with Almaty being seven and a half hours ahead of the UK, and he is due to arrive there at 06.35 local time on Sunday morning having left Heathrow at 17.15 today! Even with the time changes that's a long flight! Coming back is even longer for he leaves Almaty at 13.15 and returns via Astana (The new capital of Kazakhstan - Almaty was, but the capital moved!) and Frankfurt am Main.
There are apparently a number of very interesting things around Almaty and the Monk hopes to get to see at least one or two of them. He also thinks he'll be the first member of his bloodline to visit that region for around 40,000 years!
Posted by The Gray Monk at 08:47 AM | Comments (1) | TrackBack
November 21, 2008
Book launched
The sequel to Out of Time, The enemy is within, has finally been published. You can find it here, at Hallmark Press International's online shop and you can find it on Amazon.co.uk but not, at present on Amazon DOT com. Why the difference - its because Amazon has an exclusion policy on any book published by a Publisher who uses "Print on Demand" unless it is through their own "Booksurge" POD printers. To add insult to injury, my publisher tells me that Amazon also take a 60% cut of any book price - the norm in a bookshop is 35%! That, in turn, eats dramatically into the royalty paid to the author, so where the book is bought in a bookshop and the author gets £2 a book, from Amazon he or she gets an average of £0.15p! OK, so Amazon sell a hell of a lot of books - but an author would have to be a topseller to make anything out of the sale of their work through that little deal.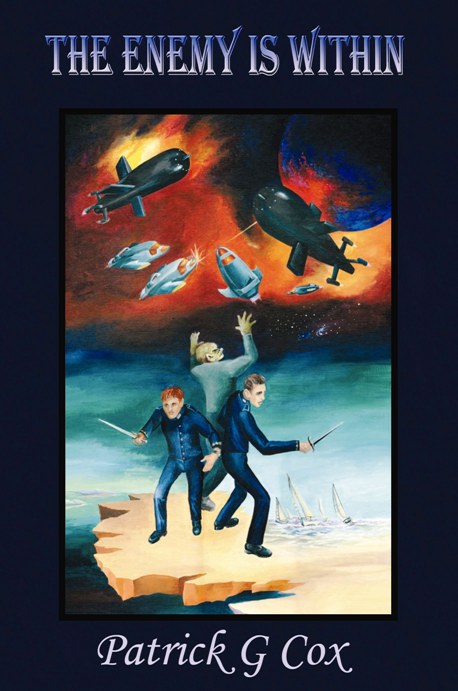 While I'm pretty sure this is "anti-trust" old fashioned "monopolistic behaviour and an effort to drive all other POD printers off the market, it is a problem for the publishers themselves rather than for the authors - except, of course, that it hits the authros rather hard if people can't buy their books.
I suggest that those who find they can't get it from Amazon should try ABE Books or your local bookstore, both will welcome your custom and both will order it if they haven't got it in stock. Neither will do an Amazon and refuse to order what they are obliged to list with a blatant lie beneath it.
Posted by The Gray Monk at 02:51 PM | Comments (0) | TrackBack
November 20, 2008
I hate motorways .....
Particularly I hate motorways full of slow moving trucks trying to overtake one another, and motorists who duck and dodge in and out of the three lanes as if it were some sort of old fashioned pinball game. Yes, I know the Highway Codes says one should travel always in the left hand lane, moving to your right to overtake and then ease back into the left hand lane. But the damned book was written in an age when the damned motorways were relatively empty of juggernauts crawling along bumper to buymper in the left lane - and there certainly weren't the number of cars on them either.
I do use the left lane when it is reasonably clear and I can see that I will not have to pull out of it again to overtake a juggernaut in a few hundred metres. What's the point of tucking in behind a juggernaut when you are travelling faster than it is able too and you know you will have to either slow down behind it, or overtake it in less than a mile? Yet that is what a surprising number of motorists in Britain insist on doing. The result is that they weave in and out of the traffic, changing lanes regularly and making driving for everyone else a nightmare. And then there is the idiot who screams past you, dives into the gap in front of you - and slows down. And my other pet hate, the clown who can't maintain a steady speed and increases his speed going downhill, then slows to a crawl going up the other side. I sat behind one man this evening who managed to straddle two lanes and slowed to 40 mph - to the huge frustration of almost a mile of traffic who got stuck behind him.
The real problem here is that there are very few alternatives to getting to some places without using your car. To get to Chester by rail would have taken six times longer by train than by car even in the traffic and involved a vastly overpriced set of rail tickets. It would also have involved two changes of train and then a taxi in Chester.
Anyway, I'm now home for the moment and preparing for my next excursion. I wonder what the traffic will be like on Saturday as I try to get to Heathrow and my flight to Almaty. Hopefully their traffic won't be as manic as our motorways! Mind you, if its anything like Iranian traffic .....
Posted by The Gray Monk at 07:23 PM | Comments (0) | TrackBack
November 19, 2008
Presentations
If Mausi had had any doubts left that quality management isn't about quality at all they were effectively wiped out this morning when she had to listen to a 4 (!!!) hour presentation about the differences between DIN 17025 and DIN 17020. OK, so the topic is not what Mausi would call "ripping" but it could at least be presented in a more interesting way. Instead the speaker, a quality management expert, seemed to be surprised by the content of at least 90% of his slides, kept jumping back and forth because he had forgotten to tell us something and apart from that the slides contained far too much text instead of focussing on the really important points.
Soon Mausi was bored stiff and allowed her mind to wander thinking how much things have changed ever since she gave her first presentation in the 1980's. Transparencies had just been invented and text and drawings had to be either written on them by hand or copied onto them in black and white. Despite having checked them umpteenth times for spelling mistakes one would spot the first as soon as the first transparency was put onto the overhead projector. And the time it took to put one's presentations together! Mausi's mass spectra would come out of the plotter and coloured ink and couldn't be transferred to the transparencies by a copy machine (only black and white at that time) so Mausi would redraw them in black ink which gave a much better contrast. A good thing Mausi likes drawing things....
Of course Mausi could have photographed them but slides are tricky things too. If one went to an international conference in a foreign country it was a safe bet that one's slides wouldn't fit the magazine of the projector and occasionally get jammed during the presentation. If one forgot to number the slides, the student who operated the projector was certain to drop them shortly before the presentation. How many wrong ways are there to put a slide into the magazine? Yes, SEVEN! It could get very funny at times, at least for the spectators.
Nowadays, one faces other difficulties: the USB stick refuses to talk to the computer, the link in the presentation can't call up the correct video clip, the presentation was generated by a different PowerPoint version and now suddenly the characters and bullet points look very different... And there are a lot more possibilities to make life interesting - or should one say harrassing - for the speaker.
Anyways, some way or other Mausi managed to survive this morning. Now she thinking about suitable entries on the feedback sheet she has been given...
Posted by Mausi at 07:25 PM | TrackBack
November 18, 2008
Hospitals as places of healing and rest ....
Not from where I'm sat, that's for sure, but at least I am currently inspecting one of the NHS's best. My brother on the other hand has just been discharged from one of Cape Town's oldest and, by the sound of it, most chaotic. His hip has been totally replaced, but they managed to dose him on so much of the pain killer that he went into hallucinations. According to him, at one point the ward tilted through 90* so that his bed was on the wall and he felt he was about to fall out of it and through the window opposite. Then there was the noise levels - and this is one of the features of Africa - certainly the Southern part of it. Nothing is done quietly, even at night and in a hospital. You must make as much noise as possible so that people know you are working and conversations should be held at noise levels which ensure that every word can be heard at least three doors away.
At least where I'm working the biggest problem is the visitors wandering into areas where they shouldn't be and trying to keep the patients suffering from dementia in bed.
My brother has now gone home after five days of very little rest and is trying to recover from a severe stomach bug and care for himself. As he says, you can't move fast on a zimmer and the bowels won't wait - but at least he has quiet and can get a little rest between racing for the loo! Hospitals these days don't seem to be about rest, resstant bugs are now endemic, a legacy of the abuse of antibiotics in the 1950's and 60's no doubt. Changes in the design of wards and the volume per bed have helped the heating bills and allowed more beds to be in smaller spaces - but it also helps the transfer of any bug that's running around. And, while the walls, floors and equipment you can see may be clean and bug free - you don't want to know what is lurking in te void hidden by the suspended celings...
Anyway, I suppose we should be glad that the hospitals are there, no matter how poor, for without them there would be nowhere for the sort of treatment my brother has just received to be delivered. It is't the sort of thing that can be done at home, nor even in a day surgery. All I have to do now is hope that his stomach can be sorted out so he can recover fully and get back to normal as quickly as possible.
These last weeks have reinforced in me the hope that when my time comes, I can go with dignity and in the peace of my own home. The thought of becoming a vegetable in some overcrowded and public ward fills me with horror. But then, that's me.
Posted by The Gray Monk at 09:36 PM | Comments (2) | TrackBack
November 17, 2008
Chester in my future?
Well, for the moment certainly. I have a contract to do some work that requires my presence in Chester most days of the week. Fortunately, this is the last week for the moment, but now a secondary contract has opened up and I'm likely to be required in Manchester doing similar work once I get back from Almaty in Kazakhstan. Actually, I have to say that I have found Chester a challenge and quite stimulating despite being hard work. It will be good to see it finished though so I can move on a try something new.
Almaty will be an even more interesting experience, partly because it is on the Chinese border and the old "Silk Road" trading route. It certainly seems to be an interesting place. I looked it up on the web and it boasts a magnificent burial site, from which a young man dressed in gold armour was recovered, which dates back at least 3,000 years. The site boasts Neolithic remains as well and has obviously been part of a human highway between East and West for as long as humans have travelled. It is claimed that finds as early as 10,000 years ago have been made in the archaeological study of some of the sites in this area.
Anyway, Almaty is a break from the "Chesters" at the moment, either Chester or Manchester is far enough from home to warrant staying in hotels or similar. And yet close enough to home to make that a nuisance. Guess I'll just have to count the paychecks and get on with it.
Posted by The Gray Monk at 09:09 PM | Comments (0) | TrackBack
November 16, 2008
Publishing update ....
Just as I was about to post today an email pinged in from my publisher. The pressure on the printers at this time of the year is impacting on the publishers. My book may now appear in print late in this week or early next. It will take another two to three weeks to appear on the Amazon site from experience and probably a week or more to appear on any other "online" book seller.
Oh well, at least the marketting will have gathered momentum by then - I hope. I guess I'm just a bit paranoid about this now, I've waited so long for this moment that I'm being very impatient, but I'm also very conscious of the cometition and when you have ventured as much as I have on getting this to the publisher in terms of time and effort, I'm naturally just a teeny bit anxious to see it actually selling and reaching an audience. Out of Time has done well without the big publicity machine behind it, with publicity I'm hoping that The enemy is within will do even better - and pull in some more sales for Out of Time in the process.
Well, back to reality I guess, I'd better get some more paying work done. Time to bank with the bank again, they seem to get ever so twitchy when they bank with me.
Posted by The Gray Monk at 05:17 PM | Comments (1) | TrackBack
November 15, 2008
The sound of life
A post on Da Goddess, currently being managed by a friend of hers while seh recovers from her surgery, set me thinking. Perhaps the answer to the Dawkins coterie is simply this - send them out into the wild places of the earth without all their material possessions and comfortable surroundings and put them in touch with the real world, the world that is revealed in the stillness of a desert night as the fire dies slowly and the blaze of stars across the heavens is almost dazzling. It is then that you begin to hear the slow pulse of the planet and the universe it is a part of - the "music of the spheres" or perhaps of life itself.
Take a look at the sentiments in this post at Da Goddess.
Posted by The Gray Monk at 11:42 AM | Comments (0) | TrackBack
Playing catch up ....
The downside of working away from home is that an enormous amount of stuff doesn't get attended to in the course of a day. Lots of little things that you would normally do as a part of your days routine simply aren't picked up - so, when you get to the weekend. Everything has to be squeezed into as short a time as possible. At least I'm getting through a lot as I let the washing machine run its course. Now to get down to some real work I guess.
I've a report to write and an article for a paying Journal to finish. Neither will do themselves and unfortunbately I haven't yet mastered the art of writing technical stuff while answering the phone, making calls and sending e-mails - all on the list of things to be done TODAY!
Sigh.....
Posted by The Gray Monk at 11:33 AM | Comments (0) | TrackBack
November 14, 2008
A little excursion in search of a visa ....
Last week I took my passport to the Embassy of Kazakhstan to apply for a visa - their consular section which deals with this is open between 0900 and 1200 on four days of the week only. Second, the don't offer a "same day service" even for those of us who have to travel considerable distances just to get it.
Perhaps I should explain that to get to London from my neck of the woods takes a minimum of 2 hours by train - no one in his right mind takes a car into central London if you don't need to! - and to get there between 0900 and 1200 means setting out very early. My train leaves Evesham at 0754 and arrives in London at 0935 and then you have the Underground to contend with. OK, so you would think that, even given the restricted times of opening, it should be a doddle to get the visa, even if it means posting the visa and passport. Er, well, normally - yes.
But apparently not at this particular embassy. An envelop was provided, the requisite fee paid to ensure it was posted "recorded delivery" and, as it would arrive while I was away in Chester, I had even arranged for the postman to deliver it to a neighbour. All to no avail - the passport failed to show up. The Post Office denied all knowledge, the Embassy failed to answer emails or the telephone (Perpetually engaged!) and so, it was off to London this morning to confront the consulate and find the passport even if it meant refusal of a visa and a "diplomatic incident".
Surprise, surprise, a brief search by their staff turned up the passport in the original envelop, with the story that it had been posted, but returned by the Royal Mail as "undeliverable" the following morning. Hmmmm, my Postie is a man who knows the score and he denies ever seeing it. Notably I wasn't given the chance to see the front of the envelop. My money is on its not having been posted at all.
Never mind, I now have the passport and the visa. So its off to Kazakhstan for me next Saturday. Hi Ho, I do get to the strangest and most interesting places sometimes and this will be no exception - as long as Messers Putin, Obama and Bush don't decide to start WW3.
Posted by The Gray Monk at 08:44 PM | Comments (1) | TrackBack
November 13, 2008
Good news
My brother is recovering, as I write, from a partial hip replacement in hospital in Cape Town. As he has no medical insurance, this has been an expensive operation costing something like SARand30,000, but it is a very necessary one. For some time now he has been suffering a lot of pain in the joint as he tried to walk. Now, hopefully, the replacement will give him at least twenty years without the problem. As he is four years younger than myself, it is a reminder that I have been very lucky in this regard.
His problem arises from having had secondary polio when he was around six, something no one spotted, though he ran a high temperature and displayed some of the symptoms. It was not until his 'teens that anyone noticed that the right side of his pectoral muscles had attrified - a sign of polio damage - and that his spine was also kinked due to other muscle damage. That has meant that for years he has been putting more strain on one hip than on the other - and the damage to the joint is the result.
Now all I have to pray for is that he has a speedy and uncomplicated recovery.
Posted by The Gray Monk at 08:27 AM | Comments (0) | TrackBack
November 12, 2008
Plenty of exercise
With Mausi in Bad Somewhere or other on important matters and the Monk in Chester, posting may become a little erratic. The Mon is busy in a major hospital trying to do a survey of their fire safety - a mammoth task given that this hospital sprawls over a large chunk of land. So far the survey has taken over several weeks, though the Monk only came into the task last week.
Its one way of keeping fit he supposes - to walk several miles each day along corridors recording all the equipment and safety features on plans that sometimes don't quite match the actual building. Which means, of course, that he then has to redraw parts of the plan so the changes can be made on new drawings to be produced from his work. Still, no complaints, they feed him well, give him a room to sleep in and he has a good colleague to work with. They should be finished by next week sometime - just in time for the Monk to depart for Almaty - assuming his Visa has arrived while he's been in Chester.....
Ah well, it pays the bills.
Posted by The Gray Monk at 10:40 PM | Comments (0) | TrackBack
November 11, 2008
On the road again...
Tonight Mausi's packing her suitcase again to spend the next two days deep down in Thuringia at a small town called Bad Liebenstein. Mausi is going there for a biennial workshop with her colleagues from the German Federal States. It is always a bit like the meeting of the Druids at the forest of Carnute. One meets colleagues one hasn't seen or heard from for some time, despite landlines, emails and other modern form of communication. Some of these colleagues have become good friends over the years and others not, as it is the way of the world. But it is always good fun to discuss with them what's new in science and catch up on a whole raft of other things. Thuringia was chosen as a meeting point because it is roughly in the middle of Germany, so even the colleagues from the far South and the far North can make it there in half a day. Let's hope all goes well and no trains break down or people get caught in traffic jams on the autobahn. We'll see.
The Monk is still very busy up in Cheshire. So blogging might be a bit erratic during the next two days. Mausi will have no access to the internet and the Monk might simply be too busy to find the time. Bear with him.
There's a bit of fun hidden for you in the extended post of today. Enjoy!

Imagine you have several people applying for a job in your organisation. How would you know where to put them? That's dead easy:
1. Put 400 bricks into an empty room.
2. Lead all applicants into this room and close the door.
3. Come back after 6 hours and and assess the situation:
a. If they have counted the bricks -> BOOK KEEPING
b. If they have counted the bricks several times -> REVISION
c. If they have distributed the bricks haphazardly about the whole room -> RESEARCH AND DEVELOPMENT
d. If they have arranged the bricks in an unfathomable way -> PLANNING
e. If they are throwing bricks at each other -> MANAGEMENT
f. If they are asleep -> SECURITY
g. If they have broken up the brick into small pieces ->IT
h. If they are just sitting there -> PERSONNEL
j. If they already have gone home -> MARKETING
k. If they are doing nothing but looking out of the window -> STRATEGIC PLANNING
l. If they are caught up in a heated discussion and not a single brick has been moved -> TOP MANAGEMENT

Posted by Mausi at 07:59 PM | Comments (2) | TrackBack
November 10, 2008
Which planet are politicians living on?
Mausi sometimes wonders, it can't be Earth, that's for certain. Now that the worldwide financial crisis is affecting national economies German politicians have come up with a brilliant idea to encourage people to spend real money instead of keeping it under their pillows and mattresses: buy a new car and get exemption from vehicle tax for the next one or two years depending on the type of car. Beg your pardon? That way one would save perhaps about 200 Euros a year. One could easily get that kind of bonus when buying a new car at any time not just now. Do politicians really expect us to spend twenty or thirty thousand Euros on a new car just to save 200? A German TV channel has carried out a survey among more than 11000 people and the vast majority flatly denied to buy a new car under these circumstances.
The politicians probably thought encouraging people to buy a new car would really help German economy because it is heavily dependent on the automotive industry. But they'll have to do a lot better than that. If they want people to spend more money they could lift the tax load a bit here and there. Mausi could give them lots of examples... First, of course, reduction of the number of politicians whose pensions we all pay for! Ah well, who would listen to a cat?
Mausi has read on the internet today that car dealers in other countries are equally desperate to increase their sale numbers. A dealer in Britain has offered cars on the internet for half price and sold a few. He then offered two cars for the price of one - and had 22000 people applying for that offer. Isn't it funny how we tend to think that getting one item at half price is not worth bothering whereas we must at all costs try getting two items at half price even if we only have use for one of them?
Posted by Mausi at 09:26 PM | Comments (0) | TrackBack
November 09, 2008
A world gone by - thrown away by spineless politcians and bureaucrats ....
A friend in Australia sent me this some time ago. Having read it I decided it should be posted here on the date in the poem but other things prevented it. So here it is.....

The Anzac on the Wall
I wandered thru a country town 'cos I had time to spare,
And went into an antique shop to see what was in there.
Old Bikes and pumps and kero lamps, but hidden by it all,
A photo of a soldier boy - an Anzac on the Wall.
"The Anzac have a name?" I asked. The old man answered "No,.
The ones who could have told me mate, have passed on long ago.
The old man kept on talking and, according to his tale,
The photo was unwanted junk bought from a clearance sale.
"I asked around," the old man said, "but no one knows his face,
He's been on that wall twenty years, deserves a better place.
For some one must have loved him so, it seems a shame somehow."
I nodded in agreement and then said, "I'll take him now."
My nameless digger's photo, well it was a sorry sight
A cracked glass pane and a broken frame - I had to make it right
To prise the photo from its frame I took care just in case,
"Cause only sticky paper held the cardboard back in place.
I peeled away the faded screed and much to my surprise,
Two letters and a telegram appeared before my eyes
The first reveals my Anzac's name, and regiment of course
John Mathew Francis Stuart - of Australia's own Light Horse.
This letter written from the front, my interest now was keen
This note was dated August seventh 1917
"Dear Mum, I'm at Khalasa Springs not far from the Red Sea
They say it's in the Bible - looks like Billabong to me.
"My Kathy wrote I'm in her prayers she's still my bride to be
I just cant wait to see you both you're all the world to me
And Mum you'll soon meet Bluey, last month they shipped him out
I told him to call on you when he's up and about."
"That bluey is a larrikin, and we all thought it funny
He lobbed a Turkish hand grenade into the Co's dunny.
I told you how he dragged me wounded in from no man's land
He stopped the bleeding closed the wound with only his bare hand."
"Then he copped it at the front from some stray shrapnel blast
It was my turn to drag him in and I thought he wouldn't last
He woke up in hospital, and nearly lost his mind
Cause out there on the battlefield he'd left one leg behind."
"He's been in a bad way mum, he knows he'll ride no more
Like me he loves a horse's back he was a champ before.
So Please Mum can you take him in, he's been like my brother
Raised in a Queensland orphanage he' S never known a mother."
But Struth, I miss Australia mum, and in my mind each day
I am a mountain cattleman on high plains far away
I'm mustering white-faced cattle, with no camel's hump in sight
And I waltz my Matilda by a campfire every night
I wonder who rides Billy, I heard the pub burnt down
I'll always love you and please say hooroo to all in town".
The second letter I could see was in a lady's hand
An answer to her soldier son there in a foreign land
Her copperplate was perfect, the pages neat and clean
It bore the date November 3rd 1917.
"T'was hard enough to lose your Dad, without you at the war
I'd hoped you would be home by now - each day I miss you more"
"Your Kathy calls around a lot since you have been away
To share with me her hopes and dreams about your wedding day
And Bluey has arrived - and what a godsend he has been
We talked and laughed for days about the things you've done and seen"
"He really is a comfort, and works hard around the farm,
I read the same hope in his eyes that you wont come to harm.
Mc Connell's kids rode Billy, but suddenly that changed
We had a violent lightning storm, and it was really strange."
"Last Wednesday just on midnight, not a single cloud in sight
It raged for several minutes, it gave us all a fright
It really spooked your Billy - and he screamed and bucked and reared
And then he rushed the sliprail fence, which by a foot he cleared"
"They brought him back next afternoon, but something's changed I fear
It's like the day you brought him home, for no one can get near
Remember when you caught him with his black and flowing mane?
Now Horse breakers fear the beast that only you can tame,"
"That's why we need you home son" - then the flow of ink went dry-
This letter was unfinished, and I couldn't work out why.
Until I started reading the letter number three
A yellow telegram delivered news of tragedy
Her son killed in action - oh - what pain that must have been
The Same date as her letter - 3rd November 17
This letter which was never sent, became then one of three
She sealed behind the photo's face - the face she longed to see.
And John's home town's old timers -children when he went to war
Would say no greater cattleman had left the town before.
They knew his widowed mother well - and with respect did tell
How when she lost her only boy she lost her mind as well.
She could not face the awful truth, to strangers she would speak
"My Johnny's at the war you know , he's coming home next week."
They all remembered Bluey he stayed on to the end
A younger man with wooden leg became her closest friend
And he would go and find her when she wandered old and weak
And always softly say "yes dear - John will be home next week."
Then when she died Bluey moved on, to Queensland some did say
I tried to find out where he went, but dont know to this day
And Kathy never wed - a lonely spinster some found odd
She wouldn't set foot in a church - she'd turned her back on God
John's mother left no will I learned on my detective trail
This explains my photo's journey, that clearance sale
So I continued digging cause I wanted to know more
I found John's name with thousands in the records of the war
His last ride proved his courage - a ride you will acclaim
The Light Horse Charge at Beersheba of everlasting fame
That last day in October back in 1917
At 4pm our brave boys fell - that sad fact I did glean
That's when John's life was sacrificed, the record's crystal clear
But 4pm in Beersheba is midnight over here.......
So as John's gallant spirit rose to cross the great divide
Were lightning bolts back home a signal from the other side?
Is that why Billy bolted and went racing as in pain?
Because he'd never feel his master on his back again?

Was it coincidental? same time - same day - same date?
Some proof of numerology, or just a quirk of fate?
I think it's more than that, you know, as I've heard wiser men,
Acknowledge there are many things that go beyond our ken
Where craggy peaks guard secrets neath dark skies torn asunder
Where hoofbeats are companions to the rolling waves of thunder
Where lightning cracks like 303's and ricochets again
Where howling moaning gusts of wind sound just like dying men
Some Mountain cattlemen have sworn on lonely alpine track
They've glimpsed a huge black stallion - Light Horseman on his back.
Yes Sceptics say, it's swirling clouds just forming apparitions
Oh no, my friend you cant dismiss all this as superstition
The desert of Beersheba - or windswept Aussie range
John Stuart rides forever there - Now I dont find that strange.
Now some gaze at this photo, and they often question me
And I tell them a small white lie, and say he's family.
"You must be proud of him." they say - I tell them, one and all,
That's why he takes the pride of place - my Anzac on the Wall.
A memorial I hope to all those who gave their lives to keep our freedom and to build a better future - a future squandered and thrown away by the wastralls and spineless policticians of every Western nation who could only think of their own comfort, avarice and the power they have stolen from the men and women who gave their all for our freedom ...
Posted by The Gray Monk at 01:27 PM
November 08, 2008
Blog Anniversary
It scarcely seems credible, but I have been blogging now - with gaps due to being out of internet access - for five whole years! The very first post on The Gray Monk appeared with the title New Toys on thie 9th November 2003. It has become almost a habit now to put up a daily post, even when I'm pushed for time there is that nagging feeling at the back of the mind that says, "do a post on the blog". Back then most of us were on dial-up or ISDN if you were really lucky, now we have WiFi and Broadband and the machine I use has memory measured in Gigabytes rather than the Megabytes of the first ones I encountered. Even the Processor speeds are now in Gigahertz!
I have to say that in the five years I have met a fascinating group of people - some, sadly, no longer of this world. Heather "Momma" Bare from Rochester, Massachusets blogged on here as "Church Mouse" for a couple of years until cancer took her suddenly. Other bloggers have succumbed to that scourge as well, several of them on my blogroll where I keep them as a sort of memorial to them. Then there is Ozguru who introduced me to blogging. He blogged at "G'day Mate" and has now moved on to blog under a new name at Catholic Down Under and is very involved in both his church life and in home schooling his kids and we are still in touch.
The Postulant blogged for a while here, and sometimes still comments, she is my eldest daughter of course. Then there is Mausi - we met at a conference several years ago in Poland and our friendship has grown out of our shared experiences at fire scenes, conferences and some really fun holidays here and in Germany where she lives.
Other Bloggers too have been fun to "meet" and to exchange ideas, comments and sometimes links. VWBug, of One Happy Dog Speaks in Florida, Da Goddess in San Diego, Andy, The Gorse Fox in Kingston Gorse, Seth of Hard Astarboard sometimes in Chicago but currently mostly globe trotting, and Skipjack at Skipjack DOT info. Cindy at Dusting my Brain, Susi at Practical Penumbra and Kathy at On the third hand (where Momma Bare also blogged.) and Andrew at Dodgeblogium.
These and many more have informed me, intrigued me or simply made me laugh or grin and I would hope that I have done the same for them along the way. One day I may find I no longer have the time or the inclination to do this, but I think its a way off yet! Thanks for all the comments and support - and for stopping by to read my ramblings occassionally!
Posted by The Gray Monk at 09:15 AM | Comments (4) | TrackBack
November 07, 2008
Sharia through the back door
In another blunder by a government that specialises in blunders, they have legalised Sharia Courts - by passing an Act with holes big enough to drive a double decker bus through it. Read the Timesonline article and mourn for the demise of Christian Western Britain.
Interestingly the same media circus that attacked the Archbishop of Canterbury for suggesting that elements of the Sharia could be used within our system, have remained extremely silent on this little issue. Equally interesting is that only one politician has so far denounced the development - but he isn't a member of the government.
So much for "One nation; one justice system." Watch this space, it could be the beginning of the end for the now fatally eroded "British Nation".
Posted by The Gray Monk at 06:49 PM | Comments (0) | TrackBack
Kazakhstan? Where's that?
Well, OK, I do have a vague idea. Somewhere behind the Himalayas and beyond the Caspian Sea. Sort of outpost on the Silk Road kind of place. Well, I'm due to speak at a conference there in a couple of weeks, so today I'm off to London to get the visa. I hope.
Blogging may be a little short today.
FOOTNOTE: Thought I'd posted this yesterday - but obviously was in too much of a hurry!
Posted by The Gray Monk at 11:08 AM | Comments (0) | TrackBack
November 06, 2008
Watching Horses
Mausi has a great view from her home office. Even if the weather is as grey as it is at this time of the year, there are always the horses to watch.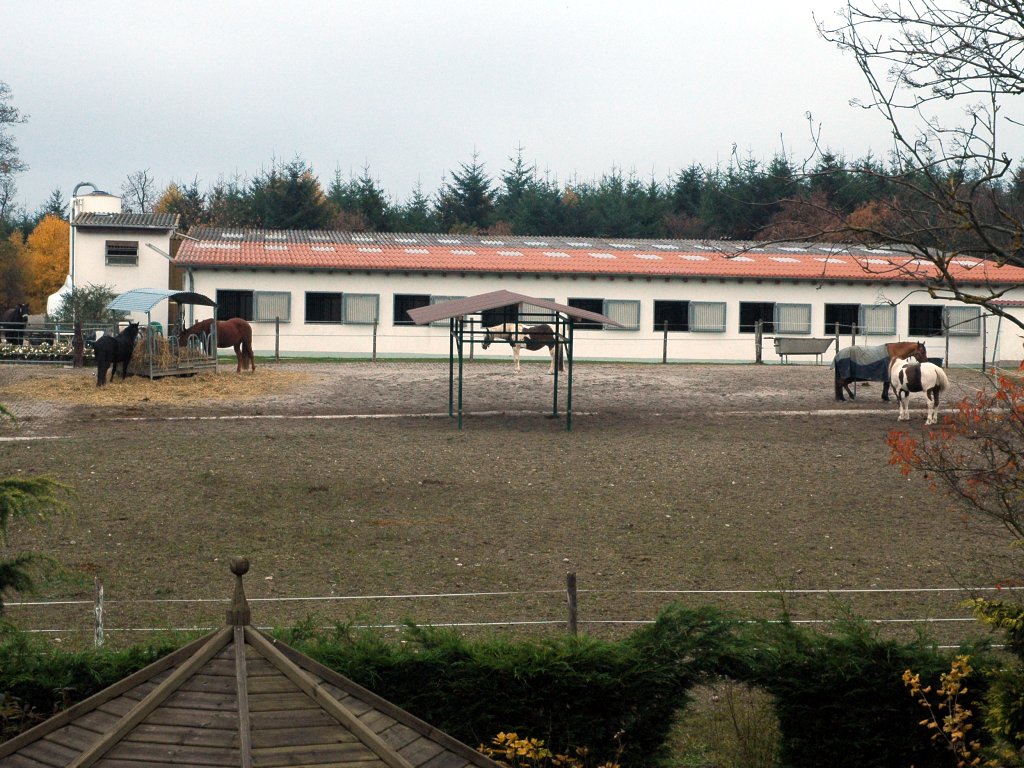 View from Mausi's room
Of course, Mausi wanted a pony for herself when she was a small child, about four years old. At that time she was living with her parents in flat in a multi-storey house. Her parents promised she could have a pony if she found a place to stable it. So Mausi asked the caretaker and he promised that Mausi could keep the pony in the garage. But then her parents said that he surely hadn't understood what Mausi really wanted and that was the end of the pony. Mausi definitely felt let down.
Nowadays Mausi enjoys watching horses. They obviously live in a well ordered society. There are trouble makers and peace keepers and those who just try to stay out of trouble. Most time there's a horse that keeps nagging at another or even harrassing it. The rest of the horses usually watches for some time. But as soon as they see that one horse is in real trouble a couple or more of them will move between the mischief maker and the victim thereby protecting the victim and telling the other one to buzz off. The fascinating thing is that these tactics work most of the time without a serious fight being started among the horses.
Another interesting thing is that you can tell the wind direction from watching the horses. The rear ends will always point straight into the wind.
Watching the horses is good fun...
Posted by Mausi at 02:21 PM | Comments (2) | TrackBack
November 05, 2008
No post today...
Sorry, but there'll be no proper post today. The Monk has rushed off to Cheshire on a big job that will keep him busy for some days. And Mausi has put her back out this morning and needs to lie down quietly. Sitting is definitely not a good idea...
Posted by Mausi at 02:26 PM | TrackBack
November 04, 2008
Test your knowledge
To pass the time while we are all waiting for the outcome of the Presidential Election in the USA here's a quiz for you. You need to answer four questions correctly in order to pass.
Here are the questions, the answers are given in the hidden post below. Have fun and good luck!
1. How long did the Hundred Years War last?
2. Which country makes Panama hats?
3. From which animal do we get catgut?
4. In which month do Russians celebrate the October Revolution?
5. What is a camel's hair brush made of?
6. The Canary Islands in the Pacific are named after what animal?
7. What was King George VI's first name?
8. What colour is purple finch?
9. Where are Chinese gooseberries from?
10. What is the colour of the black box in a commercial airplane?
1. How long did the Hundred Years War last? 116 years
2. Which country makes Panama hats? Ecuador
3. From which animal do we get catgut? Sheep and Horses
4. In which month do Russians celebrate the October Revolution? November
5. What is a camel's hair brush made of? Squirrel fur
6. The Canary Islands in the Pacific are named after what animal? Dogs
7. What was King George VI's first name? Albert
8. What colour is purple finch? Crimson
9. Where are Chinese gooseberries from? New Zealand
10. What is the colour of the black box in a commercial airplane?Orange
Posted by Mausi at 08:19 PM | TrackBack
November 03, 2008
The Dawkins Delusion
A commenter left a link to a very funny reworking of Gilbert and Sullivan's famous "patter" song, "I am the very model of a modern Major-General" and it is worth dropping by to have a read of it. The Emerson Avenger has obviously taken about as much of this pompous git's insulting our intellect and our faith as I have.
I do like his riposte though!
Posted by The Gray Monk at 10:04 PM | Comments (3) | TrackBack
November 02, 2008
There is no God but Dawkins ...
I'm getting a little tired of the media acclaim for the man who has to be the arch-bigot of our time, Richard Dawkins. The arrogance of this man is the only thing that surpasses his own ego. Now it appears we are also to be subjected to adverts emblazoning busses proclaiming that "There is probably no God". Well, is there or isn't there? Is it that Professor Dawkins is uncertain?
No he is certain there is no God, at least according to his "proofs" there isn't, but to stay clear of the laws against offending Islam and one or two other religious bodies (But NOT Christianity which seems to be fair game for every crackpot and ignoramus going!) the ads have to allow for "interpretation" and allow the possibility that "proof" may yet surface which changes Dawkins mind. Personally I'd say its unlikely, like most of his ilk they don't want a debate unless it agrees with their argument. Anyone who has watched Dawkins or any of his fellow travellers response to any attempt to present a counter case to their blinkered and gigotted view will know that they fall back immediately to sarcastic and ill-informed quotations taken completely out of context and without any consideration of alternative interpretations. Frequently they are misquoting and even mismatching and mangling two and even three different sources into one.
OK, so if you';ve read "The God Delusion" you might find it persuasive. Frankly I do not, simply because in every "proof" Dawkins advances there is a large element of the inexplicable. In addition, he fails to realise that he is himself falling into the oldest trap in the Book, be it the Bible, the Quran or the Kama Sutra. The absence of belief in God does not mean the absence of belief - belief and faith stemming from that belief is simply transfered to something else - in Dawkins case he "believes" in the "scientific proofs" he advances as "proof" that God doesn't exist, that this life is it, finished, comlete and total. Ergo, for Richard Dawkins, there is no God but Richard Dawkins.
There are now several ripostes to Dawkins available, perhaps the best is McGrath's "The Dawkins Delusion". Unsurprisingly in the light of an official campaign to denigrate all forms of Christianity by the Westminster government and their Whitehall W*nk*rs, none of these are getting the attention the obnoxious Dawkins gets from the BBC and their fellow left wing propagandists. Secularist Humanism is the government's unoffical line and the spate of attacks in the press, on television and in every Christian forum on the internet by socalled pagans and atheists (Who noticeably avoid going onto any Muslim, Budhist or Hindu Forum to insult their beliefs) one must conclude that there is now in operation an official policy of persecution of Christianity. Don't believe me? Just visit the BBC website and look for the Radio 4 Christian Forum.
It is subtle and so far doesn't go as far as the campaign against Judaism has been allowed to go with Synagogues regul;arly defaced or attacked and Jewish graves defaced and desecrated - but it is not a large step to that from this current position. And the real problem underlying it is that the incompetents in Whitehall genuinely do not understand the differences between faiths when they yammer on about "multi-faith" and tolerance. Worse, they believe the lies that Dawkins and his supporters peddle at every opportunity about Christianity having been responsible for all the wars in history, for slavery and for every form of bigotry they themselves display.
Frankly I find Dawkins offensive, I find his ideas and his abuse of science to support them offensive, but above all, I find his assault on my freedom to believe in a universal and omnipotent God deeply offensive. He may choose to believe in himself if he wishes, but let him and his supporters keep it to themselves.
Posted by The Gray Monk at 02:03 PM | Comments (3) | TrackBack
November 01, 2008
Good news
The good news is that Joan, aka Da Goddess, has come through the surgery well. The operation was completed faster than expected and the prognosis is reported to be good for a speedy recovery. Thanks to all those who added their prayers to mine yesterday, it certainly helped her and her family to know that we were praying.
But, though the surgery is now behind her, she will need our prayers and support as she recovers.
Posted by The Gray Monk at 03:05 PM | Comments (1) | TrackBack