« November 2008 | Main | January 2009 »
December 31, 2008
Technik Museum Speyer
I have discovered the website for the Technik Museum Speyer (www.technik-museum.de) so you can have a look at what it offers directly without waiting on my photos. It includes an Imax theatre and we enjoed a trip to the moon there with the Appollo missions, using digitised footage taken by the astronauts themselves.
Now its Old Years Eve (Silvesternacht here in Germany) so we're getting set to go for a walk in a park near Bad Schwalbach and then have an early dinner so we can watch the fireworks bursting over Bleidenstadt.
Hope you all have a great New Year and that the year ahead is infinitely better than the last.
Posted by The Gray Monk at 11:16 AM | TrackBack
December 30, 2008
Fascinating museum
Today Mausi took me to a museum that is both fun and fascinating - the Teknische Museum in Speyer. It occupies a site that was once the home of the Speyer Garrison, flattened in WW2 and since partly restored and new structures erected to create a museum which celebrates the technical advances of the last two hundred-ish years. Naturally much of it is 20th Century, but the Wilhelmshaus section includes an amazing collection of mechanical music making equipment (No photographs allowed unfortunately) and a collection of dolls, toys and uniforms that is quite amazing.
The main section of the museum holds a mix of aircraft, cars, trucks, fire engines, locomotives and industrial machinery, most of it in working condition and tokens, bought at the ticket counter, allow you to set many of the exhibits in motion so you can see it working. The main collection is also home to three "player" show ground or "Cafe" organs that play a range of Jazz, traditional dance music or children's "Fair Ground" music. Again, a token gets it playing and if you think they're little protable jobs, you'd be wrong - these are big, lusty, permanent installations that fill the hall with their sound.
Prize exhibit is the Russian Space Shuttle. It never flew into space but it was flown in test flights and still has the jet engine pods mounted on it. The exhibition of the space exploration effort includes a full exhibition on the USA's efforts culminating with the lunar landings and continuing into the ISS. I must confess that the ESA effort with the Ariane 4 and 5 rockets made me feel proud - until I realised that the UK isn't part of that effort and I remembered that our wonderful government of w*nkers consider that the space race is too costly. In short they'd have to spend less on themselves and their layabout constituents.
Outside is a collection of aircraft and a U-boat, albeit a modern one, all of which are displayed so that you can go into them and see the controls for yourself. The centrepiece of that has to be the huge Antonov cargo carrier, but there is a fully equipped 747 for you to clamber through as well!
A long day, but a good one - and there will be some piccies later, when I can downlaod them and scale them to the blog!
Posted by The Gray Monk at 06:30 PM | Comments (0) | TrackBack
December 29, 2008
A walk in the Wald ....
Just returned from a couple of hours walking in the forest surrounding us here in the Taunus. Of course you can't walk very far without looking onto a town or village, they are pretty much in every valley and on some of the slopes, and they are picture postcard pretty. The forest itself is a mixture of deciduous and conifer, with beech and birch thriving amongst the conifers.
Its a beautiful sunny day here, though the temperatures are hoverig just below 0*C, it was a bracing -2*C when we set out and has warmed up a little as the day has progressed. With clear skies and frost on the ground though, once the sun is down it will fall swiftly again to the predicted -5*C overnight.
Well, now its time for a nice warm cup of coffee and some Schtollen and other goodies. Then a game of Keltis to keep us all amused until supper. Life doesn't get much better .......
Posted by The Gray Monk at 02:59 PM | Comments (1) | TrackBack
December 28, 2008
Die Meistersinger
Last night Mausi and I sat through an excellent performance of Die Meistersinger von Nuremberg, one of Wagner's large works. With intervals it lasted from 3 pm until 9.15 pm and we finally left the theatre at around 21.30. It was worth it, the performers were excellent and the orchestra, Darmstadt's Stadtsteatre Orchestra was, despite not being one of the "recognised" orchestras, more than up to the job.
Die Meistersinger is, or was, intended as a"comic" opera, and that is how this one was staged. It was very successfully done by a large caste with some really good voices in the various roles and even in the chorus. There are no spoken lines in the entire opera so the strain on the voices is quite large and the two intevals must be a necessity to give them a chance to get their breath rather than for the comfort of the audience.
The Darmstadt Stadtsteatre is a modern (1960's) building, but it has obviously been designed with some care and forethought because the unprepossessing exterior and rather austere interiors give an excellenet view of the stage and the accoustics are great - there is no need for any form of amplification for the singers and every word can be heard clearly everywhere. The stage layout also gave the opportunity for the audience to be drawn into the action - particularly with some scenes actually having the singers in the audience and singing their hearts out. One memorable scene is the self-important candidate trying to win the heart of the "prize" the Guild Master's daughter and disturbing all the neighbours. The nightshirted and pyjamaed "neighbours, complete with lanterns erupt from within the audience, those in the Stalls area moving onto the stage to attack the disturber of the peace and send him packing.
All things considered a really enjoyable production despite its length. And one of the things you soon notice here in Germany, particularly here in Rhein-Hessen is the number of young people and children at these performances and how much they enjoy the music, the orchestra and the staging.
I guess there's hope for the West yet.
Posted by The Gray Monk at 12:55 PM | Comments (0) | TrackBack
December 27, 2008
Ambiguous Philosophy
FOR THOSE WHO LOVE THE PHILOSOPHY OF AMBIGUITY...
1. ONE TEQUILA, TWO TEQUILA, THREE TEQUILA, FLOOR.
2. ATHEISM IS A NON-PROPHET ORGANIZATION.
3. CAN AN ATHEIST GET INSURANCE AGAINST ACTS OF GOD?
4. IF MAN EVOLVED FROM MONKEYS AND APES, WHY DO WE STILL HAVE MONKEYS AND APES?
5. THE MAIN REASON THAT SANTA IS SO JOLLY IS BECAUSE HE KNOWS WHERE ALL THE BAD GIRLS LIVE.
6. I WENT TO A BOOKSTORE AND ASKED THE SALESWOMAN, "WHERE'S THE SELF-HELP SECTION?" SHE SAID IF SHE TOLD ME, IT WOULD DEFEAT THE PURPOSE.
7. WHAT IF THERE WERE NO HYPOTHETICAL QUESTIONS?
8. IF A DEAF PERSON SIGNS SWEAR WORDS, DOES HIS MOTHER WASH HIS HANDS WITH SOAP?
9. IF SOMEONE WITH MULTIPLE PERSONALITIES THREATENS TO KILL HIMSELF, IS IT CONSIDERED A HOSTAGE SITUATION?
10. IS THERE ANOTHER WORD FOR SYNONYM?
11. WHERE DO FOREST RANGERS GO TO "GET AWAY FROM IT ALL?"
12. WHAT DO YOU DO WHEN YOU SEE AN ENDANGERED ANIMAL EATING AN ENDANGERED PLANT?
13. IF A PARSLEY FARMER IS SUED, CAN THEY GARNISH HIS WAGES?
14. WOULD A FLY WITHOUT WINGS BE CALLED A WALK?
15. WHY DO THEY LOCK GAS STATION BATHROOMS? ARE THEY AFRAID SOMEONE WILL CLEAN THEM?
16. IF A TURTLE DOESN'T HAVE A SHELL, IS HE HOMELESS OR NAKED?
17. CAN VEGETARIANS EAT ANIMAL CRACKERS?
18. IF THE POLICE ARREST A MIME, DO THEY TELL HIM HE HAS THE RIGHT TO REMAIN SILENT?
19. WHAT WAS THE BEST THING BEFORE SLICED BREAD?
20. ONE NICE THING ABOUT EGOTISTS: THEY DON'T TALK ABOUT OTHER PEOPLE.
21. HOW IS IT POSSIBLE TO HAVE A CIVIL WAR?
22. IF ONE SYNCHRONIZED SWIMMER DROWNS, DO THE REST DROWN TOO?
23. IF YOU ATE BOTH PASTA AND ANTIPASTO, WOULD YOU STILL BE HUNGRY?
24. IF YOU TRY TO FAIL, AND SUCCEED, WHICH HAVE YOU DONE?
25. WHOSE CRUEL IDEA WAS IT FOR THE WORD LISP TO HAVE "S" IN IT?
26. WHY ARE HEMORRHOIDS CALLED HEMORRHOIDS INSTEAD OF ASSTEROIDS?
27. WHY IS IT CALLED TOURIST SEASON IF WE CAN'T SHOOT AT THEM?
28. WHY IS THERE AN EXPIRATION DATE ON SOUR CREAM?
29. IF YOU SPIN AN ORIENTAL PERSON IN A CIRCLE THREE TIMES DO THEY BECOME DISORIENTATED?
Posted by The Gray Monk at 01:11 PM | Comments (0) | TrackBack
December 26, 2008
Holiday time!
Today I'm heading off to the Rheinpfalz for a short break at the home of Mausi. I confess that I am tired and in need of a break. That and I enjoy the German New Year celebrations which make Bonfire Night here look tame. Fireworks? The Germans really go for it. The view from Mausi's home in the Taunus down toward Bleibenstadt suggests that World War 3 has erupted for an hour or more.
And I enjoy the company there. What more is there to say?
Posted by The Gray Monk at 07:08 AM | Comments (0) | TrackBack
December 25, 2008
Merry Christmas
It has been a fantastic Christmas at the Abbey, with 1100+ for the childrens' service called the "Christingle Service" yesterday aftrnoon and 650 for the Midnight Mass. Coupled with the three Masses this morning we have shared worship with well nigh 2000 people. A wonderful way to celebrate the coming of Christ into the world.
So this is the appropriate moment to wish you all a very merry Christmas and a fabulous year to come.
Posted by The Gray Monk at 07:53 PM | Comments (0) | TrackBack
December 24, 2008
Happy Birthday Bro'
Today is my brother's birthday. He's younger than me but wearing out faster, must be something to do with living in Cape Town I guess.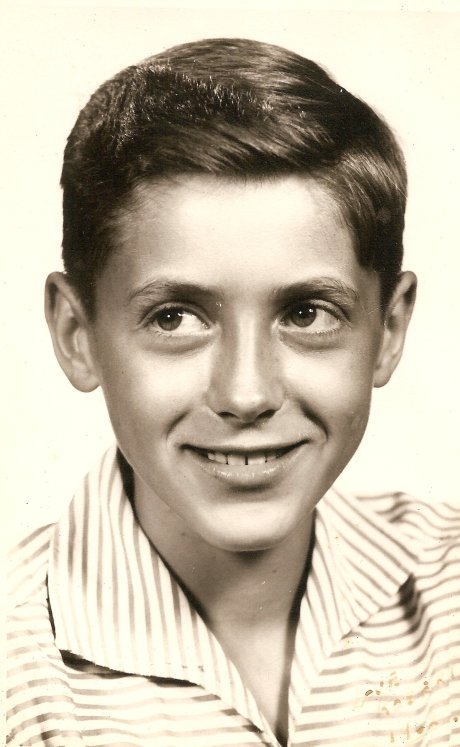 My brother around forty-something years ago! He got the looks and the talent.
Anyway, in case he happens by this blog, Happy Birthday Rob, 58 and still going strong. Hope you have many, many more to come. Your new hip comes with a 10 year guarantee - make sure you use it up and then some!
He tells me there's an advantage to walking with a stick - you can 'accidentally' catch people you don't like across the shins. Hmmm, shin guards anyone?
Posted by The Gray Monk at 08:22 AM | Comments (0) | TrackBack
December 23, 2008
How do you "Heave too"?
A question from New Zealand to my post on ships and sailing a few days ago has flagged up a need to explain some of the terminology. The act of "heaving too" is the motion or action that the ship and crew go through to achieve a stopped condition without anchoring. In this state the English language then says it is "Hove too" - but that can be blamed on Dr Samuel Johnson and subsequent grammarians!
It is a fairly simple process to "Heave too". The ship is brought as close to the wind as she can "lie" without being "in irons" and then the sails on the main mast are hauled round so that they catch the wind on the wrong side. The forces of wind trying to drive the ship forward on two masts and backward on the third stops the ship in the water and holds her in position. On a ship with a single mast the usual procedure is to "back" the headsails or "jibs" with the helm hard up to windward. It has the same effect - trying to turn the ship through the wind while the headsails are trying to turn her away from it brings the ship to a standstill. Most of the old style "Square Riggers" could beat to windward but seldom could "lie" closer to the wind than around thirty degrees to the direction of the wind itself. Modern yachts can lie within 10 degrees of the wind and sometimes even closer than that.
A ship is "in irons" when she "misses stays" and "hangs" head to wind in a turn (Known as a "tack") through the eye of the wind and has insufficient forward movement for the rudder to have any effect. With all her sails "aback" she will usually try to go backwards - often with disasterous results as the rudder is useless in that situation and the strain on the masts and rigging can result in a dismasting. Bringing the ship back under control without a disaster from that situation takes a lot of skill and effort - and plenty of "sea room" to sort oneself out in. A ship getting into irons with a shore under her lee is in dead trouble - she'll be ashore and wrecked before her crew can even get an anchor ready to drop it. The old "square riggers" needed a lot of momentum as they went into a turn through the wind (In other words to windward) to avoid the danger of falling into irons and quite often it was more practical to gybe the ship or "wear" it by turning the bow away from the wind and changing direction by keeping the wind astern as you turned. This manoeuvre also has its dangers as there is a risk of losing control as wind and sea both begin to work together and the helmsman needs to be quite skillful in keeping the ship under control as the turn is accomplished. In a badly handled Gybe a ship can be dismasted if a backstay fails or allows too much movement in a mast as she goes round. The Big J's were the "Maxi Yachts" of the 1890 - 1930 period and they were renowned for that problem - in fact they actually had two men whose sole job aboard was to control the backstay tension in a gybe.
A hard life and a skilled one, another of the "lost" arts perhaps.
Posted by The Gray Monk at 03:21 PM | Comments (0) | TrackBack
December 22, 2008
Memories .....
Today would have been my Grandmother's 108th birthday. Sadly, she died in 1977 having been confined to wheelchair for almost twenty years. She was a strong but very quiet woman, brought up on a farm in the Eastern Orange Free State in South Africa, she could ride, shoot and do all the things a "Lady" should be able to do. Educated in the Pietermaritzburg Lady's College (I forget the correct name for this venerable Institution which I think no longer exists) she took prizes for dressage (Side saddle of course) and was an accomplished pianist, something she never managed to pass on to me!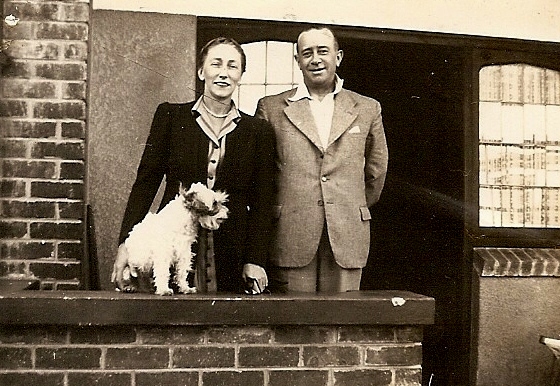 Hector Mary Heron and Henry Nelson Heron with their dog "Tookie" in 1946, the year I was born.
Gran, as we called her, was officially Hector Mary Heron, her first name the result of her being born the day the British Forces under General Hector MacDonald drove the Boer forces away from Harrismith and relieved a small 'seige' around her parents farm. Great Grandmother Hopkins, on being told that the General would have liked a boy born that day to be named for him, retorted "Well my daughter will be!" and promptly did so. Everyone else called her Mary and my grandfather always called her "Hoppy", his affectionate abbreviation of her Maiden Name. Abiding memories of her was her passion for walks, several miles to go shopping was nothing to her at all, and for nature. She raised both my brother and I as our mother and father both worked and it was she who saw our homework done and sorted out lunches and suppers.
In all the years she spent in her wheelchair she never complained of what she had lost or could no longer do, instead she found new things to occupy her. Sadly, the condition which had led to her being in the wheelchair in the first place was a degenerative one and slowly deprived her of the ability to speak coherently, though her mind remained sharp as a needle. She died six months after my Grandfather who had devoted his last years to caring for her - and just three weeks before her 77th Birthday.
Posted by The Gray Monk at 09:07 AM | Comments (0) | TrackBack
December 21, 2008
Christmas rush ....
Yesterday sort of vanished I think. I had a lot to do, like get in some last minute Christmas presents, wrap those I already had ready and then get to Redditch to meet my son so the family ones could get to London. In between there have been things to do at the Abbey and those last minute things to fix and in between phone calls and things to arrange for when I get back from Germany.
The next few days are going to be a little fraught, probably not helped a lot by my being short of sleep at present. Certainly I can blame last night's sleep shortage on two cups of good coffee and then a long-ish drive home. Here's a puzzle though - all along the M5 South I was getting warning of the fact that the M4 was closed Eastbound between Junctions 14 and 13. No indication of why, nothing on the news and nothing on the radio. So what did it? As I left the M5 at Junction 9, I guess I'll never know either.
Tonight is the Abbey Nine Lessons and Carols and we expect it will be well attended. As usual the Choir and the music will be superb - so now all I have to do is stay awake!
Posted by The Gray Monk at 01:58 PM | Comments (0) | TrackBack
December 20, 2008
Missing post
I posted something today - at least I THINK I did. It was before my first cup of coffee, so it may have been accidentally deleted instead of posted. Trouble is, it's been one of those days. Now I'm off to dinner with my son so no time to post now. Sorry.
Posted by The Gray Monk at 06:14 PM | TrackBack
December 19, 2008
Sailing questions
A couple of people who have read my books have asked about some of the terms I use in relation to ships and sailing - particularly the older types. so here are a couple of pictures which may help. The first is a painting of a rather famous fishing 'smack' - a small handy craft capable of putting to sea after fish (Bigger versions would be labelled 'trawlers') and very seaworthy. Their relatively shallow draught meant they could be beached or at least allowed to "dry out" on a mudbank at low tide. In my first book, Harry and Ferghal rig a cargo hulk (barge) to cross from an island to the mainland and this is the rig they use. It is relatively simple, and can be handled by a small crew quite easily.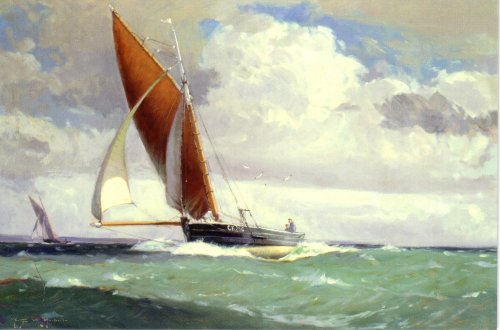 The gaff cutter rigged Hyacinth seen in her fastets point of sailing, a broad 'reach' with the wind on her quarter and her sails adjusted to give the maximum power.
Out of Time makes reference to a seventy-four gun ship of the line, HMS Spartan and to a frigate HMS Rajahstan. The next picture shows the frigate HMS Indefatigable (40 guns) 'hove too' off St Mawes in 1795. The number of "guns" given are those mounted on her "gun decks" - the line of gunports seen in the picture as black squares. Her "rate" of 40 guns is the thirteen guns on each side that made up her main battery and the rest on her quarterdeck and Fo'c's'le. It didn't include the "smashers" or Carronades carried on her fo'c's'le. These short barrelled and short range weapons fired large hollow caste iron balls filled with shrapnel which burst on impact - and you may imagine what that did inside a crowded gundeck. The French rightly feared the British carronade and HMS Victory's 68 Pdr forward carronades may well have decided the outcome of the Battle of Trafalgar with their first shot.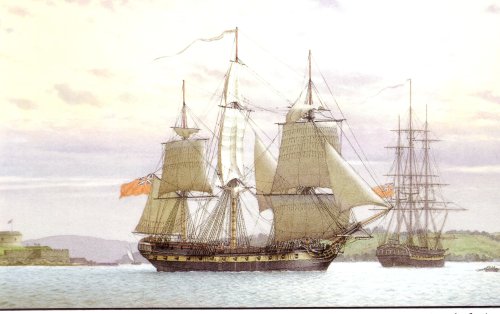 HMS Indefatigable hove too to await despatches or a pilot. Note that the sails on the "middle" or Main Mast are "backed" while the others are still trying to drive the ship forward. In effect the counter effort stops the ship and holds her in position.
The entry port can be seen in the ships "bulwarks" the raised "Wall" (The origin of "Gunwales" - literally "Gun Wall" on a ship) running around the upper deck and the "gangways" are a walkway built along the top of these and linking the Quarterdeck to the Fo'c's'le at the bow. Nettings running around the ship at this level were stuffed with the rolled up hammocks used by the seamen during the day and also served to protect the crew from musket fire, shrapnel and splinters in battle. The "Heads" or crew toilets were located on a platform just above the decorative "beakhead" at the bow of the ship and in rough weather their use would have been a wet and rather unpleasant experience on a ship like this.
Posted by The Gray Monk at 01:00 PM | Comments (1) | TrackBack
December 18, 2008
Book sales
The enemy is within seems to be selling steadily according to the publisher. A steady trickle of orders is coming through for it and I hope this will continue. I get the feeling that the interview on Cool Scfi has helped and certainly the marketing being done by the Hallmark Press team must be having an impact.
Well, it may not be mega-sales or mega-money, but it's certainly worth the effort if people are buying it and enjoying it. Hopefully some of the sales will flow back and pick up Out of Time as well, but we shall have to wait and see - or at least, I will! For a bit of fun too, you can visit Residential Aliens and pick up four short stories all related to the adventures of Harry and Ferghal there - three of them free!
And thanks to all of you who have bought the books.
Posted by The Gray Monk at 09:16 PM | Comments (0) | TrackBack
December 17, 2008
The Arrogance of Incompetence
The publication today of a report by the Public Audit Office, since 2004 also responsible for Inspecting the Fire and Rescue Services for "efficiency", which claims that the public Fire and Rescue Services in the UK can save £200 million by using smaller fire engines and changing (again) the shift patterns demonstrates to me that the authors have no understanding of the purpose and function of a fire and rescue service and are therefore utterly and completely incompetent to even comment, never mind prepare reports for parliament, on the fire and rescue services.
As usual they claim that they have "consulted widely" and "sought expert advice" in preparing their report. Yes, as usual, they have consulted only those who agree with the outcomes that were written before the report was even commissioned. As with all such Whitehall reports, the outcomes are determined before the so-called authors are briefed and then they are directed to find the evidence that supports the outcome required. Anything which suggests a different outcome is suppressed or ignored and only that which supports the conclusion, however nebulous or untested, goes in as "proof". Let's face facts, in another few years the fire and rescue services will be so under manned and under equipped that we will be lucky if they turn up, and if the fire has spread beyond the first room at that point, contact your insurers and write off the entire building because the service will not have the manpower, the equipment or the resources to deal with anything larger than a small one room dwelling.
For the PAO to publish this garbage displays an arrogance that would almost beggar belief were it not matched by their ignorance of everything to do with the operation of a fire and rescue service. But then, what do you expect when qualified fire officers are being replaced up and down the country by ex-supermarket managers who are placed in charge of operations with no experience and no knowledge of fire fighting?
Mark my words, there will be a steep rise in fire losses and in deaths among fire fighters from here on - and the Civil Service and those parasites in Westminster will be to blame. I am not normally a "shroud waver" - but this simply cannot go unchallenged.
Posted by The Gray Monk at 02:32 PM | Comments (0) | TrackBack
December 16, 2008
Progress - I think?
I seem to have the two big reports I have been writing almost under control. They are both now in "final draft" form and are with peer reviewers so I can make sure I have covered everything they need to address. At last I can sit back a bit and wonder when I'm going to get the money for the work, but that's another story.
Right now I'm relaxing, glass of good Shiraz at my side and the David Willcox version of the Messiah on the headphones. What more can any man ask for? I suppose only the live performance in the Abbey by the Schola Cantorum, but then I'd have to dress up and keep warm - and no wine. So I'll compromise, and just relax as I type this post.
Which may well be short. In fact, it is short.
Now back to the Arias and Chorusses. If there wasn't a God, we'd have to invent one just to get the music ......
Posted by The Gray Monk at 08:39 PM | Comments (0) | TrackBack
December 15, 2008
Cat in charge
Trying to type a post and be ahead of the game on my MacBook while having my morning coffee ahead of a very full day, I find I am dodging a severe case of "pokey-paw" as Madam Paddy Cat tries to make me put the laptop away and give all my attention to playing with her. It gets quite interesting trying to type with a paw snaking out from behind the screen every few seconds to smack and finger.
I'll give her her due - she may be seventeen this year, but she certainly hasn't slowed down that much and she knows how to get my attention. Now I'd better give her what she wants and I might get permission to use the MacBook again sometime later!
Posted by The Gray Monk at 08:14 AM | Comments (0) | TrackBack
December 14, 2008
Advent 3
Today is the Third Sunday in Advent, a day in which tradionally we look at the ministry of John the Baptist and the whole ministry of "preparation". At the Abbey we will begin our High Mass with Asperges, the ritual sprinkling of Holy water over the congregation, furniture and floors and anything else that gets in the way. This starts at the High Altar and the Priest, Deacon and Sub-Deacon then sweep down the Quire and through the Nave liberally spraying water with a bunch of Rosemary and a bowl of Holy Water.
It is a symbolic cleansing in preparation for the coming of the Christ Child and perhaps even the Coming of Christ in Glory at this Christmas. As I said in my sermon last week - Advent is about preparing for His return. I am preaching again this week and you might like to take a look at the text I will be delivering at Evensong. It is based on Malachi 3 1-4 and 4 and Philipians 4 4 - 7.
"See, I will send my messenger, who will prepare the way before me."
May I speak, and may you hear in the inspiration of the Holy Spirit. Amen
Malachi spoke to a disillusioned nation, one under the Babylonian heel probably around 400 BC. Around the time Nehemiah had succeeded in getting the people to rebuild the temple and there was still a lot of ambiguity in what people followed or believed. It is very likely that the leaders of the nation still had a foot in both camps – pagan and Judaic, after all, the Babylonian Rulers had imposed, as the Book of Daniel intimates, their pantheon of gods on all their conquered peoples and the reality is that, much as it is in our own society, many will simply have complied without a second thought. Much of his argument will have been directed at the leaders; to get them to return fully to the faith in the knowledge that the people would then follow.
Does this speak to our own age? What does it say to us as we prepare for the coming of our Lord? Perhaps more loudly than ever, for we too live in an age where our leaders preach and practice a form of inclusiveness Malachi would have recognised; one where the desire to "include" means embracing all manner of things from other faiths and from no faith at all. It is an insidious message, one which suggests that God has no place in our daily lives and should be confined to Sundays (or any other 'Sabbath' you care to use) and should play no part in any other dealings we have with the world. He would have recognised too the statement by a government front bencher in the Guardian recently that it was "right to exclude from the Commissionership a man who was a practicing Christian since his faith might bias his judgement". You could be excused for thinking that such an exclusion showed a distinct bias among those making the decision.
We tend to think of the prophets of ancient Israel as wild looking and sounding men who thundered from hilltops and street corners, predicting doom and destruction to everyone who failed to follow their pronouncements to the letter, but was that really the case? And who did they actually address in the prophesies. Quite often it wasn't the people "in the pew" or even in the market place, their warnings and messages were addressed directly to the rulers and their courts and were very often very unwelcome. You have only to look at Herod's response to learning of the prophecy of a 'King' born to rule over Israel to see what I mean.
The Prophets of ancient Israel were often teachers, leaders themselves and gathered about them "schools" of disciples. Look at John the Baptist, the last Old Testament prophet and first among the Christian 'Saints'. He followed that prophetic tradition and had a school of disciples, some of whom may even have joined Christ after John's imprisonment or the revelation that Jesus was the one whom John proclaimed. Malachi's disciples would have taken his teaching and his prophecies out of the court and into the wider congregation, many no doubt, having small 'schools' of their own who would also spread the word – and perhaps this is a lesson for our time. Have we a 'school' preparing people for the reception of the Gospel and the coming of our Lord? And what, if anything, are we doing about it? Consider for a moment the effect of each and every one of us going out from here to discuss the sermon among our friends and families – or, horror of horrors – among our colleagues at work. Yet that is exactly what the disciples of the prophets and of our Lord himself did. That is why they made such an impact.
Malachi gives us some interesting images of the coming of the Lord, speaking as he does of the "refiner's fire" or even the "launderers soap" – images of making clean or purification. But his message is not one of doom and gloom, but of a new start, one which is God centred. And that is the message for every age including our own – good things do come from God, but only if we are truly focussed on Him – in short, we need to become God-centred in everything we do. But there is a warning too –
"Surely the day is coming; it will burn like a furnace. All the arrogant and every evildoer will be stubble, and that day that is coming will set them on fire." With my fire service background, that is an image that is certainly evocative, but who will be the arrogant and who the evildoer on that day? That is certainly a question his hearers would have asked, for they, as with us, would hardly recognise themselves as falling into such a description. And that is, of course, the problem, we confuse our concepts of "reasonable" and sometimes "rights" with God's direction and call to us to do His will.
It is imagery that St Paul among others, draws upon regularly and even our Lord himself uses the analogy of the "refiner's fire" in one of his conversations with the Pharisees. The "Day of the Lord" and the need to prepare for it is a recurring theme in the prophets and in the writings of the New Testament, where again, the hearer of the Word is called upon to live in the way of the Lord and to prepare for his return.
So what challenges do we face today in our society that might be familiar to Malachi and the prophets? Sadly I think, quite a lot.
The official approach of an "agnostic" if not an openly "atheistic" state has created a moral and spiritual vacuum into which all manner of things are being drawn and proclaimed as "fair" or "reasonable" or even as "necessary to redress past imbalances". The problem, as Malachi and the other prophets would tell you, is that "no faith" doesn't mean "no belief" – it means a transference of belief into all manner of other things both good and bad. Ask yourself the reason why so many now feel it essential to lay flowers, soft toys or even photographs at the scene of a tragedy. In time past they would have brought their grief here, into the church and sought comfort and solace from the Word of God – but now they feel adrift, cut off without hope in the hereafter because they do not know the truth of Christ's teaching, they have not heard the Word proclaimed and they have no contact with it outside of the Baptism, Weddings and Burials.
You may know too that the Muslim Faith is currently growing faster among young people than any other. In fact it is predicted that in one generation from now the electorate will be in a position to elect a fully Muslim government to power in this country. What does that say of our stewardship of the Gospel, of our commitment to preach it in everything we do? What does our tacit acceptance of the constant onslaught of misinformation and propaganda in the media, in literature and in government against our faith, our church and by implication the Gospel we are to proclaim? I suggest to you it says a great deal of our failure to live up to our call to ministry – for we are all called. We who gather week on week are called to proclaim that Gospel in all the world whatever else we do.
So what can we do to check this slide? As it happens there is a great deal we can and should be doing. First, we should be living our faith – and yes, I kid myself that I do from time to time – but how do I do that? Do I pray daily for the strength to serve the Lord my God? Do I show my faith in my dealings with others? Do I seek opportunities to do as St Paul famously did in Athens – proclaim the "Unknown God" and make His good news known? Do I listen diligently to the sermons preached week on week in this place as a willing pupil of the "Preachers School" and then take that word out into the world in the week ahead? If not then I certainly should be – and so, I suggest, should you.
And what is our message to the world? Is it one of doom and gloom? Of hell fire and damnation?
Not a bit of it, it is one of hope and joy. Hope in the resurrection of our Lord and Saviour and joy in the grace and forgiveness God shows to us daily. Our message needs to be clear, it needs to attract, not repel and it needs to be true to the message of the Gospel – and most importantly, it needs to be shown in our daily lives.
As the writer to the Philippians says: -
"Rejoice in the Lord always, I will say it again; Rejoice! Let your gentleness be evident to all." And there lies the key, if we show ourselves filled with joy in our faith, if we show ourselves steadfast in faith to a world blown this way and that be fads, trends and ideologies, if we show ourselves faithful to the Gospel word, the world will take notice. But it cannot simply be left there, we have to learn to teach our faith to others if they are to see what we see, to rejoice in the things that make us rejoice. This is perhaps the lesson we need to relearn from the ancient Prophets and their 'schools'. We need to rediscover the joy of studying what we believe and hope to bring others to understand. We need to rediscover the joy of exploring our faith and putting it to work in our lives – and to do that fully, we really do need to study.
So how do we receive the call of Malachi or of John the Baptist? In Malachi we hear "I am sending a messenger," and in the Baptist we see the messenger and hear the cry of Isaiah – Make straight the way of the Lord." In the Gospels we hear of the birth of our Lord and of his death and resurrection – and of the hope that is ours if we have the courage to heed to call to believe, to hold to faith and to fulfil our calling to be disciples and teachers of the Word.
Only when we fully grasp that calling can we truly discover the joy that springs from being able to put aside our cares and concerns, our burdens and our sorrows and accept the true peace that our Second Lesson described in its close.
"And the peace of God, which transcends all understanding, will guard your hearts and minds in Christ Jesus."Amen

Posted by The Gray Monk at 09:50 AM | Comments (0) | TrackBack
December 13, 2008
Mugabe's fantasy .....
If anyone needed proof that Robert Mugabe is off his trolley, his latest fantasy has to be definitive. According to his Foreign Affairs Minister, the British Government is "waging a war of genocide in an effrt to re-colonise Zimbabwe" and has launched a "biological warfare attack" on the country. The Cholera epidemic currently killing off the population there is apparently the work of "British Agents".
The placard waving foot soldiers of ZanuPF obviously believe this garbage as they brandish their posers proclaiming "Brown's Germ War". Sadly, I have no doubt that many in organisations like Amnesty and the Civil Liberties/Human Rights mob will now spend inordinate amounts of time and our money trying to establish what the British Government and specifically our armed forces or MI5 might have done to "introduce" this agent. The simple truth is that with all normal health, hygiene and welfare services destroyed by that monster Mugabe and his cronies, Cholera and several more highly contagious diseases, always present in populations where housing is basic and sewage and water supplies can contaminate one another, are always present. With reasonable medical services any outbreaks are usually caught early and contained - but not where the infrastructure has been so badly degraded.
I confidently predict that before much longer an explosion in the vermin population will see bubonic plague make a re-appearance. Impossible you say? Its been eradicated? No, it is still out there, but control of vermin in towns has kept it at bay, Zimbabwe could well see the first major outbreak with rubbish uncollected and a burgeoning rat population. Ironically, our wonderful Labour Government and their cronies in local government have almost succeeded in creating the medieval conditions which gave rise to the rapid spread of that disease in this country with their attempt to force us into greater recycling - by reducing the rubbish collections from weekly to fortnightly. In Mugabe's Zimbabwe, he's gone one better, don't collect it and let the rats and the starving eat it. Certainly solves the landfill problem.
Mugabe and his cronies learned their lessons well from the Labour Propagandists who funded them in exile and supported them "morally and ideologically" here in the UK during the Smith UDI years and the Bush War. Propaganda need conatin no more than a kernel of truth for the vast bulk of those receiving it, to believe it. This has been the great success of the Communist and Socialist propagandists through the 20th Century - and Mugabe is an apt pupil. He has repeated the story of the "British want to re-colonise" Zimbabwe so often that there are people who now believe him. Now he has an outbreak of a vicious disease and he immediately screams - "See! I told you so! Now the British are trying to kill you all!" Smoke and mirrors works every time if you control the media and can spin the story any way you like. Sadly, a lot of his own people will believe this cr*p and some of them are right here in the UK.
The truly terrible part of all this is that British taxpayers put this arrogant lunatic into power. The very government he now labels an 'enemy' has done their utmost to defend him and excuse him right up to the moment they could no longer ignore his rapacious destrcution of the legacy he was given on a platter. And now we can do no more than watch him destroy his people and his country.
And Mugabe's fantasy will kill still more of his people before someone, somewhere, removes him and his vile henchmen from the scene. Wouldn't it be ironic if it was a simple bacterium that his incompetence has let looseamong his own people. Now that would be justice!
Posted by The Gray Monk at 08:23 AM | TrackBack
December 12, 2008
Book sales gathering pace - I think!
It seems that though Amazon in the US is still claiming my latest book is "Out of print" and offering me the option to "get back into print through our in house POD services Book Surge" - which would really upset my publisher - the Amazon UK , Germany and France are selling it and, what's more, at a discount price! Looks like a touch of "Left hand/Right hand" going on, but I won't complain - as long as the UK and EU sellers keep selling! For my US based friends and those who use Amazon.com, I'm working on setting up a way round the Amazon monopoly so watch this space.
For a bit of fun you can also go to my personal website on Hallmark's site and see the interview with Cool Scifi Forum which was fun and rather nice. And, of course, you can also buy the book from Hallmark as well.
Posted by The Gray Monk at 11:35 AM | Comments (0) | TrackBack
December 11, 2008
Something stinks in the State of ....
I suppose it is a very sad reflection on the society nearly forty years of socialist meddling and social engineering have created - and not just in the UK. The Civil Libertarians and Child Protection/Rights lobbies have created a "Youth Culture" and a disrespect for others and the law that is now straining the very fabric of our civilisation. Why am I saying this? Very simple, the son of my publisher was attacked at a friend's birthday party last Saturday night by three boys from his school and beaten into unconsciousness in the presence of witnesses. The attack was unprovoked and apparently fueled purely by "let's rough him up a bit." Apparently this is known as "Happy Slapping" and is often filmed on a camera phone so it can be shared with all their cronies. It put their victim in A&E for several hours in an unconscious state and even now there may be injuries that have not fully revealed themselves.
The Police have shown themselves remarkably reluctant to actually interview the victim or to get on with pressing charges of assault. Probably they are motivated by a sense that, as this will go to a "youth" court, there is little point - because "youth courts" notoriously try to protect the perpetrators and further victimise the victim - I have another example of that closer to home. To make matters worse, I am told that the parents of the attackers phoned the Headmaster of the school involved to ask if the father of the victim intended to press charges - not to find out what damage had been done or what injuries he had suffered. The only thing they are concerned about is protecting their violent offspring from the consequences of their actions.
All I can say is that if this was my son, the Chief Constable and the Chairman of the Police Authority would by now be facing angry demands for action, the Headmaster would have a letter from a lawyer demanding disciplinary action against the boys concerned and the parents would be receiving writs for "pain, distress and damage" arising from the assault. Yes, it would cost me, yes it would probably make me a lot of enemies and I have no doubt that there would be enormous pressure from the school and the police to "let it drop", but I am far to much like my Grandfather - cut one of mine and I bleed.
The news is full of these cases and we constantly have the politicians wittering on about more legislation and more "responsibility", but they are the very ones that have created this society of "do as you please - its your 'right'" amoing our young people. The sad thing is that these yobs will one day graduate from university, paid for by the taxpayers they abuse and scorn, and go on to become the next generation of parents raising yobs. All protected from the consequences of their actions by the police, the twisted legal system and the hand-wrining politcians.
Something stinks in the State of Cool Britannia - and it is easily identified. It is the complete loss of morality and values right at the heart of the political class and in Whitehall. Yes, it stinks.
Posted by The Gray Monk at 11:44 AM | Comments (0) | TrackBack
December 10, 2008
Vanishing armed forces ....
I recently bought a copy of the International Fleet Review, a journal that looks at naval forces around the world and almost boiled with rage as I read the editorial. The writer has done an excellent job of assembling his facts and they reveal the true cost of the last ten years of socialist liberal incompetence to this nation. Our once proud Royal Navy has been reduced from a fleet of one hundred and eighty four ships when Blair and his thieves took power to a force which will dip below 80 ships before any of the new ones on order come on line. Worse, in order to "save money" the Fleet Air Arm has been reduced to a helicopter force only and must embark RAF aircraft and pilots if it needs fixed wing fighters and bombers. They tried that in the 1930's and it is the reason the Navy had to start the war with the obsolete Fairey Swordfish "Stringbags" as its only operational aircraft. But Nu Labour and this coterie of Scottish and Welsh anarchists have no love of any "British" institutions and certainly no love of the Armed Forces - especially the Navy.
These cuts in manning and in materiele mean that as of this month, there will be no Naval patrol based at Port Stanley in the Falkland Islands. Watch this space for a deal that hands the islands over the Argentina in the next few years the way these same treasonous morons have tried to hand over Gibralter to Spain against the wishes of the people of Gibralter.
The Navy is not alone in suffering these cuts. The Army has all but lost its Main Battle Tank capability, the RAF is reduced to mainly a transport role and even with the new Typhoon Eurofighters coming on stream is still woefully under strength and under equipped. The list is almost endless - and Labour refuses to increase the Defence spend which is around half the EU average. Face it, Labour HATES the military, it represents everything most Labour voters and most Labour MPs are not, disciplined, competent and proud. To the Labour Aparatchik that spells "elitist" and note how they have done everything in their power to make it impossible for the military to actually do their job. First comes orders not to return fire if attacked in the Shatt al Arab, then they are forbidden to intervene when a ship is seized by pirates. Our troops face charges of "murder" for defending themselves when attacked and killing any enemy or anyone supporting the enemy thanks to Cheri Blair's cronies in the "Human Rights/Civil Liberties" lobby who rush to bring charges of murder against the troops as soon as they are in a battle anywhere.
Maintenance of ships, vehicles and aircraft is all "contracted out" to private companies and even our armaments manufacturing has been sold off to foreign owners so that now our people have to rely on euqipment bought in from potential enemies.
It is a disgrace - and one that every Labour voter ought to take personal responsibility for. This country has been reduced to impotence by the self serving incompetents of the Labour Party - but they are not alone in this betrayal - the Conservatives must take at least a part of the blame for their cuts in the 1980's and 1990's to deliver the "Peace Dividend" that was supposed to flow from the ending of the Cold War. Have we seen "peace"? of course not - the end of the Cold War left the world in a more unstable and volatile state than ever - and the W*nk*rs of Whitehall and the Wastralls of Westminster continue to cut the Defence Budgets - in fact, our wonderful Prime Minister is vehement in his opposition to any funding for defence.
I wonder why?
Posted by The Gray Monk at 06:27 PM | Comments (0) | TrackBack
December 09, 2008
Human Rights - Was Mister Straw admitting he's got it wrong?
It seems that The Right Dishonourable Minister of Justice, none other than that great upholder of Britishness, Jack Straw, is "frustrated" with the way the Human Rights Act is providing a "Villian's Charter". Oh dear, oh dear. I wonder if there is irony in this? After all, Mister Straw was the one who, as Home Secretary, introduced this legislation in the face of warnings that it would create enormous problems within the British Legal system. Ironic too, that he is a member of a government that has eroded our ancient rights to freedom of speech, freedom of thought and privacy like no other democratic government in history - and, in fact, like very few of the world's most draconian dictatorships.
Under this government our ancient right to privacy has been removed, eroded by the Security legislation they have introduced, Child Protection legislation and so-called prevention of religious hatred legislation. We are monitored by forests of CCTV cameras, our use of everyday idiomatic expressions is criticised as betraying our racist thoughts by the PC Police, and even photographing your grandchildren can lead to your being subjected to a grilling from the Gauliters of the Child Protection movement - or worse - to your detention for questioning by the police. It says it all really when a photograph of a Pop bands CD cover on Wikipedia is decalred "Child Pornography" by some Whitehall Nanny and they attempt to block anyone in the UK from accessing it. Take your camera or your PC in for repair and the Thought Police will be going through its stored files (and the deleted ones) in search of evidence that you are a paedophile or a sexual predator and prosecution will follow - as a Chief Fire Officer has recently discovered when his laptop was stolen. On being recovered it wasn't given back to him - oh, no - the police searched through the files on it for any "unlawful" activity. He's now being investigated for offences involving the making of pornographic images .....
But Mister Straw is now proposing that we have another piece of legislation, one which will "balance" Human Rights with responsibilities. Oh? Really? And does Mrs Blair approve? After all, she is the one that insisted on us adopting this worthless Villian's Charter in the first place and she and her Chambers have done very nicely out of it thank you. So have various "Civil Liberties" lobbies and not a few terrorists. I think the question is not "Do we need new legislation to address the balance between rights and responsibilities?" but, "Do we need the Human Rights Act at all?" I think the answer is no we do not. Neither do we need all the nannying and "Big Brother" survellance - if our police were allowed to deal with yobs as they used to in the 1950's before the "liberal" "rights" mob perverted every aspect of the law, we wouldn't need the CCTV. Likewise, if crime were punished instead of rewarded.
The law in this country has been perverted to the point where the law abiding are no longer protected and the criminal has more rights than the victims. Its time to change that. Come to think of it its time to rid ourselves of this current crop of Pot smoking 1960's boycotters, hippies and "activists" who have spent a lifetime undermining demorcacy and now have imposed a "Big Brother" society that would horrify George Orwell and cause our forefathers who fought two world wars for this nations freedom to take up arms against them.
Perhaps that's why Gordon Brown has cut the Defence budgets and our Armed Forces to a parlace state of under strength and over committed exhaustion. He's afraid they might.
Posted by The Gray Monk at 08:56 PM | Comments (0) | TrackBack
December 08, 2008
When you're up to your waist in crocodiles ....
It's difficult to remember that your objective was to drain the swamp. Yeah, I know, everyone knows that one. But at present I'm armpit deep in a Court Report and investigating a truck that caught fire while towing rather a lot of petrol, so time for the Blog has got a little restricted.
Normal service will, I hope, resume soon!
Posted by The Gray Monk at 10:06 PM | Comments (2) | TrackBack
December 07, 2008
Advent Two
This morning I'm the preacher for the Sung Eucharist at 1100. The readings are an interesting selection from Isaiah 40: 1 - 11, 2 Peter 3: 8-15 and the Gospel is Mark 1: 1 - 8. The resultant sermon is in the extended post below. It is and will be short - during Advent we have the Litany in Procession to begin the service and this takes care of Intercessions. It is also quite lengthy and preachers are warned to be considerate in their preachment.
Advent is about preparaing ourselves for the coming of the Lord. We do not know waht form that will take, nor do we know when. We do know that we must be prepared.
"Prepare the way of the Lord, make straight paths for him"
May I speak and may you hear in the name of the Father and of the Son and of the Holy Spirit.
Amen
There appears to be a world of difference between the message of hope proclaimed by John in our Gospel reading from St Mark and the vision of doom set out in St Peters letter. In the one, John tells of a saviour who brings the baptism of the Holy Spirit, in the other Peter warns that the end will be cataclysmic. Which is the one we celebrate? Which is the one we should heed?
We need to remember two things here, the first is that the writers of both the gospels as we have them and the writer of the portion of the letter read today expected to see "the day of the Lord" arrive during their lifetimes. In fact, it is evident from the writings of St Paul that he changed his view, and no doubt but that Peter and the others had to adjust their thinking on this as well. Hence Peter's warning that –
"With the Lord is a day is like a thousand years, and a thousand years are like a day."
In effect he is telling his readers that to speculate on when that day will come is pointless, yet it is the duty of every Christian to be prepared for it. When that day comes if we are not ready, we won't have time to make amends for time itself will have run to an end.
It cannot escape your notice if you, like me, are fascinated by astronomy, that the description Peter gives us of the heavens vanishing with a roar and everything being destroyed by fire is pretty close to what science tells us happened to the dinosaurs when the earth was last hit by a giant meteor – or could happen if we are unlucky enough to get caught in a Gamma Ray burst from an exploding star somewhere in the universe. Does this mean, as Richard Dawkins tries to allege, that there is no God? On the contrary, the miracle that is life is so fragile, so dependent on so many tiny variables that it is almost impossible to explain our existence without a God. But God is not just some super scientist randomly creating suns, worlds moons and perhaps even new life forms even as we sit here, God cares for his creation, cares to the point of becoming human himself in the only way possible, through being incarnate in the womb of Mary and born in the stable in Bethlehem. In this way, as St John tells us –
"The Word became flesh and made his dwelling among us."
And it is in anticipation of his return that our seasons lead us through the great cycle of the gospels year on year, reminding us to be vigilant, to prepare, to be ready when that day should come.
In the coming year our Gospels will be taken largely from St Mark's version of Christ's ministry among us and it is worth considering that it may well be the oldest of the four, and certainly it is the most direct in its imagery and its language. Many believe that it may also have as its source Peter himself who was certainly alive and living in Rome, very probably with John Mark, the author of this work. Like the gospel of St John, there is no nativity story and no reference to Bethlehem. Mark plunges straight to the beginning of Christ's ministry and he draws on eyewitnesses for confirmation of his account, in one place even naming them.
The other striking feature of it is the absence of the original ending. We don't know what happened to it and the oldest manuscripts may even have been involved in a fire and the ending damaged beyond recovery. Does it matter? It shouldn't, what it should do is confirm the authenticity, the sincerity of the author and the events he is describing.
Mark's gospel begins as we should, as Isaiah called upon his nation to do –
"Make straight in the wilderness a Highway for our God."
This is the call to every Christian, that we must in every age proclaim the coming of our Lord, sometimes suffering the derision of those whose intellect is exceeded only by their own blindness to those things they do not want to see or understand and sometimes enjoying the fellowship of our companions on the journey through this life.
Now we are called to prepare ourselves once more for a new year of waiting, watching and readiness. For a new year of opportunities to show our love of Christ and to show the message of his gospel in our daily lives, until his coming again in Glory.
And for all who are ready on that day, they shall see the Glory of the One and Only; full of grace and truth.
Will we be ready? Will we have fulfilled our calling to live in grace and to bring His Gospel to the world? Let us live in prayerful hope that we are doing it already.
Amen

Posted by The Gray Monk at 07:13 AM | Comments (0) | TrackBack
December 06, 2008
Christmas Fayre
Today we had the Christmas Fayre in the Abbey - and I do mean "in". The nave was cleared of chairs and we had stalls filling the main nave and the North Aisle. We had pie sellers, jewellers, wood carvers, teas, coffees, cakes, face painters and even a Cashmerey carpet seller. In between we had singers, musicians and entertainers and a great time was had by all.
For me the highlights were the two "challenges" the Church Wardens gave the Director of Music - Carleton. He accomplished the first without rehearsal or preparation - a feat in itself - and played Jaques Lemman's "Fanfare" on the Milton Organ to the amazement of the crowd who gathered below the organ loft to watch him play. Later he accepted another challenge from my fellow Church Warden to play "Liberty Bell", the famous Sousa March and Monty Python theme tune on the Grove Organ. Now that was something to be heard - and the crowd that gathered to watch that was something else.
Its been a good day - but a long and tiring one. But "Liberty Bell" and the sound of the Grove thundering its stuff through it will echo in my head all night I'm thinking.
Posted by The Gray Monk at 10:05 PM | Comments (0) | TrackBack
December 05, 2008
Pembroke
Just got back from a trip into Pembrokeshire to look at a burned out truck. It was clear but cold as I did the necessary and now I have a load of pictures, some information and a lot of questions ...
The truck was towing a full load of petrol and diesel - 40,000 litres - when it caught fire on Monday on the motorway. Fortunately for everyone all the safety systems on the trailer worked and the fire and rescue service were on the scene quickly. The truck-tractor unit will not be hauling any more loads, but now to figure out why.
And now - all I need is some sleep!
Posted by The Gray Monk at 07:54 PM | Comments (0) | TrackBack
December 04, 2008
Winter has come
The first real snow has appeared over night on Mausi's mountain. It is always a pleasure to look out early in the morning and see a perfect white blanket cover the ground.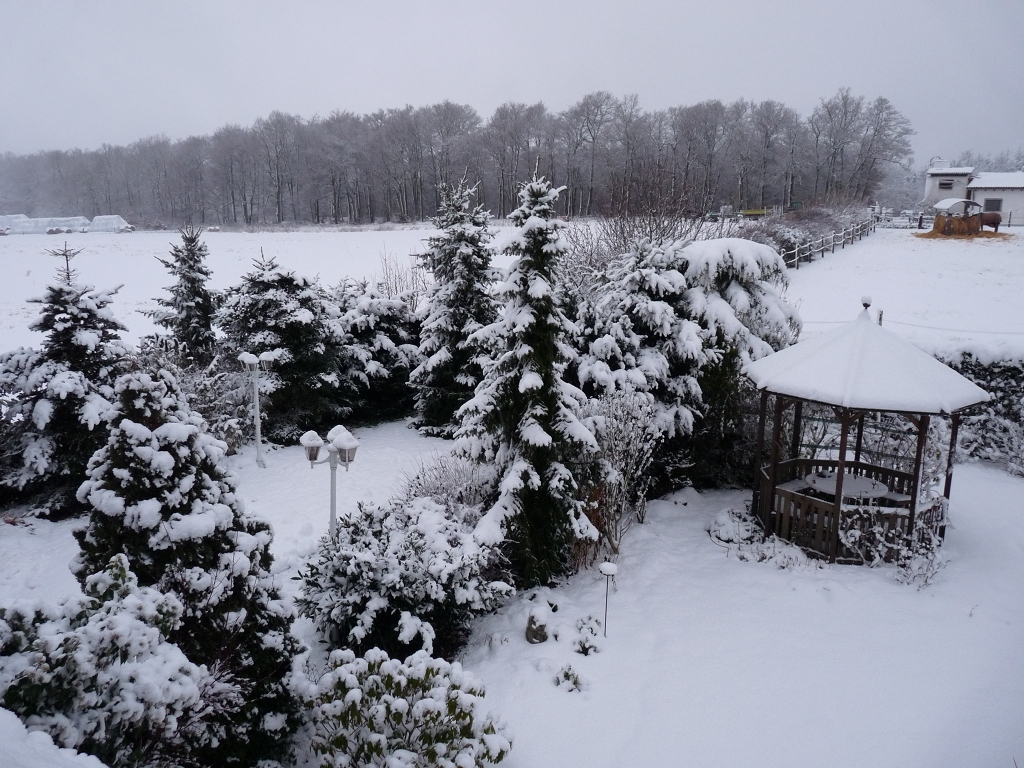 The drawback, of course, is that getting to work is not easy in these conditions. Often trucks are still on their summer tyres and the slightest ascend defeats them. In the hilly country, where Mausi lives, this happens regularly and the trucks invariably block one road or another. Mausi has been lucky so far this week but some of her colleagues have failed to reach the office in time or at all.
Anyway, it's all part of the fun and Mausi can't wait until she gets a chance to build a big snowman...

Posted by Mausi at 08:22 PM | Comments (1) | TrackBack
December 03, 2008
The Golden Man
One of the most fascinating things I discovered on my visit to Almaty was the story of finding the "Golden Man". Those who read the National Geographic regularly will recall an article on the finding of an ancient burial mound in Kazakhstan around four or five years ago. The actual find had been made some years before and caused quite a stir in the world of archaeology at the time. The burial mound, when opened, contained the remains of a man, aged about 37 at the time of death, and dressed in the most amazing suit made entriely out of small gold plates, each about 1.5 inches, by 2.5 and 'stitched' together at the corners. It may once have been backed by a linen or even leather lining. In the grave with this golden warrior was a composite bow, a quiver full of beautifully made arrows and his personal weapons. Other grave goods made up a rich haul for the archaeologists and the this tomb is said to have been as rich or possibly richer find than that of Tutenkhamun's tomb in Egypt.
What made it even more exciting was the fact that it was at least 3,000 years old.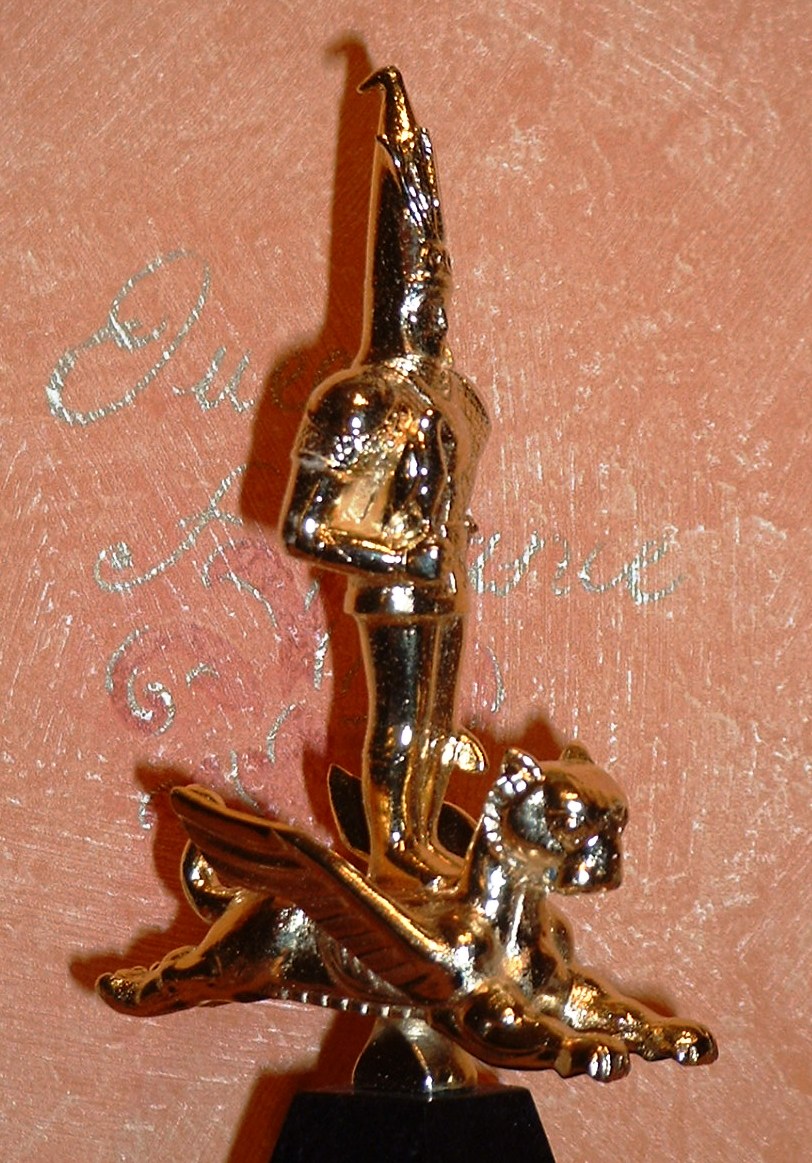 A statuette of the "Golden Man" presented to the Monk after the conference. He clutches his composite bow, his quiver is slung on his back and he stands upon a winged leopard. His golden suit is represented by the chequered hatching of his jacket. The tall hat is a forerunner of the hats still worn by the "Khan" or Chief of the tribesmen.
I didn't get to see the museum in which all the finds from this amazing tomb are displayed, perhaps one day I will, but there can be no doubt that the Kazakh people are inordinately, and rightly, proud of their rich heritage. This is an area which for thousands of years has been home to nomadic tribes who have given the world some amazing things - the composite bow is one such item - and who have left remarkably little trace of their occupation other than the numerous burial mounds which dot the landscape in certain areas. Almaty is built in an area with a very large number of the oldest mounds and not all have been fully examined.
So much to see - and so little time.
Posted by The Gray Monk at 02:43 PM | Comments (0) | TrackBack
December 02, 2008
December already? Where has the year gone?
I seem to have had a busy year. Trouble is, I seem to have ended the year having done a lot of running around and very little relaxing. Worse, some of the work I have done has yet to be paid for so now, on top of having to do even more "urgent" work, I'm still trying to get my money for some of the work I have delivered. Having almost four months in the middle with little - one month with actually nothing at all - certainly hasn't helped and the reserves are now depleted.
So, all you good folk out there - buy my book for Christmas, buy lots of them for your friends as well!
Just kidding, although I hope that some of you will at least give my wliterary efforts a try. Now I'd better get back to the paid work. A report on a fire that happened four years ago and is now the subject of a major lawsuit. At least it pays the bills, but it really is a case of having to point out the blindingly obvious and defend the indefensible....
Posted by The Gray Monk at 11:49 AM | Comments (0) | TrackBack
December 01, 2008
Images of Kazakhstan
One of the abiding images I have of the former Eastern Bloc countries I have visited is the hats they wear with uniforms. They're huge and the tops look like something you could launch a Harrier from. And the rake on the top suggests it will shed snow fairly effectively too. Perhaps that's the secret of their sheer size and they certainly lend a presence to the wearer. On the last day of the conference they put on a demonstration for the delegates and for the City Politicians to show the problem for rescue services - their 50 metre (162 feet) ladder and high-rise fire fighting aerial platform could reach the fourteenth floor of this 40 storey building.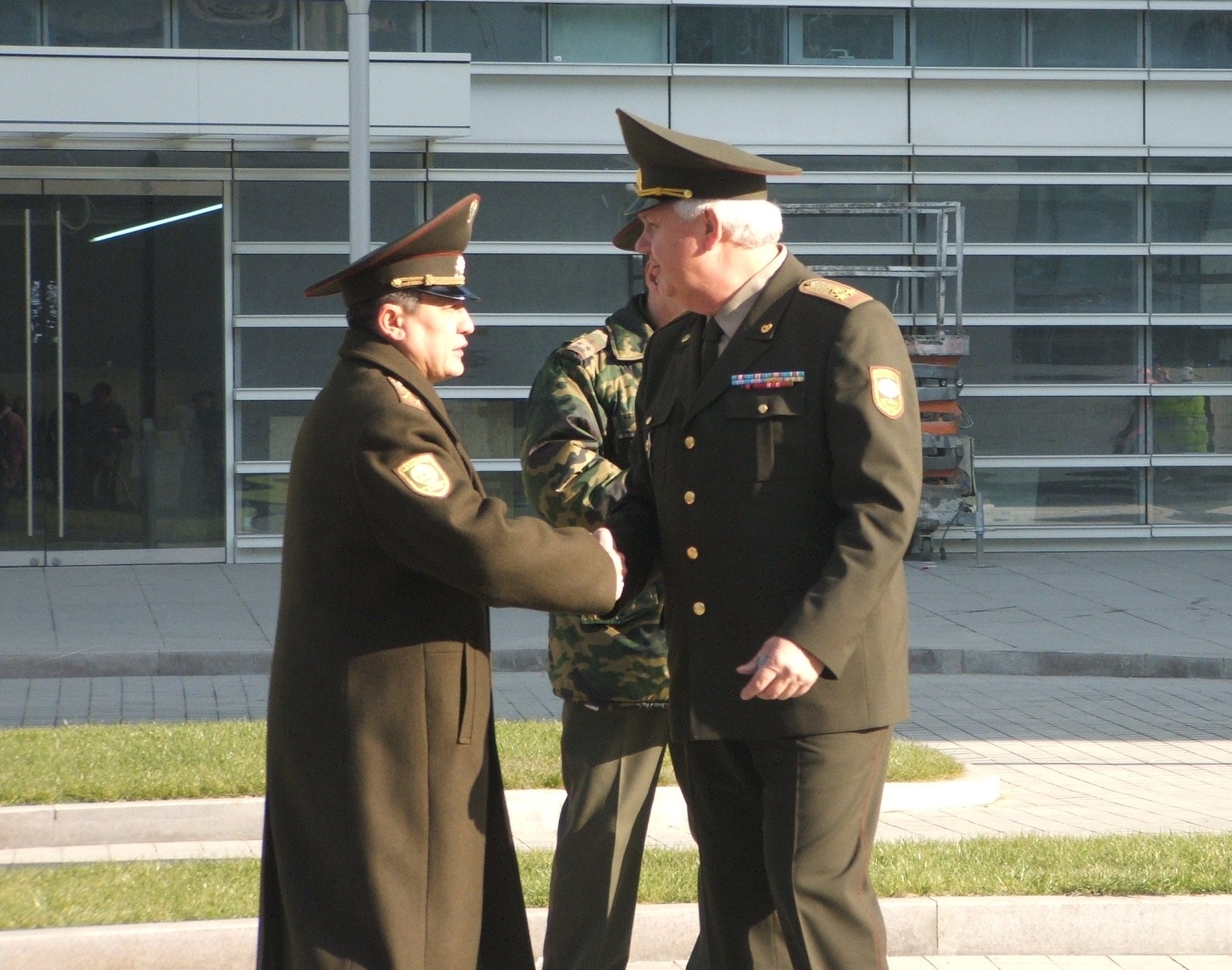 The Big Hats have arrived! The Exercise director greets the Colonel, Deputy Chief of the Almaty Emergency Services. Serge, the Colonel here was one of the nicest people I have had the pleasure of meeting.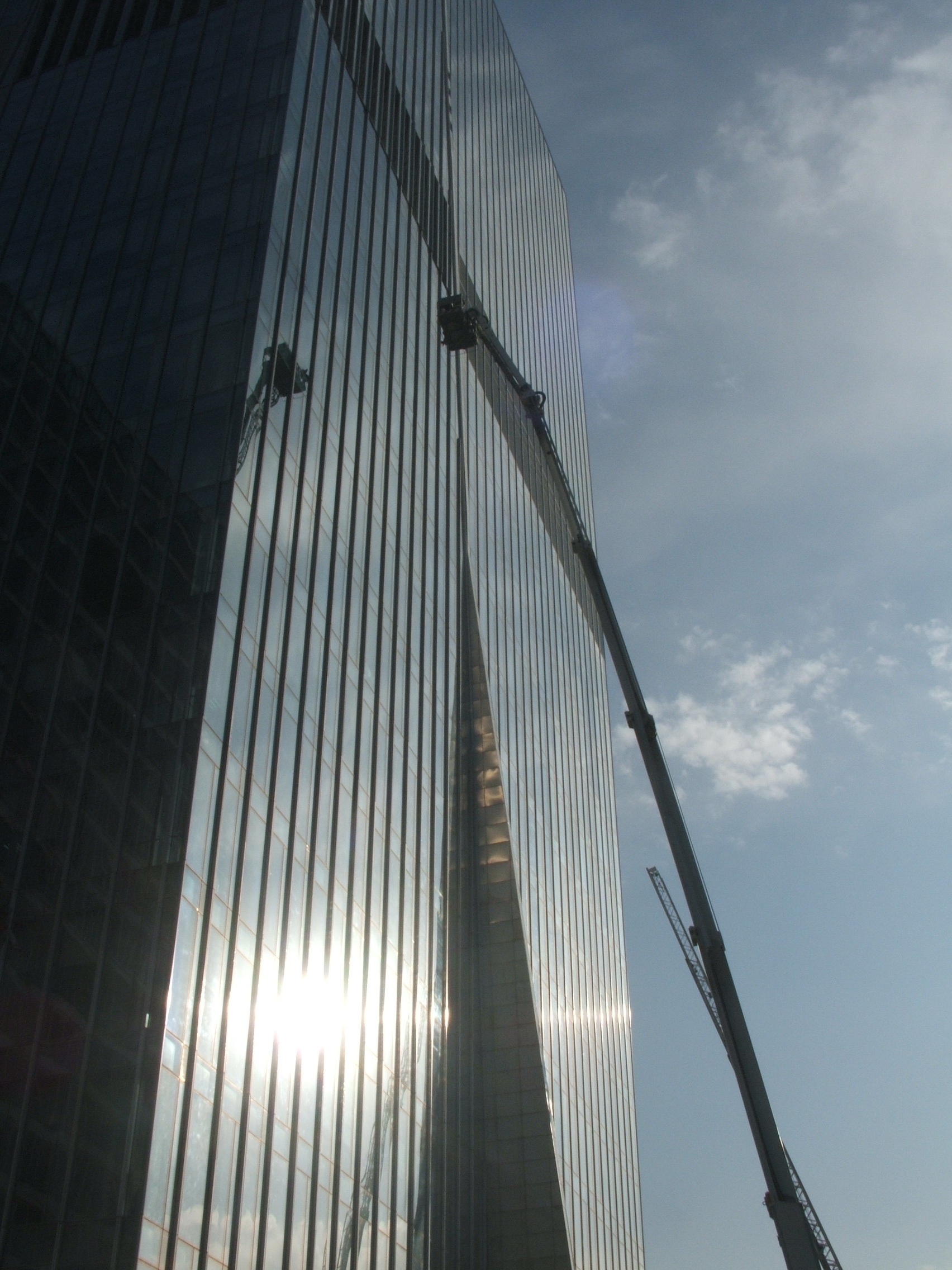 A 50 metre Bronto Skylift at full stretch - fourteen floors and armoured glass.
I have to admit that this visit will be one of many happy memories for the foreseeable future. It was interesting and I have met some really dedicated people determined to make the service of which they are part a truly efficient and effective service.
Posted by The Gray Monk at 02:15 PM | Comments (0) | TrackBack