« No post today... | Main | Kazakhstan? Where's that? »
November 06, 2008
Watching Horses
Mausi has a great view from her home office. Even if the weather is as grey as it is at this time of the year, there are always the horses to watch.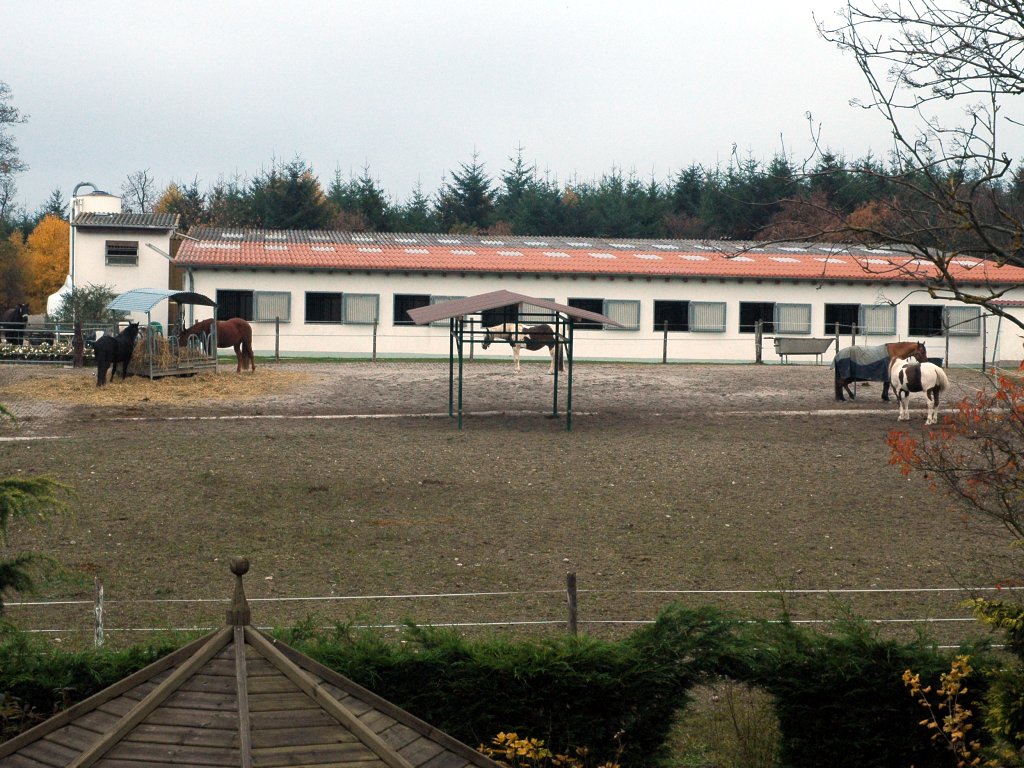 View from Mausi's room
Of course, Mausi wanted a pony for herself when she was a small child, about four years old. At that time she was living with her parents in flat in a multi-storey house. Her parents promised she could have a pony if she found a place to stable it. So Mausi asked the caretaker and he promised that Mausi could keep the pony in the garage. But then her parents said that he surely hadn't understood what Mausi really wanted and that was the end of the pony. Mausi definitely felt let down.
Nowadays Mausi enjoys watching horses. They obviously live in a well ordered society. There are trouble makers and peace keepers and those who just try to stay out of trouble. Most time there's a horse that keeps nagging at another or even harrassing it. The rest of the horses usually watches for some time. But as soon as they see that one horse is in real trouble a couple or more of them will move between the mischief maker and the victim thereby protecting the victim and telling the other one to buzz off. The fascinating thing is that these tactics work most of the time without a serious fight being started among the horses.
Another interesting thing is that you can tell the wind direction from watching the horses. The rear ends will always point straight into the wind.
Watching the horses is good fun...
Posted by Mausi at November 6, 2008 02:21 PM
Trackback Pings
TrackBack URL for this entry:
http://mt3.mu.nu/mt/mt-tb.cgi/5619
Comments
cool... thanks for the picture... brought back memories.
Posted by: vw bug at November 7, 2008 01:08 AM
this an awesome website! but I would Love it if you would do a weekly update... Just a sugestion... Thanks...
Posted by: Buddie Fonda at March 31, 2009 07:35 PM
Post a comment