« September 2006 | Main | November 2006 »
October 31, 2006
All Hallows Eve
The Church is at last starting to awaken to the fact that, if you want to convince people of faith in faith, you have to go out and meet them where they are and not where you think they should be. Tonight is All Hallows Eve - or Halloween as the Americans have it. The celebration is a paganisation of the medieval Christian concept of the Dead being allowed to revisit their familiar habitats for the one night of the year - a descent into a dualistic vision of nature which divides the sacred and the mundane. For those who have read the Da Vinci Code, a Gnostic concept manifesting itself in the medieval church and again today as we deal with people rushing about dressed as ghouls and ghosts.
This year the Bishop of Gloucester has decreed that we will make an effort to reclaim the celebration for Christianity. If people want to have a party for All Hallows, then let's have a Christian one! So he is leading a procession from one of the parish churches in Tewkesbury, replete with torches and festive spirit, to the Abbey where the young people taking part will join him in celebrating the Eucharist and then in a tour of the Christian understanding of All Hallows - an understanding that has nothing at all in common with pumpkins, dualism, witches, warlocks, demons or anything magical. I confess it is reassuring to see this happening and reading the rubrics for the event it is even more reassuring to see that great care is being taken to avoid the obvious pitfall of making the whole thing far too structured and far too stuffy. There is room for a lot of fun in our religion and its time we put it back.
As we celebrate the feasts of All Saints, All Souls and the lives of those who have gone before us into the light of Christ, let's put aside the mumbo-jumbo and remember with love and affection all those who have guided and shaped us in our walk through this life and into the next.
May the Saints of God pray for us all, now and at the hour of our death, that we may with them, rise in the fullness of the resurrection in, with and through Christ our saviour. Amen
Posted by The Gray Monk at 02:43 PM | TrackBack
October 30, 2006
Rambling in Dublin
There are many ways to see Dublin, among the best is probably from the top of one of the open topped tour buses. The commentary is usually hilarious and very informative and, best of all on a tight budget - the tour pass is valid for a full twenty-four hours. You can hop on and off as often as you like as the tour travels round making stops at all the most usually sought out attractions. As I have commented before, Dublin is an ancient city and there is much to see. The picture below is taken from the buss and shows St Michael's Cathedral in the Christ Church area of the city. The cathedral is the burial place of "Strongbow", the Norman Earl de Clare who came to Ireland at the head of an army in 1169 (invited by the King of Leinster to help overthrow the High King) and who, having defeated the High King at the battle of Clontarf, promptly crowned himself King of the whole shooting works. As he was a "vassal" of Henry II Plantagenet, Hery promptly demanded fealty - and got it when he arrived backed by an army and his fleet. So, between them they started the entire problem of the "occupation" of Ireland.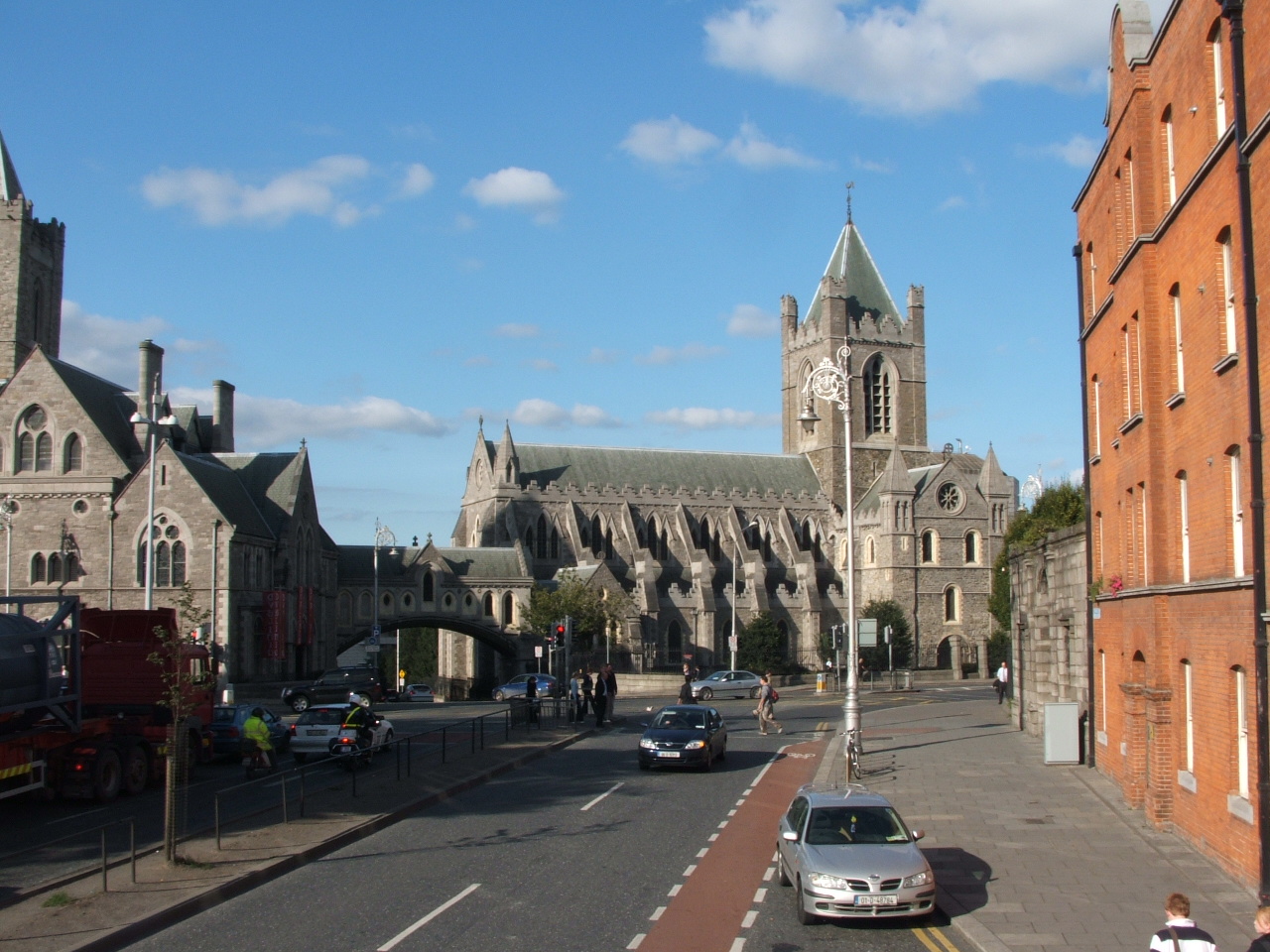 The Victorian restored Cathedral of St Michael, linked by a bridge to the Synod Hall, now the home of the Dublinia Exhibition.
Down the hill from St Michael's is the venerable establishment of Trinity College, established as a university college by Queen Elizabeth I. This university is a wonderful collection of classical buildings centred on a huge courtyard. It houses students, lecture theatres a fantastic library collection - and the Book of Kells. There is probably several days worth of exploration to be had right here, without even looking at the rest of Dublin, but for those on a tight time line, the Book of Kells is a definite must see. The exhibition is well thought out and the book itself is on display - in an environmentally controlled case and under very subdued light. Even so the explanations of how it was created and the vibrant colours and writhing illustrations of the Celtic art make it well worth the time spent here.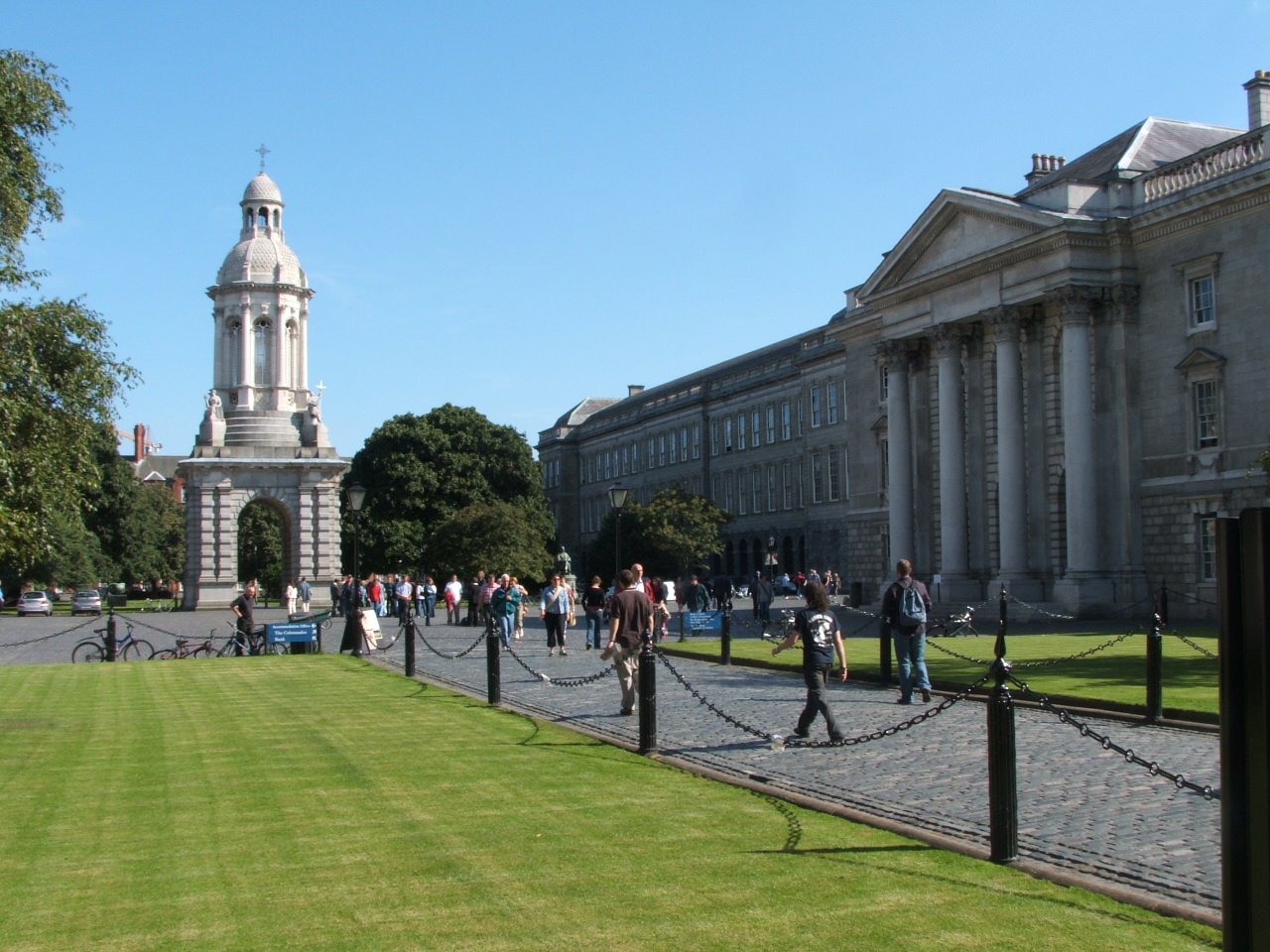 A part of the great courtyard at Trinity College in Dublin.
And for those with a mind to simply enjoy the Liffey, well, you can do that too, although the traffic can sometimes be horrendous!
But then, there's always the Guiness Brewery museum with its amazing displays of the brewers art, the advertising - and, of course, the tour driver's ascerbic comment that with a daily production of five million pints, it produced just enough each day to keep Ireland in Guiness for about a day and a half ......

Posted by The Gray Monk at 01:06 PM | TrackBack
October 29, 2006
Farewell to all that ....
Last Friday night saw the retirement dinner for a colleague and me. It was a formal affair, held in what used to be our Mess. Once I had the privilege of being the President of the Mess here, and for this, the final occassion in which I will be Dining In, I was once more asked to Preside. It was a lovely evening attended by a host of former colleagues and a number of friends of us both, but most importantly, by my three children and their respective partners. Things have changed significantly in the Mess since my Presidency, not least the Mess having been completely redecorated and refurnished in a more "modern" and "more welcoming" style. Well, I suppose if you like a decor that would suit an airport lounge, then, yes, it is modern. Sadly, it now has only one piece of its historic memorabilia left - and that required almost open war to have it restored. It can be seen in the photograph below - and any fire fighters reading this will instantly recognise it as Charles Vigor's Victorian masterpiece entitled "Saved".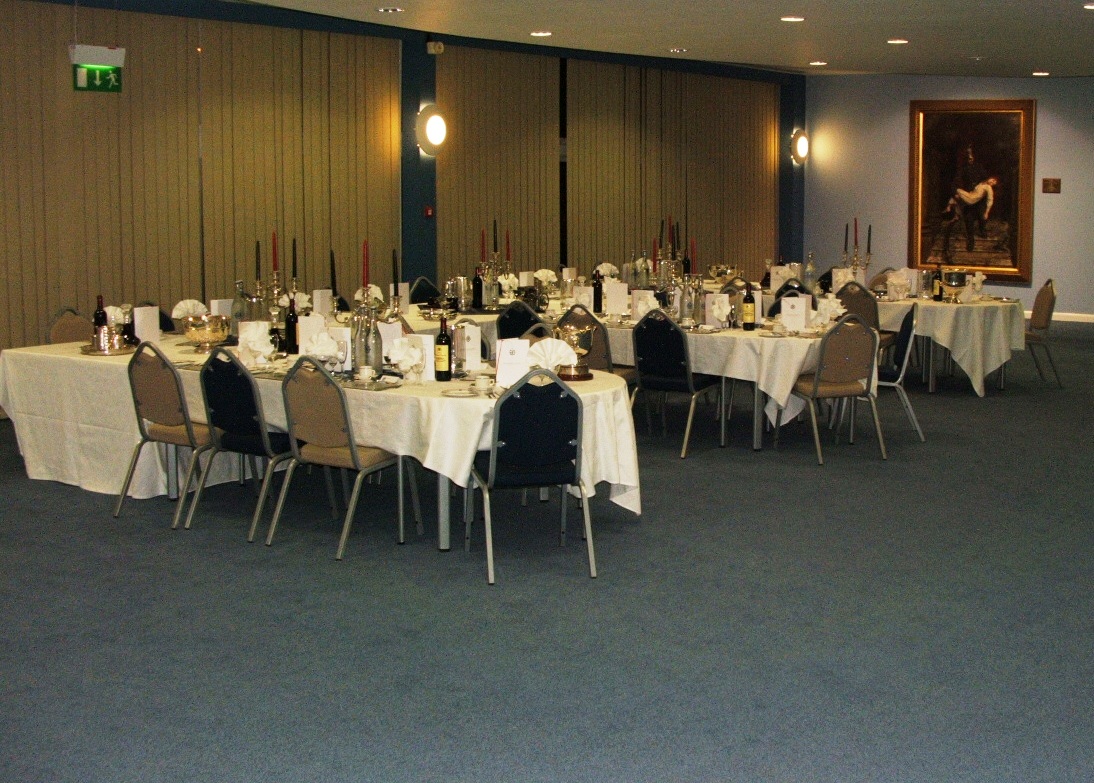 The Mess Silver on the tables set out for a Dining In night for the Gray Monk and a Colleague who retired this month with a collective service record of over eigthy years between them.
We had the privilege of the use of the Mess Silver for our Dining In Night and made the most of it. Some of the pieces on the tables go back to the Victorian Fire Service and others are of more recent date and recall the dark days of World War 2. Our guests included the Chief Inspector of Fire Services, a former Commandant and Chief Fire Officer, the Lord Abbot and the local MP, together with a number of past and present colleagues and my three children and their partners. It was a grand evening, one everyone present enjoyed to the full, with all the usual formalities observed. Three speakers addressed the table, the third reading an e-amil from a colleague from Ireland who could not attend as he was unable to absent himself from duty in his own service. I must say that I was very flattered by the speakers comments.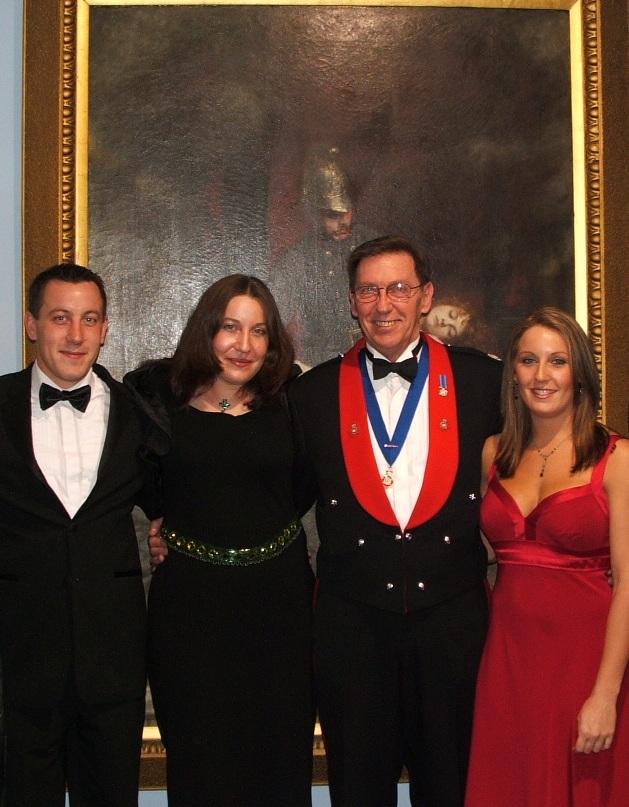 The Gray Monk revealed in his other persona and accompanied by his son and daughters!
It was good to have had this opportunity to enjoy one last formal meal with my friends and colleagues and a great privilege to have had the use of the Mess to do so. Looking back on my career, it has been a huge privilege to have served the community both here and in South Africa (and a few other places in the world!) during the thirty six years since I joined the fire service and it has been an even greater privilege to be able to pass on my experience and the experience shared by others to the next generation of officers.
As I was reminded listening to the speakers, we are all the sum of our own experience, the experience and influence of others, our mentors and our friends. As it says on Christopher Wrens tomb, "If you seek his monument, look around you", so it can be said for all of us - if you seek to know the man, look at his friends and colleagues.
Posted by The Gray Monk at 07:16 PM | Comments (2) | TrackBack
October 28, 2006
Places of note
OK, I know, I can't help being pleased with the idea of my book being in print. The picture below is also described in the book, it is the view from Harry's "home" of Strangford Lough. The soft rolling country around the Lough is fairly typical of the County. The Lough is famous for many things, but probably the most unusual feature is the fact that the entrance to the sea has a "step" in it at certain states of the tide. This can be as much as four feet difference in the water levels on either side as the tide runs in or out. There is a ferry between Portaferry and Strangford villages on opposite sides of the entrance.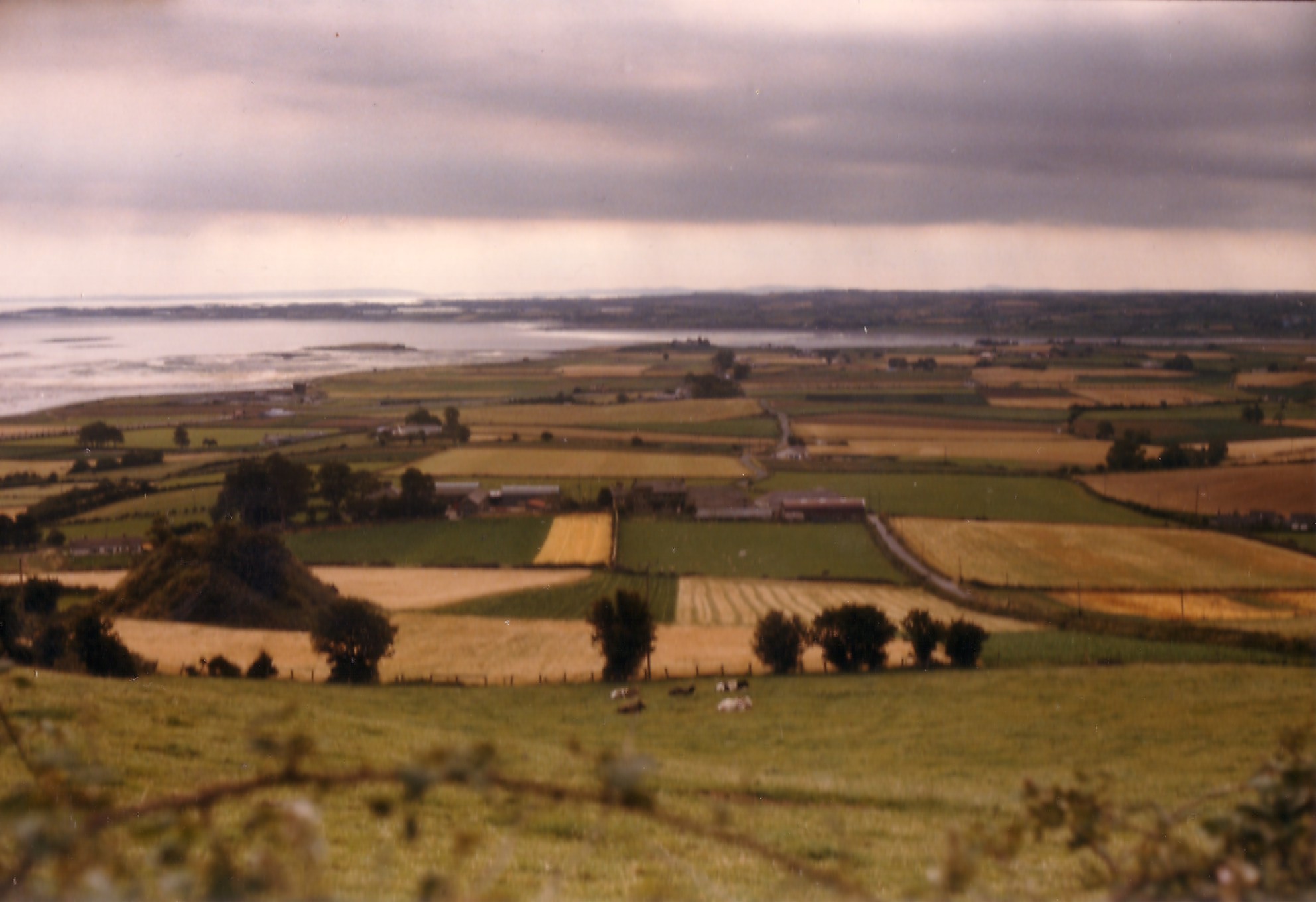 Strangford Lough seen from the High Road across Scrabo's Eastern flank.
County Down is beautiful, green, well watered (it rains a lot!) and very ancient landscape. This is the countryside where Saint Patrick lived and worked as a boy slave and later as the missionary Bishop. He is buried outside the Cathedral of Downpatrick - dedicated, of course, to the saint! It certainly gives me a special feel to walk the roads and paths my grandfather once trod.
Posted by The Gray Monk at 07:25 PM | Comments (0) | TrackBack
October 27, 2006
Names and places ...
I was asked recently where I had got the idea for my book. It's a long story really, but it has been bubbling away for a while in my head. Many of the places I have described (the one's on earth anyway!) actually exist and many have a family connection. The house in the photograph in this post is the one I have described as Harry Heron's home in Ulster, on the shoulder of Scrabo and overlooking Strangford Lough to the South East and Newtownards to the East. In my grandfather's childhood it belonged to his uncle and he helped with the harvest and various other things on the farm - as all children did in the early years of the twentieth century and for time immemorial before that.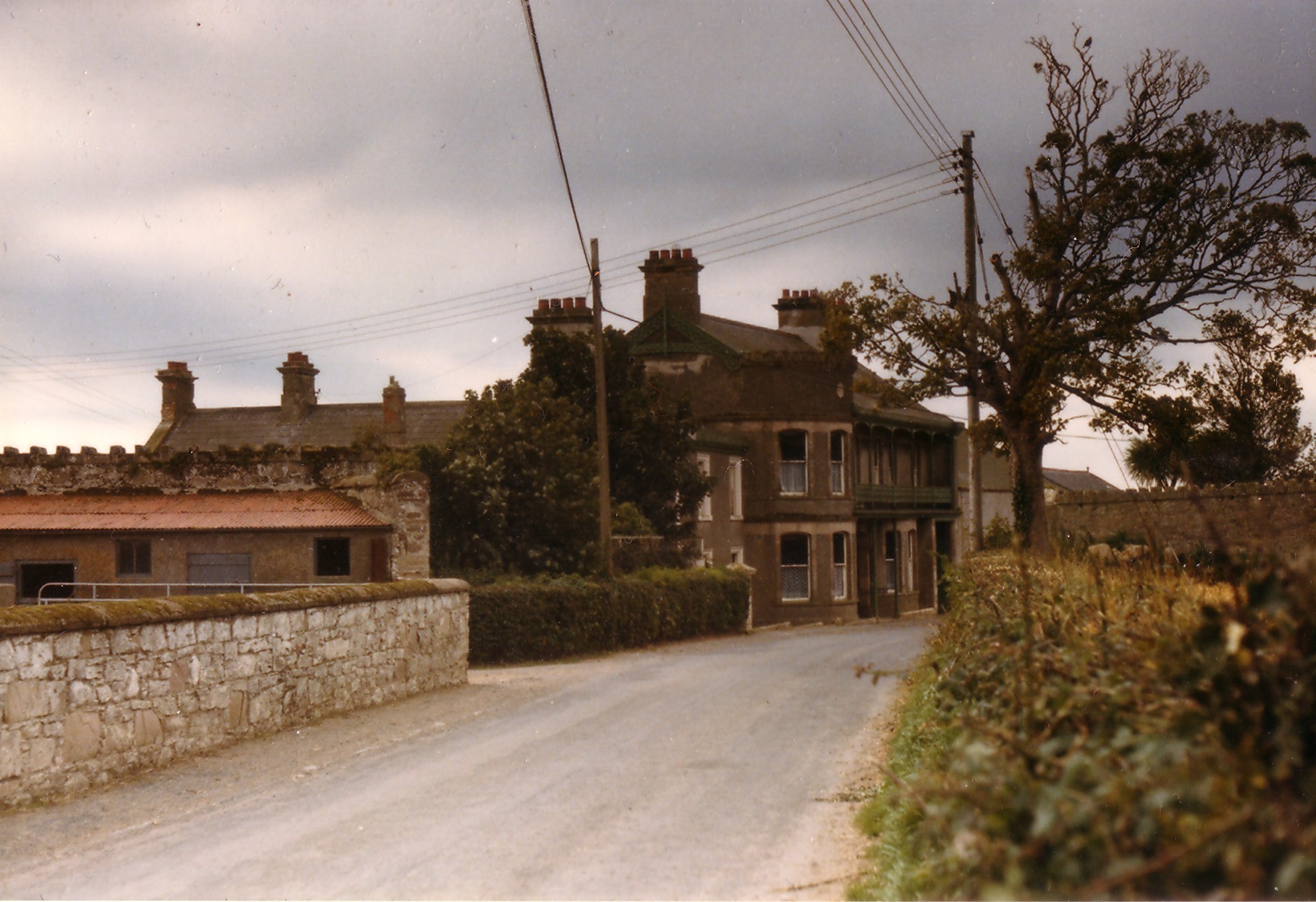 The house still sits on the High Road along the eastern flank of Scrabo, having been extended and remodelled a couple of times in its long histoory.
Among the things which sparked the kernal of the idea for this book was the recent discovery of a great deal more of my grandfather's history. A Sergeant in the Royal Garrison Artillery at 16 and a half - the army records have it as 19 and a half - he had survived by that point the slaughter of the Somme in which his original Regiment ceased to exist and been retrained and reposted to the RGA. Why? Because with half his thigh missing he was no longer fit for the infantry! He and his lifelong friend were both wounded on the first day of the Somme and lay in no man's land for two days before they were found and taken back to a field hospital. It was the maggots in their wounds that saved them from losing limbs and probably their lives.
He was a remarkable man - born when horses were still the chief mode of transport and of agricultural power, he saw the growth of steam power, its replacement by internal combustion engines, the first flights and men on the moon. He never stopped wondering about life and the wonders of the world around him and he never let his friends down when they needed him. He died almost penniless, but loved by a huge number of people - the church overflowed at his funeral and the rich and famous rubbed shoulders with the many who had nothing at all. He left Ireland in 1921 and never went home, although he never lost his love for the country he was born in and supported his mother and sister until their deaths and finally his.
Why did I start my story with Harry aged 15? Because Henry Nelson Heron was 15 when he joined the Enniskillen Fusiliers and 16 years 1 month and ten days when he was almost killed on the Somme.
I hope you'll like the book!
Posted by The Gray Monk at 06:43 PM | TrackBack
October 26, 2006
In print at last!
My book is now in print and available online! "Out of time" is my fictional story exploring the future and using three young men from 1804 to look at a spacefaring adventure set in 2204. It can be bought at AuthorHouse in the US or at the UK based online shop, depending on whether you want to pay in US Dollars or Pounds Sterling. It is, I think, best described as science fiction, although it crosses some of the boundaries described as science fantasy. If you liked Babylon 5, Star Wars, Star Trek or Battlestar Galatica, I think you might just enjoy Harry and his friends as they find their feet four hundred years out of their own time.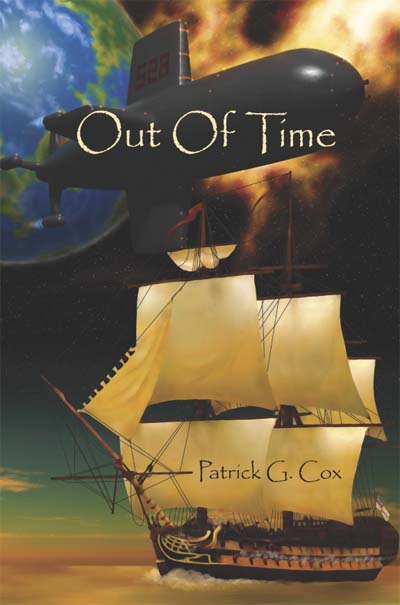 It has been a long and interesting journey to do this and I ended up with a self publishing house as I got sick of approaching agents who were either "not taking on any more authors at present" - never even read the synopsis - or "are refocussing on other areas of fiction" - in other words "we don't do sci-fantasy even though our ad says we do". Now that it is in print I am hoping it will at least recoup my outlay and provide me with that all important entree to an agent and a mainstream publisher. Why? Because the story of Harry Heron, Ferghal O'Connor and Daniel Gunn is not fully finished and has a lot left to tell.
Please don't wait for the play or the film - buy the book!
Posted by The Gray Monk at 06:17 PM | Comments (1) | TrackBack
October 25, 2006
A day of Guggenheim
A few days ago I visited the Guggenheim exhibition in Bonn (former capital of the Federal German Republic) together with my mother. One part of the exhibition is called The Guggenheim Collection with paintings of famous modern artists and another The Guggenheim Architecture. The latter one shows models of museums all over the world that have been proposed or been actually built to house some part of the vast collection of Solomon Guggenheim and his niece Peggy.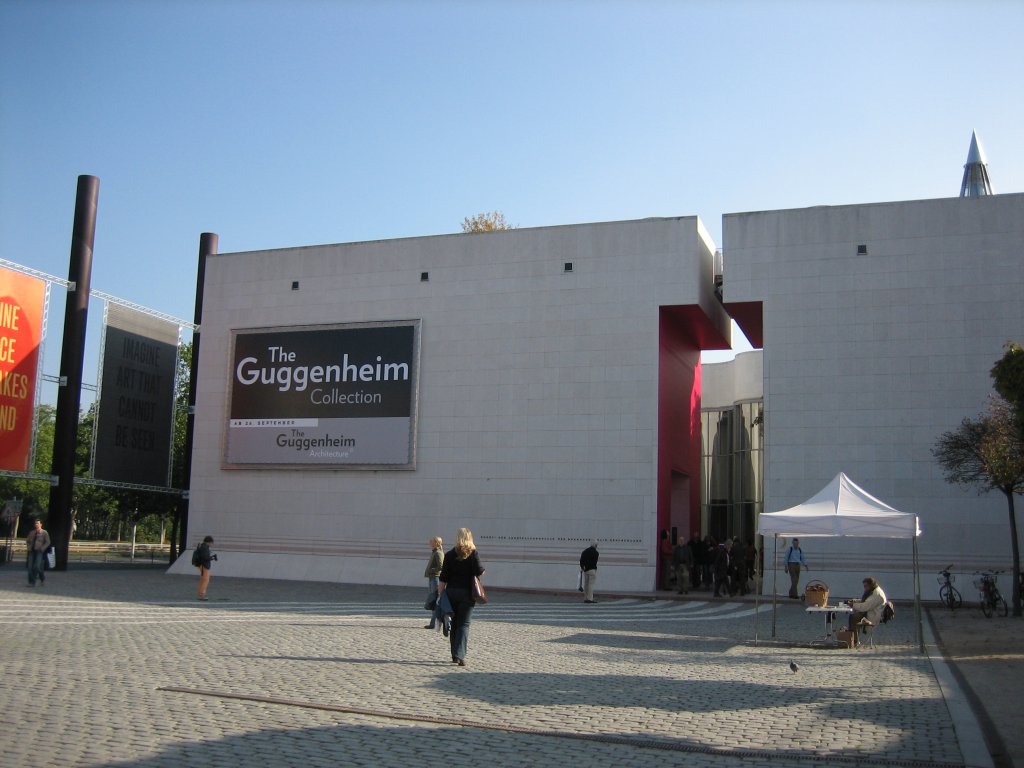 The museum in Bonn - quite interesting in itself from an architectural point of view
We started with the Guggenheim Architecture and were immediately taken with the models on display. The first Guggenheim Museum was opened in New York in 1959. The work of its architect Frank Lyloyd Wright is a true milestone of architecural development. The visitor is allowed to go up on a spiralling ramp which eventually reaches a gigantic glass dome. No more walking through claustrophobic rooms elbowing your way to the front to catch a glimpse of a famous picture. If you recall what the architecture was like in the late 50's and bear in mind that Wright started working on it already as early as 1943 it is a truly astonishing building.
Another breathtaking building is of course the Guggenheim Museum in Bilbao which was opened in 1997. Its shape is very unusual and I suspect you actually needed computers to plan it. The combination of the materials stone, steel, glass and titanium is also new and unusual. The architect is Frank Gehry and the museum proved to be an enormous asset and motor to the economic and structural development of the city of Bilbao. It had cost 85 million Euros to built the museum but the town got the money back over the first three years from tax revenues directly associated with the museum.
Frank Gehry also proposed another museum for New York which looks a bit like the one in Bilbao. Plans existed to built it at the East River. The museum would have been a 40 storey building which looked like a cluster of clouds in steel. The model is truly fascinating. But after the terrorists' attacks on 9/11 and a decreasing economy and in view of the environmental problems a building on and over the water would have created the Guggenheim foundation pulled out of this project. A pity, if you ask me.
The most daring proposal was perhaps the one for Rio de Janeiro in 2002 by Jean Nouvel. The building was to be built at the waterfront and a large part of it would have been inside the water below the surface like a big aquarium. I can well imagine that the light effects would have been fantastic. If a building like that would have worked with regard to fire protection and evacuation in cases of emergency is quite another matter. I suppose all of the models we saw must have given Fire Protection and Safety Engineers sleepless nights and a fair amount of headaches. In the end the project met with so much opposition that it wasn't realised.
It is impossible to describe every exhibit here. You simply have to go to Bonn and see for yourself.
Having taken in this impressive display of architecture we headed upstairs for the real paintings and sculptures. What is remarkable about the exhibition is that it consists of well known artists but not necessarily of well known paintings. There are quite a number of lesser known ones. The exhibition is big enough to fill you with enough art for one day it is not so big that you simply want to get out and leave in the end.
My favourite painting was one by Pablo Picasso. There were beautiful paintings of Picasso. There's no one like him to express a whole world of things in one stroke of his brush. The one I liked best, though, is called 'Lobster and Cat'. The cat must have jumped up on the kitchen table and almost walked into the lobster who's not quite dead yet. You get the impression he's sharpening his scissors while carefully watching every movement of the cat. And you can see how terrified the cat is by her wide open eyes and how very hard she's trying to give the impression of a very dangerous animal by hissing raising her hackles and digging her claws into the table. Fascinating piece of art, isn't it?
I have to admit that I wasn't equally impressed by the comtemporary artists and their work from the 70's onwards. I might need another decade or two to get used to it. After the paintings we went downstairs again and went through the 'installations'. The most impressive one was a labyrinth made from plywood and painted bluish grey. It was about 3 m high but fortunately had no roof. Five people at a time were allowed to enter it. It wasn't a proper maze though because there was only one very narrow (perhaps 80 cm in width or even less), winding passage leading into the centre where there was just enough room for five people to turn around and retreat their steps to get out again. The passage was 132 m long (one way!) and because you had to turn so many corners you soon lost all sense of direction. An eerie and claustrophobic experience! But good fun all the same.
Although it's an almost two hours drive to Bonn it has been a journey well worth the effort If you like to find out more yourself try this link.
Posted by Mausi at 07:23 PM | TrackBack
October 24, 2006
Murphy's lesser known laws ....
I simply had to share this collection of Murphy's Lesser-Known Dictums:


Light travels faster than sound. This is why some people appear bright until you hear them speak.

He who laughs last, thinks slowest.

Those who live by the sword get shot by those who don't.

Nothing is foolproof to a sufficiently talented fool.

The 50-50-90 rule: Anytime you have a 50-50 chance of getting something right, there's a 90% probability you'll get it wrong.

The things that come to those who wait will be the things left by those who got there first.

Give a man a fish and he will eat for a day. Teach a man to fish and he will sit in a boat all day drinking beer.

The shin bone is a device for finding furniture in a dark room.

A fine is a tax for doing wrong. A tax is a fine for doing well.

When you go into court, you are putting yourself In the hands of 12 people who weren't smart enough to get out of jury duty.
But, having spent most of my life in the Emergency Services, I still subscribe to O'Toole's Corollary to Murphy's original law.
Murphy was an optimist.
Posted by The Gray Monk at 01:25 PM
Another little brain teaser ...
As you have undoubtedly noticed by now Mausi is somewhat fond of numbers and puzzles. She had a great time lately solving the one below.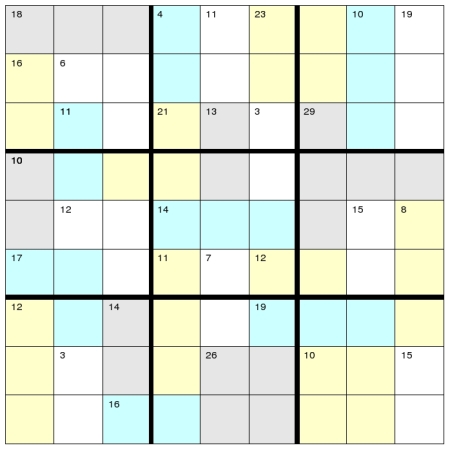 As in Sudoku each of the nine squares, each column and each row must contain the numbers 1,2,3,4,5,6,7,8,9. Similar to Kakuro the little numbers give the sums of digits of small squares of the same background colour.
Have fun everyone!
Posted by Mausi at 07:50 AM | Comments (1)
October 23, 2006
Land of Sturm and Uhudler
Last week Mausi went to the Steiermark on a business trip. The Steiermark is one of the Austrian Bundesländer. It is situated in the South East of Austria next to the Slovenian border. The Austrian colleagues were extremely hospitable and took us on a short trip early in the morning to see a bit of the local scenery.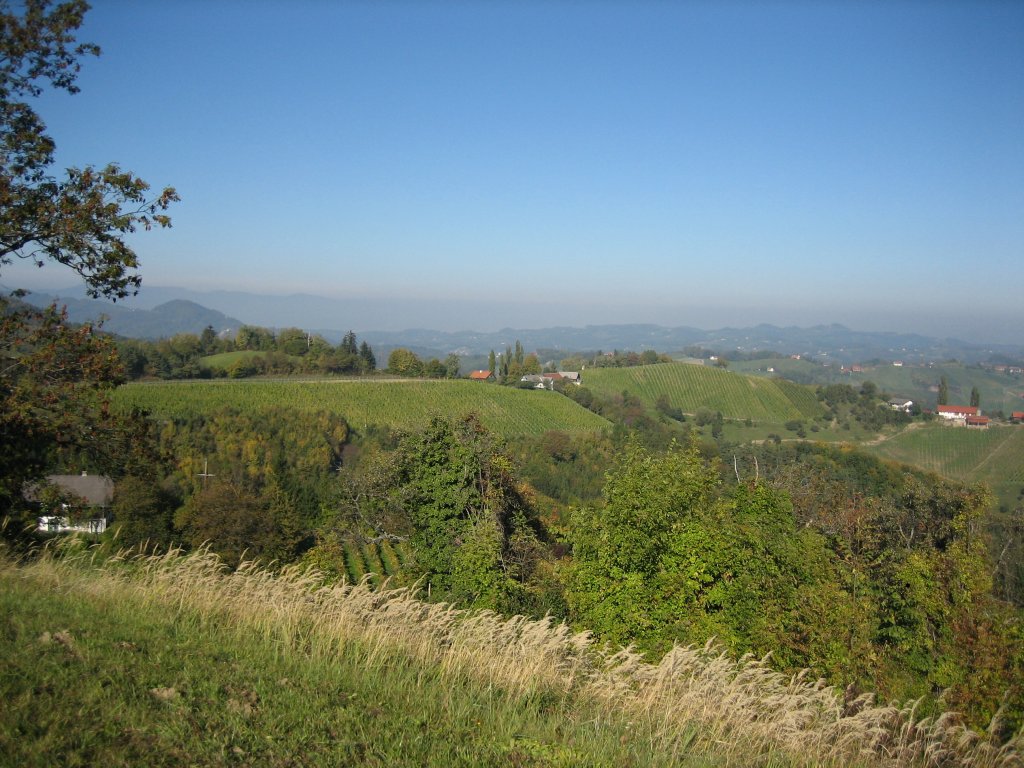 We had driven through fog in the valley but were met by this glorious morning sunshine on top of the hills.
Tha landmark in this part of Austria are green hills rather than high mountains. The hills are covered with vineyards and must be a splendid sight when the leaves are turning colour. The landscape reminds you of Tuscany in Italy rather than Austria, although the two tall trees behind the house on the photo above are not cypresses but poplars.
As it is the case with almost every region where wine is grown small winegrowers struggle against the big ones to survive. Most of these vineyards have been in the possession of one family for a long time. Quite a few Austrian winegrowers possess land on both sides of the border. Sometimes the border goes right through one vineyard.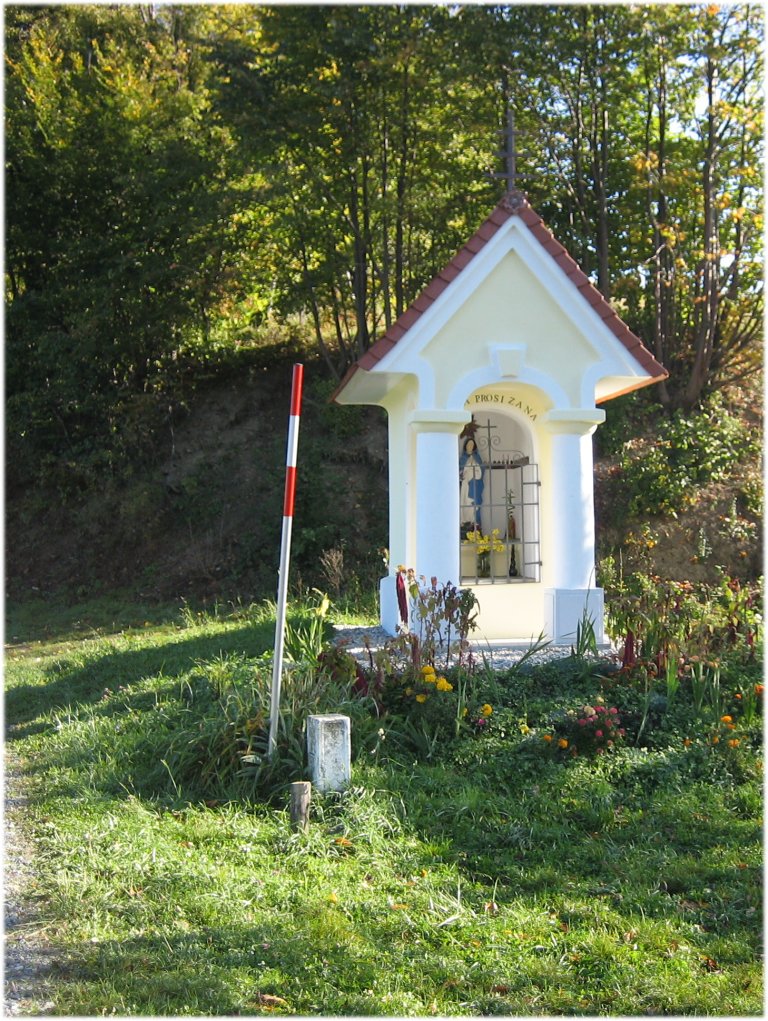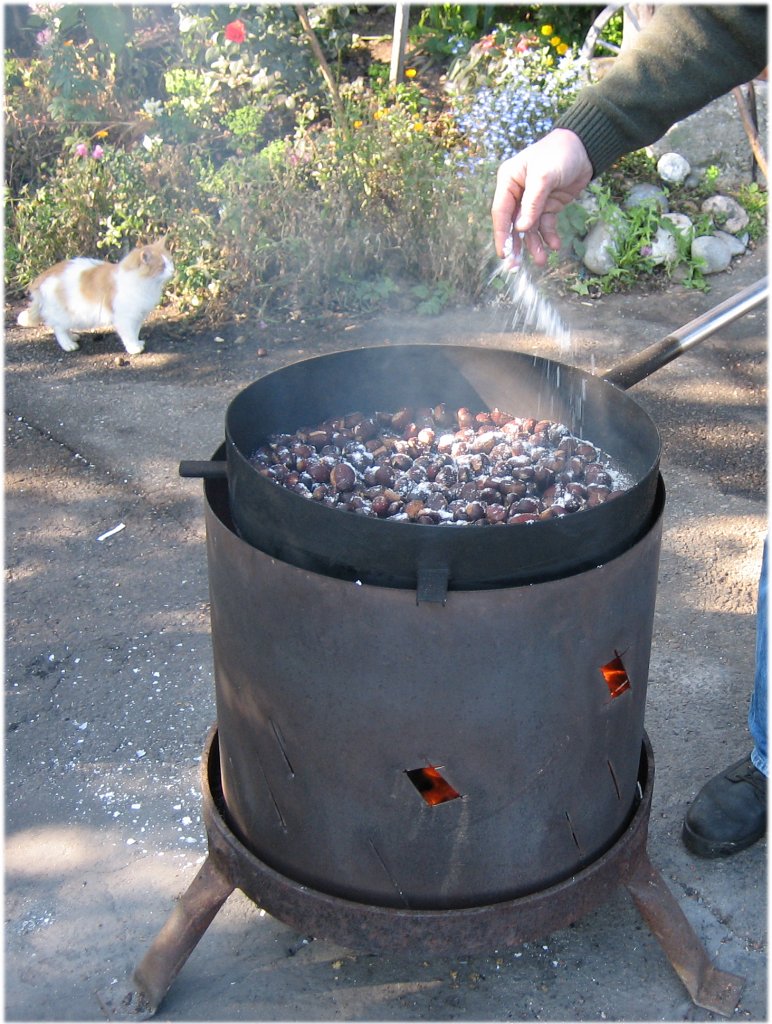 A part of the Austrian-Slovenian border and chestnuts being roasted for us
At this time of the year the harvest is already finished and we had of course to taste the local goodies like 'Sturm' and roasted chestnuts - a fantastic combination, if I may say so. Sturm is what you get when yeast had been added to the grape juice and the fermentation process has just started. The sugar content is still high and the alcohol concentration still rather low which easily tempts you to drink more of it and faster than is good for your head. But in combination with hot chestnuts that are roasted on an open fire and salted to get the skin off them more easily it is just great.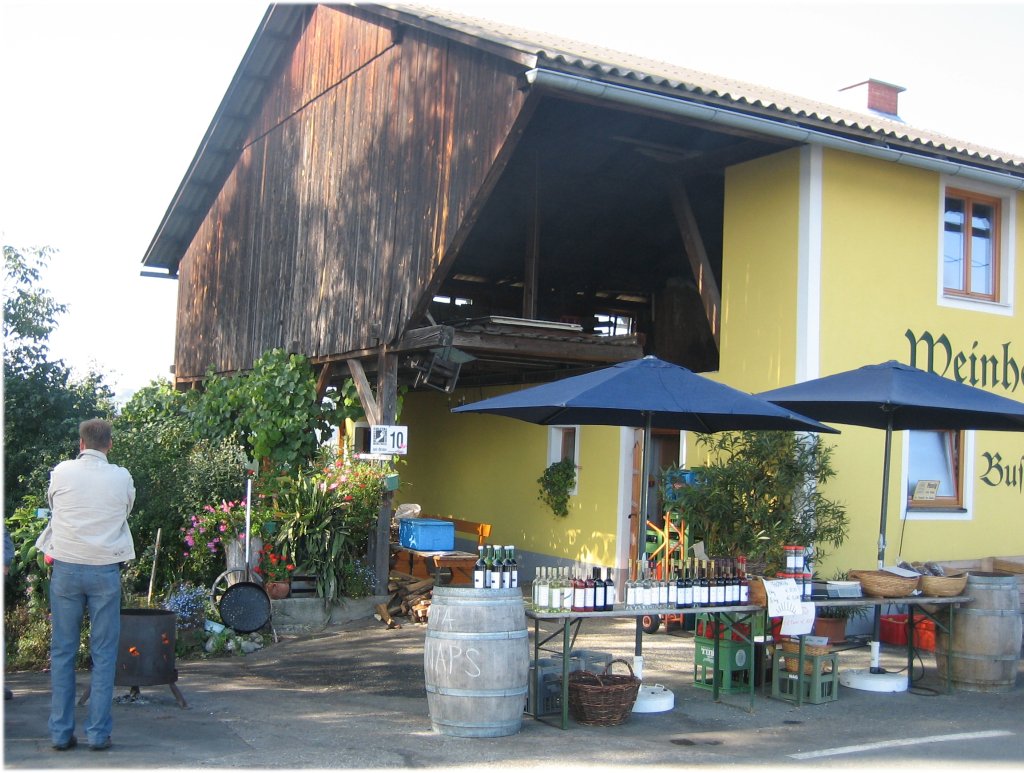 A small winegrower selling homegrown and homemade products
Apart from the Sturm there were other goods on display buy and take home with us like chestnut honey, wine and an assortment of schnapps from different berries. Everything looked quite tempting.
On the last evening of the conference we all went to a 'Buschenschank' for a meal and a drink. Here the winegrowers are allowed to sell their own wines and a cold meal, not a hot one. You can get wine, water, juices but neither beer nor coffee. The meal consisted of homemade bread, cheese, different kinds of ham and cold meat. After having tasted the red and the white wine I eventually ended up with a glass of 'Uhudler'. Sounds dangerous and I believe it is. It the same as 'Sturm' but made from wild grapes instead of cultivated ones. It has a very fruity and probably slightly drier taste than Sturm. Even in small doses it speeds up your digestion like nothing else. But I enjoyed it. It was a pity we had to drive home almost 800 km the next day and so had to take it easy on the wine.
I hadn't been to this part of Austria before and I must say it's a beautiful area. See for yourself, if you have the opportunity. October is quite a good time to be there.
Posted by Mausi at 04:34 PM | TrackBack
October 22, 2006
Dedication
Today sees the celebration of the Dedication and consecration of the great Abbey Church of St Mary the Virgin in Tewkesbury. The building has stood for more than 900 years now and has seen a great swathe of English history including civil wars (three of them!), desecration during the Battle of Tewkesbury, falling into a state of disrepair in the 18th Century, visitations by the iconoclasts in the 17th and finally the great restoration begun in the 19th.
During that time it has been a monastic church and a parish church, it has served as the place in which congregations have gathered, it has seen their joy, their misery and even their relief. Its stones resonate with their prayers and sometimes with their pain. But it is not the building alone that makes this Church, it is very much the people within it, the people who use it, visit it and pray in it, for they are the church.
The Abbey is, today, 904, a venerable age, but the congregations it has served stretch back to the events on the temple mount and in Jerusalem a little over 2,000 years ago. It is here because there were people who believed in that wandering Rabbi - who saw that he truly was "The Son of God" and who then dedicated themselves and their lives to his service and to the spread of his gospel message. It is too be hoped that the future ages will continue that, the true act of dedication that we celebrate today.
My sermon is in the extended post below. May the Peace of God be with you all.
Feast of Dedication 2006-10-22
May I speak, and may you hear,
+In the name of the God,
Father Son and Holy Spirit,
Amen
"So Jacob rose early in the morning, and he took the stone that he had put under his head and set it up for a pillar and poured oil on top of it."
Since earliest times mankind has been moved to set aside places for religious activities. Our passage from Genesis this morning tells the story of Jacob and his dedication of the site of his dream to the worship of the God of Abraham, a site some now identify as the temple mount and others argue over different sites. Following in that tradition we have this great Abbey church, the nave and Presbytery very much the Norman structure that was first consecrated to the glory of God in 1121. At that time of course, the Abbey was to be the home of the men who had taken the tonsure and adopted the Benedictine Rule, dedicating their lives to the God they understood and followed.
As you entered the church this morning you will have passed by the mark carved in the stone of the door surround and anointed with oil during that service of consecration, and the nave would, in all likelihood have been thronged with the great and the good who had endowed its foundation and their retainers. Not much changes does it, for we would find the same sort of balance in any great act of dedication today.
Two things stand out. The first is the dedication of the place, the second, and more important, is the dedication of the people in their desire to love and serve the Lord. WE know that in 1178 a fire almost destroyed the new Abbey – the marks are still visible to this day if you know the signs. The community rebuilt it then. In 1471 where you are sitting was awash with blood and the corpses of the slain , the dying and the wounded following the desecration of the church by the King's army pursuing the defeated Lancastrians. And the Church was rededicated in October after all had been repaired and restored.
Following the dissolution the building was bought by the town, again an act of dedication by those who committed a huge amount of money to saving it. In the 19th Century the great and ongoing restoration began, again by public subscription and in the face of huge opposition – and the result you see about you today. A building dedicated and consecrated to be a place in which we can and do offer our prayers, our praises and our worship to God. But it is nothing more than a rather beautiful pile of stones arranged rather artistically if the people who use it do not use it wisely, and for the purpose of growing the Kingdom of God.
St Peter speaks to us this morning of the stone rejected by the builders becoming the cornerstone of the new temple. His obvious reference is to our Saviour Jesus Christ, but it goes deeper and further than that. For, if Christ is the cornerstone, every one of us and every one of those who built this place, have worshipped in this place, who keep this place today are the very stones of its fabric. The building is the place dedicated to God, but the stones that make it live are you and I. It is what we carry out into the world from here that really brings this place and its dedication to the glory of God to life. That is what brings the Gospel of our Lord Jesus Christ out into the community we represent and the world. That is what we are dedicated to do and to be, the living stones of Christ's church in the world.
This is the message of our Gospel reading this morning, we are both Christ's sheep and his voice in the world. The Jews who challenged Him in the temple portico could see only the restoration of the Kingdom of David and the beauty of the Temple around them - a temple it must be said built by the Herodian family. The feast of the dedication of which our Gospel speaks is more than a feast commemorating the temple's consecration, in Jewish tradition it is a rededication of every living Jew to their faith, and that is what we need to make our own feast of dedication today.
St Peter's letter states, "See, I am laying in Zion a stone, a cornerstone chosen and precious and whoever believes in him will not be put to shame."
The stone laid in Zion is the cornerstone of our faith. We are called to be the stones of the living temple and church built upon it. We are, quite simply, called to hear his voice and to join him in our dedication to God.
This great Abbey Church has seen moments of great holiness, and a few of great human evil. We in our time face challenges perhaps less open and perhaps less obvious, but, if we are truly to see this church and its use as a place of worship, joy, prayer and calling pass to the next generation, it is incumbent upon us to renew our own dedication to the God to whose worship it was consecrated all those years ago.

In the words of our Collect let us pray again:
Almighty God,
To whose glory we celebrate the dedication of this house of prayer:
We praise thee for many blessings
Thou hast given to those who worship here:
And we pray that all who seek thee in this place may find thee,
And, being filled with the Holy Spirit,
May become a living temple acceptable to thee;
Through Jesus Christ, THY Son our Lord, who liveth and reigneth with thee,
In the unity of the Holy Spirit, one God, now and forever.
Amen
Posted by The Gray Monk at 08:47 AM | TrackBack
October 21, 2006
Trafalgar Day
Today, two hundred and one years ago, Admiral Lord Nelson won the famous victory that reshaped Europe and the history of the ninteenth Century. Had he lost, Napoleon would have had a clear run at invading Britain and Europe, and probably the world would now be predominantly French speaking. Mind you, our "friends" in the Labour Party and Scotland would probably think that "a good thing" since any enemy of the English must be a "friend". Certainly the Scots have never lacked for people who will side with anyone opposed to the English and the same can be said for sections of the Welsh and Irish communities as well. You do have to wonder why, two hundred years on from Nelson's victory, the English have managed to allow themselves to become the butt of everyone's spite, constantly denigrated by our trendy PC historians as freeloaders, slave trafficers and evil oppressors of everyone? According to modern revisionists we, the English Nation, have contributed no great inventions, no advances in science and no advance in civilisation. Men who, in their own day would have considered themselves (and did!) proudly British or English are now labelled "of French parentage" (Brunel), Cornish (Trevethick), German (Jenner- although I'm pretty sure he'd take offence at that!) and so on. Anything but English.
Gone is the national pride which saw the "United Kingdom" rise to be the premier world power for a full century. Gone is the pride that we justly felt at being a free, fair and decent society, a society which did its best to be fair to everyone and offered refuge to all in need. Gone is the pride in the work of Wilberforce and others who worked to outlaw slavery, or Sir Onesimus Paul who worked to reform the prison and justice systems. Frankly they would be appalled at what we have done with their legacy! No longer are we permitted to feel pride in the fact that two hundred years ago, we broke the ambitions of a revolutionary dictator on the rock of a navy now cut to a fleet (more like a "Squadron"!) smaller than that managed by our former enemy. The rattling sound you can here in church yards around the country and particularly in the crypt of St Paul's is every English Admiral, General and Leader that contributed to the greatness of the United Kingdom and ALL it's peoples whirling like dervishes in their graves!
The comment from ABC, a thirty something, to my post of Friday, sums it up. Every young man or women with common sense and the ability to see through the lies of Labour and the Politically Correct clone army is looking for ways to emigrate. English pride is gone, buried in the avalanche of Welsh, Scottish and "Worker" prejudice and envy that is the Labour Party's stock in trade and their desire for vengeance. It has been said of the Irish that they have experienced everything, forgotten nothing and learned nothing from it. I think the same can be said of the rising generation and of the generation that is currently in charge of government - with one exception. This shower have no experience, they live in a world of unreality, a world driven by mantras such as "institutional racism", "institutional sexism", "class war", "oppressed minorities" and "militarism" and many more related war cries all aimed at one thing only. Destroy everything the nation once stood for and whichj made it a great place and a great people. Reduce it all to the lowest level of mediocrity and entrench themselves and their cronies in power.
Look around us. The United Kingdom became great during an age when work was something everyone did. The best employers saw to it that employees had what they needed and looked after those who became infirm and unable to continue working. The worst, usually from among the nouvo riche - of which most of Blair's cabinet are prime examples - did not. But the combination of effort and productivity moved mountains - even Marx said that the worker needs take his or her skills to the market, to move to the workplace, not the other way round. Unfortunately the labour movement saw it in other terms. After all, if people are tied to an area - as any feudal Baron could tell you - they are much easier to influence, bully, browbeat and control. That is the birthplace of socialism. If the state is the sole provider of work, wealth, benefit of any kind, the state is the sole arbiter of where you live, where you work and how you may advance. So what has happened in the last two hundred years?
Education peaked under the immediate post war system, admittedly with a difficult choice between Secondary Modern (which wasn't!) and Grammar School which offered a very superior level. So what was the solution the Socialists devised? Raise the standards at Secondary Modern? Of course not - destroy the Grammar Schools and lower the whole standard across the board to the lowest level possible. Anyone who has seen the latest questions for A Level students will attest to that! Secondly the "full employment" mantra of the Labour Party throughout the 60's and 70's led to the complete collapse of British Industry. It simply became unreliable, uncompetitive and totally unproductive. Who ever heard of manufacturing cars that no one would buy, storing them and then sending them to the crushers to be recycled when they had gone out of style? The Soviet Union never tried it, but it was a Civil Service solution dreamed up and endorsed by a Labour Government to the huge stockpile produced under massive subsidy by one car manufacturer. Who ever heard of the same company actually having an internal price war between its own subsidiaries so that no part of the company could possibly make a profit? Well Labour thought it was a good idea - and encouraged the workforce to engage in almost continuous strike action at the same time.
Our once great shipping industry has also collapsed under competition from abroad while our own labour force was encouraged to "milk the toffs" with ever increasing wage demands while refusing to modernise and reskill. Again, to have done so would have removed the unions power base in the shipyards, because a better educated, better skilled workforce is much more likely to see the stupidity of voting for their own demise.
What have we done with Nelson's legacy? Sadly we have thrown it away.
Like the Irish we have experienced everything, achieved greatness, forgotten nothing - and learned nothing at all in the process. We deserve the dictatorship we are gradually descending into.
Posted by The Gray Monk at 07:44 AM | TrackBack
October 20, 2006
Brown for PM? Not if the English have an ounce of sense left in them!
The Gorse Fox has provided me with some interesting figures - figures which support my long held view that Labour and its leadership have been waging a war of attrition on the English and everything English. A report that the Gorse Fox quotes reveals that Gordon Brown (a Scottish MP, representing a Scottish constituency - which has another MSP representing it in the hugely expensive Scottish Parliament as well) has stripped over £100 billion from the pension funds of Middle England and the English pensioners.
And this is the man who harbours an ambition to rape and pillage the English Nation even more as he seeks to replace Blair as Prime Minister of the now dysfunctional, and far from United, Kingdom.
If nothing else exposes the dishonesty, and frankly vindictive, attempt to destroy the English Nation then this must be a prime candidate. It sits alongside the arguments advanced by this shower of dishonest and immoral charlatans to the effect that "there is no such thing as an English Nation", that there is no longer anything "British" and that unchecked immigration from Africa, Asia and any other non-Christian and non-European nation is essential for the survival of the Kingdom and to fill a "skills gap". In ten years this Party of malignant left wingers and closet communists have reduced a two thousand year history of this island nation to a series of lessons on how evil the English were/are and always will be and how noble the Welsh, Irish or Scots are to have been "oppressed" by them for so long. Multiculturalism was not about integration or assimilation, unless it was into the Islamic society Kelly, Straw, Brown and Blair seem to think is so much nobler and freer than our own.
For the last hundred or so years the English have been painted as evil oppressors and absentee landlords who have suppressed the Scottish nation, abused the Irish and stripped the Welsh of their coal. And for the last hundred years the English have actually paid towards the propagation of this nonsense in tax revenue raised in England and spent in Scotland, Ireland or Wales. The Scottish Parliament has not been paid for purely out of Scottish taxes - it couldn't be, since there are fewer taxpayers there than in England and fewer still in Wales to pay for the hugely expensive parliaments they have built themselves and the massively oversized and overpaid bureaucracies that they have gathered about them. No, over 60% of that money has come from the English - probably out of the pension funds that Brown has so effectively asset stripped.
It is time for the English, particularly those of Middle England who fell for the smarmy smile and the empty words of Blair a decade ago and are now paying the price, to throw Labour and its evil scheming and vindictiveness out of office and preferably into the sea. If they want to elect these charlatans in Scotland or Wales, let them, but then they must pay their own way as well.
The country - and particularly the taxpayers of England - can afford them no longer. It is time they went, and it is time the huge bureaucracy they have created around themselves was cut back dramatically as well. Public services would not suffer from such a pruning, they would improve because it would place the delivery and management in the hands of people who know what they are delivering, not jobsworths climbing the Civil Service promotion tree. Taxes would be lowerand money would be available for the delivery of real services, not the restricted services we currently get from the incompetent managers parachuting in from Civil Service departments who couldn't give you a straight answer if you had them on a medieval rack!
Its time to clean out the house, before they destroy it and everything our forefathers built and fought to preserve.
Posted by The Gray Monk at 01:36 PM | Comments (3)
October 19, 2006
Anniversary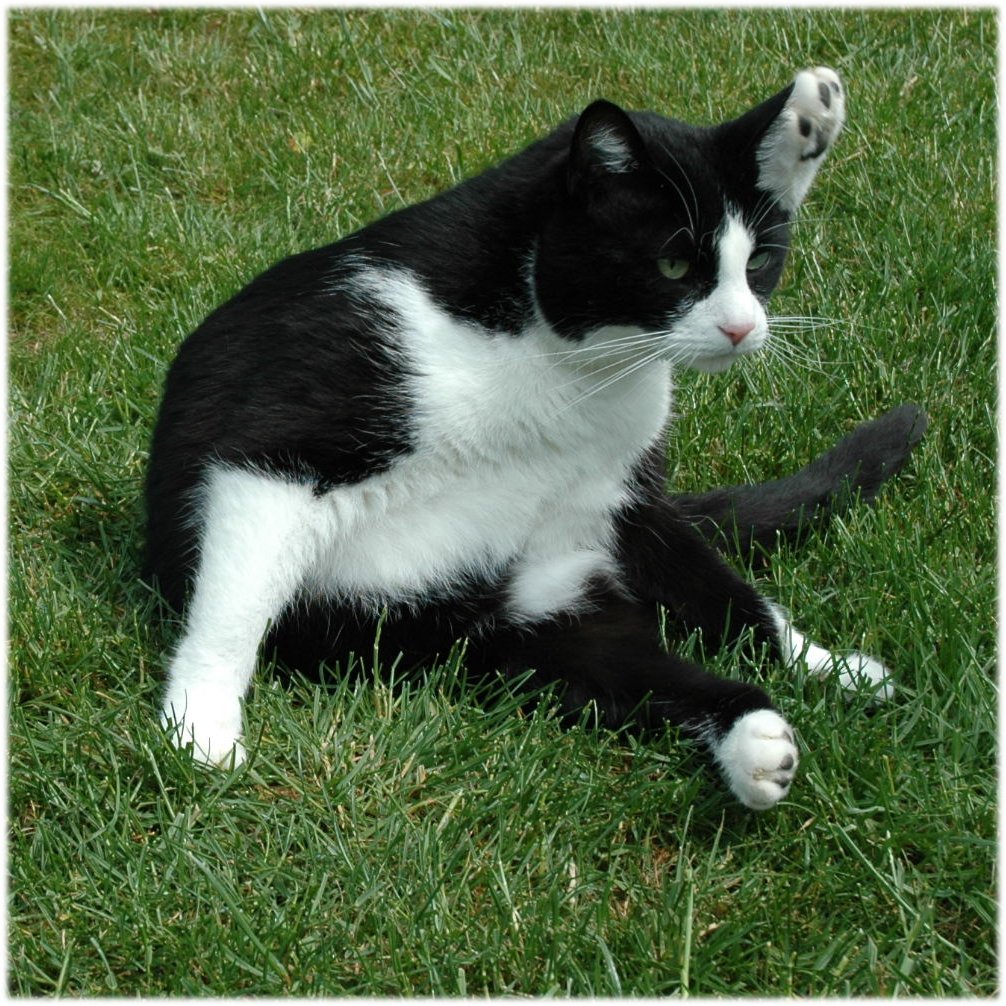 Today Mausi has been publishing bits on this blog for a whole year! In the beginning it was hard work for words do not come to Mausi as easily as they come to the Gray Monk, especially not in English. But after all that practice it has become real fun. It has also given Mausi a different outlook on life - she frequently catches herself thinking "Well, this is something to tell on the blog and share with others..". Moreover, collecting bits of information and taking pictures to go with it has awakened her sleeping interest in photography again.
It's also been quite an experience getting responses and comments from all over the world. Most were very nice and complimentary. Positive feedback always makes one feel great. Thank you all! Funnily enough, the posts which had been the most difficult and time consuming to be written almost never evoked a comment but the ones Mausi had to shove in into a hurry stirred up quite a few.
Before joining the Gray Monk on his blog Mausi hadn't been aware of the large and forever growing community of bloggers out there in cyberspace. What Mausi finds fascinating about blogging is the opportunity to get personal views from ordinary people all over the world. As Mausi has found out views from the outside are often quite different from views from the inside. And often it is quite enlightening to get additional information that has not found its way into the official media and to get more than one opinion of a certain subject.
Well - Mausi has certainly enjoyed the last year on the blog and is looking forward to the next one.
Posted by Mausi at 07:52 PM | Comments (1) | TrackBack
October 18, 2006
Losing our freedoms?
There is a scene in my favourite bit of Sci-fi telly, Babylon 5, in which a group of rather unpleasant politicians who have managed to win power by playing the fear card rather well (a bit too close to the reality of New Labour sometimes!) make the statement that "it may be too our advantage to play up this threat. It may help us to extend the President's emergency powers later." Looking at the record since Blair came to power you could be excused for thinking that, as his popularity has waned at home, his pursuit of "threats" from nameless and sometimes imagined, enemies at home and abroad have enabled him to sneak in a wide range of legislation all of which restricts, removes or limits our long cherished freedoms.
Freedom of speech is now seriously limited since you cannot debate the ethics of a wide range of government mantras without being accused of racism, sexism, fascism or some other conveniently invented label all meaning much the same thing. To question the "wisdom" of any of Whitehall's denizens and superfluity of "advisers" is to lay yourself open to being labelled and extremist of some sort. An interesting twist on that is the latest statement by Ms Kelly to the effect that the Far Right is as dangerous as ever. What about the Extreme Left Ms Kelly? Or are they OK people because they are members of your Party and your government? Of course, the Old Labour Party members used to be allowed to tell us that Stalin was such a nice man who really did run Soviet Russia as a "workers paradise". Yes, well, most of them also have fairies at the bottom of the garden as well - except that you are not allowed to say that anymore, it might offend someone!
The problem for many of us is that New Labour's much vaunted "morality" is in reality, nothing more than the personal prejudices of the various people who make up the Party, repackaged and redressed as "morals". Their dream of "redistributing" wealth is just that, an unachievable dream. Wealth can only be created by effort, those who make no effort gain no wealth. Yes, there are unfairnesses in the manner in which effort is rewarded - I for one would not pay the Senior Mandarins in Whitehall a single penny since they produce nothing and destroy everything they are entrusted with - and the modern belief in "across the board" pay rises based on percentages can only exacerbate the inequalities between senior managers and the actual workers. But, of course, it is not in the interests of anyone on the upper end of those awards to change them.
Many of the much vaunted "Rights" they have driven through legislation have resulted in hardship for those on the delivery end, while further rewarding his real constituents, the moneyed and wealthy who fund his Party. A good example is the "Right" to choose how you work, almost entirely anulled by the granting of a seven day trading week for much of the retail industry. The supposed "protection" built in for existing workers who chose not to work on Sundays was a laughable farce. It could not and did not afford any protection at all, since employers had the perfect get out clause written in by their stool pigeons in Parliament. All they had to do was make acceptance of a "flexible" week compulsory if you changed your position in your employment. So, either stay in your present job with no improvement in benefit - or take a "promotion" and change your "right" to choose not working on a Sunday. Overall, the only winner here is the Board and Senior Management of the likes of Tesco, B&Q et al, none of whom are ever required to work at a weekend.
Family friendly working is another of his Weapons of Mass Deception, since the reality for many of those it was supposed to benefit is very different. It has meant, when taken with the seven day working idea, that many families now rarely have the same two days off. The husband and wife may be on different work patterns and the children are at school when they are off work. Is it any surprise that the fabric of our society is unravelling? It shouldn't be - but remember that Blair and the rest of those who have subscribed to this - and the Tories and LibDems are all in the boat with him - will never have to face these choices themselves. Why should they, they earn hugely inflated salaries, employ their own relatives and cronies as their assistants and secretaries and have the luxury of awarding their annual pay increases themselves. Would a turkey vote for Christmas? Not likely, but, as long as it doesn't affect them, their families or their chums in the Treasury or any other Whitehall Department, why should they.
In the last ten years the legislation we live with has been amended, changed or replaced on a phenomenal scale - and all of it has in some way restricted our traditional freedoms - or even removed them. Blair and the Civil Servants will argue that this is necessary to meet the threat of terrorism or to "harmonise" with Europe. But is this the truth, or are we simply the victims of power hungry autocrats who believe that we are incapable of behaving decently or managing our day to day lives without their interference? I rather think it is the latter, and that view is supported by the announcement that that other buffoon holding a Ministerial brief, Harriet Harman, that millions of our money is to be spent "teaching children how to eat fruit". That and the further idea floated by another minister that students should be spied on to ensure they are not getting involved in radicalism. East Germany's Stazi are but a whisker away from being re-established in Britain!
Unless we are able to take back our freedoms from this shower of closet dictators very soon, we will lose any right to call ourselves a free and democratic nation. Sadly I do not think that any of the alternative parties would be any better in power!
Posted by The Gray Monk at 11:38 AM | Comments (0) | TrackBack
October 17, 2006
Interludes and diversions ...
With the latest Galley Proofs for my book now in my hands, I am that little bit closer to the moment of actual publication. But, having taken on a job for a client I am finding that time for that and for this blog is seriously limited! Fortunately my work for said client is now nearing completion so it should not be difficult to find time later this week to complete the proof read and sign off the Galley. Then I have to get on with another project, writing a handbook on another subject dear to my interests - the investigation of fires and explosions.
I get a lot of fun out of writing - as some of you will have gathered following this blog and my ramblings around the many and varied things that take my fancy. Some of former colleagues remarked on the way I sit down and simply pour everything I know on a subject into a document, then go back and correct it, often expanding it as I recall further information or find more information that needs to be included. My next step is to get several people to read it through and comment on the flow, the level of information and any ommissions or perhaps expansions needed. The problem I suppose is that, while I enjoy this activity, it doesn't actually earn you enough to pay the bills - so I have to take on the diversions which do.
The latest one has been quite a challenge one way and another. It has meant looking up a lot of information on a very wide range of things mechanical and interviewing and consulting with a range of people from operators through to maintenance fitters and engineers. Examining the equipment has been interesting as well, not least because I have seen a few things on this job that I had not seen before. Eureka! Another learning experience to be savoured and filed away for future use!
In between comes the fun - like yesterday. Yesterday I could hardly believe that my former employer was actually paying me to stand by and supervise the burning of four brand new cars. It felt a little unreal to say the least. But, it won't stop me sending them the invoice for my services!
I could get used to this .......
Posted by The Gray Monk at 11:06 AM | TrackBack
October 16, 2006
Veiled upset .....
The debate about the wearing of veils by Muslim women when attending meetings or other events and functions seems set to develop into a full blown confrontation over a number of "religious" usages. On the one hand it seems to be developing into a row about the whole issue of wearing so-called "Islamic dress" and on the other it is really about the dominance of a particular cultural view of appropriate conduct and dress codes. In all honesty, the Islamic world finds the Western mode of dress, particularly for women, unacceptable. But does this mean that it is right and proper for them to dictate that their own women should be covered in the Burkha? Or to veil their faces in public? I would argue strongly that it is not. In fact I would argue that it is an affront to women that they should be forced to hide from the public eye at all - and even that it is not in the Quran that they should do so either!
Unfortunately this is also linked to the recent government drive to promote the practice of Islam at the expense of what was left of British culture and the Christian faith. Multi-culturalism is the root cause of the tensions now emerging in our fragmented society and the bleating of the incompetent Ms Kelly that "extremism must be rooted out" is unlikely to have any effect at all. One manifestation of the drive to suppress any faith other than Islam is the decision of the Heathrow BA manager to suspend a worker who refused to remove or cover up the symbol of her own faith. Apparently BA sees no conflict between allowing a follower of Islam to wear a hijab over her uniform, but any Christian symbol is deedmed offensive. Personally I find that deeply offensive. In fact I find the wearing of Arab dress - designed for and suited to the deserts of the Middle East - by public servants in this country an affront. There is only one reason for wearing this form of dress and that is to set themselves apart from our society and as long as they do, there will be conflict and fuel for the extremists on both sides to promote enmity.
We can no longer call this a Christian country, it is not. At present it is a secular and extremely matrerialistic society - Post Christian if you like - but if Blair and his minions continue to ignore the very basic principle that a divided society is a society in conflict, we will soon have to choose whether to live as a "tolerated" minority in an Islamic dominated theocracy or leave. That is the simple message underlying the insistance on being allowed to hide their faces and their identities from non-Muslims and in maintaining a separation from anything that has marked our society as free, fair and just in the past.
I seldom agree with anything any member of this government says or does, but on this occassion I think Mr Straw is correct. If these women wish to consult their MP, the veil comes off. If they wish to be treated in the NHS, they do so without the veil! It is time to stand up and insist on integration and the abandonment of the Wahabi Cult's patristic vision, rooted as it is in the ethics of a desert people living in the 7th Century. It has no place in our society and no place at all in the modern world.
Posted by The Gray Monk at 07:37 PM | Comments (0) | TrackBack
October 15, 2006
A Walk in the Park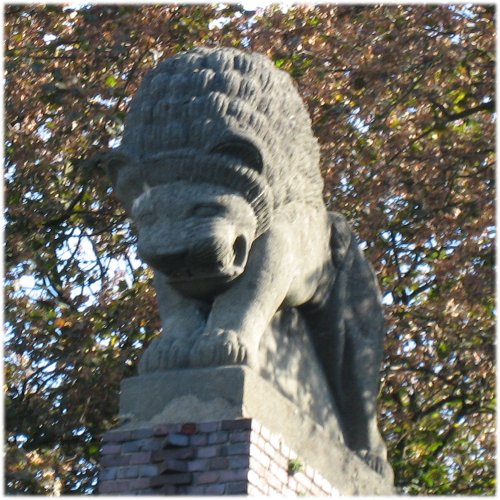 After a leisurely walk through the assembled Jugendstil architecture on the Mathildenhöhe in Darmstadt we finally reached a public garden called 'Rosenhöhe'. The entrance is guarded by six mighty lions looking down from the tops of long brick pillars. Originally the garden was a ducal vineyard. In 1810 Grand Duchess Wilhelmine ordered the vineyard to be transformed into an English garden with exotic trees, pavilions, gazebos, water basins and round flower beds. The responsible landscape gardener was Johann Michael Zeyher. In 1826 a mausoleum was built and the garden served as a graveyard for the ducal family. A little palais was added in 1894 by Prince Wilhelm which was destroyed during WW II and never rebuilt.
The last Grand Duke Ludwig added a rose garden and a rosarium most of which survived both wars. Since 1979 work is underway to restore the historical garden to its former beauty. Having seen some of the more famous gardens in England I think there is still a lot of work to be done which will keep an army of gardeners occupied for some years. I always ask myself when German gardeners will finally discover the third dimension - our flower beds are always as flat as floor board. Still, it was a pleasant enough stay there in the warm October sun. The peak of the rose blossom was over but there were other things to discover and enjoy. Like this metal sculpture of birds. Going around and noticing the shiny metal bits you could tell exactly which size the kids are that come up here to give the birds a pat on the head. And the toddlers which cling to the wings and take their first steps into life.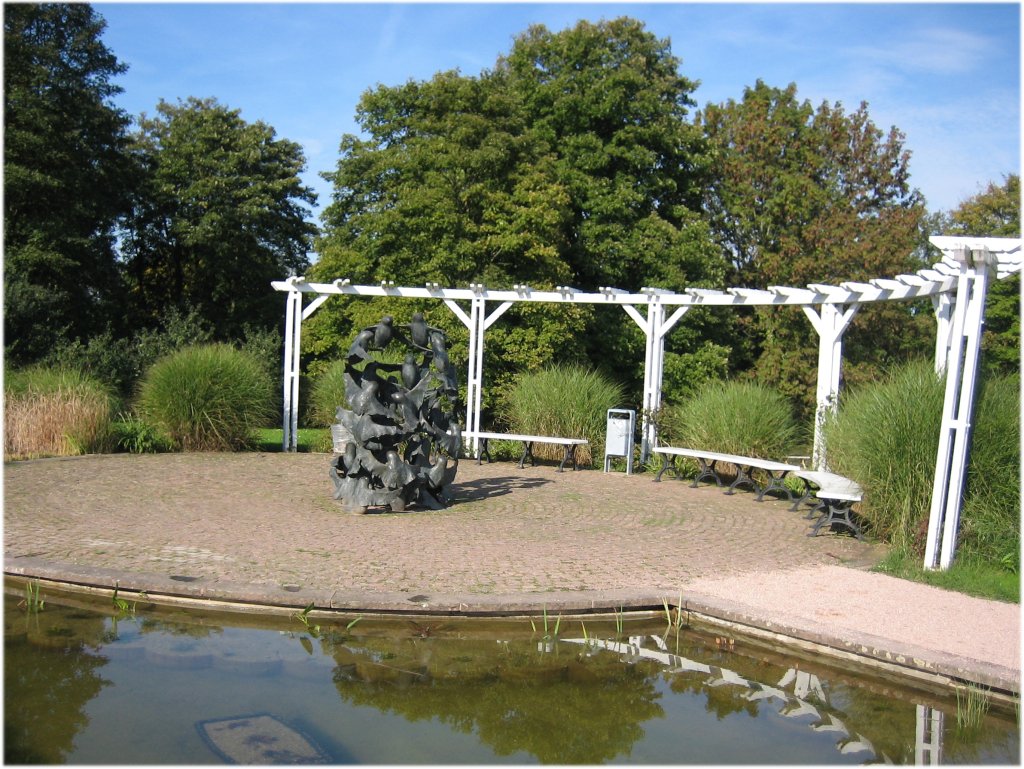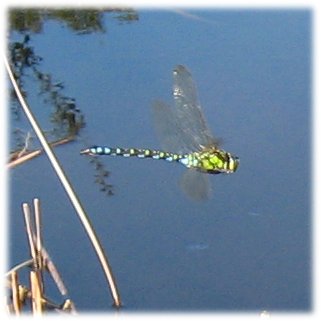 While standing close to the water basin a huge dragonfly zoomed around us. A true challenge for an ambitious photographer. This cunning little bugger would keep zig-zagging across the water surface and you could bet on his changing direction the moment I pressed the button. But grim determination and endless patience were rewarded in the end: gotcha!
I shall certainly return to the Rosenhöhe from time to time and watch the progress the garden is making. Besides it's a good area for taking easy walks and strolls. Whenever you get the chance - take it by all means.
Posted by Mausi at 10:45 AM | Comments (0) | TrackBack
October 14, 2006
Fallout ....
North Korea's nuclear test should warn those in the West who think they can disarm and negotiate with monsters like Kim il Yong, or whatever his name is, pause for thought. But it won't. They will continue to bleat that if we disarm everyone else won't feel threatened and won't try to steal the family silver. Its a bit like the Home Secretary's assertion this week that long jail sentences will shortly be a thing of the past because "custody in the community" will be the way to punish in future. Oops. Did I say punish - I meant reward.
The real point here is that history is full of attempts to "negotiate" peace with well armed and dangerous dictators. The record of failure to achieve it is unsurpassed! Of course the "lets disarm everyone" lobby is driven by fear, the fear that they may one day be the target. Disarming themselves (and those who usually end up defending these cowards) is inevitably a recipe for becoming a target. Did gun crime go down as a result of the removal of fire arms from the legitimate user? No, it went up by eight hundred times. Surprise, surprise, guns are now more commonly available and used than ever before in the pursuit of crime - and our police are still largely unarmed. But then so are the victims. Pity the bad guys have all the guns really, it woiuld be so nice if they gave them up voluntarily.
Returning to the problem of North Korea, the real problem for us all is that frighteningly focussed people like the Great Leader and the President of Iran will stop at nothing to possess these sorts of weapon and to use them if they think it will further their own ambitions. They are also reasonably certain that the Western Media circus and the growing number of lawyers making a fortune out of suing the military for "murder", "attrocity" and "breeching human rights" will prevent us from retaliating in kind and ensure that we roll belly up and surrender rather than fight. Blair is incapable of dealing with this and so is his party. After all, almost every one of them is a card carrying member of CND (or was until they had to grow up) and they almost all subscribe to the Hammer Horror visions of a post nuclear world.
The situation with North Korea is going to be a major worry, because this Great Leader will no doubt win friends from within the Security Council and among the mavericks of the Middle East by peddling his bombs to them in return for oil and cash. And the UN will do nothing except wring its collective hands about the human rights and tragedy of the starving in North Korea. The cynic in me says they won't do anything because North Korea hasn't got any oil and it has nothing of value to anyone outside of the region. And, if they do blow up a few million in South Korea, China and the surrounding area - who'll miss them?
The first encouraging news that the US satellites had detected no radiation has now been dashed by the report that there is now radiation emerging. Not good news for anyone - particularly in a world as unstable as our present state of transition and indecision in the Democratic world. Let's hope that their neighbours, China and the rest of that Region can take effective and decisive action to remove the threat this ghastly little megalomaniac poses to the whole world quickly and as painlessly as possible.
Posted by The Gray Monk at 09:06 AM | Comments (0) | TrackBack
October 13, 2006
Another birthday ....
Friday the thirteenth is, for some, a day of disaster. But, what if you were born on that day? Does this mean you draw the short straw in everything? Of course not, especially if you are The Postulant who was born on this day twenty eight years ago. That's right, on Friday the thirteenth.
HAPPY BIRTHDAY GIRL!
The funny thing is this, that I can still remember after all the things that have happened to us both along the way, the very first time I cradled the tiny bundle that she then was in my hands, as a new father almost afraid that I would damage her in the very act of holding her. It was a very, very special moment and the little bundle grew and grew some more. I can say with some authority, and OK, some paternal prejudice! - that she has become a really fine young woman. To The Postulant I say on this day - may you have many, many more years ahead of you!
Tomorrow I will be heading for London to take my eldest daughter out for a meal. Raise a glass to her if you will, she is a very special person.
Posted by The Gray Monk at 09:51 PM | Comments (1) | TrackBack
October 12, 2006
Russian Ties
Another little gem on the Mathildenhöhe in Darmstadt is the Russian Orthodox Chapel. The golden roofs of the onion shaped towers are quite a sight against a blue sky.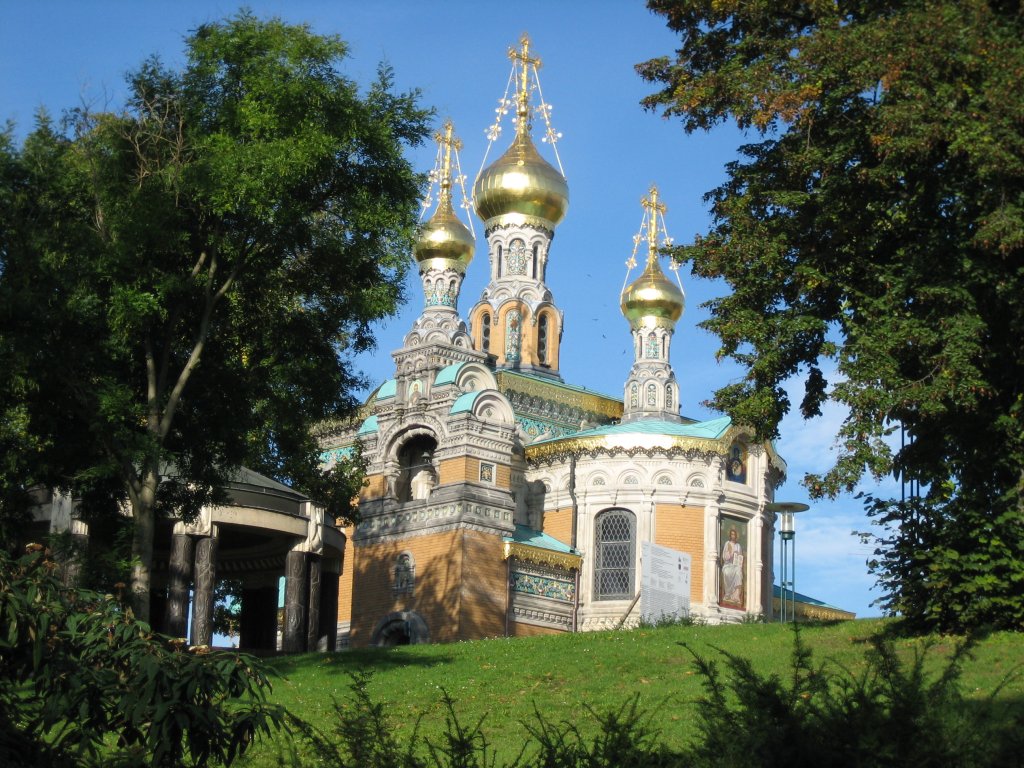 The Russian Chapel as seen when climbing up to the top of the hill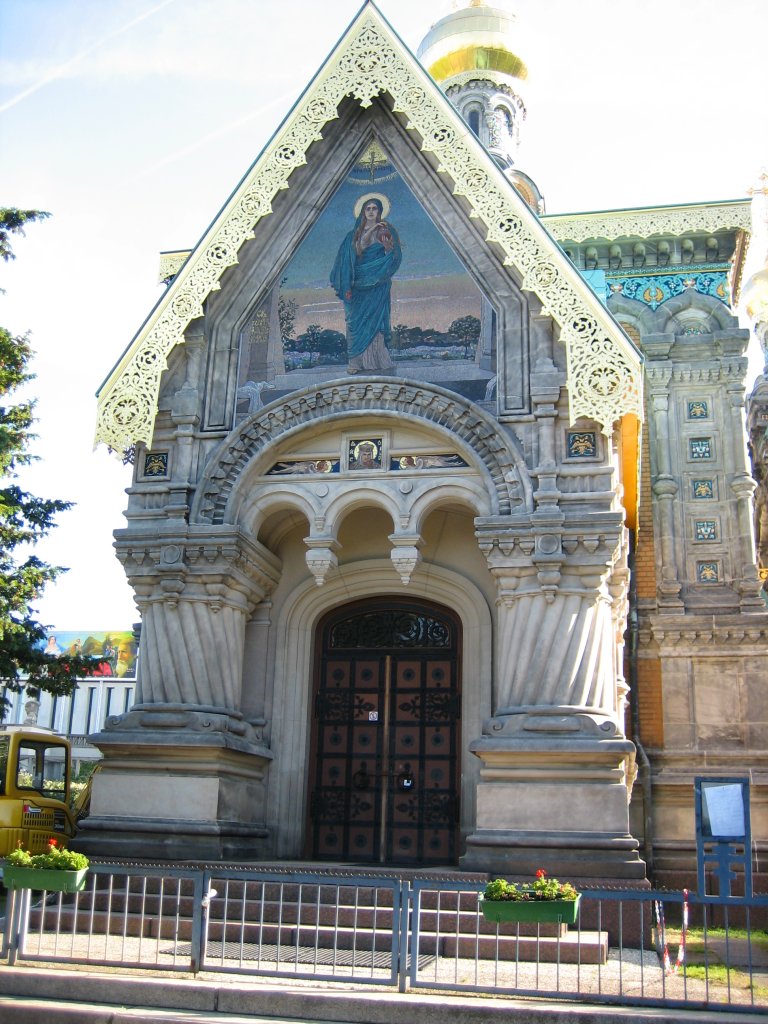 A daughter of Grand Duke Ernst Ludwig and his first wife Alice (second daughter of Queen Victoria and Prince Albert) married into the Romanov family. Her husband became Tsar Nikolaus II who was murdered together with his family by the Bolsheviks in 1918. The chapel was built as a private chapel for Tsar Nikolaus and Tsarina Alexandra, born as Princess Alix von Hessen und bei Rhein, whenever they came to visit their German relatives.
The chapel was designed by the Russian architect Leontij Nikolajevich Benois from St. Petersburg. The foundation stone was layed in 1897 and the chapel was consecrated in 1899. Elaborate mosaics and wall paintings cover the outer and inner walls of the chapel. The paintings and mosaics were designed by the Russian artist Viktor Michailovich Wasnezov (1848-1926). Wasnezov was well known as an artist of religious paintings. In his paintings he reawakened the Byzantinian and Kiev tradition, turning away from the romantic style of the 19th century. He is seen as a master of the Neo-Russian style, a variation of the European Art Nouveau.
The mosaics on the outer and inner walls were pieced together by the brothers Alexander and Vladimir Frolov from St. Petersburg. The mosaics were put together in plates and these plates were then assembled in Darmstadt. The brothers used the so called Venetian method to do this. A mirror image of the original design for the mosaic was copied onto a thick piece of paper. The paper was cut up into pieces and the cobalt glass pieces were glued to the paper surface face downwards. The resulting pieces of the mosaic were then framed and fixed with a solution of cement. In the end the mosaic plates were attached to the walls and the seams filled and sealed. The result is quite stunning, isn't it?
At the moment the chapel is undergoing extensiv renovation as it did not react well at all to the environmental challenges of the last years. As it is a comparatively small building there's hope it will eventually be restored to full glory!
Posted by Mausi at 06:08 PM | TrackBack
October 11, 2006
Art Nouveau
Last Monday I had an opportunity to visit Darmstadt, where I went to University, again. There are quite a few things there to see and look at. One of them is the famous 'Mathildenhöhe'. Strangely enough I never found the time to visit this place while I was living there although I have always had an interest in art and architecture.
As the name indicates the Mathildenhöhe is a little hill where the Grand Duke Ernst Ludwig founded a colony of artists in 1899. It consisted of one architect, painters and sculpturers, seven people in all. Their first task was to design their own living and working quarters. That was the beginning of the Darmstadt variation of Art Nouveau or 'Jugendstil' as it is called in German.
One of my favourite houses is 'Haus Deiters' which was designed by the only architect of the colony, Joseph Maria Olbrich, for the colony's manager. It is the smallest of the houses and has a rather interesting geometry. It has escaped both World Wars unscathed and has been extensively renovated and restored from 1991-1992. In 1996 the German Poland Institute moved into it.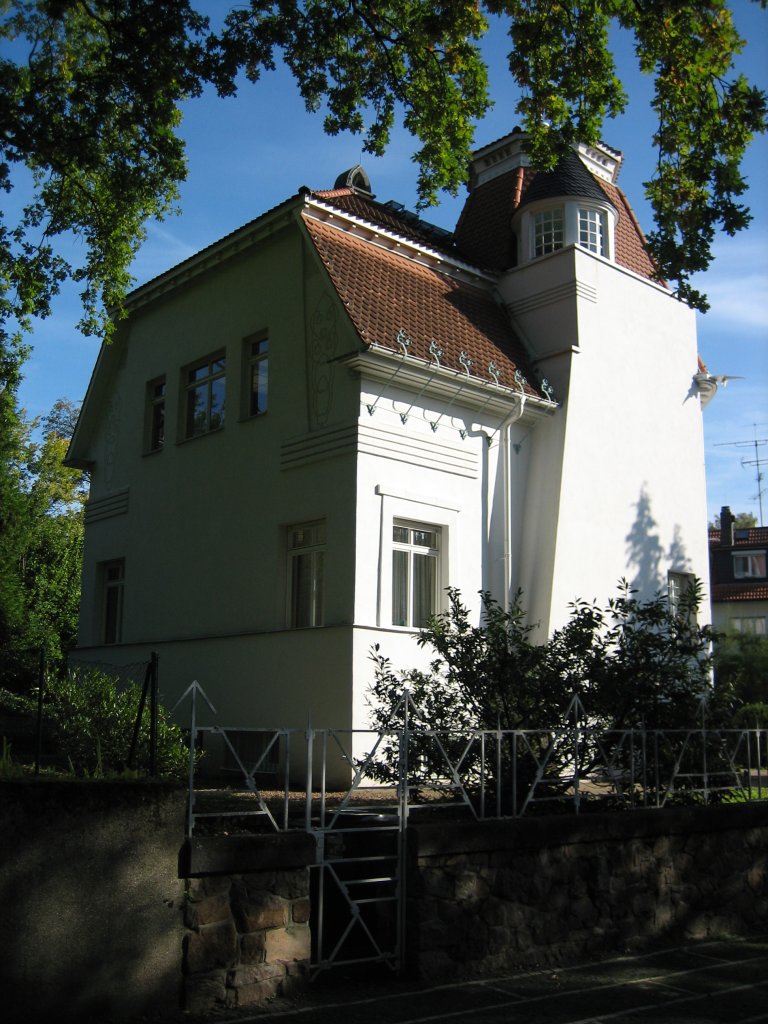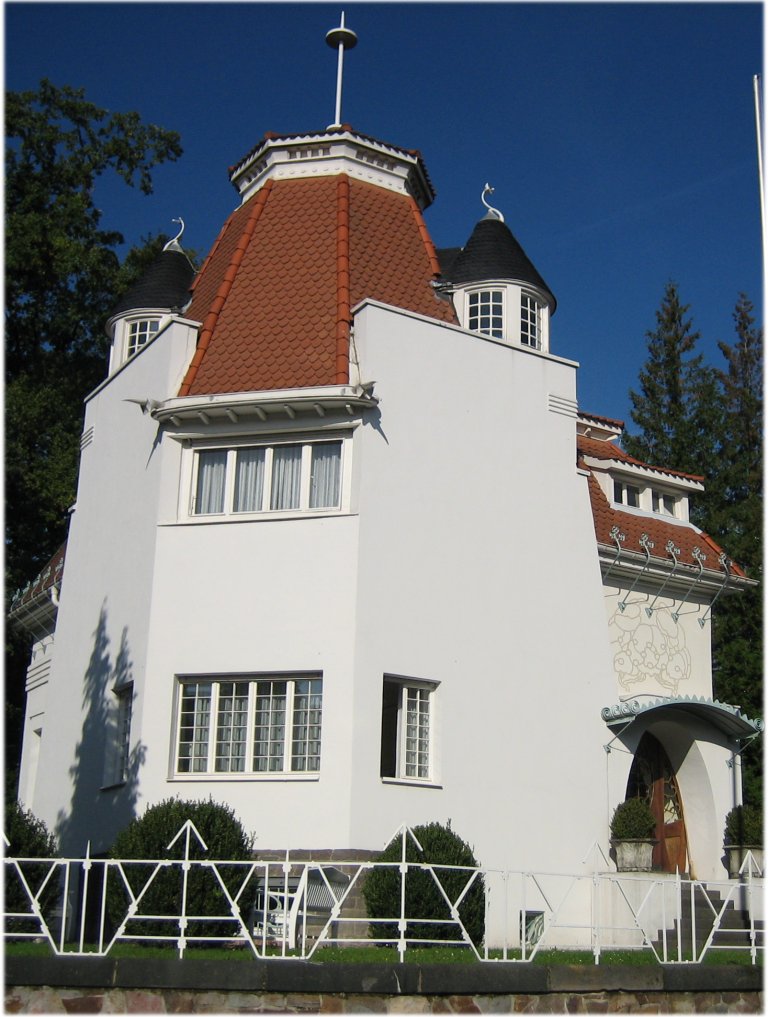 Pretty little Haus Deiters
Inside the rooms are arranged in a 'space optimised' way so that nothing is squandered on broad staircases or endless corridors. I wouldn't mind living there myself.
Another building on the Mathildenhöhe has become the symbol of Darmstadt - the 'Hochzeitsturm' (Marriage Tower). This impressive building (height 48 m) was again designed by J.M. Olbrich in memory of the marriage of Grand Duke Ernst Ludwig with Princess Eleonore zu Solms-Hohensolms-Lich. Nowadays it really earns its name as it is used as a registry office. And one can climb up to the top and enjoy the view - not on Mondays, though ...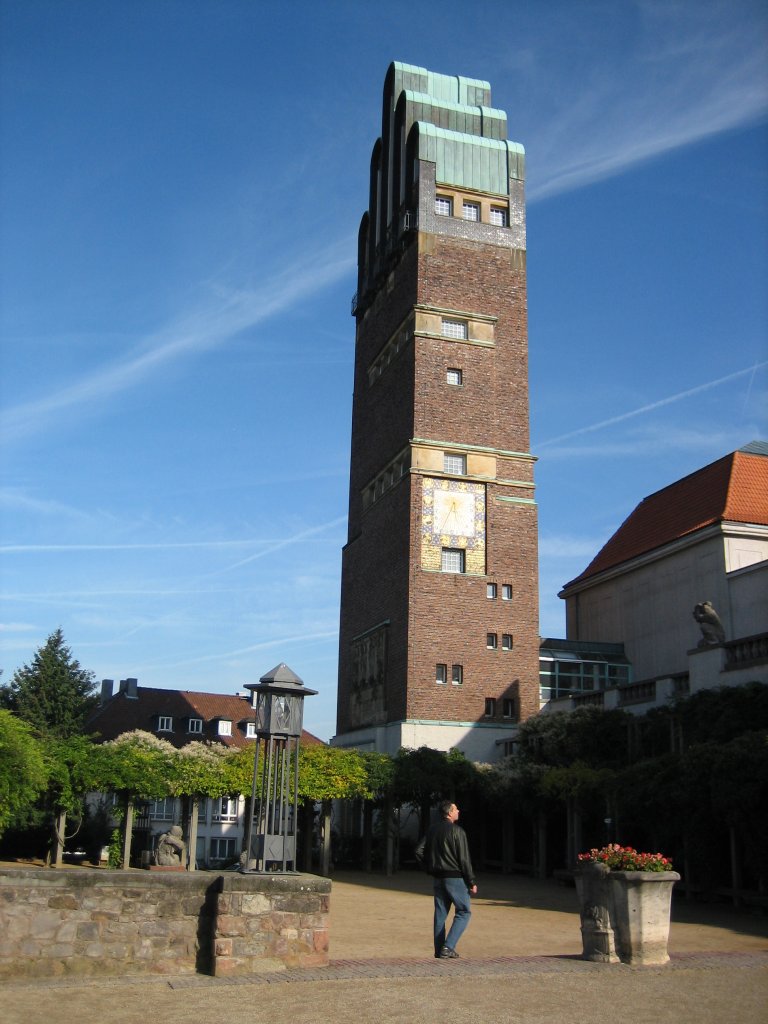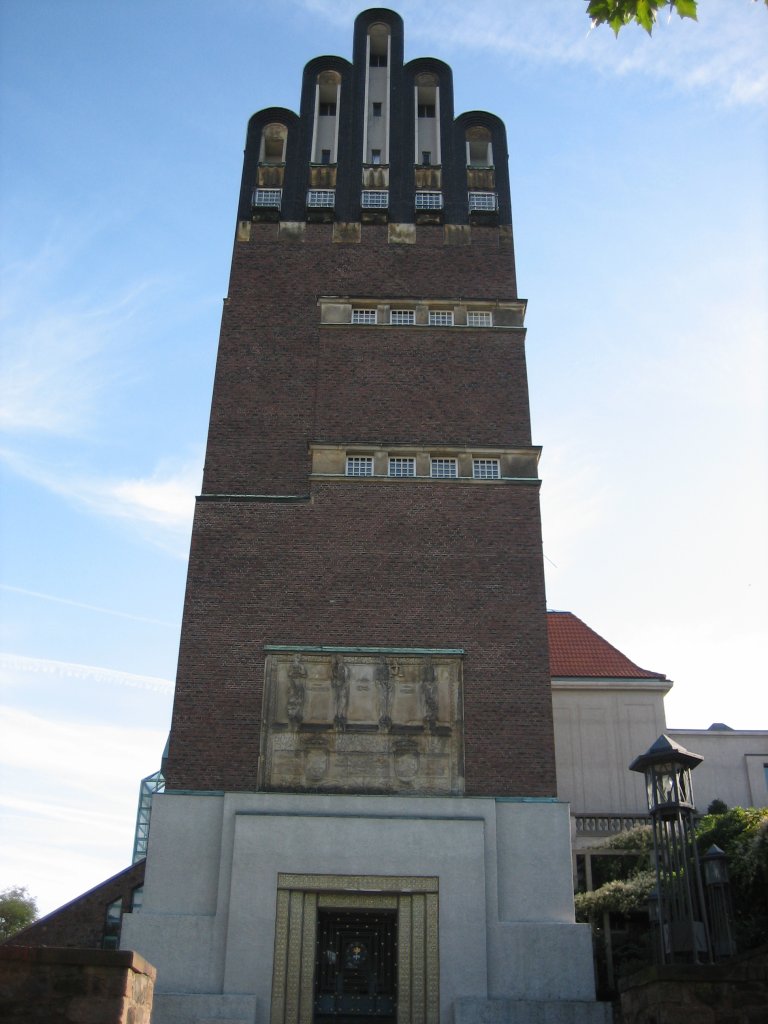 The famous 'Hochzeitsturm' also known as 'Five-Fingers-Tower' for obvious reasons
The first exhibition on the Mathildenhöhe was held in 1901 and made Darmstadt quite famous. The beginning of the First World War, however, marked the end of the Darmstädter Jugendstil epoch. Although the old town of Darmstadt was completely destroyed during the night of September 11, 1944, the Mathildenhöhe somehow managed to dodge the bombs and is still well worth a visit.
Posted by Mausi at 06:08 PM | Comments (1) | TrackBack
October 10, 2006
Life's a maze ....
In the North Cotswolds and close to the Gloucestershire - Oxfordshire border is the little village of Wyck Rissington. There is not much, beyond its position on the Ickneald Way and its rather sleepy charm to attract visitors, but the little church here is a gem and houses two (and probably many other) rather interesting items. First is the organ, which is still as it was when Gustav Holst was the resident organist for this Parish while working as a composer of a wide range of music.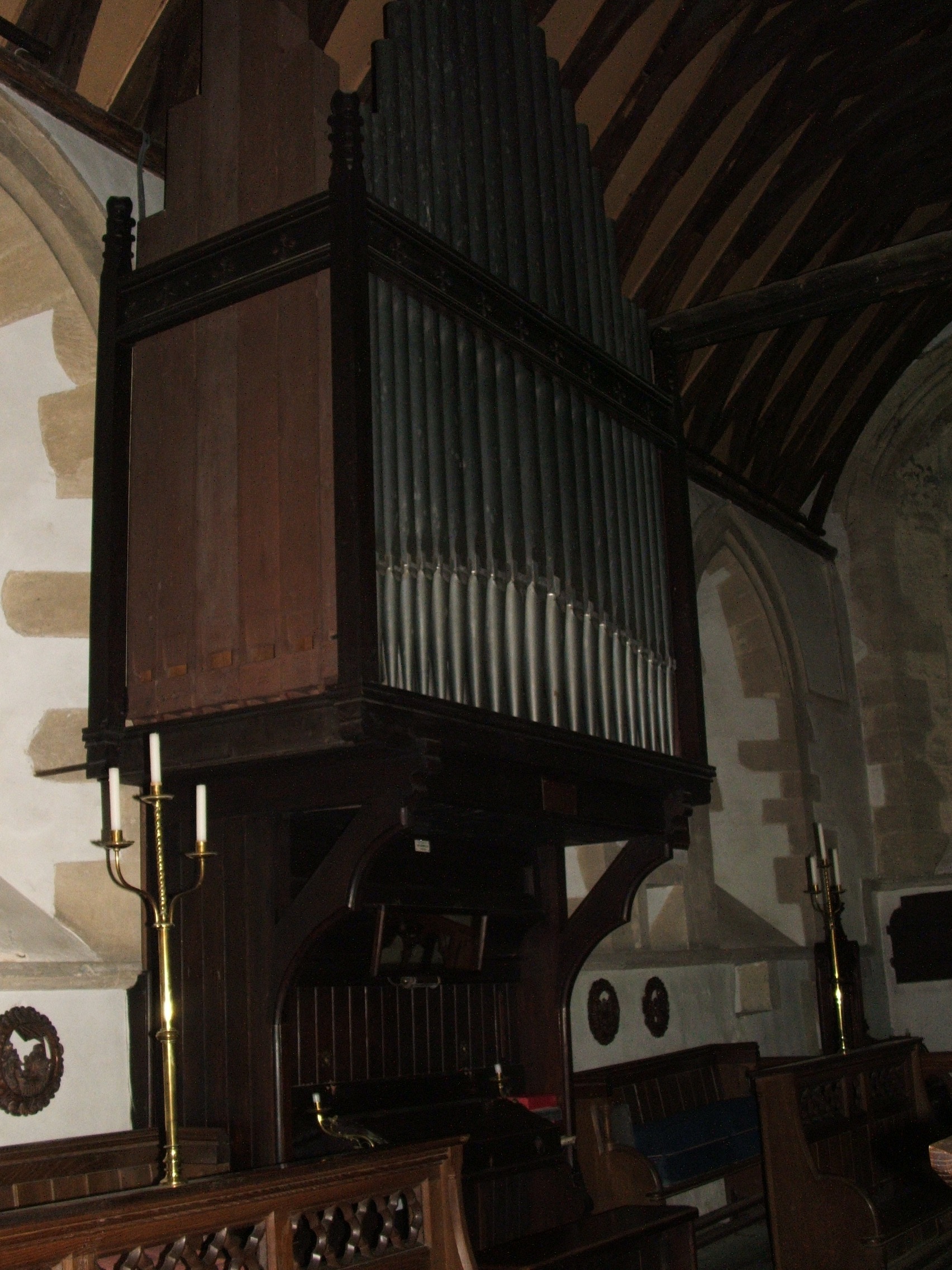 The organ at Wyck Rissington, still very much as Gustav Hollst would remember it.
The second is the legacy of the last Rector of this Parish until 1984, the Reverend Canon Harry Cheales. It is a liturgical maze, which he built in the garden of the Rectory, and which no longer exists except in the mozaic plan preserved inside the church itself. The maze was dismantled when the Rectory was sold on Canon Cheales death as it had been consecrated and formed a part of a liturgical "pilgrimage" and which could not therefore be left in secular use.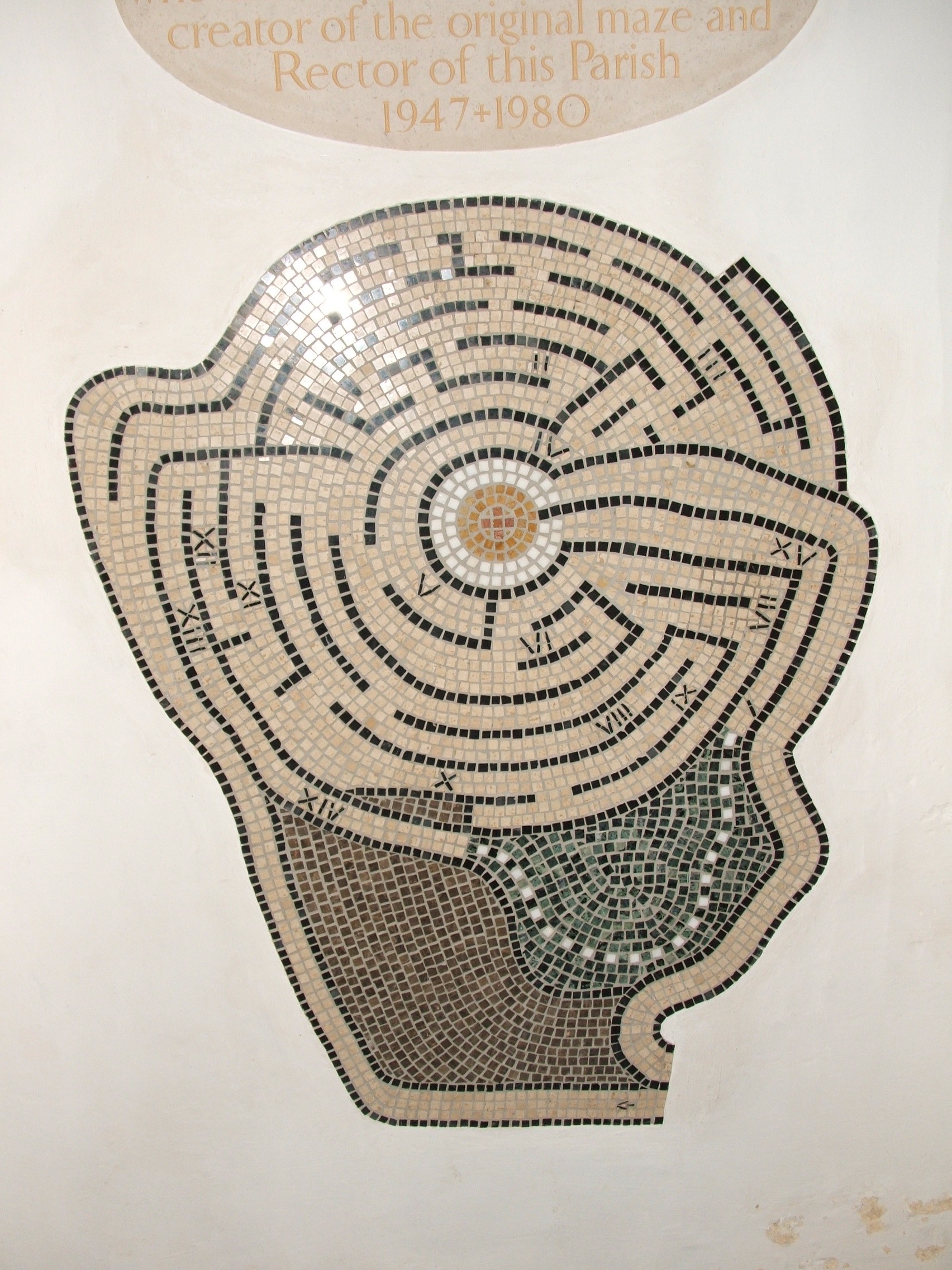 A mosiac plan of the Mystic Maze at Wyck Rissington.
Canon Cheales was an interesting man in many ways, the Diocesan Exorcist until his death and a man much interested by all matters spiritual and particularly the "mystic" religions. He built the Maze following a particularly vivid dream in the 1950's and led his congregation through it once a year as part of the regular service for that day. You will notice if you study it carefully, that there are Roman Numerals at intervals. These were the Pilgrim Stations and at each was a fine wood carving (all except three now decorating the Chancel of the church. Three have been "lost", probably stolen) and each represented an aspect of the Christian journey to faith.
Numbers I to V represent the five Joyful Mysteries:
I. Annunciation
II. Visitation
III. Nativity
IV. Presentation
V. The Boy-Christ in the Temple
Numbers VI to X represent the five "Sorrowful" Mysteries:
VI. Agony
VII. Scourging
VIII. Crowning with thorns
IX. Carrying the Cross and
X. Crucifixion
Finally the last part of the journey is through the five "Glorious" Mysteries -
XI. Resurrection
XII. Ascension
XIII. Descent of the Spirit
XIV. Falling asleep of the Blessed Virgin Mary
XV. Coronation
The route is intricate, but the true follower is able to make their way from one station to another without ever crossing their track or returning along the same path. The final transition between Station XIV and XV requires the follower to cross the water, representing the full transition from follower to disciple and the full acceptance of the faith. At XIV a sign proclaimed "Life after death; If you don't believe it - turn back!" At this point the path entered a tunnel representing death, then crossed the water on stepping stones, the transition to a new life in Christ and finally reached XV after passing through a gate labelled "Gate of Judgement".
The final destination was a Sequoia Tree situated at the heart of the maze and representing eternal life. Every part of the maze had a symbolic meaning linked to some aspect of the Gospel.
Every year, on St Lawrence Day, August 10th, the Rector led his flock through the maze in the proper order pausing at each Station for Prayer and contemplation. It is a pity that the actual maze is now lost to us, but the memory of what it represented is still there.
Posted by The Gray Monk at 02:12 PM | TrackBack
October 09, 2006
Mister Straw seems to have stepped in the ....
So much, it seems, for the whole thing of accepting other peoples cultural preferences, our formner Foreign Secretary, none other than the illustrious Mister Straw, has really created a bit of a stir, by insisting that Muslim women attending his constituency "surgeries" must remove their veils in his presence. Of dear, surely he knew this would cause offence to those wonderfully tolerant members of the Islamic Fundamentalist movement? Or, perhaps the real truth is he only pays lip service to the whole Multicultural thing anyway.
Judging by the brouhaha in the press and on television, I would suggest that this is going to be another of those little things which will lead to yet more curtailment of our right to freedom of speech and expression - just to protect the sensibilities of a very small section of the community who, quite frankly, should seriousl;y consider going and living in any country where they can practice this form of "liberation" to their hearts content. I do find it very annoying that this adoption of a form of dress more appropriate to the desert than to Europe is being pushed as being a part of the religion when thirty years back it was hardly seen in the UK. UNtil, that is, it became a fashion statement of "solidarity" with the Palestinians.
It really is time to recognise that this is not a religious matter, it is a political one and the politics underlying it are fairly simple. As long as these young women are prepared to hide behind these ridiculous veils and under the headscarves (which are not, as far as I can see, actually stipulated in the Quran) the Ayatollahs and Imam's will continue to have power over them and their voices in any public arena. One can only hope that Mr Straw's somewhat daring attempt to get a little common sense - after all no one likes to talk to someone who is hiding their face - into his "surgery" actually sparks a wider rebellion against the PC acceptance of this stupid and demeaning mode of dress and behaviour.
Fatwahs on a post card please.
Posted by The Gray Monk at 03:05 PM | TrackBack
October 08, 2006
Difficult sermon topic ....
Being twice divorced does create a number of problems for me in ministry, not least Mark 10 2 - 9! Yet that is the Gospel reading I must preach on today! Human relationships are a minefiled as we rapidly discover as children. Sometimes the people we want to be friends don't turn out to be quite what we hoped, and sometimes they do - or the ones we didn't want to know turn out to be the real friends we should have cultivated all along.
All to often in this present age we marry for all the wrong reasons and soon discover that the person we married is not quite the friend we thought they were going to be. One thing I have learned (albeit the hardest possible way!) is that your wife/husband should be your very best and closest friend. If they are not, your marriage is probably going to fail. The second thing I have noticed is that the marriages that tend to last for life are those where the partners have grown up together, played together and known each other from long before there could be a sexual interest. There is a second group, where mutual interests have drawn a couple together and they havce succeeded in building upon those interests to successfully create a partnership based on shared life throughout.
The ideal of marriage is seriously undermined now by the promotion for political ends of the concpet that single parenting, single motherhood and alternative forms of "family" are all equally good and equally valid. Coupled with the strains of dealing with increasingly demanding work, uncertainty surrounding employment prospects, scope for development and so on it is no wonder so many marriages fail. My first wife put it rather well as our marriage unravelled when she said, "We are on opposite sides of the motorway careerwise and heading in totally opposite directions!"
For what it is worth, my sermon notes and thoughts are in the extended post below!
Parish Eucharist
Trinity 17
Some Pharisees came, and to test Jesus they asked, "Is it lawful for a man to divorce his wife?"
+ May I speak and may you hear in the name of God, Father, Son and Holy Spirit. Amen
This is probably, in our age, one of the most difficult passages in the Gospel. It is a sad reflection on our age that divorce is common – many would say far too common. The Pharisees in our Gospel this morning are quoting the Law of Moses when they ask this question – and Jesus quotes the Book of Genesis back at them. So what is the answer in our age? Would Jesus give another response do you think?
Somehow I doubt it.
The Lord God said, "It is not good that the man should be alone; I will make him a helper as his partner."
The secular society in which we live has difficulty recognising the spiritual or the divine in anything – and that is probably no bad thing. Some one would undoubtedly attempt to write a Rule Book to regulate our spiritual lives if it did – oh, wait a moment, someone already has!
The point of our gospel reading this morning – and of the reading from Genesis – is that human relationships require a lot of work. We cannot and should not expect to live "happily ever after" without putting a little effort into the relationship – especially during the hard and difficult times. We should also take care when entering into a marriage – or any other relationship – that we have taken account of all the needs of the person we are joining ourselves too. Men and women are not meant to be alone, we are meant to share our lives and the tasks that go with supporting each other.
Naturally the model given in the reading from Genesis is the model for families as given and understood within Judaism, Christianity and Islam and it is centred on the raising of children and the perpetuation of our species, but we should not ignore that fact that there are many other states of fellowship that must be considered as well.
Cain asked, "Am I my brother's keeper?" and in a sense we all are. Human relationships are fraught with potential difficulty. We are all different and all have different understandings of a variety of things around us. The wonder is sometimes that we can agree on anything, so the potential for two people living in close contact to eventually fall out of love or to find themselves growing apart is enormous. This is where relationships take an enormous amount of work. Some of us succeed and sadly some of us fail.
Jesus reminds us that divorce is the invention of mankind to deal with our inability to resolve our differences on occasion but, it frequently seems to me that the greatest failure is the breakdown in communication between parties. After all, a partnership needs to be built on mutual respect and friendship, and friends need at all times to be able to communicate effectively or the friendship too will wither and die.
For those of us who have been divorced this passage can be quite painful. Painful because it reminds us strongly of our failure to engage properly with our partners, failure to build the bonds that should have been strong enough to see us through the difficulties that eventually tore us apart. Rarely, very rarely, because of our very natures, can a relationship like that be repaired.
Nor are the two who separate the only casualties – and here we are reminded again by the juxtaposition of the question on divorce and the presentation of the children to Christ of the purpose of our unions' one with another – for very often the greatest losers in the battles between a husband and wife are the children. Our society is a stark testimony to the break down of family life – through divorce and other factors.
Of one thing we can be certain, the answer to the Pharisees was and is unequivocal. We are charged with the task of doing everything in our power to preserve our relationships and to make them work, despite what society will tolerate.
But where does that leave those of us who have not succeeded? I suggest to you that we must look to the second part of the Gospel – and pray for the hope that is carried in every child's heart that they will receive love, that mistakes will be forgiven, that joy will follow pain.
Our lessons today are also a strong reminder that we are not to live our lives in splendid isolation, but that we are part of a greater whole. We are all influenced by our friends, our families and even those whom we do not like. Whether we are aware of it or not, each of us leaves some part of ourselves with everyone we work with, pray with or play with. We are not alone as long as we are part of Christ's family and in fellowship with one another.
We are not meant to be alone, and in Christ we are not, we are in fellowship one with another and in that fellowship we must set aside pride, envy, greed and all the other things which poison our relationships with each other, and seek to build the relationships which stand the tests and strains of life.
All relationships take effort to maintain them, but none so much as those with whom we are closest. And the one to whom we should be closest of all is Jesus himself. How much effort do we really put into our relationship with him? Perhaps as we ponder on the message of Genesis, the letter to the Hebrews and the Gospel of Mark we should give that some thought, especially as we approach the Eucharist – that greatest of all marks of our fellowship with and in Christ.
Amen

Posted by The Gray Monk at 02:42 PM | TrackBack
October 07, 2006
Ig Nobel Prizes 2006
At about the same time that the Nobel Prize winners of this year have been announced the 'Ig Nobel Prizes' have been awarded as well to ten achievements that first make people laugh, and then make them think". This year's prizes fulfill these criteria easily.
The first one goes to scientists from the University of California Los Angeles for explaining why woodpeckers, to be more specific the pileated woodpeckers (Dryocopus pileatus) don't get headaches. I must admit I have often wondered about that myself when sitting in the garden and watching the woodpeckers having a go at the trees for hours on end. This specific woodpecker strikes the surface of a tree at a rate of up to 20 times a second and up to 12 000 times a day. Acceleration forces are as high as 1200 g with each impact. But the bird is well equipped for this work and easily avoids headaches, internal haemorrage or even retinal detachments by the construction of its head. You might like to read up on this yourself.
The second award is awarded for a detailed insight into the eating habits of adult dung beetles (Scarabaeus cristatus). The beetles consume te fluid components from dung and bury dung as food deposits for their larvae. They showed a marked preference for the more fluid horse dung compared to sheep and camel dung. Indeed, and who wouldn't prefer the juicier food when having to live in a desert or at least desertlike environment?
Now, Peace Ig Nobel Prize is a really interesting one. It is awarded for inventing a teenager repellant - an electromechanical device that makes annoying noises, whose frequencies can only be picked up by the more sensitive teenage ears. Adults are not bothered by them at all. I wonder, when these devices will be commercially available. I would sometimes like to have a go myself when going by public transport. Just think how quickly you would have the bus to yourself and peace restored ....
Some specialists in acoustics have found out why people dislike the sound of fingernails scraping on a blackboard. More information about that can be found in Psychoacoustics of a Chilling sound. Aarrgh - gives me the creeps just thinking about it.
You can always rely on the mathematicians to come up with something really useful. This year they are awareded an Ig Nobel Prize for calculating the number of photographs you must take to (almost) ensure that nobody in a group photo will have their eyes closed. The article about 'Blink-Free Photos' is well worth reading. Aren't they a bit late, though? In the age of digital photography and useful tools like Photoshop and GIMP?
Princeton University takes the prize for literature this year with a paper called 'Consequences of Erudite Vernacular Utilized Irrespective of Necessity: Problems with Using Long Words Needlessly'. It is about people trying to appear more clever and intelligent in their publications by needlessly using long words and complex expressions in an attempt to make it sound more scientific. I wonder where thy got the idea for this study from? I always had the highest respect for those of my professors who could explain complex things in simple words.
The award for Medicine might come in useful, too, one day. Try this http://www.ncbi.nlm.nih.gov/entrez/query.fcgi?cmd=Retrieve if you want to find out more about the 'Termination of Intractable Hiccups with Digital Rectal Massage'.
The Physic's award goes to France this years for finding out why dry spaghetties don't simply break in half http://www.lmm.jussieu.fr/spaghetti/index.html. Mausi has already written upon this highly intriguing phenomenon earlier this year.
My favourite award in 2006, however, is the one for chemistry. Scientists from two Spanish Universities have investigated the 'Ultasonic Velocity in Cheddar Cheese as Affected by Temperature'. I wonder, why do they examine British Chesse in Spain? Don't they have cheese of their own? And why would you like to knoe about ultrasonic velocity in cheese anyway? To decide whether it would make an effective earplug at different temperatures (winter, summer, inside, outside)? I think there's still a lot of research left to be done ...
Last but not least the Ig Noble Prize for Biology goes to the Netherlands for doing research on the responses of female malaria mosquito Anopheles gambiae (Diptera: Culicidae) to Limburger cheese volatiles. Mind you, Limburger cheese has a tendency to turn runny very easily at slightly elevated temperatures. How would you keep it enticing to mosquitos in the warm and humid climate of Malaria countries?
Hope, you enjoyed this list as much as I did. I am certainly very much lookin forward to next year's winners. By the way, the presentation of the awards is organised by the 'Annals of Improbable Research' (AIR), a journal well worth reading.
Posted by Mausi at 01:50 PM | TrackBack
October 06, 2006
Wealth redistribution
I was amused and annoyed yesterday to read that the Rowntree Foundation, one of the country's "leading" Think Tanks - they recently gave a report that said children were living in poverty when they didn't have designer trainers and expensive electronic toys - is now publishing a report that is highly critical of the Chancellor of the Exchequer's much vaunted "Family Credit" system for redistributing money from my and every other working taxpayers pocket, to someone elses. According to the report, the system is so complex that it actually works as a disincentive to anyone to "get into" work. For once I can see what they mean and agree with the authors.
The problem is that the "Family Credits" are supposed to "top up" low incomes and lift low wage earners out of the poverty trap. This system replaced the universal "Child Allowance" and is "means tested" - which means that if you earn more than the arbitrary "average" wage set by the usual suspects in Whitehall as low as they think they can get away with - you do not qualify for this "benefit". What is not generally known is that your "Credits" are eroded if you are in work and earn anything above your supposed weekly maximum. So, anyone earning a little extra in overtime is immediately penalised by having their Credits cut. As the Rowntree researchers have found it is possible, when you take the tax, national insurance and any other deductions taken from the gross amount are added to the cut in the Family Credit, it amounts to a supertax which can reach 100% of the amount earned in overtime. Some incentive to do a bit of extra work! Naturally, those overpaid and completely unproductive buffoons at the Treasury deny that this is a disincentive and point to the fact that unemployment is low. Fine, provided you realise that the reason that unemployment numbers are low is that the workforce is currently enlarged by the influx of Eastern Europeans and, as any mathematician can tell you, if you raise the numbers at one end, the numbers at the other end of any statistical sample fall. More workers in low paid jobs and a larger workforce means that the numbers out of work, although largely static, look smaller in a statistical percentages presentation.
Its called fraud if anyone else tries to present facts in this way.
But then, this is something Whitehall have excelled at for almost two hundred years since Gladstone invented our modern bureaucracy. It is one of the most entrenched aspects of our modern society, that we want to believe that the civil service is actually there to provide the necessary infrastructures and stability necessary to make the modern state work. The truth is somewhat different. In fact, the civil service has become, as Parkinson predicted in his book of the late 1950's, an entirely self sustaining and self interested organism. Moreover, it has become a parasite which is slowly but surely crushing all enterprise out of the society it purports to serve. The long term result is to create a society of dependents - exactly what the Family Credit system is now doing.
It may well be that this situation suits our political classes and their civil servant parasites because a population dependent on them for everything from income to health is unlikely to want to eject them from power. There is a further dimension which may well derail all of this - it is based on the assumption that wealth creation can only occur within the control of the government and its sycophants, or, as was the theory in the 17th Century, that all wealth is a fixed sum and can be accrued to a small group who can control its distribution. This last is an interesting postulation since it assumes that nothing more can be developed or created and the only thing that can now happen is that the "wealth" can be redistributed by means of some artificial construct that moves it from one person to another and is not based on productivity or ability. In fact, if you think about it, this is what the architects of the failed "socialist" experiments in Eastern Europe, Russia and China have tried.
Mr Brown seems to think that he can continue to control the wealth of every individual by means of the tax system. What he has done is create a monster which is rapidly doing the opposite of what he intended. Instead of giving people the incentive to go out and create further wealth, he has provided an incentive to sit back, relax and take the handouts. I doubt very much that this situation will be changed until we get rid of the socialist thinking and thinkers in our iuniversities, schools and the department's of state. Only then will this country have any hope of once more becoming a beacon of forward thinking and enterprise.
Don't hold your breath though - its likely to be a long time coming!

Posted by The Gray Monk at 03:07 PM | Comments (0) | TrackBack
October 05, 2006
Reminders of the past ...
Given my interest in ships and in sailing ships in particular, the discovery, during my recent trip to Dublin, that the Jeannie Johnson was moored in the Liffey, made a visit to her an essential! Unfortunately she is not open to the public so I had to content myself with viewing her from the embankment. She is a replica of one of the infamous "famine" ships - the emigrant transports which shipped the starving away to America during the potato famine in the 1840's. Near her berth stands another reminder of this terrible human tragedy in the form of emaciated figures staring hopelessly topwards the vessel as she lies moored.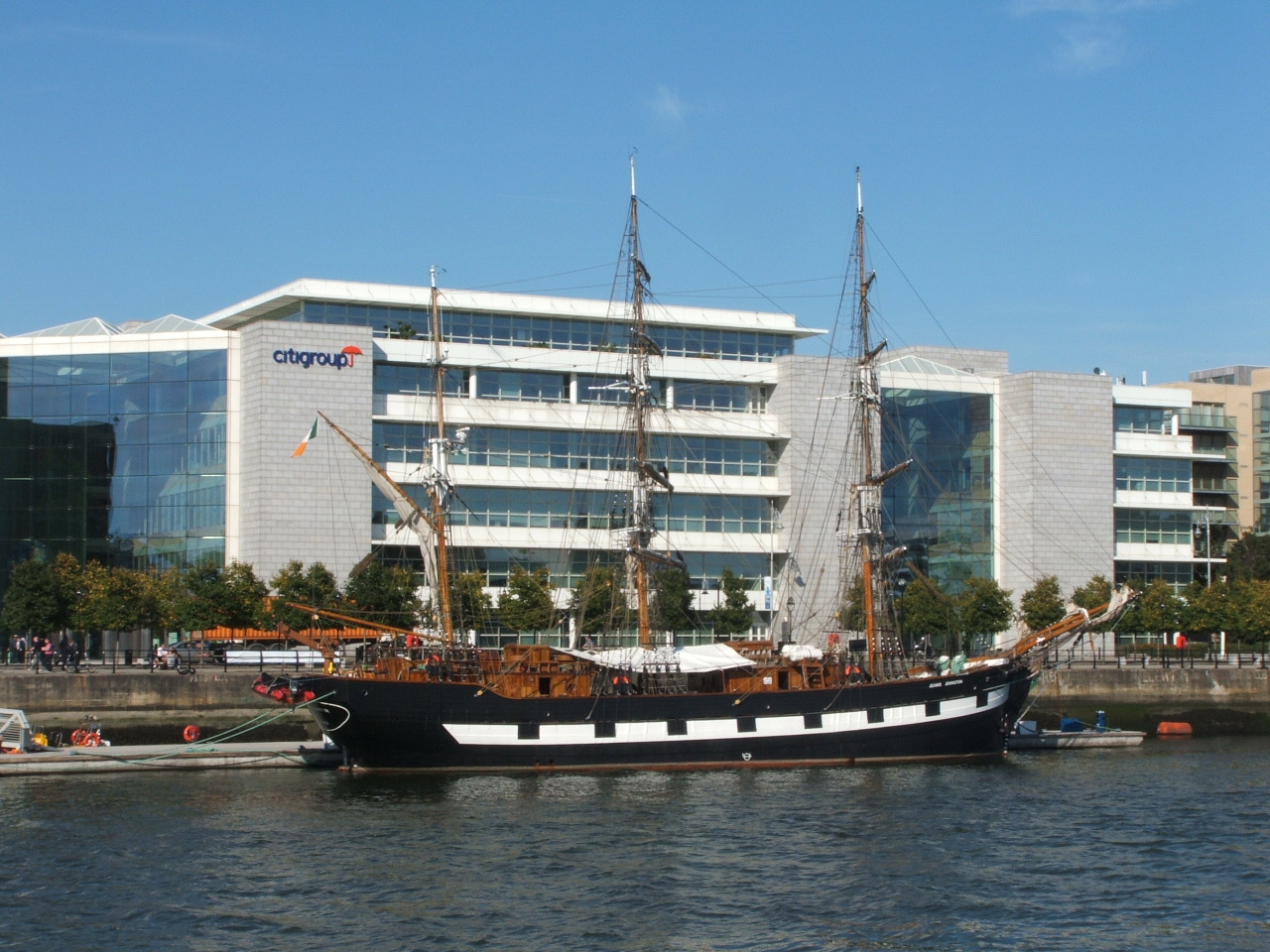 The beautiful Jeannie Johnson at her berth in the Liffey.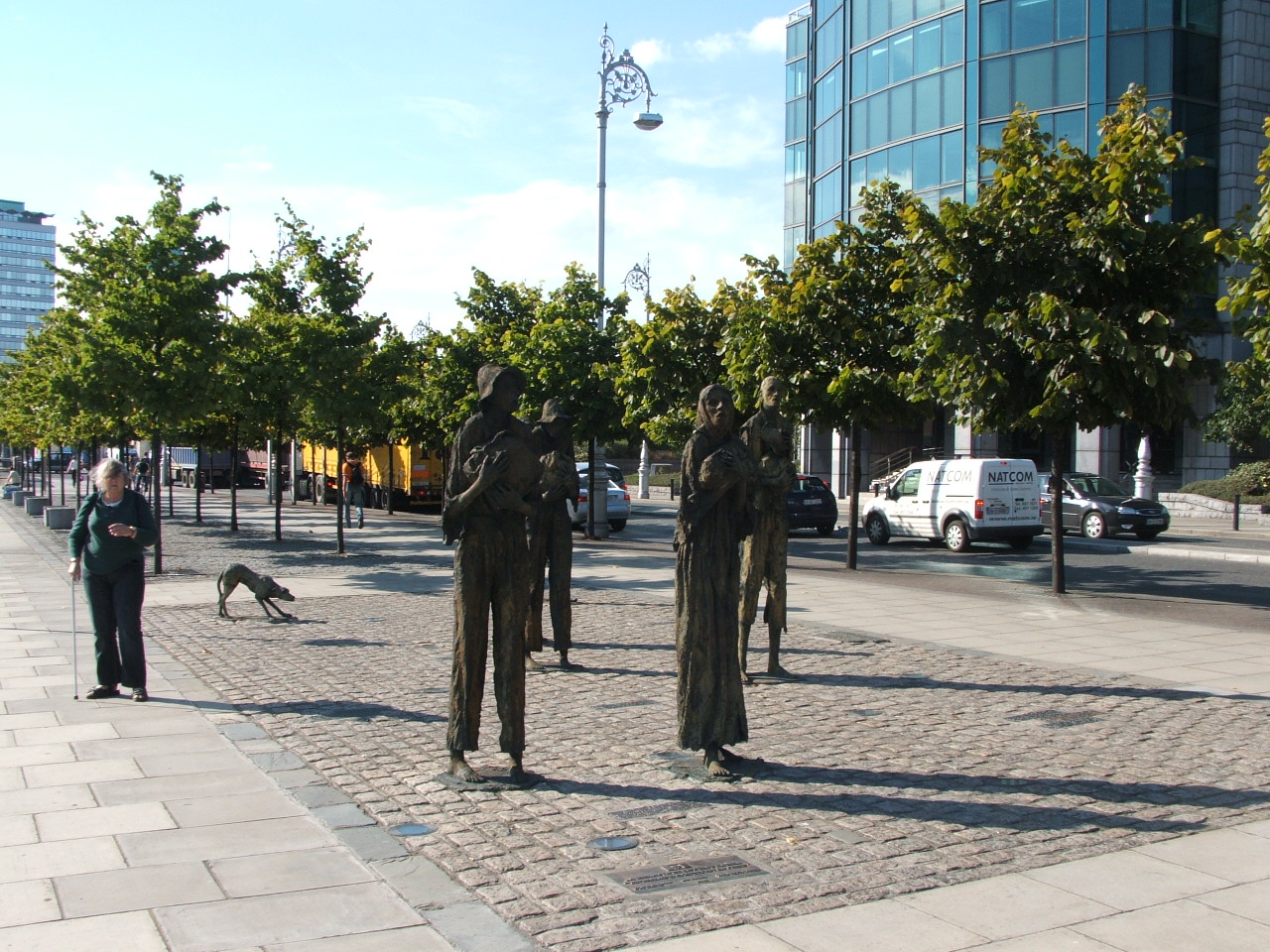 The monument to the starving emigrants of the potao famine years. Poignant and desperately moving.
The modern ship is no hell hole - she is in fact the Irish Nation's sail training ship and a beautiful example of a small "tall ship" in her own right. That said, when you stand alongside her and realise that she was one of the larger craft used for this desperate escape from poverty and hunger, the full sense of the desperation to which the emigrants had been driven becomes very much more apparent. It is sometimes estimated that fully a third of those who embarked on these ships died on passage - a witness to the appalling conditions they were prepared to accept in their bid to escape and to the terrible condition they were in when they set out.
The tragedy of the Potato Famine was probably a natural disaster waiting to happen in one sense, but was made infinitely worse by the incompetence and ignorance of Whitehall and the bureaucrats lodged in Dublin Castle. On the latter head, one has to acknowledge that they knew what was happening, but were reluctant to admit to Whitehall that the entire economy of Ireland was on the point of collapse as a result. In Whitehall, they had an inkling of what was happening, but were desperately trying to justify holding the price of home grown wheat as high as possible by means of a set of laws which prohibited the import of certain produce - which could have relieved the famine!
The resulting tragedy must therefore be laid at the feet of job's worth bureaucrats and self interested politicans who would have done well to recall the words of the Reverend Jonathon Swift, author of Gulliver's Travels and Dean of St Patrick's Cathedral in Dublin.
"It is the error of many to mistake the echo of the London Coffee House for the voice of the nation."
The tragedy of the potato famine, and quite possibly the violent birth of the Irish Nation could, perhaps, have been avoided if the politicians and bureaucrats had listened less to the voice of London and more to the real voice of the nation - the population who live outside of the capital!
Posted by The Gray Monk at 04:23 PM | Comments (1) | TrackBack
October 04, 2006
The first day of the rest of my life?
Yesterday was my last day on the staff of a well known - indeed internationally known - training establishment and I left the gates and a large part of my working career last night with very mixed feelings. There is the obvious one of leaving behind the friends and colleagues one has worked with and the income that goes with actually being employed. (The pension is such that I will need to find an alternative source of revenue fairly swiftly!) But there is another aspect which concerns me probably even more. This institution has been consistently briefed against by the civil service (who noticeably fail to mention the cost of running their hugely expensive college in a former stately home and which delivers nothing any university in the country could teach at a fraction of the cost!) and is now being run down - presumably to be broken up and disposed of as soon as they can justify it. Our international customers cannot believe that we are allowing this, much less that our politicians are stupid enough to be promoting it!
The ultimate losers will be the taxpayers who will, as a result, get a service from the now deprofessionalised services we formerly trained, that will be increasingly driven by cost cutting and reduction of service delivery. The people being parachuted into it as "Managers" have no idea of what the service provides or does and are completely incompetent when it comes to taking command of incidents or emergency command centres - but that's alright according to the civil service manadarins, because it simply means that we have the right gender or ethnic balance in place in the management now and, after all, only a fraction of their time is spent dealing with an emergency. Responsibility is now being pushed down to the lowest levels in the hierarchy so you will soon see the incident commanders being prosecuted by the HSE because they have failed to observe some management dictat drafted to protect the managers and not in any way workable on the incident ground. Worse, the centralised training that made sure everyone who had a responsibility for incident command had the full suite of skills and the underpinning knowledge to support them has been swept away and replaced with a cockamamie system of "skills acquisition" driven by a mantra that "it is unecessary to know what you are doing, you only need to be able to do it". This mindset will shortly begin to kill people - in fact it already has. Two dead in a shire because the incident commander had neither the experience nor the knowledge they should have been able to acquire - and two more in a major city for the same reason since the inception of this politically motivated and half baked approach was instituted on the orders of that arch buffoon - John Prescott, ably aided and abetted by a civil service coterie hell bent on destroying any claim to management that is not from their favoured school of "generalism".
So what will I do with the rest of my life? Well, I have several irons in a number of fires at the moment - one of the biggest ironies has to be that my former employer is desperately trying to persuade me to do part time work for them - twice the money and none of the responsibilities I have carried for the last thirty six years. You gotta love it!
I wonder if I could get away with writing a biography? Probably not, a former colleague and boss once remarked that if we did we'd probably have someone suing us on every single page. Mine would probably be every alternate page, but I know exactly what he meant. We know where the bodies our lords and masters want to keep hidden are buried. Silence, though, may not be golden if what has been done to our service in the last five years ever comes to court. I hope it does.
But, for today at least, I have the freedom to enjoy a look forward to being free of the managers whose arrogance is exceeded only by their complete and blissful ignorance of the service they are destroying. It's a wonderful feeling.
Posted by The Gray Monk at 08:34 AM | Comments (4) | TrackBack
October 03, 2006
Irish whimsy......
Dublin has two Church of Ireland Cathedrals, one is Christ Church Cathedral and the other is Saint Patrick's. Christ Church is located in Dame Street and has a fascinating bridge over the road which separates it from the former Synod Hall which is now the venue for the Dublinia exhibition. The cathedral is also the site of the tomb of the Norman Earl, de Clare, known as Strongbow, who successfully invaded Ireland in 1169 and set in train the "English" occupation.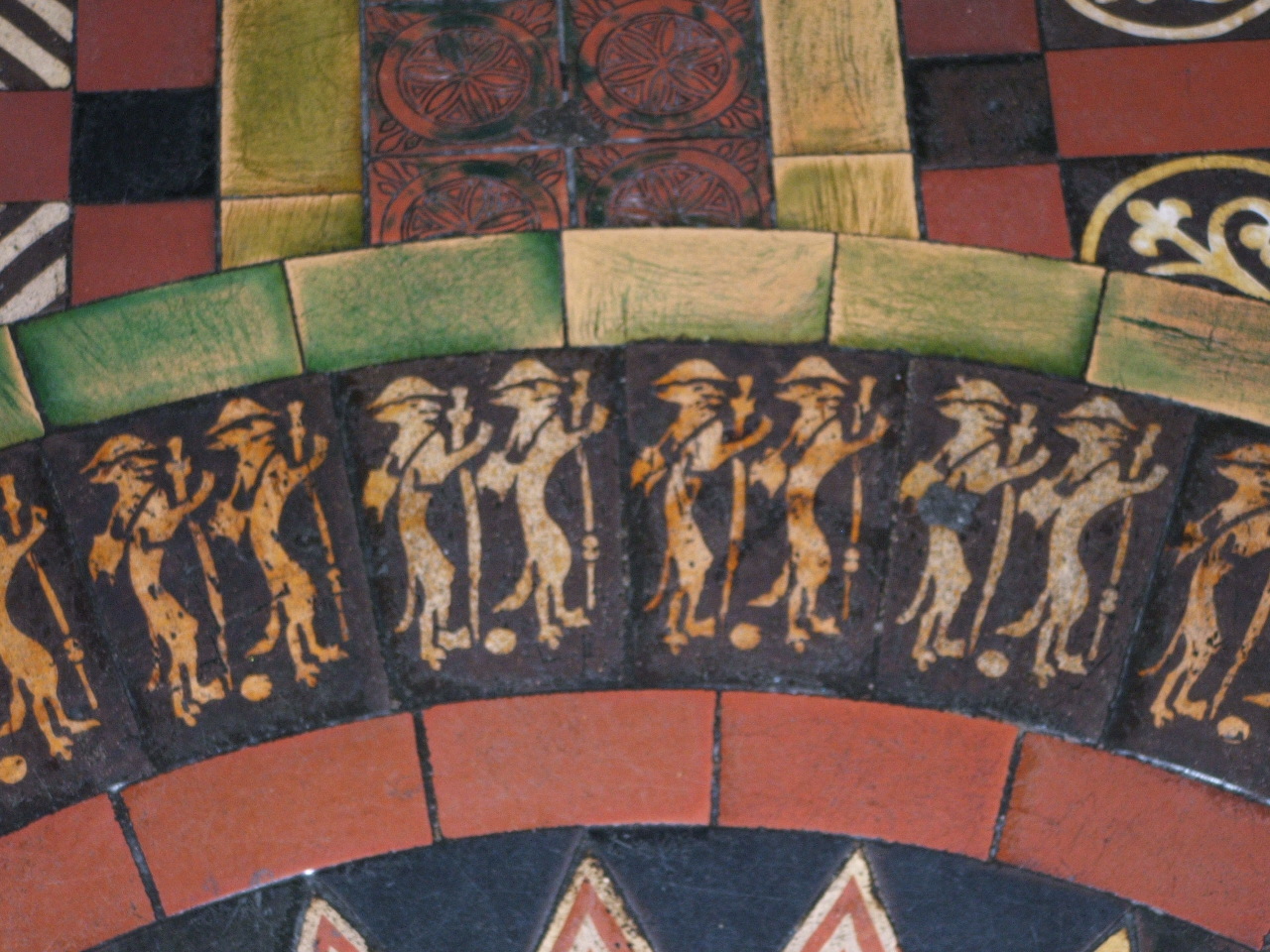 A bit of medieval whimsy in the tiled floor of the Cathedral of Christ Church Dublin. A pair of Foxes, dressed as pilgrims from Compostella make their way around the tiles.
The building was heavily restored during the Victorian period, but a great deal has been preserved in the process and the undercroft and Treasury are definitely worth a visit. So too is the Dublinia experience which allows you to take a walk through the history of this fascinating and ancient city.

Posted by The Gray Monk at 07:32 PM | TrackBack
October 02, 2006
Happy Birthday!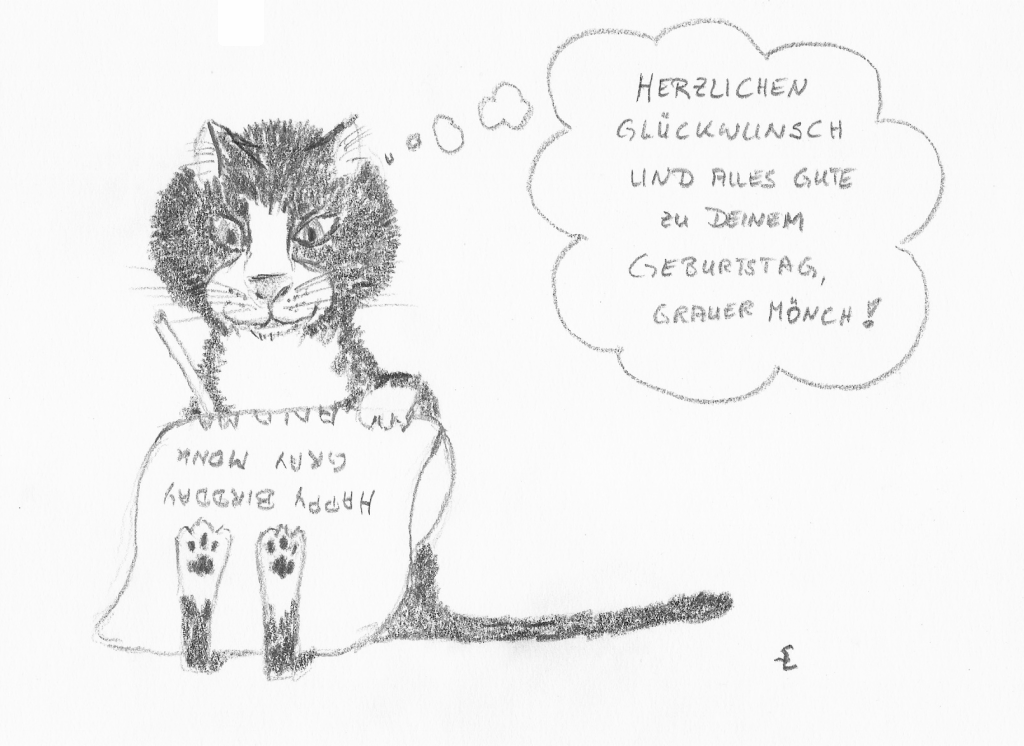 Mausi, the bilingual cat, falling into a Freudian trap ...
Posted by Mausi at 04:32 AM | Comments (3) | TrackBack
October 01, 2006
Harvest Festival
The coming of the harvest festival really begins the Autumn I suppose. Of course, those in the Southern Hemisphere are just entering the Spring and their "Harvest" will not be until almost Eastertide, something that I used, in the days I lived South of the Equator, to find a bit strange when the Prayer Book always insisted that we celebrate it at this time of the year. Just shows how far we have removed ourselves from the cycle of agriculture really in our comfortable and mainly city based lives.
It is only really in the countryside - and particularly the countryside parishes - that Harvest Festival really has any significance these days. The city parishes still celebrate it, but the link between the soil, the seasons and the preparation of food that can be stored to tide the community over the winter has long gone. Everything we need to eat or drink now comes prepackaged, sanitised and completely detached from the reality of a life tied to season and land.
Harvestime used to be a period when everyone, men, women and children, were out in the fields toiling to bring in the harvest, even our school holiday periods are geared to this. Now, of course, most of this is mechanised - or immigrant labour is hired in at below the minimum wage - to gather in the bounty of the land. I do wonder sometimes how much longer we can sustain the balance we currently have between food production, water supply and popultaion growth. There is no secret of the fact that the most fertile lands for certain produce lies in the developed world and the less fertile in some of the most undeveloped. Yields of grain is one indicator which can be very telling - in the US, Canada, Europe and the Russias yields are usually two tons per acre or more - in Africa that would be the top end of the very best managed land. Cash crops produced in Africa and the Caribean now supply Europe with goods not growable here, but the primary criticism of this system is that it means that the farmer there has to import the basic foods they need instead of growing them themselves.
While there are arguments for and against both positions on that, it is worth remembering that our own farmers don't do that well in the cash stakes either. The producer is always the bottom end of the money/value chain and the supermarket always on the top. Interestingly a commentator on the radio yesterday remarked that todays food retailer "designs" the food they stock in that they carry out research to find the price the public will pay and then source their supplies according to price.
Well, we live in a material world, one where everything has a price and a label. Our managers and accountants at the helm of the nation can tell us the cost of everything - but they know nothing of value, only price. Sadly that goes for the vast majority of us as well, we focus entirely on the material and the luxuries - and forget the true value of perhaps taking another route or choosing another product.
Who knows, that might even start a green revolution! My sermon for today is in the extended post below, I hope it give you something to consider.
Harvest Festival
October 1 2006
"Do not worry about your life, what you will eat or what you will drink, or about your body, what you will wear. Is not life more than food, drink and clothing?"
+ May I speak, and may you hear in the name of the Father, the Son and the Holy Spirit, Amen
Well, life without food, drink and clothing would probably be short, desperately uncomfortable – and cold! So, is our Lord really saying we should ignore the needs of the body completely? I would suggest not; in fact he is reminding us that we need to get our perspectives and our focus right – he is reminding us that there is a huge difference between our basic needs and an obsessive pursuit of more than we actually need for our comfort and health.
It is one of the greatest weaknesses in modern society that we are no longer in touch with the reality of the means of production of the food we consume and the clothes we wear – or, indeed, with the energy we use with such profligacy. We go to the supermarket and are upset if vegetables are not there, or the particular brand of soap powder is not available. We give almost no thought to the materials that go into our clothes – or where they come from. The builders of this and other churches in our area could have told us that and more, since a poor harvest meant a hungry winter. One suit of clothes lasted as long as possible – and out of certain seasons the fare offered at most tables (if you had one) would have been fairly basic!
St Paul reminds his readers in the letter to Timothy that we should at all times in our public worship, give thanks for all the blessings our Lord provides. We need to be thankful for more than just the bountiful harvest we enjoy, but for the many other things that, particularly in the developed world, we tend to take for granted.
It is frequently one of my pet irritations that every time someone publishes a new survey of "people in poverty" in the UK or Europe, they use as measures the presence or absence of a range of toys, luxury goods and other non-essential items as a determining factor. Why do we use such ludicrous measurements as whether or not a household can afford to buy their children a Game Boy or designer label trainers – both of which appear in a report by a prominent think tank as markers – when in Thailand many live on the streets with no shelter or income at all. There and in other "Tiger Economies" people sell their children into the sex trade to support themselves and in Africa one meal a day is considered enough for vast sections of the population?
Has our idea of wealth and poverty become so material that we cannot see the true needs of ourselves and our fellow travellers on this, the third rock from the sun?
Our Gospel this morning reminds us that, in the midst of plenty, we are impoverishing ourselves if we do not strike a balance between the physical and spiritual. That is the message we need to restore in our society as a whole, for we live in a spiritually impoverished and materially rich society and age.
"I urge that supplications, prayers, intercessions and thanksgivings be made for everyone, for kings and all who are in high positions, so that we may lead a quiet and peaceable life in all godliness and dignity."
Again the key point in the letter to Timothy is in the fourth word Paul uses to describe the appropriate elements of our common worship. Thanksgiving is what we should begin and end our daily prayer cycle with, thanksgiving for life, thanksgiving for the bounty of our health, wealth, food, families and homes, but how many of us give thanks for faith? How many of us give thanks for our friends, our colleagues and those whom we may never meet – but who have provided the very things we eat drink and wear?
Harvest time serves as a reminder of our need to be thankful for the food on our tables and the clothes on our backs, but it should also be a reminder to us that we need to keep a balance in our lives between our real needs and the plenty we are fortunate to enjoy. It needs too to be a reminder to us that these things are not ours to be wasted or squandered, but that we need to be mindful of those who do not share our wealth and for those from whose labour we draw so much benefit.
Harvest time used to be the time when the housewife and the children got busy preserving, pickling, preparing food to be stored to see the family and the community through the barren season of the winter. A well stocked larder was essential to survival and the management of those stocks was a vital part of the cycle of life. We no longer have that need, so perhaps we can afford to take more literally the words of our Gospel to take no thought to our needs for food and drink – after all Mr Sainsbury, Mr Tesco and Mr Morrison to mention but a few, will surely have all that we need when we need it!
Unfortunately it seems that the freedom from the need to worry about the forward planning that our forebears had to take so seriously has not meant that we have focussed on the spiritual, rather the reverse, for now we focus on the luxuries we may or may not enjoy.

As we prepare to meet our Lord in this feast of the Eucharist, dare I suggest that we all consider very carefully our own balance between our spiritual life and our physical needs? Do we have it right? Are we using the freedom from the fear of famine, storm or poor crops to the best effect in our spiritual growth? I pray that we are – or will.
Amen