« Fallout .... | Main | Veiled upset ..... »
October 15, 2006
A Walk in the Park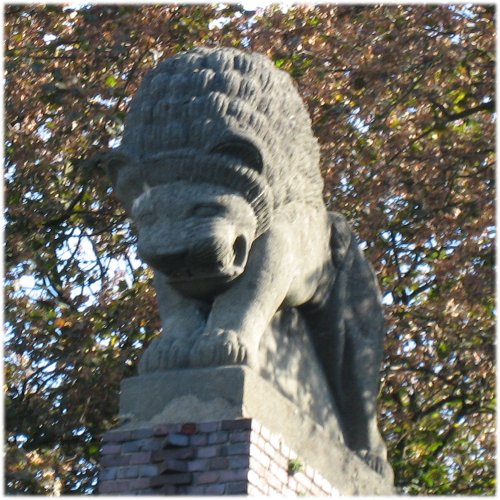 After a leisurely walk through the assembled Jugendstil architecture on the Mathildenhöhe in Darmstadt we finally reached a public garden called 'Rosenhöhe'. The entrance is guarded by six mighty lions looking down from the tops of long brick pillars. Originally the garden was a ducal vineyard. In 1810 Grand Duchess Wilhelmine ordered the vineyard to be transformed into an English garden with exotic trees, pavilions, gazebos, water basins and round flower beds. The responsible landscape gardener was Johann Michael Zeyher. In 1826 a mausoleum was built and the garden served as a graveyard for the ducal family. A little palais was added in 1894 by Prince Wilhelm which was destroyed during WW II and never rebuilt.
The last Grand Duke Ludwig added a rose garden and a rosarium most of which survived both wars. Since 1979 work is underway to restore the historical garden to its former beauty. Having seen some of the more famous gardens in England I think there is still a lot of work to be done which will keep an army of gardeners occupied for some years. I always ask myself when German gardeners will finally discover the third dimension - our flower beds are always as flat as floor board. Still, it was a pleasant enough stay there in the warm October sun. The peak of the rose blossom was over but there were other things to discover and enjoy. Like this metal sculpture of birds. Going around and noticing the shiny metal bits you could tell exactly which size the kids are that come up here to give the birds a pat on the head. And the toddlers which cling to the wings and take their first steps into life.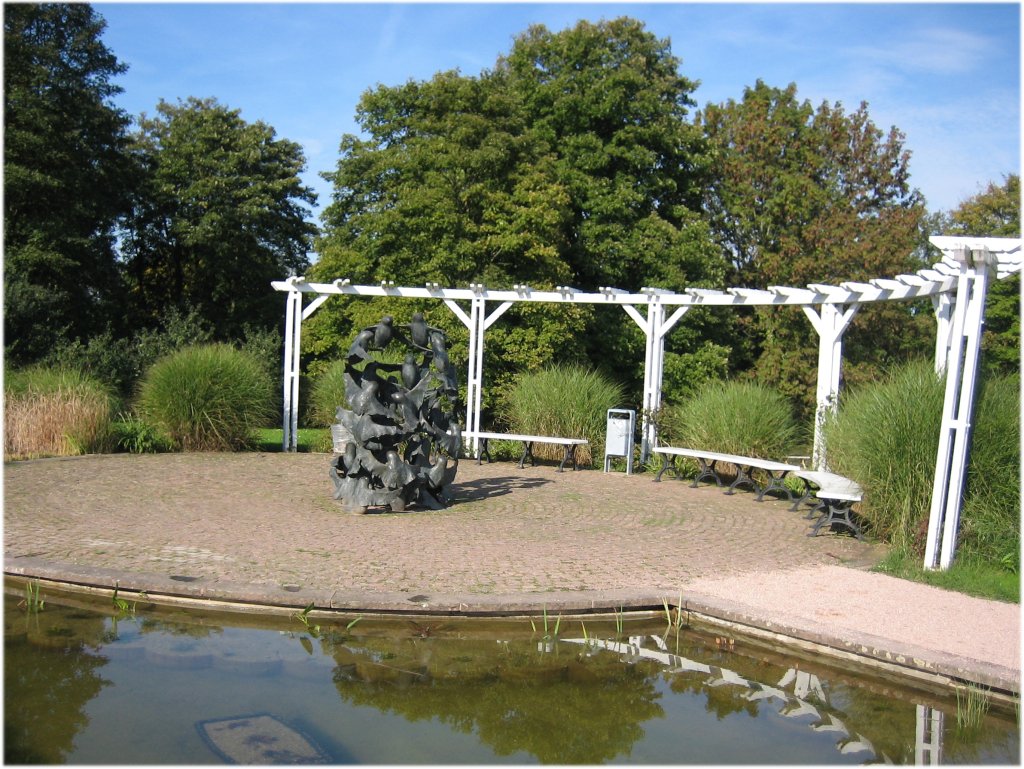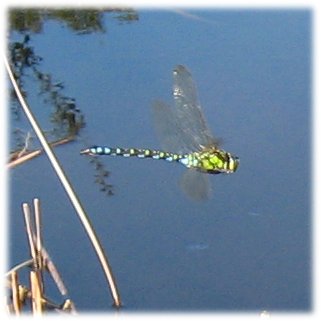 While standing close to the water basin a huge dragonfly zoomed around us. A true challenge for an ambitious photographer. This cunning little bugger would keep zig-zagging across the water surface and you could bet on his changing direction the moment I pressed the button. But grim determination and endless patience were rewarded in the end: gotcha!
I shall certainly return to the Rosenhöhe from time to time and watch the progress the garden is making. Besides it's a good area for taking easy walks and strolls. Whenever you get the chance - take it by all means.
Posted by Mausi at October 15, 2006 10:45 AM
Trackback Pings
TrackBack URL for this entry:
http://mt3.mu.nu/mt/mt-tb.cgi/4727
Comments
Post a comment