« Places of note | Main | Rambling in Dublin »
October 29, 2006
Farewell to all that ....
Last Friday night saw the retirement dinner for a colleague and me. It was a formal affair, held in what used to be our Mess. Once I had the privilege of being the President of the Mess here, and for this, the final occassion in which I will be Dining In, I was once more asked to Preside. It was a lovely evening attended by a host of former colleagues and a number of friends of us both, but most importantly, by my three children and their respective partners. Things have changed significantly in the Mess since my Presidency, not least the Mess having been completely redecorated and refurnished in a more "modern" and "more welcoming" style. Well, I suppose if you like a decor that would suit an airport lounge, then, yes, it is modern. Sadly, it now has only one piece of its historic memorabilia left - and that required almost open war to have it restored. It can be seen in the photograph below - and any fire fighters reading this will instantly recognise it as Charles Vigor's Victorian masterpiece entitled "Saved".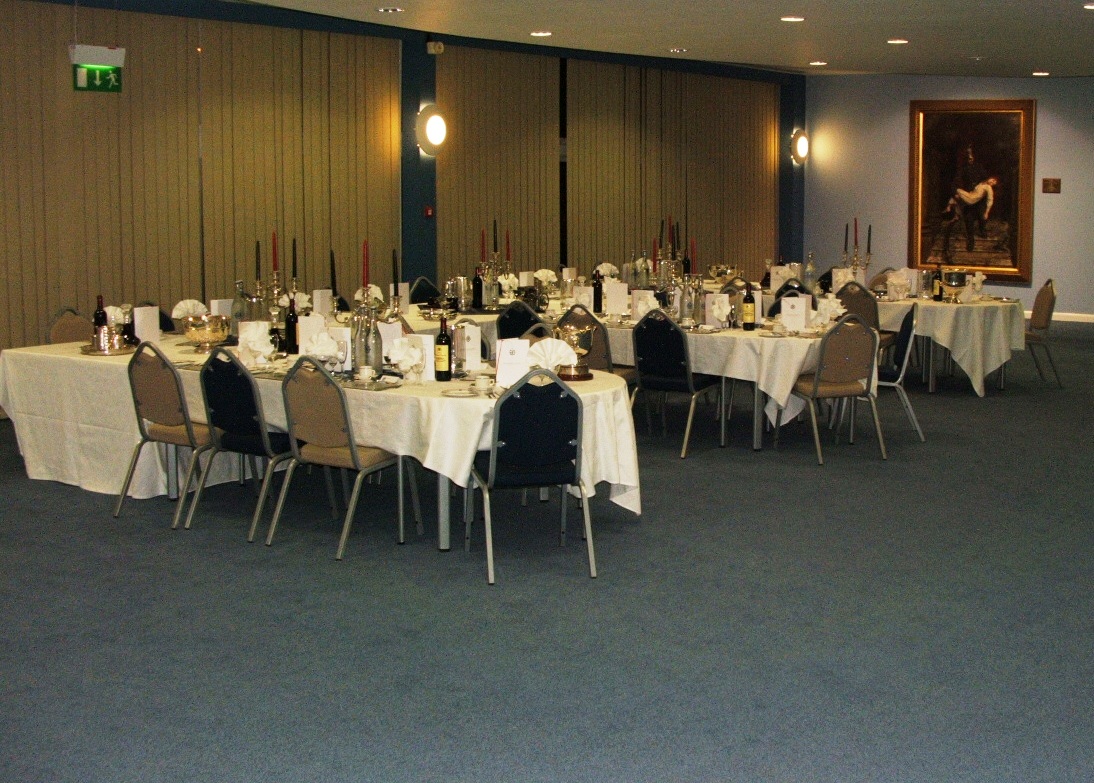 The Mess Silver on the tables set out for a Dining In night for the Gray Monk and a Colleague who retired this month with a collective service record of over eigthy years between them.
We had the privilege of the use of the Mess Silver for our Dining In Night and made the most of it. Some of the pieces on the tables go back to the Victorian Fire Service and others are of more recent date and recall the dark days of World War 2. Our guests included the Chief Inspector of Fire Services, a former Commandant and Chief Fire Officer, the Lord Abbot and the local MP, together with a number of past and present colleagues and my three children and their partners. It was a grand evening, one everyone present enjoyed to the full, with all the usual formalities observed. Three speakers addressed the table, the third reading an e-amil from a colleague from Ireland who could not attend as he was unable to absent himself from duty in his own service. I must say that I was very flattered by the speakers comments.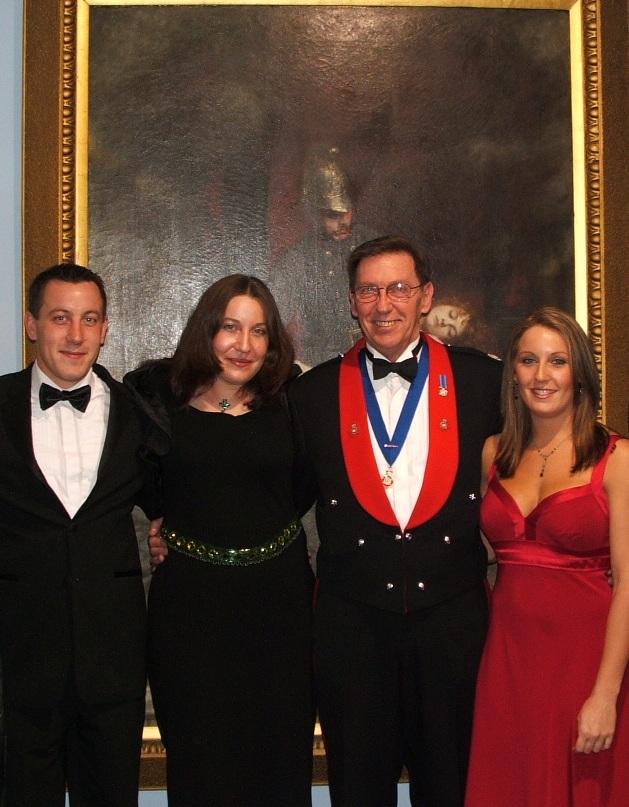 The Gray Monk revealed in his other persona and accompanied by his son and daughters!
It was good to have had this opportunity to enjoy one last formal meal with my friends and colleagues and a great privilege to have had the use of the Mess to do so. Looking back on my career, it has been a huge privilege to have served the community both here and in South Africa (and a few other places in the world!) during the thirty six years since I joined the fire service and it has been an even greater privilege to be able to pass on my experience and the experience shared by others to the next generation of officers.
As I was reminded listening to the speakers, we are all the sum of our own experience, the experience and influence of others, our mentors and our friends. As it says on Christopher Wrens tomb, "If you seek his monument, look around you", so it can be said for all of us - if you seek to know the man, look at his friends and colleagues.
Posted by The Gray Monk at October 29, 2006 07:16 PM
Trackback Pings
TrackBack URL for this entry:
http://mt3.mu.nu/mt/mt-tb.cgi/4758
Comments
As one who has worked with you in the past, I would like to wish you all the very best for the future. It is indeed sad to see the slow and painful demise of tradition at the Fire Service College, and it's good to see that the 'Saved' portrait remains despite its politically incorrect imagery! The other tradition that has survived (and I'm surprised you didn't mention it) is the bell that is rung when there is a death in active service of our firefighters. Now that's something today's breed of professional politicians and civil servants DARE NOT touch!
Posted by: Slim Jim at October 30, 2006 12:05 PM
Thanks for comment Slimjim, the Memorial Bell has been moved to a new location - and many of us are not happy about that either. There was quite an upset about it, but I think perhaps the message is starting to filter through that they present Civil Service management have trodden their way into a minefield and are finding they can't simply walk out of it ....
Posted by: The Gray Monk at October 30, 2006 12:31 PM