« Art Nouveau | Main | Another birthday .... »
October 12, 2006
Russian Ties
Another little gem on the Mathildenhöhe in Darmstadt is the Russian Orthodox Chapel. The golden roofs of the onion shaped towers are quite a sight against a blue sky.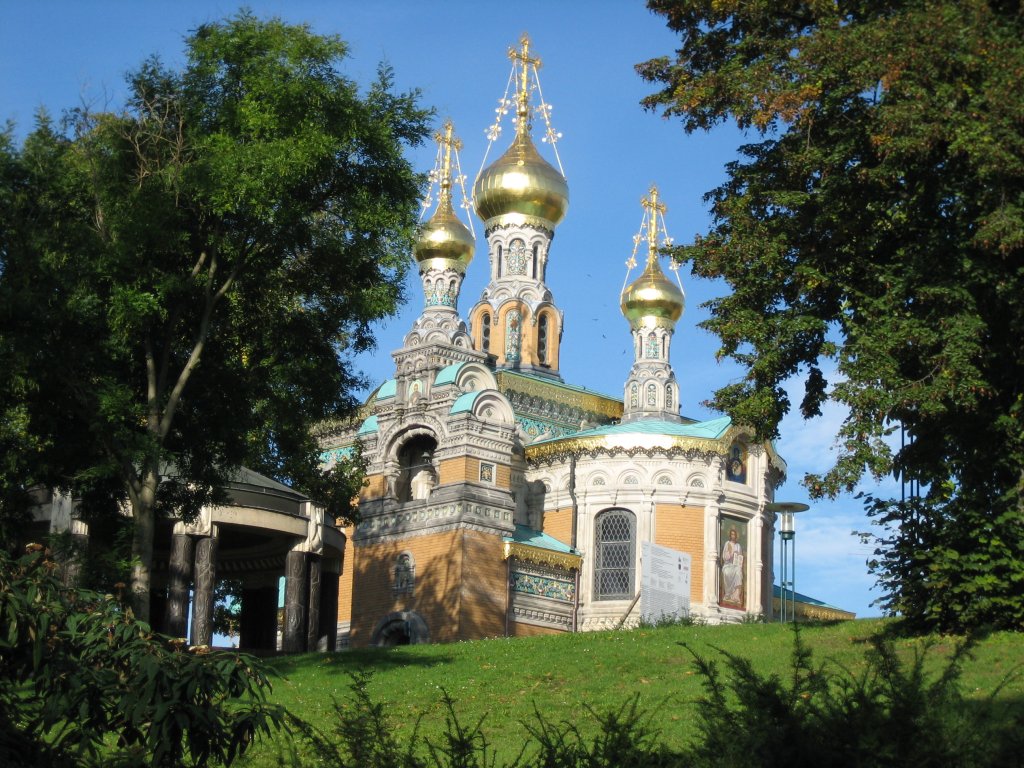 The Russian Chapel as seen when climbing up to the top of the hill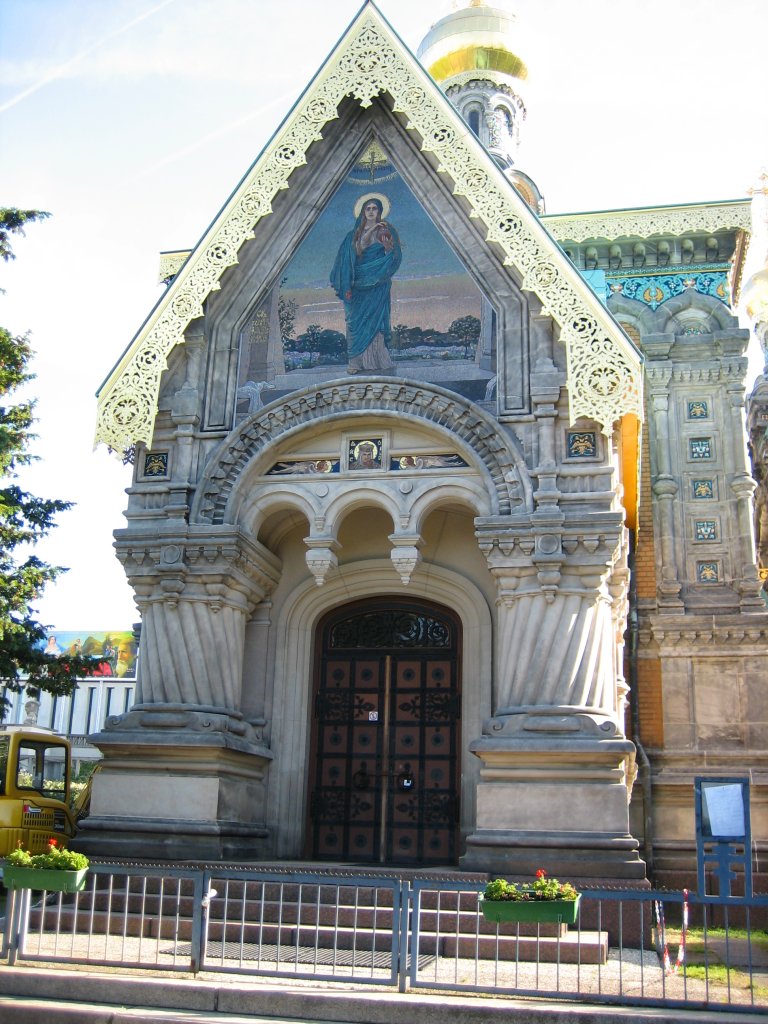 A daughter of Grand Duke Ernst Ludwig and his first wife Alice (second daughter of Queen Victoria and Prince Albert) married into the Romanov family. Her husband became Tsar Nikolaus II who was murdered together with his family by the Bolsheviks in 1918. The chapel was built as a private chapel for Tsar Nikolaus and Tsarina Alexandra, born as Princess Alix von Hessen und bei Rhein, whenever they came to visit their German relatives.
The chapel was designed by the Russian architect Leontij Nikolajevich Benois from St. Petersburg. The foundation stone was layed in 1897 and the chapel was consecrated in 1899. Elaborate mosaics and wall paintings cover the outer and inner walls of the chapel. The paintings and mosaics were designed by the Russian artist Viktor Michailovich Wasnezov (1848-1926). Wasnezov was well known as an artist of religious paintings. In his paintings he reawakened the Byzantinian and Kiev tradition, turning away from the romantic style of the 19th century. He is seen as a master of the Neo-Russian style, a variation of the European Art Nouveau.
The mosaics on the outer and inner walls were pieced together by the brothers Alexander and Vladimir Frolov from St. Petersburg. The mosaics were put together in plates and these plates were then assembled in Darmstadt. The brothers used the so called Venetian method to do this. A mirror image of the original design for the mosaic was copied onto a thick piece of paper. The paper was cut up into pieces and the cobalt glass pieces were glued to the paper surface face downwards. The resulting pieces of the mosaic were then framed and fixed with a solution of cement. In the end the mosaic plates were attached to the walls and the seams filled and sealed. The result is quite stunning, isn't it?
At the moment the chapel is undergoing extensiv renovation as it did not react well at all to the environmental challenges of the last years. As it is a comparatively small building there's hope it will eventually be restored to full glory!
Posted by Mausi at October 12, 2006 06:08 PM
Trackback Pings
TrackBack URL for this entry:
http://mt3.mu.nu/mt/mt-tb.cgi/4720