« Life's a maze .... | Main | Russian Ties »
October 11, 2006
Art Nouveau
Last Monday I had an opportunity to visit Darmstadt, where I went to University, again. There are quite a few things there to see and look at. One of them is the famous 'Mathildenhöhe'. Strangely enough I never found the time to visit this place while I was living there although I have always had an interest in art and architecture.
As the name indicates the Mathildenhöhe is a little hill where the Grand Duke Ernst Ludwig founded a colony of artists in 1899. It consisted of one architect, painters and sculpturers, seven people in all. Their first task was to design their own living and working quarters. That was the beginning of the Darmstadt variation of Art Nouveau or 'Jugendstil' as it is called in German.
One of my favourite houses is 'Haus Deiters' which was designed by the only architect of the colony, Joseph Maria Olbrich, for the colony's manager. It is the smallest of the houses and has a rather interesting geometry. It has escaped both World Wars unscathed and has been extensively renovated and restored from 1991-1992. In 1996 the German Poland Institute moved into it.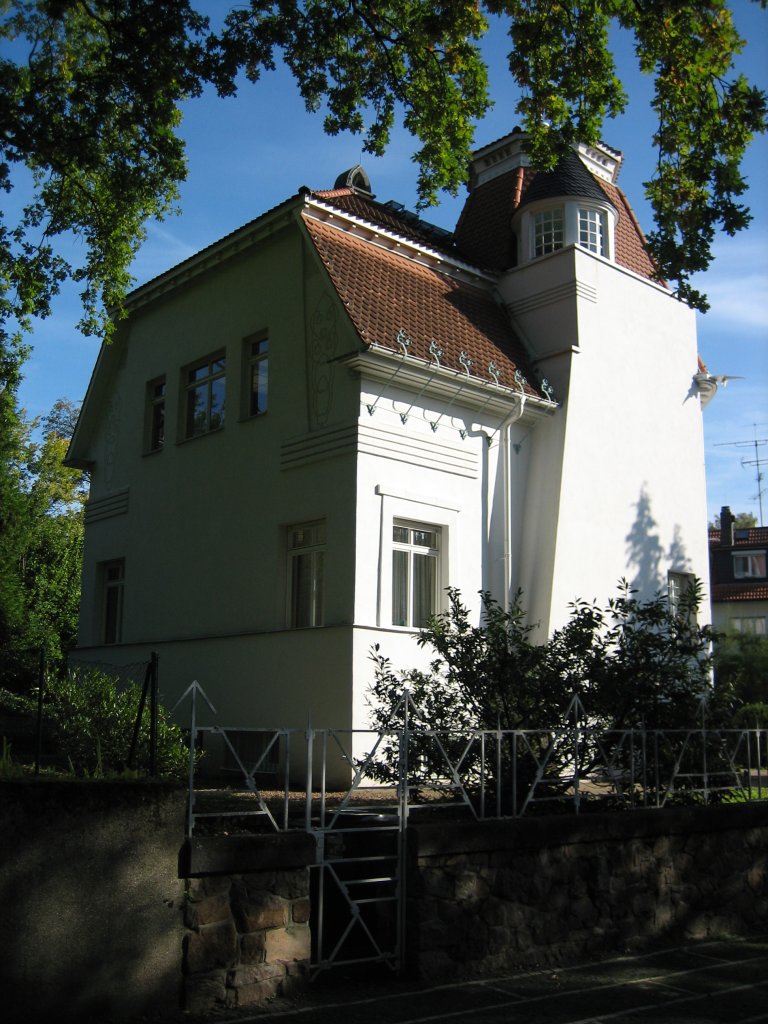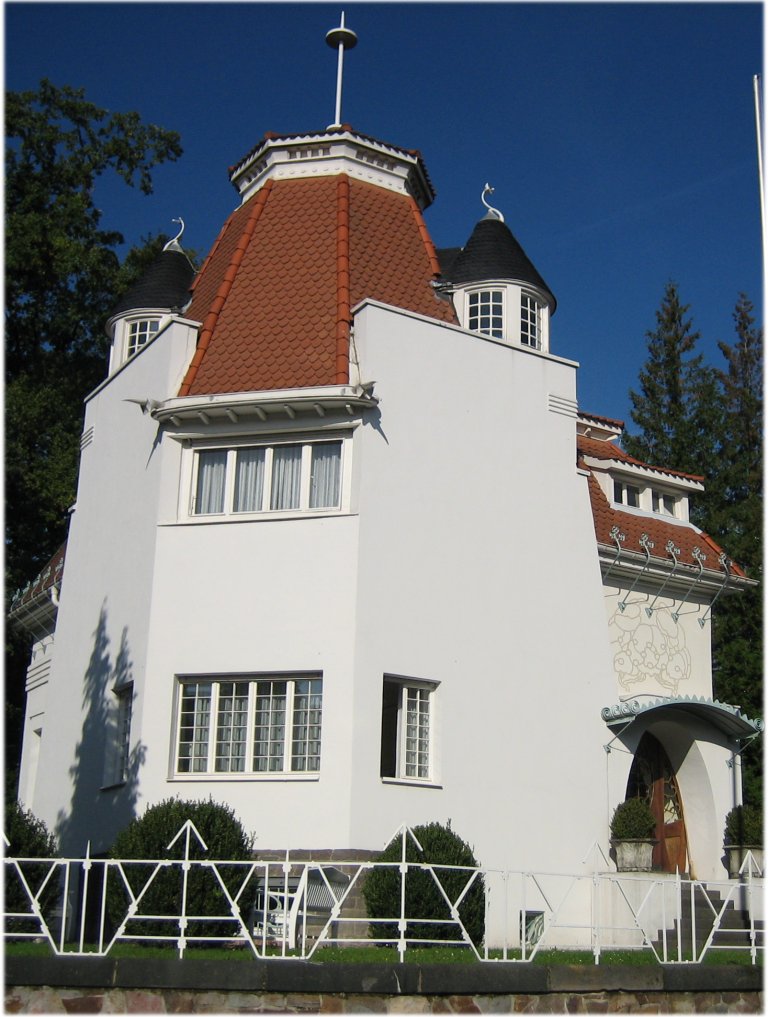 Pretty little Haus Deiters
Inside the rooms are arranged in a 'space optimised' way so that nothing is squandered on broad staircases or endless corridors. I wouldn't mind living there myself.
Another building on the Mathildenhöhe has become the symbol of Darmstadt - the 'Hochzeitsturm' (Marriage Tower). This impressive building (height 48 m) was again designed by J.M. Olbrich in memory of the marriage of Grand Duke Ernst Ludwig with Princess Eleonore zu Solms-Hohensolms-Lich. Nowadays it really earns its name as it is used as a registry office. And one can climb up to the top and enjoy the view - not on Mondays, though ...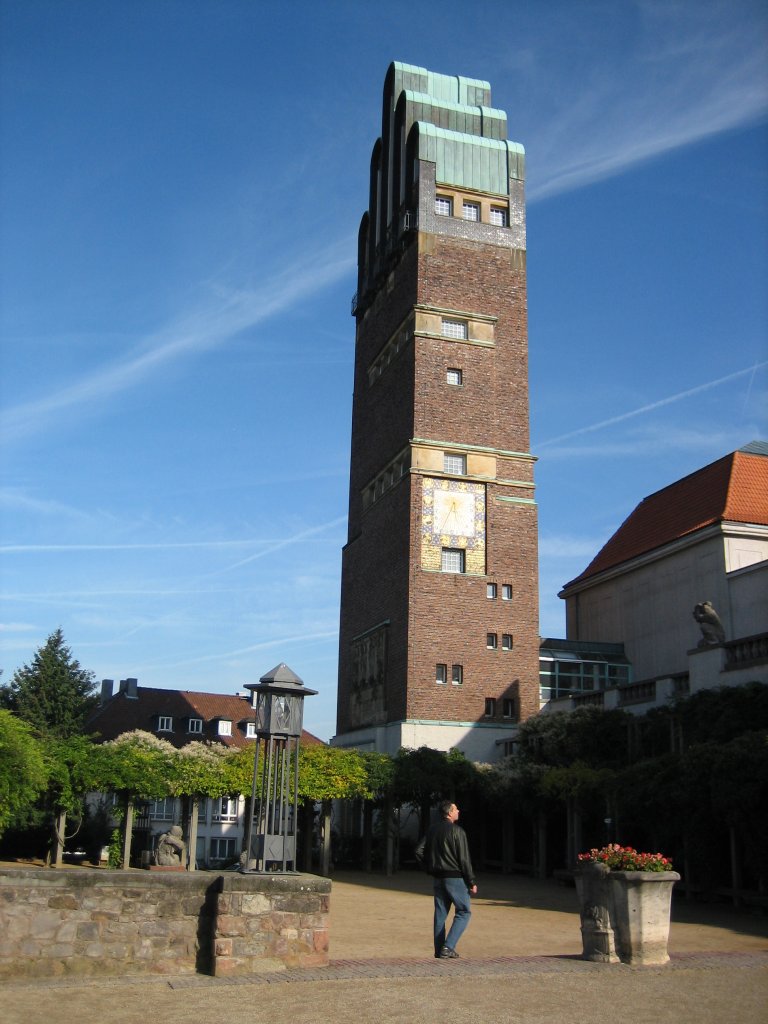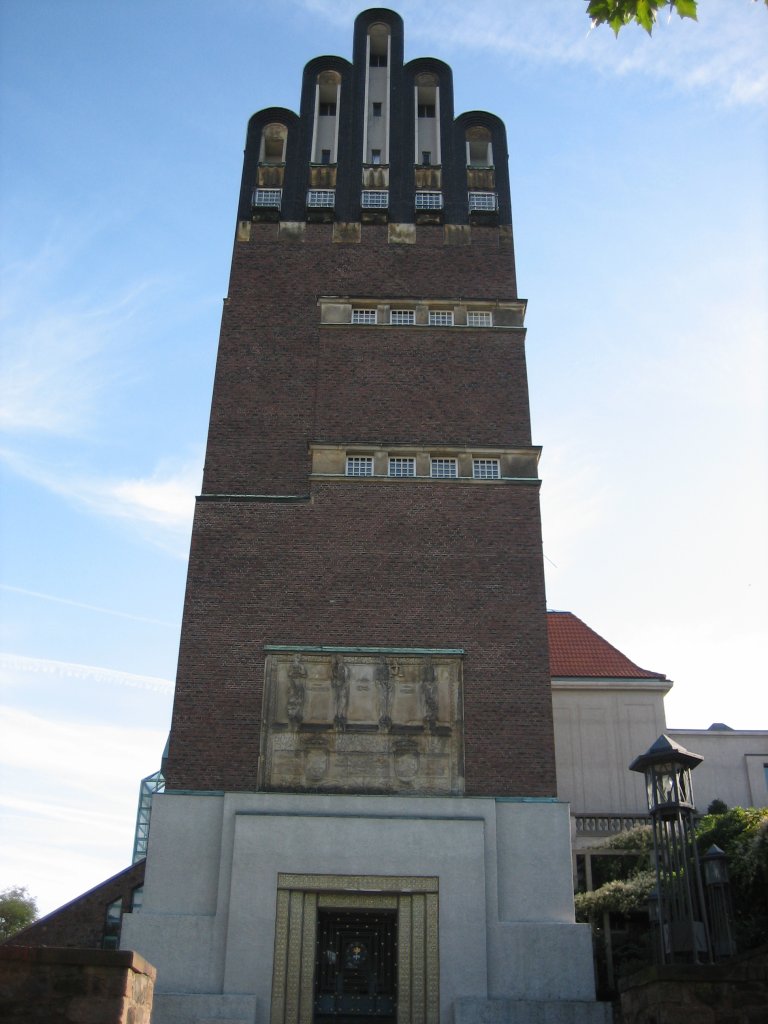 The famous 'Hochzeitsturm' also known as 'Five-Fingers-Tower' for obvious reasons
The first exhibition on the Mathildenhöhe was held in 1901 and made Darmstadt quite famous. The beginning of the First World War, however, marked the end of the Darmstädter Jugendstil epoch. Although the old town of Darmstadt was completely destroyed during the night of September 11, 1944, the Mathildenhöhe somehow managed to dodge the bombs and is still well worth a visit.
Posted by Mausi at October 11, 2006 06:08 PM
Trackback Pings
TrackBack URL for this entry:
http://mt3.mu.nu/mt/mt-tb.cgi/4719
Comments
the Haus Deiters is so cute! glad to find you! thanks.
Posted by: lotusgreen at October 12, 2006 10:54 PM