« April 2008 | Main | June 2008 »
May 31, 2008
Calliopes and other wonders .....
Having now reduced the size of the picture file I can publish this shot of the Calliope on the Belle of Louisville. For all its compact appearance it can make its presence heard! As described in yesterday's post, it comprises thirty-two steam whistles connected via valves to the boilers. It is played from a small keyboard located just aft of the Captain's quarters on the Texas Deck.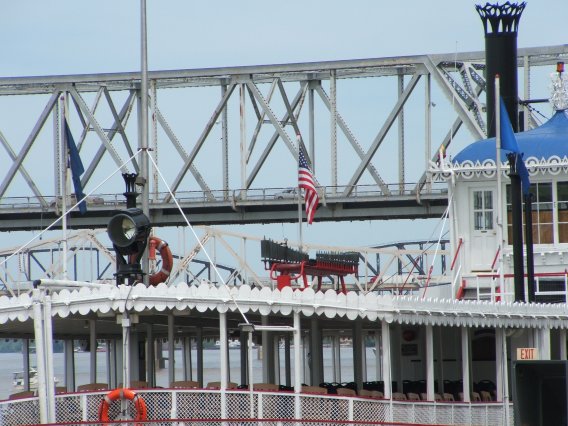 The steam Calliope on the "Belle of Louisville's" Pilot House Deck.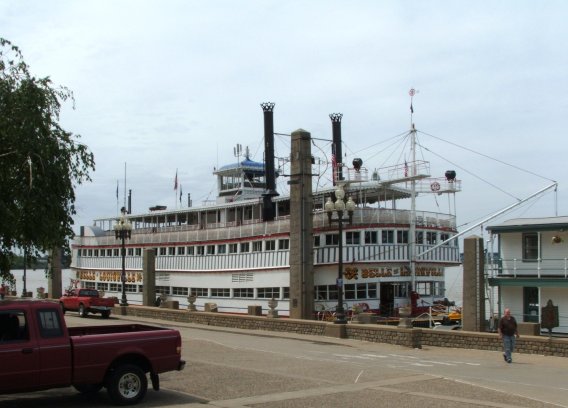 Seen from ahead the "Belle" makes an impressive sight. Note the triple steam whistle above her Pilot House.
The steam boats may now be reduced to curiosities on the rivers, but that doesn't mean that the rivers are any less busy as major transport arterials. In the next picture a single "push-tug" can be seen propelling loaded fuel barges upstream. The load was twelve barges lashed three abreast and four groups long - imagine what a fleet of road tankers would be needed to move the same quantity of refined product by road.

The Ohio River is still a major part of the transport network of this area - in this case petroleum spirit in tanker barges.
I simply have to find a way to travel these rivers by boat!
Posted by The Gray Monk at 08:20 AM | Comments (1) | TrackBack
A tribute to one of ours ...
In stark contrast to our own national response to our men and women currently deployed in Iraq (Hamstrung by Labour's "Human Rights" lobbists "Rules of Engagement" which prevent their actually shotting anyone shooting at them!) and in Afghanistan (which doesn't seem to attract the same level of support as Iraq in the "Human Rights" forum), I find the support for the armed forces in the US enlightening. Yes, there are dissenting voices, but they have not been fed the anti-military lies of the left wing pacifists for the last 60 years of socialism as we have.
Recently I was moved to discover this tribute to one of ours - barely mentioned in the UK Press, let alone on any UK based Blog I have found - on CrosSwords. I hope that Lance Corporal Croucher has now been awarded his well deserved VC. If he has not, I can only say that it is yet another example of the sickness at the heart of Whitehall and Westminster - infested by worthless, faceless and incompetent cowards who hate anyone with more initiative, courage and ability than themselves. I could add the poisonous left-wing "educationists" to that list - men and women who teach a poisoned and biased vision of the deeds of men and women who made this country great so that they could have the freedom to destroy it from within.
No prizes for guessing where the title of my next book comes from!
Posted by The Gray Monk at 07:50 AM | Comments (0) | TrackBack
May 30, 2008
One I have to share.....
The Grizzwells is just to good today not to be shared .....
And yesterdays sums up our age very well indeed.
Posted by The Gray Monk at 08:04 PM | Comments (0) | TrackBack
Steamboats
One of the many fascinating things we encountered on our travels was a classic Mississippi Steamboat, the Belle of Louisville. The Belle is not quite a hundred years old and has had a chequered career, but she is now lovingly preserved on the Ohio where she no doubt still thrills onlookers and passengers alike. Mounted on her Uppermost deck, above the "Texas Deck" and aft of the "Pilot House" is something one doesn't often see these days - a steam Calliope. This is a small organ blown by steam, the 32 "whistles" each sounding a harmonic note. Mind you, with a Calliope, "harmonic" can be relative - and it also depends on how close you are to it. These things can be heard quite clearly at distances above a mile!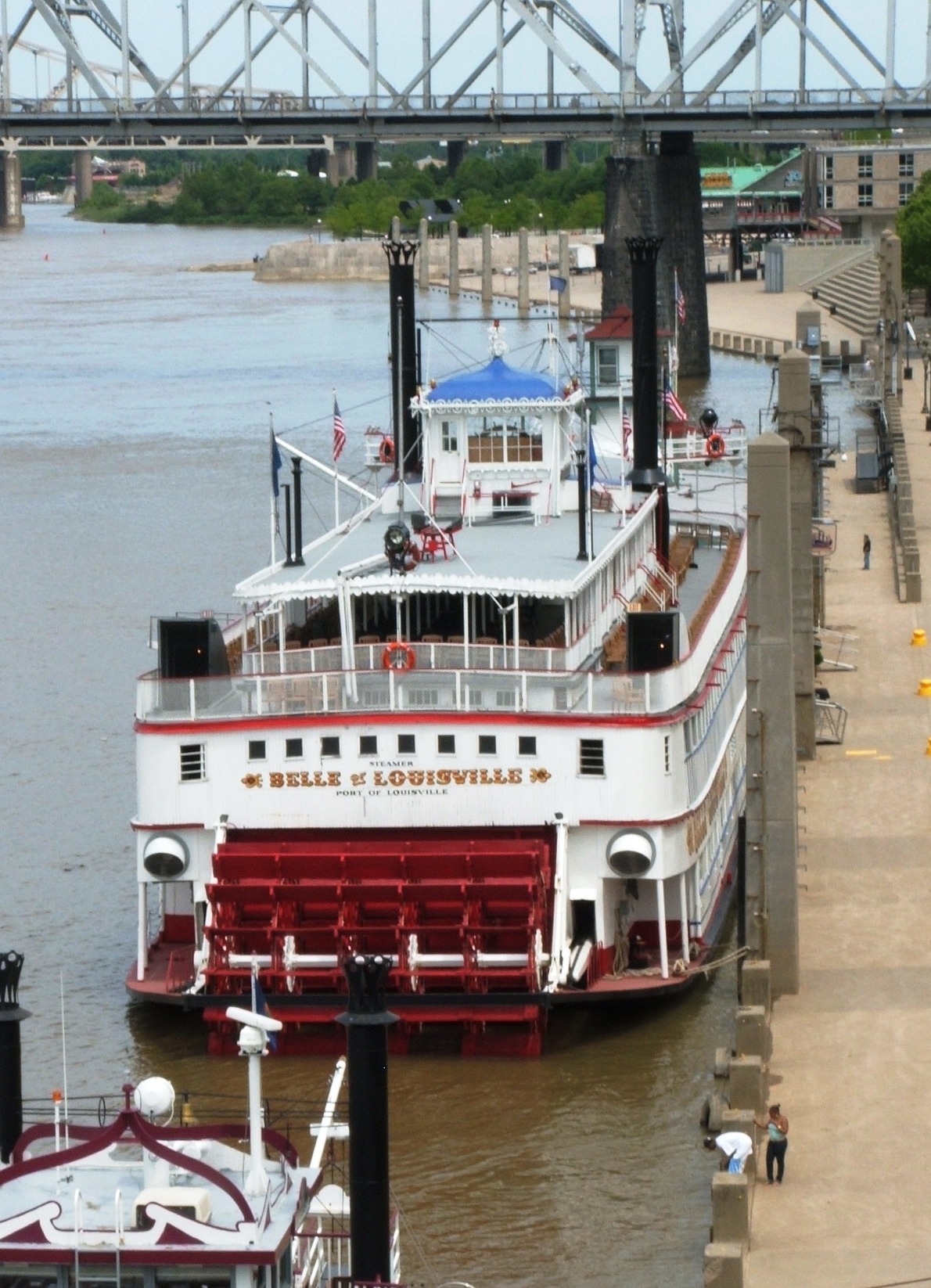 Seen from aft, the "Belle of Louisville" lies at her mooring in Port of Louisburg. Astern of her is the small screw riverboat "Spirit of Jefferson" and ahead of her is the preserved "Lifeboat Station Number 10". The Calliope can be seen just forward of the searchlight mounting.
The Belle is powered by twin horizontal steam compound engines with steam supplied by three low pressure boilers mounted forward of the engines. The decks carry names evolved on these boats and probably alien to their seagoing cousins, though some do overlap. The lowest deck - the one directly covering the hull is called the Main Deck and accomodates the engines, boilers and originally the cargo space at the forward end. The next is called the Boiler Deck and is where the main passenger accomodation is located (Sometimes the boilers were mounted here as well to avoid water reacing the firebox). The next deck upward has two names. The outer part which is not covered is called the "Hurricane Deck" as it is exposed to the elements, the inner part which is covered, is the "Texas Deck" and is where the officers quarters are located. Uppermost if the Pilot Deck where the Pilot House can be seen.
Originally the Calliope had to be played from directly below the instrument on a keyboard fitted with brass "keys" operating the steam valves. The player reportedly wore asbestos gloves! It is now played by means of an electronic keyboard mounted just behind the Captain's quarters on the Texas Deck. No doubt ear defenders are provided for those on board. One can only wonder at what it's use does to the steam pressures on the boilers. Most engineers I have known go purple with rage if the "Deck Mob" play fast and loose with their precious steam by playing silly buggers with the ship's steam horns.
The triple boilers take their water directly from the river when they need topping up, something most steamships avoid because it can foul the boiler tubes, however these boilers are fitted with a "mud drum" into which the sediment settles and from which it can be ejected at intervals. Further up river, at Cincinnatti another of these old time river boats is still operating. The Delta Queen is slightly younger than the Belle but has a wooden hull which is now causing a few headaches. The two boats meet once a year for a race which must be something to see.
Perhaps I'll get to see it on my next visit - and perhaps a ride on either the "Belle" or the "Delta Queen" to boot!
Posted by The Gray Monk at 09:08 AM | Comments (0) | TrackBack
May 29, 2008
The Gray Monk's Library
http://astore.amazon.com/thgrmo02-20/102-0341958-3049728
Posted by The Gray Monk at 09:32 PM | TrackBack
A new venture for the Monk ....
Believe it or not, I have an A-store on Amazon. What's an A-Store? Well, it's a website hosted by Amazon on which I list books I like and wish to see read.... At least that's the theory. Naturally my own is right up there as well.
Try The Gray Monk's Library. You never know, you may just find something you like!
Posted by The Gray Monk at 09:27 PM | TrackBack
May 28, 2008
Getting to grips ....
The one downside of travelling is having to come home and sort out the things that have piled up while you were away. Like the garden, the hedge that has decided to make a break for the skies and the lawn that has become a jungle. And the rain.....
Well, the garden I can sort out when it stops raining. It is said, by the predictors of such things, that it will stop at the weekend and there will be a short dry spell. Long enough, one hopes, for it to dry out enough for me to get the hedge under control and the grass cut. The weeds are thriving, but their flowers are pretty good, so maybe I'll pretend they are intentional for a bit longer - that doesn't apply to the thorny blackberry that's trying to invade. That definitely goes! And then there's the pile of mail. Well most of that can go into the bin - its junkmail, but it has to be sorted, checked to ensure it hasn't anything personal on it and then binned.
At least I have good news of a publisher. Hallmark Press is making an offer to publish and market, and they do mean market, the latest of Harry and Ferghal's adventures. I'll have to go to a meeting with them in the near future to see what happens next, but it looks and sounds good. It is a "Joint Venture" offer so it will all depend on who "ventures" what.
Then there are some more "paying" offers emerging, more work coming in for teaching and another to be discussed tomorrow evening for a longer term proposal. Every little helps, as they say, especially now Mr Brown and Co have doubled the tax they take out of my rather small pension. One sounds very interesting and exciting. Ce la vie, I'll have to wait and see.
Now, having just returned from a triple meeting, I think its time to surrender to the Jet Lag and take a carefully measured nightcap to bed!
Posted by The Gray Monk at 09:35 PM | Comments (0) | TrackBack
May 27, 2008
Home at last ....
Nice as it is to see new places and visit old friends, its nice to get home again too. Courtesy of Delta we arrived on time and in one piece in Frankfurt am Main this morning. My flight bookings meant a wait of some seven hours in the terminal, but, having booked my luggage into Flybe and got my boarding card sorted - I went home with Mausi, returning to the airport in time for the flight home. Courtesy of Flybe I have arrived home in one piece and with my luggage this evening.
Madam Paddy Cat is delighted, I'm exhausted and now to bed! Photos of our travels and marvels will follow in due course!
Posted by The Gray Monk at 07:46 PM | Comments (2) | TrackBack
May 26, 2008
Heading homeward
All good things must end they say, and so our little tour is coming o a close. Today we start north again towards Cincinnatti and the airport. Our flight leaves this evening and arrives in Frankfurt tomorrow. Mausi then returns to her normal domain and her work while the Monk catches another flight to Birmingham and home.
Ce la vie! It has been good fun, lots of interesting people to meet, much to see and some interesting wines to savor. I bet that not many people outside Kentucky know that its wines are at least as good as its Bourbon. Better, some would argue, but not to loudly.
Oh well, finish packing, get the car loaded and time to head for Lexington and the Horse Museum on our way to the airport. More, probably with pictures, once we get home.
Posted by The Gray Monk at 01:33 PM | Comments (0) | TrackBack
May 25, 2008
Heading North again
Sunday in Richmond KY. Today we are spending with good friends and having a BBQ lunch. This is our last full day here, tomorrow we must be at Cincinnatti Airport for our flight home around lunchtime and the plan is to drive North from here in the morning.
Mausi has been doing all the driving - assisted by the GPS (sometimes) - and generally hindered by the Monk. At least she is used to driving on the wrong side of the road, unlike the Monk whose concept of positioning on the road and in the lanes is quite a bit out of wack here. We have both been struggling with the road markings and signs which are not what we encounter elsewhere, but, by and large, we haven't broken any rules or caused any problems on the road.
Its been fun, but, as ever, the prospect of going home has its attractions too. Just wish it didn't involve sitting in an aircraft for 9 hours to Frankfurt, four more waiting for the connection and then two more to Birmingham. At least the drive home is quite short - and on the right side of the road!
Posted by The Gray Monk at 12:44 PM | Comments (1) | TrackBack
May 24, 2008
Memorial Day
Memorial Day in the US. Quite and experience - one which makes me all to aware of just how much the Blair/Brown/Hain generation of squatters, boycotters and terrorists have undermined my own nation and its defenders. Recently I saw an e-mail on the BBC's "Comment on the news" blog which questioned why we should mark Armistice Day or show any respect to men (and women) in uniform. The writer stated "These people don't need our respect, they're nothing but natural born killers, licensed to murder innocent civilians by our government." The writer of that didn't leave a name, but their location showed up - a university campus.
Therein lies the problem for our nation. Our centres of education have become the home of left wing socialist doctrinaires who rabbit their poisonous claptrap about "better Red than dead" to youngsters who have no concept of the realities of history other than the slewed and twisted garbage that our schools and universities peddle as history (Che Guevarra was a misunderstood philanthropist struggling to free the oppressed from the evil western capitalists) and completely ignoring the fact that they enjoy the freedom to spread this poison because others have given their lives or a significant part of their health to the cause of freedom. And they weren't named Che or any other psychopathic left wing "hero".
I envy the Americans their pride in their nation and in their armed forces. I envy them the pride which sees the stars and stripes flying on almost every house, on every building and anywhere else they can put it. I resent the bureaucrats and the Labour communistas who deny me the right to hoist the Union flag at my own home, or even to have a pole to fly it from when they think I should. Why are they so afraid of our being proud to display our national symbols? Probably because it would expose the bankruptcy of their entire political and humanist ideology and see them thrown forever into the political wilderness.
Sadly, I would have to say that many in the US are very deeply ignorant of many things outside of their own nation, but then they have good company in Europe and elsewhere on similar issues. Equally sadly I have to say that I do not see the European "nation" surviving as long as the socialist poison drip against anything that speaks of discipline, self responsibility or service to anything greater than one's own wants holds sway.
We need to kick these poisonous vipers into touch and rediscover our pride in ourselves and our history and bury the socialist poison version forever.
Posted by The Gray Monk at 11:58 AM | TrackBack
May 23, 2008
Kentucky rambling
Well we've fetched up in Berea. We left Louisville this morning and made our way to Elizabethville and then to Hodgenville and the park now occupying the site of the farmstead on which Abraham Lincoln was born. The Sinking Spring Farm is now a National Park, the huge memorial building at its heart above the actual spring encases a log cabin which replicates the one in which, in February 1818 the USA's greatest President was born.
Abraham Lincoln epitomizes the "American Dream", the idea that a boy or girl from humble and very ordinary beginnings, can rise to the very head of a nation. Thinking about it carefully, I am forced to the conclusion that he is the ONLY man ever to have done so. I cannot think of any other US President whose origins so clearly lie with the working classes. Honest Abe was certainly a remarkable man - all the ore so because so much of his education fell within the definition of "self-study." He rose from the soil of a small and probably hard to work, farmstead, to become a successful lawyer and the nations orator, conscience and leader. He left an astonishing legacy, yet managed to remain incredibly modest abut his achievements.
Driving through Danville, Springfield and Lancaster we finally found ourselves in Berea - and booked into the Boone House Hotel - also known as the Boone Tavern. Now, having had a superb dinner, it's time for bed.
Posted by The Gray Monk at 01:56 AM | Comments (0) | TrackBack
May 22, 2008
Exploring Kentucky
The Symposium being over Mausi and I are exploring. Today we travelled from Cincinnati to Louisville, Kentucky. This city stands on the banks of the Ohio River at a point known as the Ohio Falls, a series of rapids which once inhibited navigation. At some point a canal was created bypassing the rapids which are now controlled by a weir across the river, making it safer to navigate this stretch of the river
Louisville is named after King Louis XVI of France (Yup, the same one that got the chop at the guillotine in 1793) in recognition of the assistance France was giving to the rebellion in the American Colonies. No doubt the French also had an eye to the main chance - taking over these colonies themselves. Unfortunately for their plans, the French Revolution dealt that a fatal blow! Today the city is home to the Kentucky Derby, a range of museums and the last surviving Mississippi steam powered stern wheeler, the preserved "Belle of Louisville". Built in 1914 as a ferry and "packet boat" for service on the Mississippi as the "Idlewild" she still has her original horizontal sliding compound engines which were built in Scotland. She came to Port of Louisville in 1968 in need of major repair and a lot of restoration and, thanks to the dedication of some of Louisville's citizens she is with us still. I will post some pictures and more details when I have a chance to do so.
The city itself is rather pretty and clean. There is certainly plenty to see and do here and tomorrow's plan is to visit a museum that took my fancy and then head out of town on a round-about- route towards Richmond, hopefully calling in at the town which saw the birth of Abraham Lincoln. Even from the Interstate Highway, the countryside is beautiful, so leaving the Interstate and travelling the back roads should be very interesting.
Piccies to follow!
Posted by The Gray Monk at 12:17 AM | Comments (1) | TrackBack
May 21, 2008
Fire in the Berlin Philharmonic roof
Mausi drew my attention to a news item reporting a fire in the roof of the Berlin Philharmonic's home base. It appears that there was a smouldering fire in the roof - a very modernist building with a huge and very high structure - which engaged the attention of over a hundred fire fighters.
The Monk hated roof fires - you can't get at them for a start. And this type is the worst because the only way to get at it is to get on the roof and then make a hole in it. That weakens the structure and ventilates the fire allowing it to develop and spread while putting the troops in danger as they work. Hopefully the fire is now out - I make that assumption on the fact that I have seen no news report of the Philharmonic Hall having burned down.
The design of these very innovative structures often takes no account of access for maintenance or any other "service". I wonder what it will take to get designers to consider the unexpected event such as this?
Posted by The Gray Monk at 09:08 PM | TrackBack
May 20, 2008
Conference
Well, that's our paper presented. It seems to have been very well received by our peers at this conference so I guess we can be pleased by that. The conference itself has been very interesting and we have both been struck by the different reasons behind the investigation activity in the US versus that in the EU and UK. Much of the fire investigation activity in the US is driven by civil litigation while in the EU it tends to be more the realm of the Police/Fire Service community unless the insurers are involved - then it tends to get very expensive.
The Conference ends tomorrow night and we then plan to do a little visiting around some of the sights here before we return home on Monday. Normal service will return to the blog after Tuesday - at which time the Monk hopes he will be able to put away the suitcase for a few months and catch up with his duties and responsibilities at home.
Watch this space for more news and updates.
Posted by The Gray Monk at 08:51 PM | Comments (0) | TrackBack
May 16, 2008
Cincinnatti in my future
At least in the immediate future as I travel to join Mausi and we both head for a conference at which we are speakers. We will be at the Conference from Sunday until Thursday morning, then visiting and exploring a bit of the country around there before returning to our respective homes the following Tuesday. As we both have WiFi enabled laptops (Or in my case a sparkly new MacBook!) we should be able to keep the blog up to date with our adventures. We'll be at the Kingsgate Conference Hotel during our stay in Ohio and will find places as we explore once we leave there.
More worrying is the fact that Mausi's house was struck by lightning yesterday evening. So, at the moment, she has no internet, no phone and a couple of sick appliances - but fortunately no serious damage to deal with. No doubt we will get more on this one later, when she is able to get her fur to lie down again!
Posted by The Gray Monk at 05:48 AM | Comments (0) | TrackBack
May 15, 2008
Converting to a Mac ....
No I am NOT wearing a kilt, Irish or Scottish even though I am legitimately entitled to wear both. I am converting to an Apple Mac i-Book. My Trusty (mostly) laptop has a serious problem which I am unable to resolve easily and I need a laptop for my trip to Cincinnatti. For some time I have been considering upgrading the laptop anyway - its been around the world with me figuratively speaking in the seven years I have relied on it - but, it was a first generation Windows XP. Recently it suffered an attack by a virus - several in fact - which have managed to infest it, my camera, and my memory sticks and portable drives. Microslosh is just too vulnerable and Norton obviously hadn't got defences against these at the time. Though it is now virus free it isn't functioning properly, loads of things simply don't want to run. In addition, despite all the recommended upgrades, it is now running so S-L-O-W-L-Y that it is almost a case of half an hour to load the start-up, never mind actually do what is required of it!
Ozguru has many times laughed at me for relying on Microslosh and Windblows, so now I guess he'll be laughing even more - but I have finally taken his advice!
I have taken delivery of a MacBook - and, because I can't afford to chuck the PC Desktop, or bin all my Microslosh files just yet, I have bought a package of "Wndblows for Mac". Its crazy I suppose to buy a Mac and then install Windblows programmes, but what else could I do - I have almost 15,000 Word Document files I need to be able to keep and access. Already I have found I have a steep learning curve, but, one thing I have discovered - I wish I'd done this years ago.
Watch this space - the Mac is proving to be a challenge, but it is also much easier to figure out than I had thought it would be. Typing with one hand while reading the manual is a bit of a problem, but I'm getting there .....
Posted by The Gray Monk at 09:30 PM | Comments (5) | TrackBack
May 14, 2008
Romanian Churches
The Romanian Church is Orthodox and stands distinctively among the Orthodox family of churches. Its icons tend to be very Byzantine in concept and rendition and its churches too, differ slightly from their Russian and Greek counterparts. The exteriors are decorated almost as much as the interior and it is very good to see that these, like the rest of the nations heritage, are now slowly being restored to their former glory.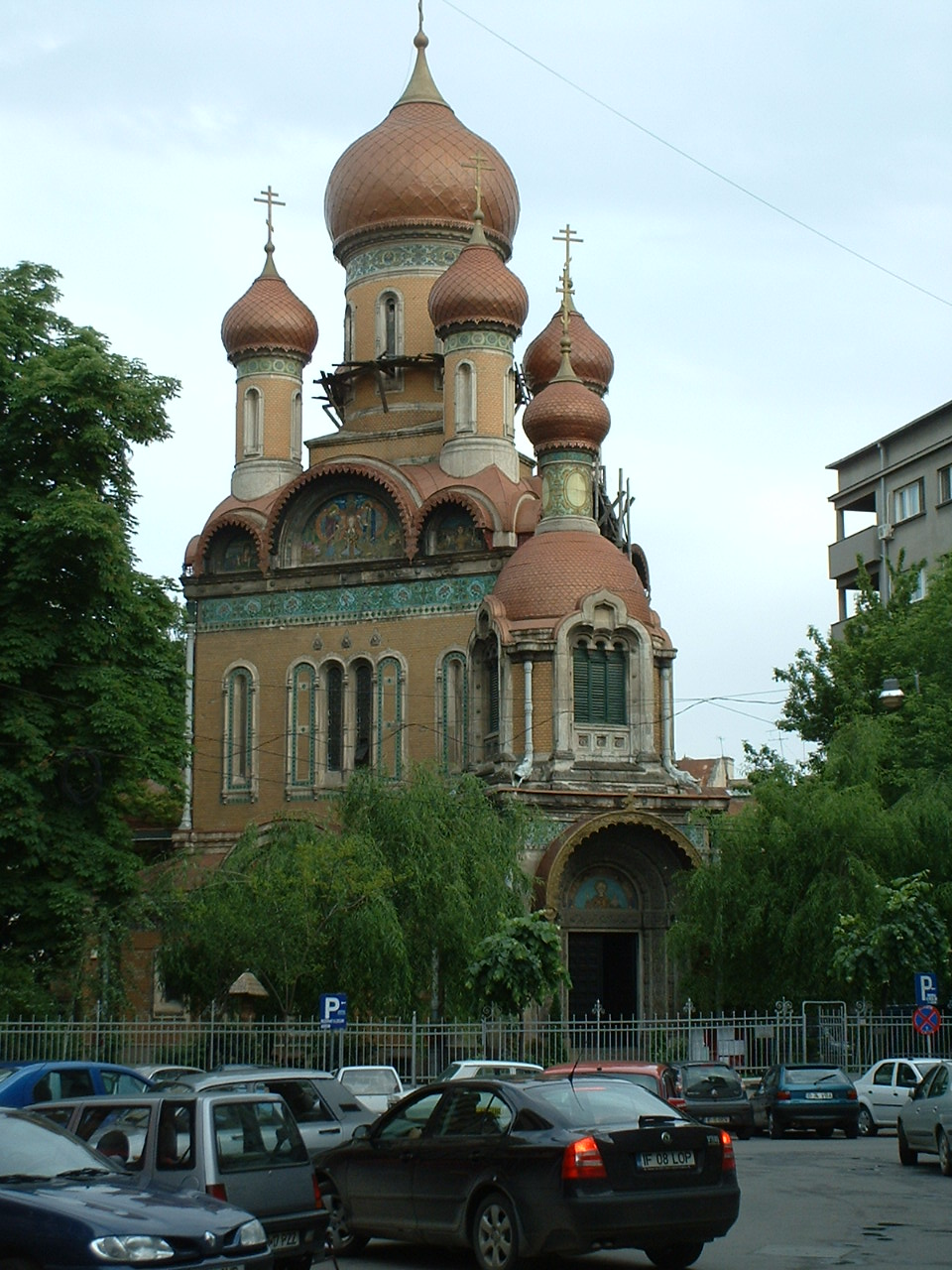 The church of Saint Nicholas, built in the 18th Century by a wealthy prince and his wife. Two chairs (Chairs are not normally provided in Orthodox churches!) stand on either side of the Iconostasis Screen, facing it, for the Royal couple.
Romania was the last bastion of Christianity in Europe, standing between the advancing Turks under their Ottoman rulers until Wallachia - the country between the northern provinces and the border south of Bucharest - was conquered by the Turks in the 17th Century. Strenuous efforts by the conquerors to convert the populace to Islam failed and the Turks were driven out again by the Austro-Hungarian Empire in the early 18th Century. Wallachia, Moldavia and Transylvania remained under the Hapsburgs until 1840 when Romania, then comprising Wallachia, Moldavia and part of Transylvania came into being under their first King since the Turkish invasions. But I digress. In the next picture a small and rather interesting little church is shown.
Built in 1722 it was rebuilt in 1812 and again in 1845 - sadly the interior was also repainted by a contemporary artist in the later rebuilding completely obliterating the work of a very important artist which adorned the walls. Attempts to restore that earlier work had to be abandoned when it was realised that the later work has been rendered in a manner which has destroyed the original. Fortunately 'cartoons' and sketches of the original work do exist, so all is not completely lost.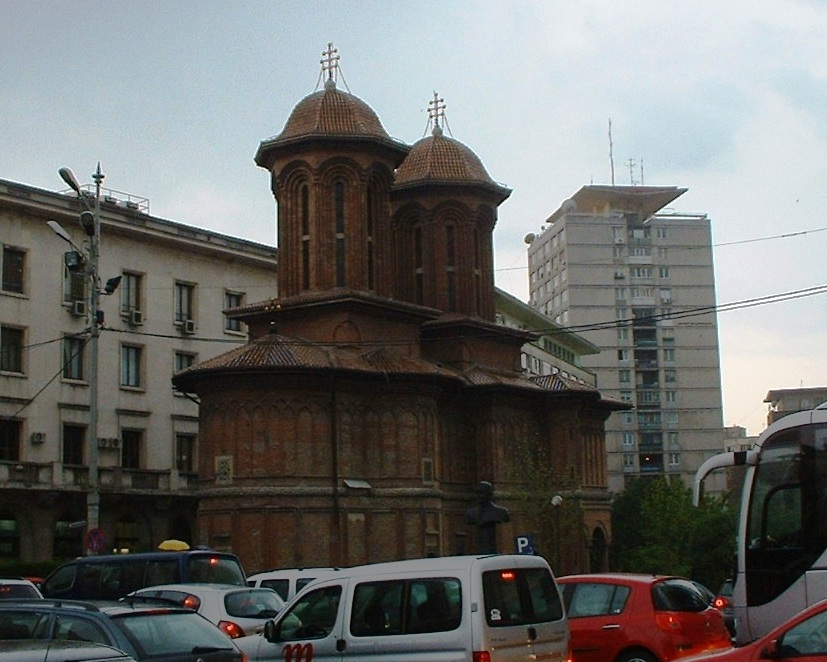 This little church is very popular for weddings - three while I tried to get some pictures. Built in 1722 it stands of a stone plinth and is built of bricks. The interior is dark since there are few windows, but richly decorated.
The twin turrets and their internal domes are typical of the period, the windows let light into the nave from above. The overall effect is quite pleasant and certainly relaxing.

Posted by The Gray Monk at 09:09 PM | Comments (0) | TrackBack
May 13, 2008
Dandelion Time
It's Dandelion Time in the village where Mausi lives. The colours at this time of the year are always striking because the summer dust has not yet settled on them.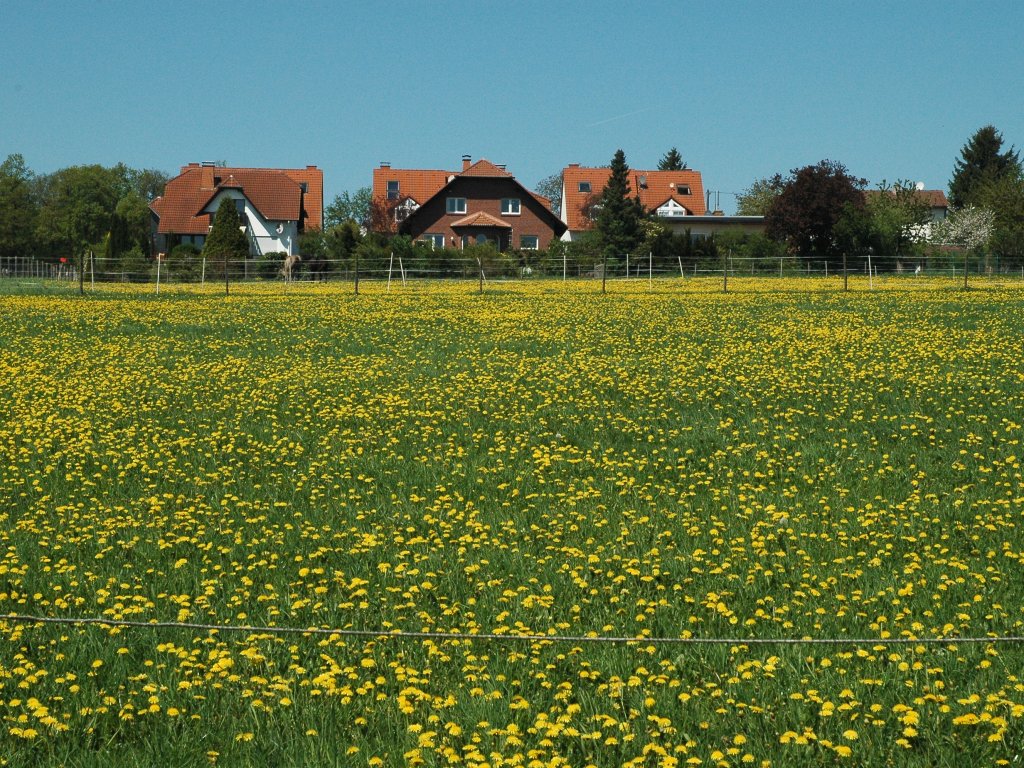 Dandelions in profusion
Once the fields start to get green again in early May overnight the dandelions appear and turn the fields into lakes of yellow. Obviously the dandelions grow much faster than the grass which makes them clearly visible at this time of the year. Mausi loves this sight, especially when there's a clear blue sky above. If only the dandelions wouldn't try to invade the lawn in her garden all the time. However much they are discouraged from doing so they always come back. Sigh...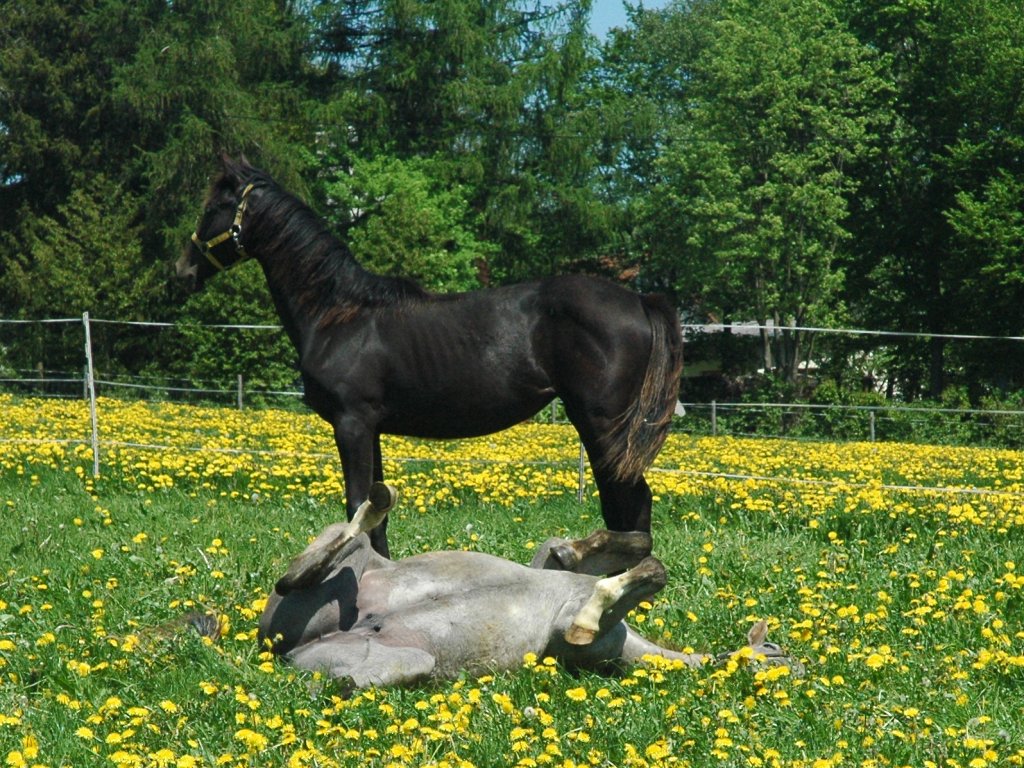 Even the foals from last year seem to enjoy the yellow stuff
Posted by Mausi at 07:08 PM | Comments (1) | TrackBack
May 12, 2008
Bucharest - city of surprises
Bucharest is a fascinating city. It has a long and interesting history and has seen many ups and downs in the course of its development. Being built on a major earthquake fault it suffers serious damage from time to time, the last major quake taking place in 1983. The architecture is a strange mixture of French Third Empire, Austro-Hungarian, Germanic and Balkan. And then there is the hideous 1950 - 1989 Communist "functional" architecture. Wandering around this city reveals surprises at almost every turn. There is a huge amount of work to be done to repair and renovate some of the gems of its heritage, but that work has started - and where it has been done, it is stunning.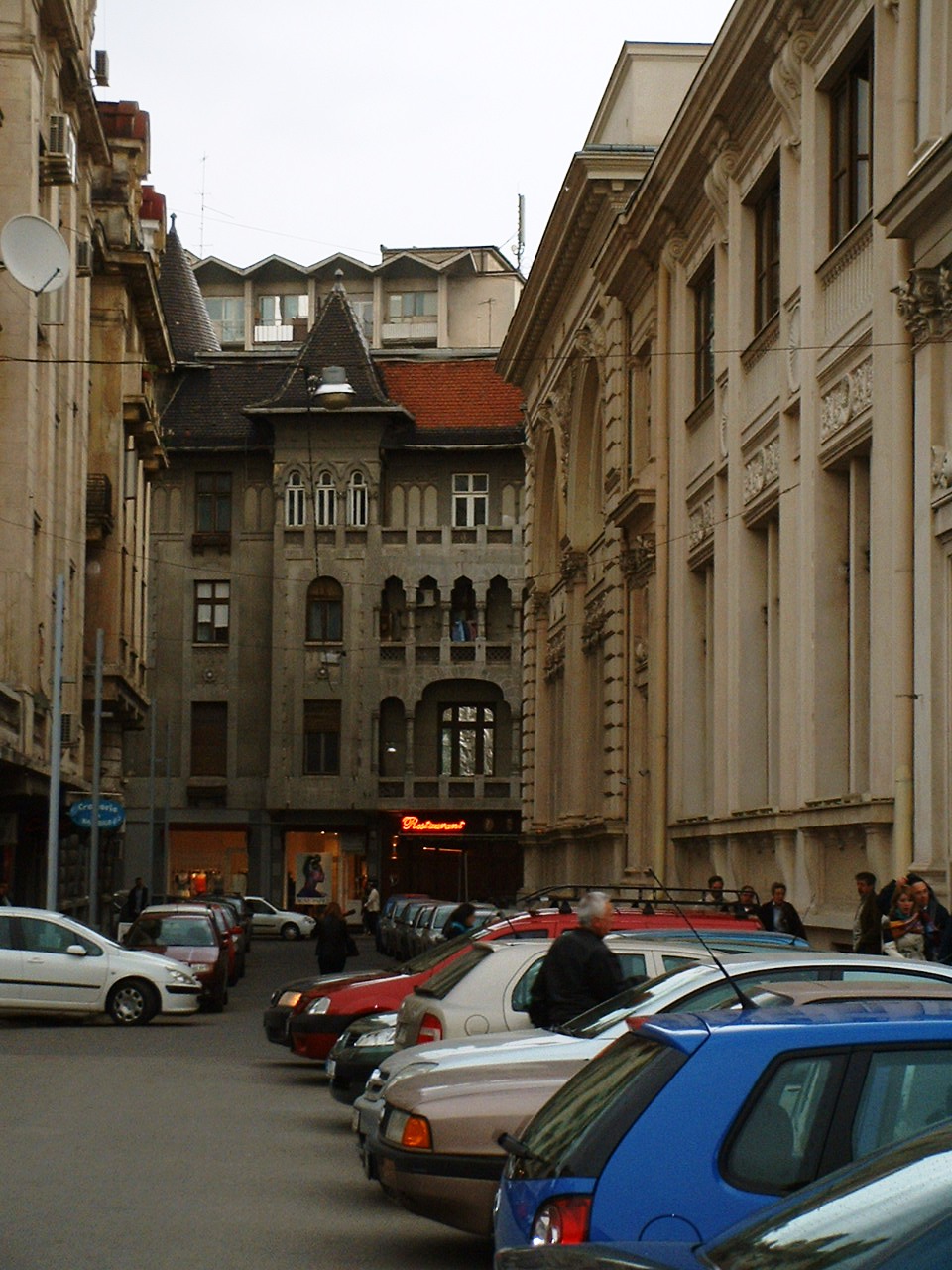 Every street has its surprises - like this gem from the late nineteenth century surrounded by later "Empire" structures. Not the "sixties" tower behind it!
Sometimes the renovation is controversial. The example in the next picture will, I'm sure, have all our "heritage" gurus foaming at the mouth and reaching for their smelling salts - but, considering that the building was considered to be so badly degraded it could not be saved, the architect has, I think, made a good stab at saving at least the appearance of the original. Elsewhere, of course, the originals are being preserved and restored and the city has some real gems to be proud of.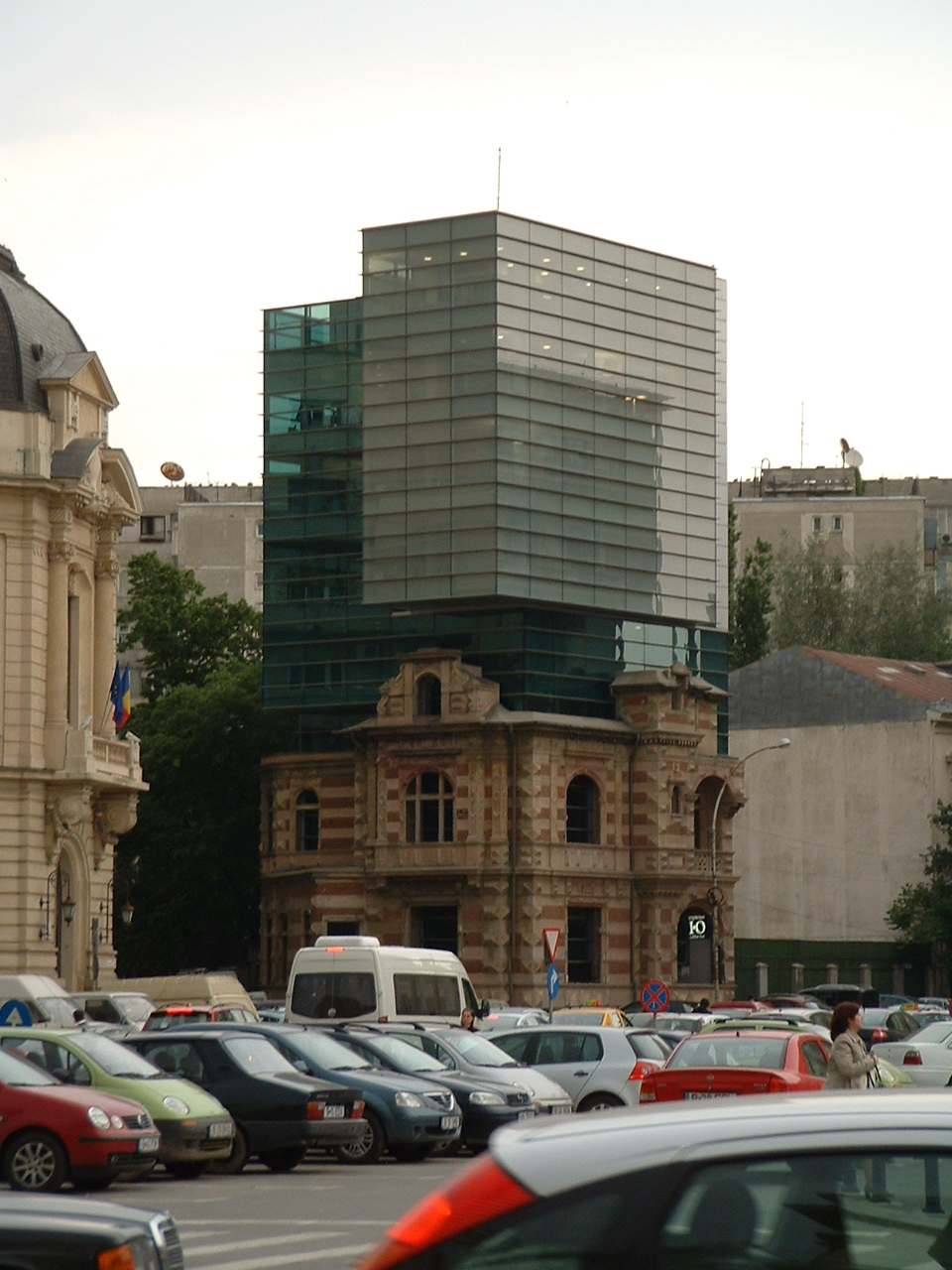 I had to look twice at this building to see what had been done. The outer facades were preserved and the use of glass in the superstructure almost deceives you into thinking it is a building standing behind the original.
The classical buildings in the French Third Empire style also incorporate features which stamp them as "Romanian" and the city's Opera House is reputed to be the finest of its type anywhere. Interiors often put the Baroque period to shame and certainly the little Romanian Orthodox churches scattered everywhere are gems of their kind.

The grand facade of the Opera House, recently fully restored.
The city has the potential to become a "must see" for tourism and it will certainly repay any visitor even now.
Posted by The Gray Monk at 08:36 PM | Comments (0) | TrackBack
May 11, 2008
Returning to/from Bucharest
Today I am travelling back from Bucharest, believe it or not, via Zurich! The long way round I'm thinking, but there, that is the way of airlines these days.
Every visit to Bucharest, since my first in 1995, is fascinating. Every time there are changes to be seen, many of them for the better, but one is also reminded that in any change of economic situation there are always winners and losers - one can really only hope that there are not too many of the latter and attempt to provide some sort of cushion for it. The city has changed enormously in the last thirteen years and even more changes are on the way. Buildings are being renovated, but it is a slow and expensive process. Many of the owners do not have the funds or the resources to do the work necessary and the city is built on a huge earthquake fault. Worse, many of the buildings were damaged badly in the 1977 and 1984 quakes here and the regime simply didn't bother carrying out the structural repairs necessary - so they papered over the cracks and now the restored owners face the bills.
New building is booming though and one thing is the extensive use of glass - about which I have a few questions in an earthquake zone! Tall buildings are on the drawing boards as well - currently not much more than 40 storeys, but it won't be long before someone decides to reach for the sky. The biggest problem for builders and designers here is the soil - it is millenia of silt from the Danube and another big river with bedrock several hundred feet down - and the high water table (About 4 metres below ground on average.) Then there is a problem with electrolytic action between power cables and steel re-inforcing in some areas where concrete with a certain type has been and is being used.
I am always a little sad to be leaving here, the people are amazingly friendly and generally very hard working. They are also determined to put their country onto the European map and to change their image from "sick" nation to "equal member" - one they are very proud to be part of and they are nothing if not proud as it is.
One final thought which sums them up rather well. Near my hotel is the memorial to those who died on the day the Revolution against the Communists and Ceacescu started. I was looking at it and trying to decipher the Romanian Inscription yesterday when an older Romanian joined me and commented, "There are many arguments about whether they are martyrs and whether the Revolution was a revolution. The improvement may be small - but at least we did something."
I wonder if anyone will say the same of us someday?
Posted by The Gray Monk at 06:12 AM | TrackBack
May 10, 2008
Good riddance to Red Ken ...
I suspect that there will be many raising a quiet glass in toast to the ousting of Red Ken Livingstone - another of the Labourites who think that Che Guevara was a man of vision and compassion - from the Mayorality of Greater London. I don't think I envy his successor. The GLA and its Admninistrative bureaucracy will be riddled with Labour placemen and spies whose mission now will be to sabotage everything Boris Johnson attempts to do.
In Boris' shoes I would sack the entire Administrative staff and recruit fresh, with filters in place to ensure that nothing and no one with sympathies with Labour or the Left gets a job.
Boris will have to watch his back at every step of the way until he can rid himself of Ken's poisonous cronies, many of whom will not be obvious. He's going to need a stab proof jacket for quite a while because a major part of Ken's tenure has been spent on building a bureaucracy as poisoned and as inefficient as the late and unlamented Greater London Council over which he presided for far to long. Since Ken has created the GLA and London Administration from scratch, it will have been designed to be entirely selfserving and utterly incompetent.
Many commentators have remarked on the fact that one newspaper in particular set out to "get Ken", led by a senior journalist. When confronted by the BBC, the journalist admitted that it had been his intention to do this - pointing out that he, unlike Ken Livingstone, had been perfectly open about his intentions. He also reminded the BBC that Ken Livingstone's tenure as head of the GLC had been brought about by a coup against his own party leader at the time.
Those who know Mister Livingstone evidently will not be shedding any tears. I did not know him, and I'm still delighted to see him ejected from office.
Thoroughly un-Christian of me I know - but then this little twerp has spent a vast amount of taxpayers money promoting a lot of anti-Christian propaganda and supporting the promotion of everything that is against the Christian ethos. Only one thing can make me any happier than his election defeat - to see him fall completely from grace, preferably through the criminal courts.
Posted by The Gray Monk at 09:03 PM | TrackBack
May 09, 2008
The touch of wars past.
South of Tehran lies a huge burial ground. Rather like the Arlington Cemetery in Washington DC, this cemetery houses special areas for military and religious leaders but it also has space for the common man. It covers a very large area and has a network of roads internally, several mosques and I'm told a Christian Chapel. Imam Khomeini is buried on it's Western side in a huge complex surrounding the catafalque and shrine which is part of a university devoted to the study of the Quran.
To me the most poignant and touching part of the complex is the Young Martyrs section. Here all the child soldiers of the Iran/Iraq war are buried, many with touching reminders of their stolen childhoods still adorning the simple graves. One in particular is visited and revered by everyone who comes here and my hosts had not had the opportunity to visit it either. What makes this small grave remarkable is the heavy scent of flowers that hangs in the air near it. Now the sceptic says - where are the blooms? That is the remarkable thing about it - there aren't any. What is more, winter and summer, wind or rain, the scent hangs heavily around the grave. The boy who lies here was just thirteen when he was killed.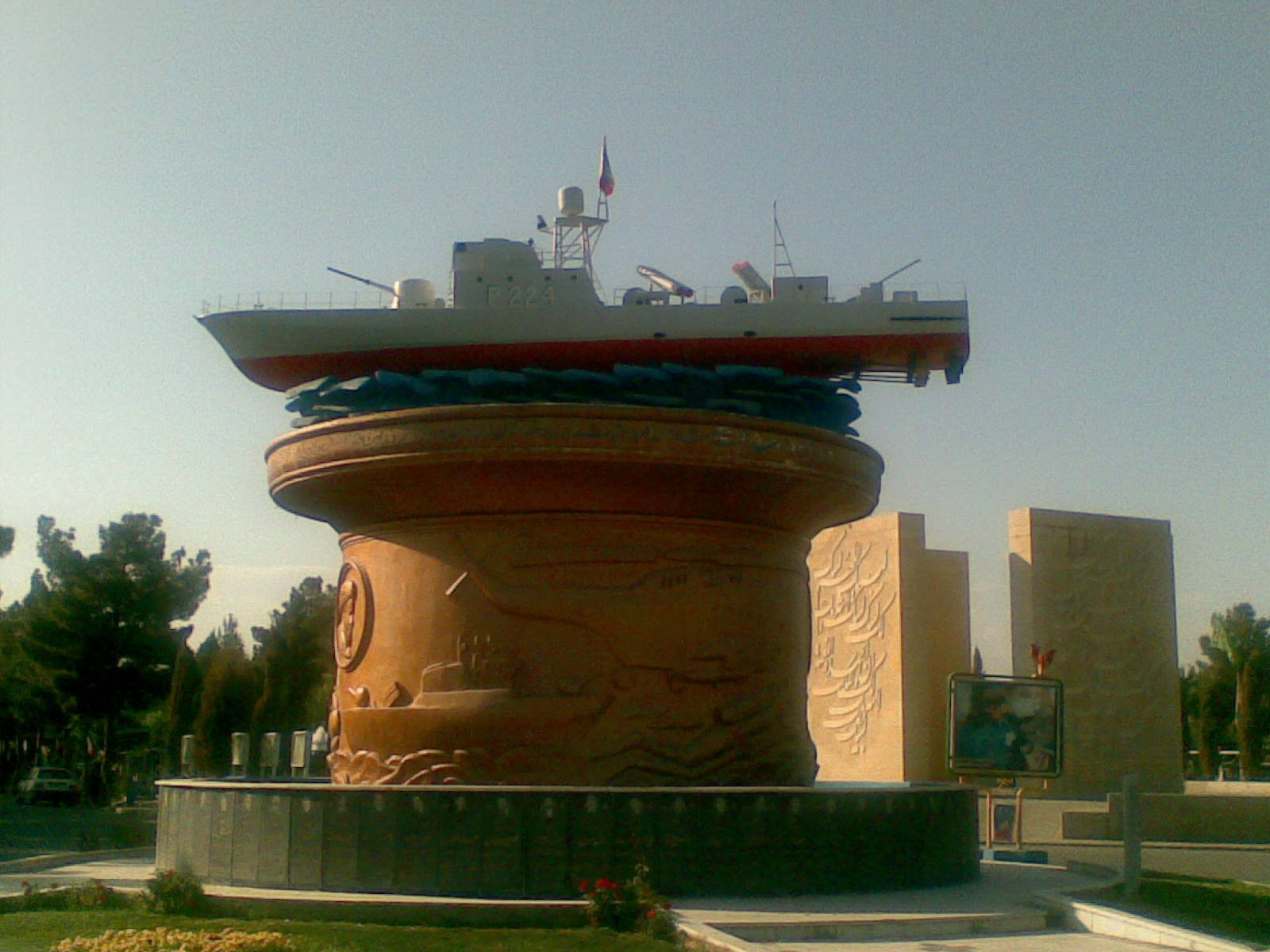 The War Memorial to the fallen in the war with Iraq. The central plinth records the names of all the fallen, many of them naval. Only the Navy remained reasonably well armed after the Shah's fall and so bore the brunt of the early fighting and ships unsupported by aircover are very vulnerable.
In a central location is another huge mosque which houses the graves of a President and seventy odd ministers of state who were killed by Mujaheddin terrorists based in Southern Iran and funded by - you guessed it - the West!
Another very thought provoking visit.
Posted by The Gray Monk at 08:34 PM | Comments (0) | TrackBack
May 08, 2008
Impressions of a strange man ....
My hosts wanted to show me the home of Ayatollah Khomeini, to Westerners something of a demonic figure, but to the poorer classes in Iran, a saviour. There can be no doubt that this man had an austere vision, but he also lived it. His "home" here is next door to a hospital - essential because he suffered from a severe heart problem - and is pretty spartan. In fact it is just two small rooms with a kitchen attached. The toilet is actually outside, something not even the poorest in Tehran still have. The mosque is adjacent and is remarkable for it's austerity.
The house and the mosque are approached via a steep passageway, down the centre of which runs a swift flowing stream, its flow interrupted by bricks placed by the soldiers who guard this place to make a splashing sound in the stream. It also moistens the air in the passage rather pleasantly. For a man with a heart condition, this approach must have been difficult to say the least.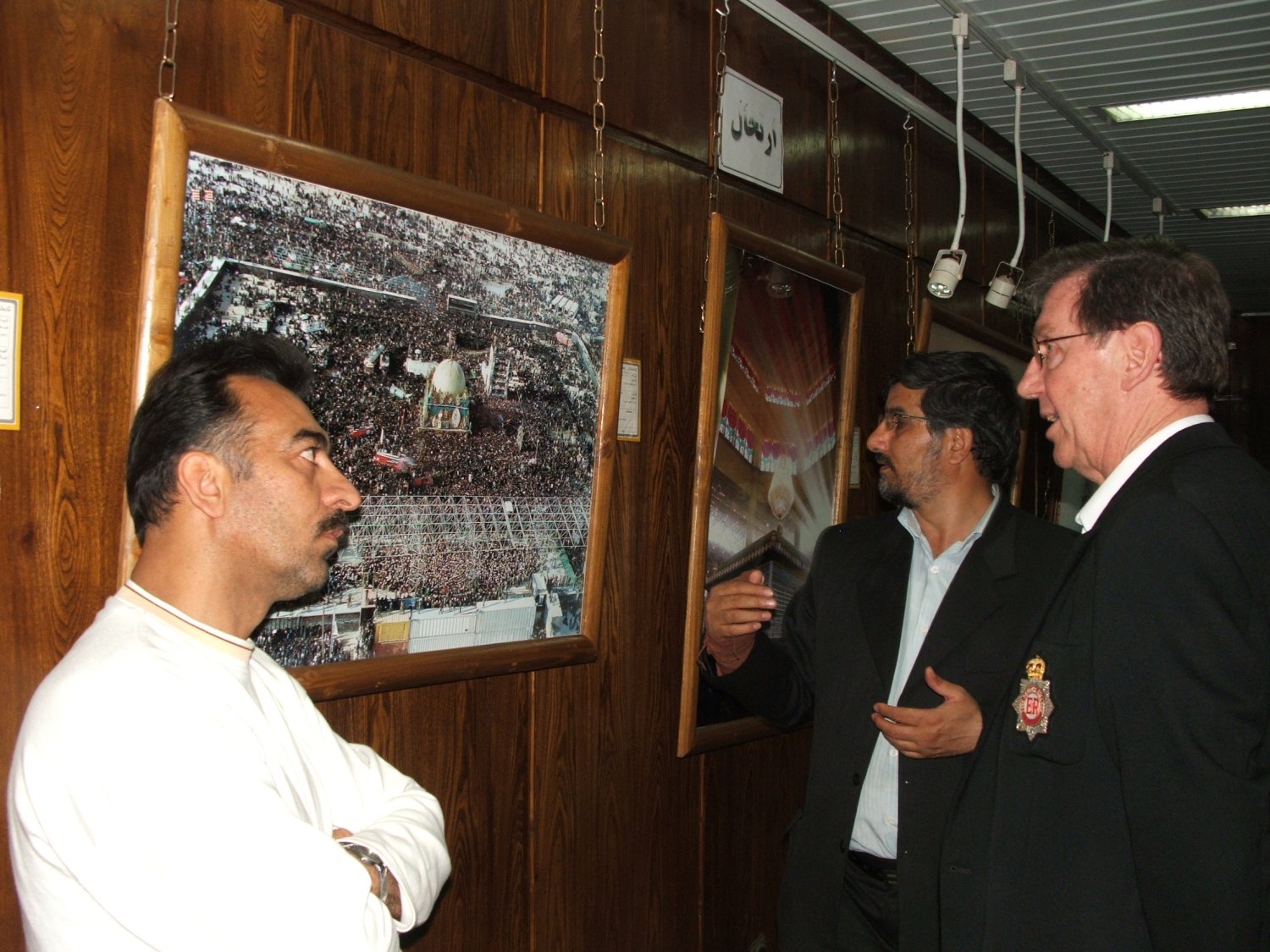 My host, Parvis Yarahmedhi, explains the manner in which the temporary shrine was built for the Ayatollah.
So what was my overall impression of the Ayatollah? Difficult to answer simply since there is no doubt that he was an extremely intelligent man, one of huge compassion for the poor of Iran, but equally one of little sympathy for the Shah and his courtiers. I was compelled to recognise that the Ayatollah - or Imam as he is known in Iran (Imam means Leader in Farsee) - displayed many of the same characteristics of some of the Christian Saints. A man of rigorous and unshakeable faith, a man unafraid to speak out against what he saw as injustice and a man of very definite and very strong principles. On balance I think the nearest Western equivalent to him would be Oliver Cromwell, another man whose faith led him to revolution and the beheading of a King. I think that history will judge Khomeini in the same way eventually. The museum is, obviously, sympathetic to his memory, but it does show a man who rose from a middle class background, through education and hardship when he ran foul of the Shah's secret police, who went into exile for his faith and his politics and then returned to become, against his own better judgement, the leader of a nation about to be plunged into a war of others making.
Like Cromwell he liked music, he was a poet of some note and he was a great family man, adored by his children and grandchildren. But like Cromwell his religious beliefs were absolutes. Holy man or monster? In the end it depends on whether you benefitted from the revolution or, like the West, felt threatened by the overthrow of a "friendly" regime, whose corruption we could conveniently overlook, by one the Soviets were actively wooing.
It says something about the man that he dismissed the Soviet overtures on the grounds that Communism was un-Islamic and destined to collapse very soon. Unfortunately we compounded our support for the Shah by giving Saddam the weapons we took back from Iran and encouraging Saddam to launch the war to seize Iran's western provinces. The repercussions of that will be with us for at least another generation.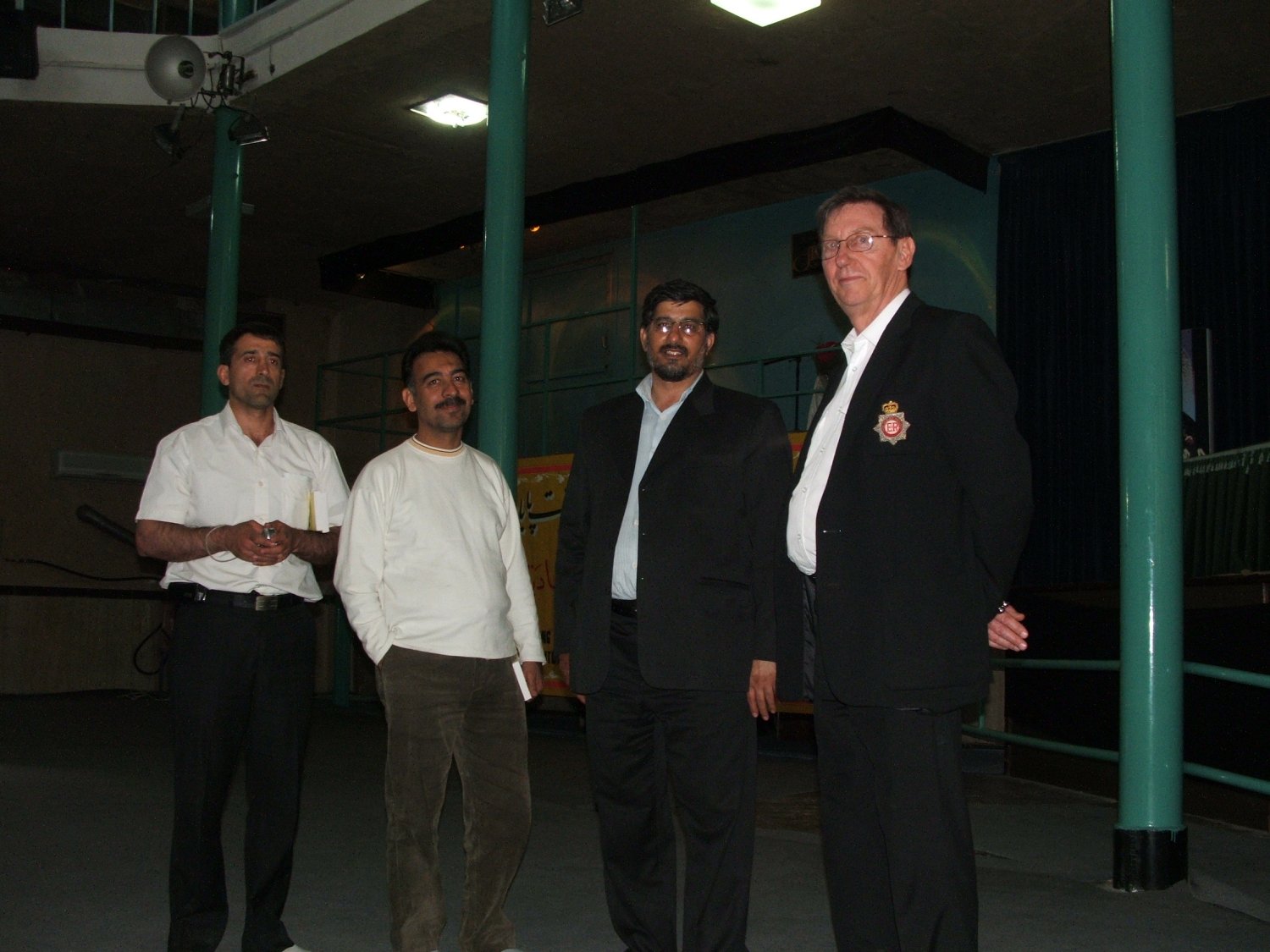 Taken inside the mosque Imam Khomeini made his own, the rail behind us surrounds the platform on which the Imam sat to address the worshippers. I found it a very peaceful and restful place.
A very thought provoking visit - and too me proof, yet again, that a monster to some, may yet be a saviour to others.
Posted by The Gray Monk at 08:02 PM | Comments (0) | TrackBack
May 07, 2008
Persian dining out ....
On my last day in Tehran I had the fun of being taken out to dinner in a traditional Persian restuarant. While I'm at it and for the record, "Iran" is the Farsee or Persian word for the country of the Persians. And "Pars" is Farsee for Persian ....
As I have mentioned before, the Persians take hospitality seriously. The guest is sacred and it takes the Biblical duty of hospitality to its fullest extent. Not only that, but the guest is under an obligation as well - to honour his host and respect their traditions and rights. Something I think our Western culture sometimes fails to appreciate and which we could do worse than try to recapture. In a traditional setting you dine in a tent, on a raised platform and preferably near running water.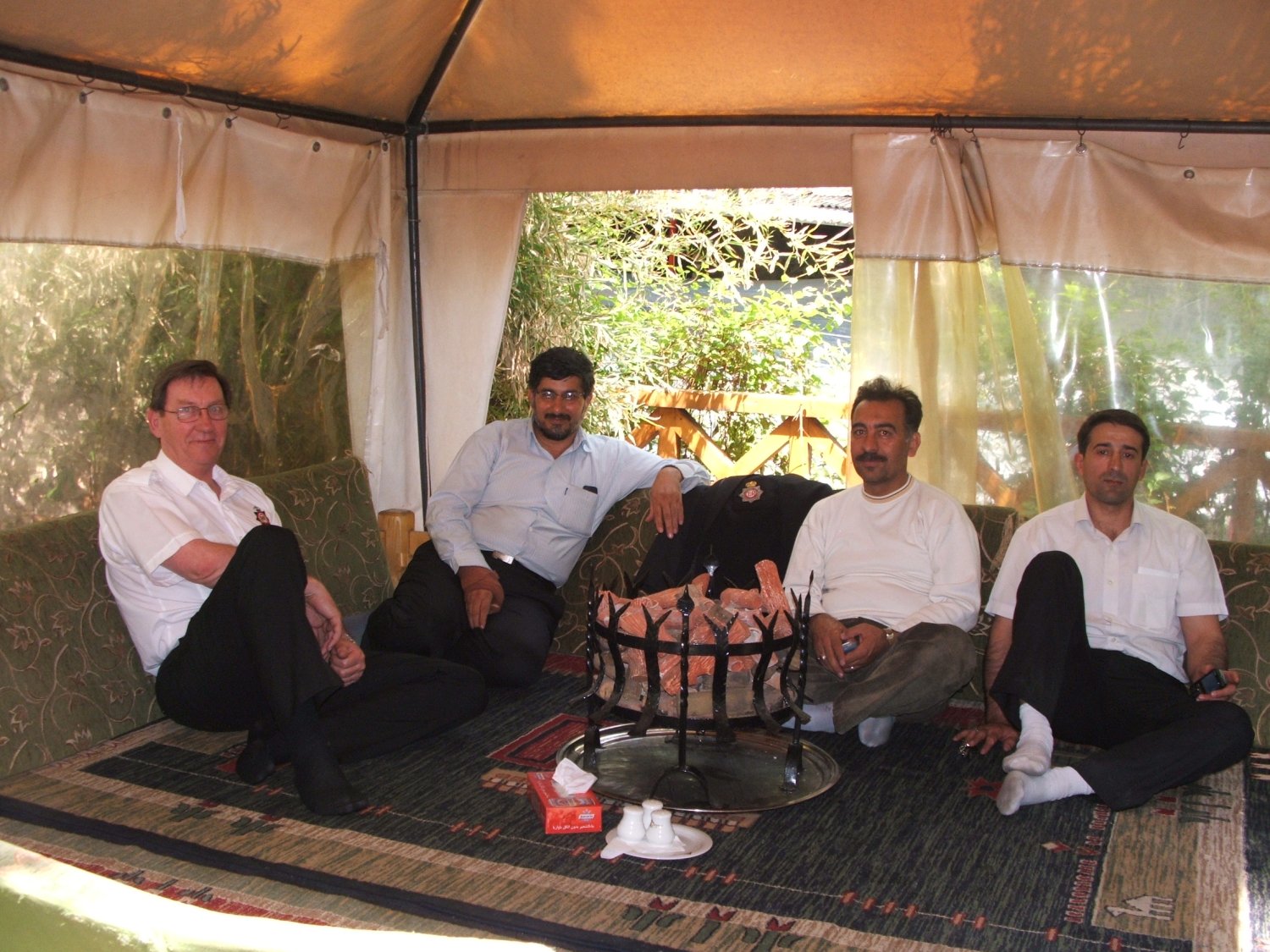 My hosts at pains to ensure I am comfortable - and I have to say that they spared no effort.
Dinner comprises of several courses accompanied by tea, coffee or soft drinks and I would have to say that I found this just as pleasant as I would have with a glass of wine.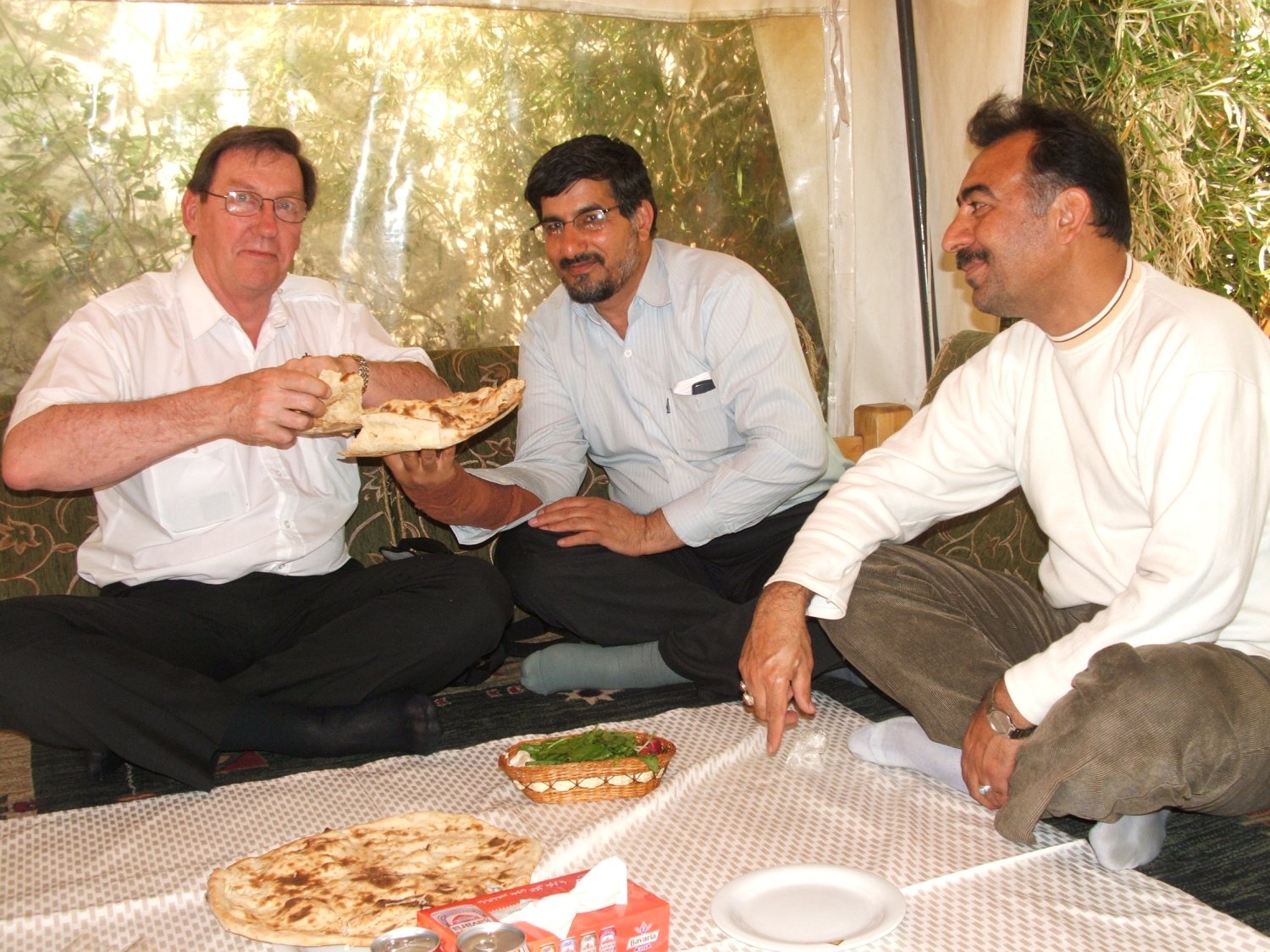 Breaking and sharing bread, an important element of any meal with a guest. A strong reminder of the origins of some of our Christian traditions.
The main course depends upon where you are from in Iran. Some, from the Caspian sea provinces, prefer fish - and it certainly looks and tastes excellent, Others, from the central regions prefer kebabs, and again the variety, the preparation and the presentation varies between regions. One constant - rice. Rice with everything!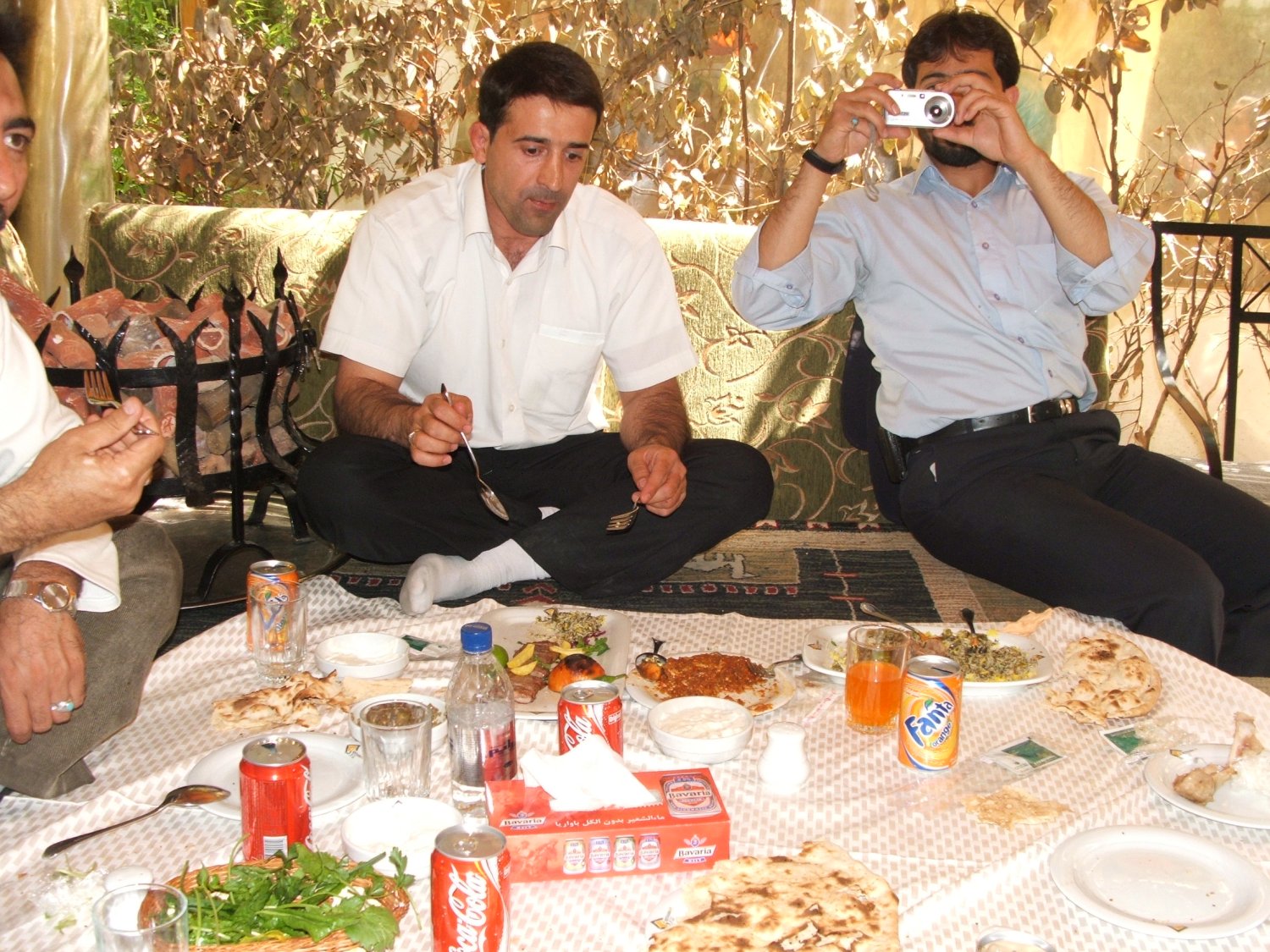 Naser (Left) is from the North and chose fish, Kazem (Right) is from the West and chose a very spicy mix of meat and vegetables - which he ate between taking photographs.
Dining is also a leisurely affair, there is no pressure to hurry and the food is cooked to order. A little over two hours sped by while we enjoyed our company and our food.
Posted by The Gray Monk at 07:39 PM | Comments (1) | TrackBack
May 06, 2008
Bucharest Conference
I am heading for Bucharest for the next few days - normal service will no doubt resume once I get back from there. My paper is reproduced below in the extended post for those who wish to see what it is all about. Essentially, the world has become a place where many nations feel that their prestige (and sometimes their economic circumstances) need to be shown off in building the tallets, most innovative or most exciting building going.
It intrigues me that the list of the world's tallest buildings and projected buildings seems to be a tour of those nations which were formerly communist or are in the developing world. Worringly, many of these nations have no fire services equipped or trained to deal with fires in such structures - and even more worryingly, many of these structures incorporate materials which will ensure that any fire, when it inevitably occurs, will spread through the building like a powder trail.
Hopefully this conference will help alert the Eastern European nations at least to the dangers.
High Rise fire protection.
A case for joined up solutions
A paper prepared for the Conference Fire Safety of High Rise Buildings
7th to 10th May 2008
Bucharest, Romania
By
Patrick G Cox
MA, BSc, FIFireE, ASAESI, AIOSH, CFEI, CFII
Introduction
There is generally no accepted definition of a "High Rise" building. Some Countries such as the UK originally based their definition on the height of the longest ladder in use by fire and rescue services, but it has never been shown to be a truly practical determination since it is based on the assumption that, on any building below this height, it is possible to fight a fire in the building using ladders pitched from the street or the ground alongside it. An argument could be made for a reduction of this height to 18 metres since fire services no longer carry ladders of fifty feet (15 metres) length and cannot "extend" these by adding a single 10 feet (3 metre) ladder to the head. For firefighting purposes, a high rise building can be considered to be one containing floors at such a height, position or design that external firefighting and rescue operations may not be feasible or practicable.
The current trend to build taller and taller buildings presents many challenges for the designer, the developer and the safety engineer. There are many reasons why tall buildings are attractive to developers, not least that they offer a very good return on investment if the developer is able to maximise the land use in a prime location such as a city centre. However, modern construction systems, structural materials, internal arrangement and linings coupled with population loading and use of the building create many problems to be solved by the fire safety specialist. Not least is the problem of fire spread upwards through such a structure via the face of the building, expansion joints, service ducts, air-conditioning ducts and other shafts. Once the fire begins to spread above the storey of origin it rapidly becomes difficult, if not impossible, for the fire fighters to prevent it continuing all the way to the uppermost storey.
In 1908 the then Chief of the New York Fire Department declared that the race to build ever taller buildings in his city would soon result in a situation in which lives would be lost because his department could not reach the fire floor with effective water streams or ladders. Fortunately he was listened to by those in authority and the legislature began to look seriously at the problems and many of the solutions they determined are still valid – but not always followed. As the events of September the 11th showed in New York, some things simply cannot be designed for. However, it must be said that the structural fire protection and safety systems performed well enough in extraordinary circumstances there to significantly reduce the actual loss of life.
Several questions must be addressed in designing a modern high-rise structure for safe use, not least the consideration which must be given to access and facilities for fire fighters. A number of recent projects have shown that there are severe limits to what can be expected of fire fighters entering these structures to fight fires, yet, the majority of regulations framed for fire protection and life safety are based on data that is sixty or more years old and of questionable value in buildings where the materials used as linings, furnishings and fixtures may be synthetic or composites with a high proportion of synthetic materials added.
Fire fighters now wear protective clothing which provides far greater thermal protection than was possible a generation ago. While this affords better thermal insulation for the wearer it is balanced by retaining the wearer's body heat as it is generated by exertion, thus raising the wearer's core body temperature. At the same time, changes in design and in the materials involved in the fires the fire fighter must confront have resulted in fires that are faster in development and in thermal output. Better understanding of the effects of heat and dehydration on fire fighters has driven a re-evaluation of fire fighting tactics in many countries, yet the legislation regulating building standards still permits reduction in protection of a given structure in some circumstances where, if consideration had been given to the contents and use, it might not have been considered appropriate to do so.
High rise structures are the future built environment, however, what is needed is a careful reappraisal of the entire suite of building regulations governing such structures and the data which underpins them. Only by applying the most up to date information and addressing the issues this raises can we ensure a safe environment for the future.
Construction methods and problems
As one moves around the globe one discovers that structures, especially high rise structures, tend to be constructed in a number of different ways. Some are constructed in steel and glass, some in concrete and some in a mixture of both. Technically, reading the UK Building Regulations or the Scottish Technical Standards, it is possible to gain approval for an all timber structure of over ten storeys – a high rise structure. Fortunately perhaps, it would be prohibitively expensive to build one.
Inevitably the use of curtain wall structures results in a gap between floor slab and curtain. This is recognised and there are many different methods for protecting these gaps. Unfortunately it is often the case that other services may be overlaid on the gap and the closure and, in some cases, compromise it. Ventilation systems require the provision of ducts and plenums and these, in turn, present several challenges in addressing the fire protection of compartments and floors. The extensive use of electronic equipment in modern buildings requires the provision of far more cabling than was the case one or two generations ago, and the cable insulation introduces a fire load that is often overlooked as it is often concealed in voids or plastic ducts.
While a structure may, at first glance, appear to be a Class A (UK classification) or a Type I or II (NFPA 220 Classification) structure, essentially a "non-combustible" building, the internal fittings and furnishings will almost certainly change that to a lower rating in real terms. The use of dry linings and partitions introduces other hazards as well, including formaldehyde and several other toxic chemicals which are released in the event of a fire. This was the case in Sao Paulo in the 1960's when the Joelma building, structurally concrete and steel, was almost entirely gutted by fire with a high loss of life – due almost entirely to the internal linings and furnishings. It is worth noting too that the fire severely damaged the concrete and steel structure and proved impossible to fight from the outside of the building or from street level.
Protected shafts and stairs are now recognised as a necessity in high rise buildings, but, again, there are different approaches to the provision of the protection. It has to be recognised that lobbied approaches to stairs and lifts take up valuable, to the developer, letable floor area. Typically, a lobbied 1 metre wide staircase occupies roughly 16m2 of floor area. Unsurprisingly therefore, there is always pressure to reduce the number of staircases required for means of escape. This, in turn raises another question for high rise designers – can the lifts be incorporated into the means of escape, and if so, how? Again, this means that the lifts have to become a part of a "protected" zone and measures have to be in place to ensure that this cannot be compromised or the power to the lifts fail. Then there is the question of lifts "sharing" shafts and using a "parking" system to allow loading and unloading while another lift car bypasses the "parked" unit. Some use is also made of "double-decker" cars in some very tall structures and these present further challenges for the fire protection engineer.
Modern services require the provision of ducts and service shafts which may form flues and provide channels for the spread of fire between floors and compartments. Again, these can be protected, but what is less well regulated is the maintenance of the protection during the life of the structure. The fact that it was provided on completion does not necessarily mean it will still be in place a few months or years later. In similar vein, modern high rise buildings almost invariably make use of suspended ceilings to permit the housing of services and the fitting of lighting systems. Raised floors, intended to provide a service area for computer cables and other services beneath a "working" floor provides yet another "hidden" space. These create large voids and care is required to ensure that these do not compromise the fire protection and other safety systems.
Every shaft, duct or staircase needs to be protected, and atria need special attention as all these features can rapidly become a flue in a fire, spreading the heat, smoke and ultimately flames upward.
Innovative construction
Sometimes it seems that each new high-rise project is setting out to "out innovate" the previous one. Each new mega project, such as the giant sail structure in Dubai, requires creative and innovative use of materials to achieve the strength and stability necessary. Necessarily this means that much of the structural framework will be "in tension" and any failure within a major element of the structure could trigger a catastrophic failure of the entire structure. An example is the 9/11 collapse, triggered by the failure of the external fastenings supporting the floor slabs above the fire and impact area.
Large atria connecting the ground floor to several – and in some cases all – storeys require very careful planning as they can very easily become the means by which a fire can overwhelm the buildings defences. Atria now feature in many very large buildings and in some extend the full height of the structure providing both light and ventilation to areas and floors which may well be difficult to service in other ways.
Nor should we overlook the "innovation" using fabric materials as internal ceilings, decorative blinds and screen and other "features" decorative or otherwise. The use of aluminium and light metal alloys in structures presents a number of problems for fire protection while solving several for the structural engineer. "All glass" curtain walling, while not "innovative" in today's constructions, may well be coupled, as in the Lloyds Underwriters building in London, with an external load bearing frame and services such as ducting, lifts, stairways and heating.
The desire to go higher and to combine this with very large open public spaces presents a number of challenges for fire protection and requires a very thorough appraisal of the likely fire load and the most effective means to deal with it. In short, innovative designs frequently require a very flexible and innovative approach to fire protection. The advent of "super high rise" structures calls into question all the current thinking on evacuation systems. Compartmentation, active fire fighting systems and fire engineered systems for evacuation are no longer "nice to have" but vital components of a much more complex solution to occupant safety.
Modern materials
Modern construction materials embrace a number of "new" materials which were not in common use at the time the data on which the majority of current modern Building Regulations are based. In the UK, much reference is made to "Post War Building Studies, however, much of this data was collected and collated in the period 1920 – 1939 and is based on fires involving timber, natural fibres and limited plastics. Since the 1960's the trend has been to make greater use of plastics and other materials including wood chip, compressed fibres and other "boards" in both furniture and structural elements. Aluminium curtain walling systems introduced for high rise structures are known to fail once flame impinges on them and can result in large sheets of glass being released to fall into the street below.
Steel provides a great deal of structural strength in construction on a weight/strength basis, but this is rapidly lost if the steel is exposed to fire and reaches temperatures above 6000C, a relatively low temperature in most fires. Concrete overcomes some of that problem, but relies on steel "rebars" embedded within the concrete to provide stability and strength in tension. Provided the steel is buried to a suitable depth (generally considered to be not less than 25mm) in the concrete, it will maintain its integrity and strength for longer than steel. However, once heated, it may spall explosively if subjected to a sudden thermal shock such as sudden rapid cooling due to fire fighting. Pre-stressed concrete "planks" also provide a lightweight alternative to poured floor slabs and more recently the use of lightweight "profiled" steel forms covered by several centimetres of concrete provide another light solution to the creation of tall buildings.
Many modern boards used in internal linings, partitions or finishing include resins and plasticizers. Typically "melamine" is a trade name for a type of "chipboard" finished with a plastic coating which is both durable and washable. While not easily ignited, it will burn fiercely and emit toxic fumes and products due to the fact that the board making process makes use of formaldehyde to prevent fungal and insect attack on the board. PVC based plastics produce toxic and corrosive products when burned and burn fiercely giving a very high thermal output weight for weight.

Passive fire protection
Passive fire protection is provided by the installation of fire rated doors, the closure of openings in walls required to provide compartmentation, enclosure of ducts, plenums and the subdivision of any voids. It seeks to confine any fire to the compartment or area of origin and to restrict spread either laterally or vertically through a building. A very wide range of methods are available and include coatings for steel structural members to prevent direct flame impingement on the member, intumescent materials in the form of collars to fit round pipes, closing devices for fitting inside ducts and "curtains" to prevent lateral spread of smoke and heat in voids.
The effectiveness of passive fire protection depends firstly upon how well it has been installed but is then very dependent upon being maintained correctly throughout its life. A typical example is that of the "fire resisting door" which, installed in the correctly rated frame and with the approved door furniture, is capable of withstanding a fire for a rated period. However, if the door is damaged, by the removal of the smoke seal, or through being wedged open against its closing device and warps, the integrity of the door will be compromised and may not prevent the passage of fire. Likewise, a wall constructed correctly to a fire resisting standard may be compromised by a plumber or electrician cutting a hole through which to pass a pipe or cable, and then failing to seal the opening with the appropriate fire rated sealant.
Regulation and Fire Protection Requirements
Most national jurisdictions have established Building Regulations, Standards for Construction and Codes of Practice for fire protection. These will incorporate requirements for the safety of occupants, the structural protection of the building, for stability of structures, for drainage and such matters as heating, lighting and ventilation. Most address a wide range of buildings and more and more commonly allow the use of standards or codes from a different jurisdiction if "equivalence" can be proved. What must never be forgotten in dealing with any Building Code is that it is NOT a maximum standard, but a MINIMUM.
High-rise structures present the designer and fire safety specialist with several challenges in this regard since most require the use of "fire engineering" to address all the requirements for life safety. The balance between building to minimum tolerances and strengths structurally can impose a need to design the fire protection systems to a higher standard in order to achieve the level of protection required.
Means of Escape requirements
The modern requirements for the provision of "means of escape" (Egress in American Codes) have their origins in studies done in a number of countries in the 19th Century. It was established that a travel distance of one hundred feet in an unprotected escape route was the maximum distance any person could expect to negotiate safely in the time between becoming aware of the fire and their attempting to escape. It was further found that this is affected by the persons training, or lack of, ambulatory ability and conditioned responses. The width of exits was also studied and it was found that a width equivalent to a width of a man's shoulders was the absolute minimum and that a width roughly equal to four men abreast was the maximum.
Subsequent studies have shown that these figures can be translated into reality and further studies have focussed on the human behavioural aspects of escape from danger. In high-rise structures this means that a great deal of thought needs to be given to the position of the escape stairs or – if it is intended (as in the Petronas Towers and more recent structures in Taiwan) that the lifts be considered part of the means of escape – the position of and availability of lifts.
Thinking behind risers and water supplies
In general, most codes, regulations and standards require that any building over eighteen metres be provided with a "riser or fire main" (In the US Codes a "Standpipe") internally installed in the staircases with outlets for fire fighting at each floor. In the UK in buildings up to sixty metres this may be "dry", that is, not connected to a permanent water supply, and provided with an inlet allowing the fire appliance pump to supply water directly to the riser when needed. Over sixty metres fire mains are generally required to be "wet" and left permanently charged to speed extinguishing operations. The idea was that in smaller buildings a fire hose could be laid up the fire service ladder and the fire fought through the windows or from the exterior. In taller buildings mechanical turntable ladders could also provide an exterior attack to the fire from outside the building. Beyond the reach of this equipment and subject to the nature of the exterior envelope of the buildings fire fighters are dependent upon entering the building to fight the fire from the staircase.
The UK regulations, up until 2006, required a maximum pressure of 4- 5 bar at the outlet for wet risers installed in buildings in the UK. In the case of dry fire mains the pressure available at the outlet of the fire main is dependent upon the choice of firefighting branch, diameter of hose used and the charging pressure for the fire main. This was sufficient pressure for the equipment in use until 1960, however, since then, buildings and the materials in them have changed dramatically and so has fire fighting equipment and procedures. The regulations have not; however, BS 9990: 2006 has introduced new requirements which go some way to addressing these concerns.
Access for fire fighting
High-rise buildings in particular present a number of challenges with regard to access for fire fighting or rescue. Podium type buildings, with the lower storeys projecting some distance from the base of the "tower" section, generally preclude the use of any high-reach appliance such as an Hydraulic Platform, Turntable Ladder or the newer hybrids. UK building regulations require access to an entry point for a pump appliance within eighteen metres of the building, this to allow the connection of fire hose to any inlet connections for risers or for tanks supplying the risers. The requirement generally also requires a "line of sight" to enable the pump operator to see the entrance and the connection points so that they are aware at all times of the state of operations.
Where the buildings stands away from public thoroughfares there may also be a need to provide for "hard standing" on the access surfaces so that appliances of up to sixteen tons can be operated safely. Again, this requires a made-up surface to provide a safe operating environment for the fire appliances and their crews while the emergency is dealt with.
Sprinklers, ventilation and fire detection
Currently in the UK, any building over thirty metres in height must be fitted with a sprinkler system and this is reflected in many other national codes. This is again related to the early studies which found that the time consumed in reaching the fire floor, if it was above this height, and in laying out fire hose coupled with the effort required, meant that fire fighting was generally fairly restricted.
Ventilation, or "climate control", systems fitted to provide occupant comfort may also be used to control the movement of smoke or to extract it from the fire floor. Consideration needs to be given to the interaction of these systems and the sprinklers and to the circulation of smoke to uninvolved floors and compartments by the system. The experience of the MGM Grand Hotel in Las Vegas highlighted the need to ensure that any such system does not ingest and circulate the smoke from one area into an otherwise protected area.
Fire detection systems have an important, if not vital, part in the protection of any high-rise structure. A properly designed fire detection system can give sufficiently early warning of a fire to allow the occupants to escape and to alert the fire services, allowing them to respond early. Such a system forms a vital part of any "fire engineered solution" and is the control device which actuates smoke curtains in malls or atria, switches HVAC systems to extraction mode and opens vents. It can also "pre-action" a sprinkler system and close fire doors or open doors locked for security purposes. As with every such system however, maintenance is essential to reliable operation.
Physiological constraints on fire fighters
Better protective clothing for fire fighters has led many to think that this means that the fire fighter is now able to penetrate further into a building and enter compartments where the temperatures were previously non-survivable. Nothing could be further from the truth, as has been demonstrated by a comprehensive study carried out in the United Kingdom by the Fire and Resilience Directorate's Research and Statistics Division, under the broad title of Building Disaster Assessment Group. A team of scientists and fire officers carried out wide ranging research into a number of aspects of modern building fires, protective clothing and fire fighting equipment. Their findings may be accessed online through the Department of Communities and Local Government website.
Building Disaster Assessment Group (BDAG) Reports
The BDAG team looked at several actual incidents including Collection and Analysis of Emergency Services Data Relating to the Evacuation of the World Trade Centre Towers of 11 September 2001" (Galea E R and Dixon A J P University of Greenwich), "Physiological Assessment of Fire Fighting, Search and Rescue in the Built Environment" (Optimal Performance Ltd; Dec 2004 for the Office of the Deputy Prime Minister) and Effect of Reduced Pressures on performance of firefighting branches in tall buildings – Aspects of High Rise Firefighting (Hunt and Roberts, December 2004 Office of the Deputy Prime Minister). These reports highlighted a number of matters which have a serious impact on High Rise structures, not least being: -
• Evacuation and life safety of occupants,
• Access and penetration limits for fire fighting,
• Maintenance of systems and integrity of fire resisting elements,
• Management of fire risk and introduction of hazards,
• The dynamic nature of fire risk and fire and life safety in any built environment,
• Interdependence of "passive" and "active" fire protection,
• The speed of fire development and heat output for modern synthetic materials have changed fire behaviour in modern offices and other buildings, and
• The physiological demands on fire fighters impairs performance,
Among the most important findings highlighted in these reports is the physiological strain placed upon fire fighters during fire fighting and search and rescue activity in any structure. The better protection afforded by the latest personal protective clothing can create a sense of false security and lead to fire fighters penetrating further into a building under conditions that are beyond safe exposure limits. It was found that, when coupled with already raised heart rates and body temperature due to exertion in reaching the fire floor, performance and judgement may already be seriously impaired.
In addition it was found that water pressures stipulated in most Building Codes and regulations are no longer in line with the working pressures required for optimum performance of modern equipment. This has resulted in a change in operational procedures in use in the UK, where it was found that using a larger bore hose (51mm instead of 45mm) could offset, to a limited extent, the lower operating pressure in the riser. However, this is a matter which requires serious thought and should be the focus of a determined drive to amend the relevant sections of all codes and regulations.
Many, if not all, of the matters identified in these reports have been advised to the fire and rescue services through the medium of Integrated Risk Management Procedure (IRMP) Guidance Note No.4 and a Fire and Rescues Services Circular (FRSC) Number 55/2004.
Protection of fire fighters
An aspect of the BDAG study included an assessment of the protection afforded by a number of different materials and "systems" for assembling protective clothing for fire fighters. It was found that there was a "trade off" between the enhanced protection afforded and the retention of body heat by the wearer. This means, in short, that the body heat generated by the wearer during periods of exertion cannot, effectively, be dissipated. This gives rise to an elevation of the wearer's core body temperature, which, once it rises above 390C, can result in impaired performance and loss of mental awareness. This is of particular concern where fire fighters are required to expend a considerable effort in order to reach the fire floor and are then expected to penetrate into the fire compartment with an already elevated core body temperature.
Penetration into a building
It is assumed in many codes and building regulations that fire fighters will be able to penetrate between 45 and 60 metres into a burning compartment and perform rescue and firefighting activities. The BDAG studies found that this is not the case and that the elevated core body temperatures coupled with exertion severely restrict the ability of the fire fighter to carry out rescue and penetrate further than between 18 and 30 metres even with the best possible level of personal protection afforded by the PPE.

Rescue and refuges
The need to provide access for the ambulatory impaired worker and visitors to these buildings requires that special provision must be made for their safety in the event of fire or other disaster. To this end "refuge" areas are generally provided where wheelchair users may be "parked" to await rescue. The outcomes of several trials in evacuation show that the physiological strain this places on the rescuers needs to be considered very carefully when planning these.
The case for active fire protection systems
There can be no doubt that, in the light of the trend towards higher buildings and the use of modern and innovative construction systems and design of buildings, the nature of the fire that may arise is very different to that which, even twenty years ago, was likely to be encountered. The BDAG research clearly shows that the physiological limits for the fire fighter are a matter for serious concern everywhere, never more so than in structures where the physical exertion required to reach the fire floor and the fire are likely to push the fire fighter to the limit of their endurance. We must also recognise that the World Trade Centre event was unusual and that there is almost no practical defence against such an attack on any building. That said, the measures provided for the evacuation and fire defences performed as intended, even though the fire was far beyond their designed capacity.
Building Codes and Regulations need to be updated to take account of the data now available. Regulators and regulating bodies need to take account of lessons learned in all too many fire disasters to ensure that not only are these structures given the passive and active protection they require, but that these are fully and properly maintained throughout the life of the building. It is completely unreasonable to expect that fire fighters can lay hoses up staircases to floors more than 20 metres above the ground and still effectively fight a fire. It is even less reasonable to suppose that the fire can be fought from aerial ladders or platforms pitched from the street or adjoining property. Reliance on any other form of access, such as helicopters to deposit fire crews on the roof of a high rise structure (sometimes encountered in the planning proposals in some developing countries) or to perform rescues is not a viable concept and should not be included in any code. As Sir Eyre Massey Shaw wrote a hundred and fifty years ago –
"To be effective a fire fighter must enter buildings …"
Patently, we cannot expect fire fighters to enter buildings if there is little or no chance of successfully reaching the fire area while it is possible to deal with it, nor can we expect them to enter a building on the point of failure. Having entered it they must be able to operate in relative safety as they approach the fire compartment and then enter it to deal with the fire. They can only do so if the structure has been designed to permit not only escape of the occupants, but the access for fire fighters to deal with the problem. In high rise structures this means that they must have a protected route to reach the fire floor, the fire itself should be controlled and prevented from spreading unchecked until they can reach it, and the structure should be able to stand up to the attack from the fire for long enough for the fire fighters to reach the building and launch their attack on the fire. That can only be achieved if the building is equipped with: -
• Adequate means of escape and access for fire fighting,
• Protected shafts to allow fire fighters access to the fire without exposure to smoke, heat or flames,
• A fire detection and alarm system capable of giving early warning of a fire,
• Active protection systems such as sprinklers capable of containing the fire in the compartment of origin, and
• Risers and landing valves capable of supplying sufficient water and water pressure for the operation of the fire fighting equipment.
Where a smoke control system is fitted this should be designed to complement the other systems and should not be a "replacement" for any other active fire protection system. All too often the provision of one or other "life safety" system is used as an excuse to "trade off" something which is essential for the safety of the fire fighters or for the containment and extinction of a fire once started. Particularly in High Rise structures such "trade offs" should be approached with a great deal of caution and should only form part of any "approval" if it can be proved that the systems provided give the same, or a greater, level of protection without the "trade off".
Equally important is the need to recognise that a building's fire risk changes almost daily as the fire load is changed by alterations, by refurbishment and by the introduction of new plant and equipment. The built environment is dynamic, the fire risk is never static and it is therefore essential that designers, regulators and enforcers recognise that there is an unbreakable link between life safety of the occupants, property protection and the safety of fire fighters committed to deal with fire, evacuation or any other emergency. The fire protection must be built into these structures; it is not a luxury or something that can be fitted and forgotten. It is vital to the safe operation of any high rise building.
Finally, the entire solution needs to be understood and effectively managed throughout the life of the building. All to often the safety of both the occupants and of fire fighters is seriously compromised by building owners failing to maintain systems or attempting to save money by replacing parts or carrying out alterations which compromise performance. Without this final check – there is no safety in a High Rise structure.
Bibliography
Physiological Assessment of Firefighting, Search and Rescue in the Built Environment; December 2004, Optimal Performance Limited for the Office of the Deputy Prime Minister
Hydraulic Calculation of Wet and Dry Risers, Hoses and Branches; December 2004, BRE for the Office of the Deputy Prime Minister
Effect of Reduced Pressures on performance of firefighting branches in tall buildings – Aspects of High Rise Firefighting: Hunt S and Roberts G, December 2004 Office of the Deputy Prime Minister.
Collection and Analysis of Emergency Services Data Relating to the Evacuation of the World Trade Centre Towers of 11 September 2001; December 2004, Prof E R Galea and Mr J P Dixon, University of Greenwich for the Office of the Deputy Prime Minister.
IRMP Guidance Note 4; March 2004, Office of the Deputy Prime Minister, HM Inspectorate of Fire Services
Fire and Rescue Services Circular No 55/2004 – The Building Disaster Assessment Group – Key Research Findings; 2004; Office of the Deputy Prime Minister, HM Fire Service Inspectorate

NFPA Reports
Joelma Building, Sao Paolo, Brazil
MGM Grand Hotel, Las Vegas, USA
Standards
BS/EN 12845 – Fixed firefighting systems, Automatic Sprinkler Systems
NFPA 13 and related Codes.
NFPA 101 – Life Safety Code
Approved Document B – Issued as an adjunct to the National Building Regulations (UK)
Posted by The Gray Monk at 04:49 PM | TrackBack
May 05, 2008
A great Review
A new review has appeared on Amazon.com for my book, Out of Time. I'm really chuffed by this one - it's from a fellow struggling author whose book I reviewed a little while ago. He's returned the favour with oak leaves and diamonds.
By Ben Maxwell - See all my reviews
Full disclosure here. Mr. Cox has already reviewed and praised my book, United America: 2014. I'm also partial to nautical novels.
This book has everything, from naval battles on the high seas, interplanatery slave labor, to gene splicing and naval battles in deep space. Mr. Cox knows how to tell a story, and how to grasp an universal truth: Don't ever forget the fundamental skills we used to prevail in our old, primal struggles to survive. Harry Heron, his servant Ferghal O'Connor and "powder monkey" Danny Gunn are transported from a Napoleonic sea battle to an intergalactic starship. There, they show great pluck and resourcefulness adapting to their new, high-tech environment, and bring with them important, long-forgotten skills, such as aiming by visual sights, that help Mr. Heron's great, great, great grand-nephew and legal guardian, Commodore Nelson-Heron, defeat the lawless Consortium in a far-flung corner of the galaxy.
Mr. Cox leaves enough loose ends at the close of the novel to suggest a sequel in the works. I eagerly await discovering how this new voice in YA fiction develops.

Posted by The Gray Monk at 02:18 PM | Comments (0) | TrackBack
May 04, 2008
Sunday after Ascension
Recently I have been reading several books on ministry - and a few on theological topics as well. One that has been both a challenge and an enlightening experience is N T Wright's book "The challenge of Jesus".
Now I will confess that having to preach on Low Sunday has never been my favourite opportunity, but thanks largely to the insights in Bishop Wright's book and the recent experiences in the Near and Middle East, I have developed a new insight into something I have rather taken for granted. The Ascension is an unfolding in many different ways and at many different levels - and perhaps St Luke's accounts of the Passion, the Resurrection and the Ascension need to be examined a lot more carefully by many of us.
In the extended post is my sermon for Evensong.
Sunday after Ascension 2008
Evensong
Give us grace, O Lord, not only to hear your word with our ears, but to receive it in our hearts and to show it in our lives; for the glory of your name.
Amen.
"I pray also that the eyes of your hearts may be enlightened in order that you may know the hope to which he has called you."
The period immediately following the Ascension may be seen as a low point in the lives of the disciples/apostles to be. The space between our Lord's final departure and the coming of the Holy Spirit. But is this gap in the ministry a true reflection of the way God was working? Probably not, but it is a reflection of how humanity works when trying to get to grips with things outside our experience or outside our understanding of the universe. Consider the rollercoaster ride the disciples had been on for the weeks between entering Jerusalem triumphantly before being plunged into the depths of despair at the crucifixion, and just as you think it is all over, you have to confront and try to make sense of the resurrection.
Then, just as you are settling into a comfortable acceptance of having Jesus back from the dead and walking among you again – he's snatched away. Make sense of that!
The Ascension was, as Fr Paul reminded us on Thursday, a part of the "revealing" of Christ which begins at Epiphany and follows through Easter and the Resurrection – in essence, the Ascension brings every Christian to a cross roads. Which way from here? This is very much the choice faced by the disciples as they watched Him depart into the clouds. They stood at a new cross-road; from here they must make their own choices, decide their own pathways to bring the message entrusted to them to the world. The only thing they had at that time – according to Luke – was the promise that the Holy Spirit would be there to guide them.
Reading Tom Wright's excellent book, The Challenge of Jesus I was struck by the parallel with this situation that we must all confront. Just as the disciples were now faced with a world teetering on the brink of destruction – let us not forget that Jerusalem would be razed to the ground a mere forty years after these events – they had a choice between remaining as they were or moving forward. Between exploring the new dispensation they had been given – or clinging to the old. Our world teeters on the brink of major cultural change - a precipice one might say.
We know from Paul and other's writings, that there was a very strong faction which insisted on holding to at least some of the old religion, but, as the Church grew, it became ever more difficult to reconcile that stance with the experience of those who accepted the spiritual challenge to grow in the spirit. The Temple, which had for so long been the very centre, the single most powerful symbol of Jewish faith, has, as Luke tells us in his re-interpretation of Psalms 42 and 43 in his gospel, now been made redundant. Replaced by Christ himself.
That, for most people, is like saying we are going to walk out of here tonight and never come back. The building will be closed and pulled down – the land used for a new supermarket, because it is no longer required. Shocking thought? Of course it is – but that is exactly what Luke implies in his telling of the story of the road to Emmaus – Jesus is the "new" temple and the breaking of bread and the blessing of the cup replaces all the long list of sacrifices made daily in the Temple itself.
"Destroy this temple and I will raise it again in three days."
Jesus' own words quoted in John Chapter 2 and referred to by the Sanhedrin witnesses at his trial. But, as Luke and the others are at pains to tell us – Jesus is speaking of his own resurrection – the 'new' temple raised from the dead to bring life to an ailing world.
Luke's gospel account of the final days draws heavily on the imagery of Psalm 43 – the words from the cross echo the verses –
"For thou art the God of my strength, why hast thou put me from thee; and why go I so heavily while the enemy oppresseth me?"
Then, in sharp contrast comes the resurrection and the reunion in Emmaus, Jerusalem and Galilee. Then, suddenly, He is taken from them again. Luke tells us that they retired to Jerusalem and spent the time in prayer, praying no doubt for some indication of where they should go now. How should they move forward? Or maybe they should simply cling to the past?
Jesus Ascension leaves the way open for growth. It opens the door to the inspiration that is needed if the gospel is to reach the world. Luke tells us in Acts that this was not the understanding of the disciples at all in the first days. Even Peter clings to his Jewish understandings, clean and unclean, ritual washing, rituals for praying, rituals before meals. Cross roads always present you with a dilemma when there is no obvious signpost and no reliable map. That is what the disciples faced as they waited in prayer after the Ascension.
They have two things to hold onto – the promise that he will return and the hope that they will shortly join him again. And to understand the impact that the revelation of the Ascension will have had we must also look at the contemporary Jewish understanding of heaven. The Pharisees believed that only those who were strict in their observance of ritual and purity of worship could hope to win God's approval and enter Sheol – a sort of underworld for the souls of those who had died. The Sadducees on the other hand believed that there was no life to come. Now the disciples had seen a vision of the life hereafter – had seen Christ himself enter it; surely a faith changing moment for them all. That, in itself, was a serious challenge to the beliefs held by the Sadducees who, if anything, were even more conservative than the Pharisees!
Just as the disciples faced a hostile response from their leaders and their world, so too, do we. Our "modern" world has created a morass of materialism, confused humanism and even more confused morality. I am not advocating a return to the strict moralistic religion of the 17th or 18th centuries – that would be a denial of what the Ascension and the encounters between the disciples and Christ in Emmaus, Galilee and Jerusalem was all about. This is not the time to reach back into the comfortable past, to take refuge in ritual and formularies. This is a time to rise to the challenges that lie ahead. To find new ways to reach out to a people desperate for a spiritual signpost, something which says what they need to hear, an indicator of where they need to go.
One of the challenges we must face in this "post-modern" world as Tom Wright describes it, is the critical and sceptical revisionism that denies all "truth" unless it can be substantiated and "proved" by something material. There is a way we can meet that challenge and it is in embracing what we are all called to be – to live as Christ has invited us to live, in love and in hope. In this way we can and will show the world that it is not about how many gameboys my children have, or whether I have the latest TV set, a grand house or even a brand new car. It isn't about how "green" I am, but about how I live the gospel imperatives in my everyday dealings with those around me. If I am truly living them, then it will show – not in how often or how publicly I pray, read scripture or observe certain rituals in worship – but in how I impact upon others.
We may all encounter the hidden stranger, as Tom Wright calls Jesus, somewhere in our own Emmaus experience. How we respond to that encounter and after His departure is the important part. One thing should be clear – we cannot go back from there even if that means giving up on our cherished ambitions for a carefully planned and comfortable future.
The resurrection, Emmaus, the Ascension – all of these lead us toward a mission, a call to change, to move forward, to grow mentally, spiritually and perhaps even physically. We have to grow out of our comfort zone and reach out to those who need our encouragement, our support and above all, to a world that, in this age, seems to have become confused, uncertain and lost.
The world is changing around us and, just as the Ascension marked a major change for the disciples, we must face the challenge that change brings us. Western culture is dying – it has been led down a dead end, probably with the best of intentions, but it is still a dead end. As we look around us we see a situation very similar to that faced by the disciples – yet it is not as hopeless as it seems. Everywhere there are people seeking to discover the path to spirituality and God – that is where the mission of every Christian lies, to bring that gospel of God, made manifest as the babe in Bethlehem, as the King visited by the Magi, as the crucified sacrifice upon the Cross and as the risen, and now, ascended Son of God.
We have received the Holy Ghost, the Comforter – let us now grow in Christ as the disciples did, let us exercise that calling to live in ways which manifest the love of God in the world, so that the world may see Him at work in us – and come to share in the joy of His grace and fellowship – and, at the last, reception into the life of the world to come.
Like the disciples, we stand now at the cross roads. We must make the choice for ourselves. Do we move forward in faith and hope, exploring new ways and new ideas as we seek to serve our God – or do we hold back, clinging to the old, the familiar and the safe? The choice is ours – venture out and let Christ be our guide, our guardian and our map – or hide His light from the world and retreat into obscurity.
Like St Paul I pray that the eyes of all our hearts may be enlightened in order that we may know the hope to which he has called us.
Amen

Posted by The Gray Monk at 02:21 PM | Comments (0) | TrackBack
May 03, 2008
A publisher in sight?
I have received an offer from a publisher based in the US to explore the publication of "The enemy is within!". It is a tentative one and they certainly aren't predicting instant "best seller" or even "prize winner" status. They suggest modest sales and what looks, on the surface, like a sensible Royalty agreement. Even better it looks as if there could be some interest in re-publishing and marketing "Out of Time" once we get under way on "The enemy is within!" However, having taken a good hard look at the contract they offered, I am being very cautious. On closer scrutiny it appears that this may just be an upmarket version of the self-publishing route. It looks as if I would be putting up the manuscript, doing the edit and the proof-reading and they would simply publish it and put it onto Amazon and Barnes and Noble etc.
I could do that on my own. However, all is not entirely lost because there is a UK based publisher currently considering the work and they offer a much better set of options - including a really good marketing system. After all, they have to make some money out of this as well. I am not saying "no" to the US offer just yet, but I am considering every clause in the contract very carefully - and have a number of questions on each point already.
I have to say a huge thanks to all those of you - my long suffering friends - who have read my work, bought the first book and encouraged me to keep going. I had hoped to have "The enemy is within!" published almost a year ago. I have to say that I'm glad it didn't get done and that I have had this time to work on it and make it into a really great story - a worthy successor to Out of Time. That too, is thanks in very large part to Mausi's critiques and to the use of a professional editing service called Writer's Services. I can really recommend their services to any budding authors, professional, helpful and encouraging in their criticisms.
Thanks to all of you too for your patience and forbearance as I have wrestled with the system to get this far. Perhaps, as Sir Winston Churchill once said, this could just be the end of the beginning.
Well, watch this space and Amazon.com more news will follow soon.

Posted by The Gray Monk at 05:44 AM | Comments (1) | TrackBack
May 02, 2008
Himmelfahrt
What? And yes, there is an "h" in it.
Yesterday was Ascension Day, a public holiday all over Europe, but not in Socialist "multi-faith/atheist" Britain. We finished the day at the Abbey with a glorious Sung Mass and a congregation of roughly eighty people. Others may have celebrated it in their own way - but perhaps not Labour's foot soldiers who have taken a pounding in the polls.
The Ascension is a very important event in the Christian understanding of Christ and of how God has worked out our future. And I am not talking about global warming or any material considerations of this earth, but of those which will hit us in the next life. It must have been a fascinating event to witness - a devastating one too for they had only just got used to His being among them again. But it pressages greater things to come for all of us.
The moment of the Ascension has been depicted in many different ways by different artists over the years but perhaps the most striking I have seen is on the dome of a baroque church in Germany. A pair of bare feet protrude from the base of a cloud at the centre of the dome while onlookers peer upward on either side. Das "Himmefahrt" captured exactly as described in the Acts of the Apostles - but, sadly, my schoolboy humour places a different interpretation on it. It's no good - and there is an "h" in "fahrt". And it means "journey".
Posted by The Gray Monk at 07:02 AM | Comments (0) | TrackBack
May 01, 2008
Thanks for nothing Mister Brown
Personally I hope to see a Labour wipeout in todays local government elections. It might, just might, alert our Lords and Masters in Westminster and Whitehall to the fact that we have had enough of meddling, nannying legislation and the theft from our wallets each month for their bloated pay packets and benefits.
The debacle over the scrapping of the 10% tax band which benefitted many of us between the ages of 60 and 65 who get no tax relief, no "benefit" and try to make a small pension stretch has, I hope, provided those who wavered towards giving this shower of charlatans and thieves the benefit of any further doubt with the excuse they need to vote differently. The tax on my pension just doubled, but does Gordon Brown and his coterie of non-working class champange socialists give a damn? Of course not, they're all right Jack ... And Brown's admission that "ministers failed to spot the impact on certain groups ..." just doesn't excuse it. That shower of parasites called the Civil Service, especially the bunch of trolls, thieves and thugs of the Treasury, didn't bother considering us either.
Since Blair and his luvvies brought Labour to power in 1997, we have seen our taxes rising steadily and inexorably. We have seen wave after wave of badly thought out legislation imposed on our lives by little tyrants who want to control every aspect of our lives and have brought upon us a society that is almost as bad as that created by the communists in East Germany. Neighbours now spy on each other and woe betide the mother who dares to smack a badly behaved or recalcitrant brat! And our taxes pay for what? An ever rising number of incompetents who cannot supply our troops with working weapons, usable ammunition or the most basic personal equipment. A growing army of "managers" who couldn't manage if their lives depended on it, a failing NHS subjected to more political interference and meddling than at any time in its history. An education system that changes every five minutes so that its failures can be concealed. Prisons bursting at the seams with parents who dared to smack a child, fuel prices rocketing through the roof (They try to blame that on the Oil Companies) with the Treasury stealing even more of our money through a Tax Escalator which sees tax imposed on tax. As the price rises the Treasury's tax take actually inflates it further because they use a percentage calculator - the higher the price, the higher the tax. No one else in Europe does that!
As I said at the start, I hope Labour sees a meltdown in the Local Government elections - its the only hope we have of shaking these arrogant, ignorant and idle thieves out of their complacency.
Posted by The Gray Monk at 12:49 PM | Comments (2) | TrackBack