« A tribute to one of ours ... | Main | Abraham Lincoln's birthplace »
May 31, 2008
Calliopes and other wonders .....
Having now reduced the size of the picture file I can publish this shot of the Calliope on the Belle of Louisville. For all its compact appearance it can make its presence heard! As described in yesterday's post, it comprises thirty-two steam whistles connected via valves to the boilers. It is played from a small keyboard located just aft of the Captain's quarters on the Texas Deck.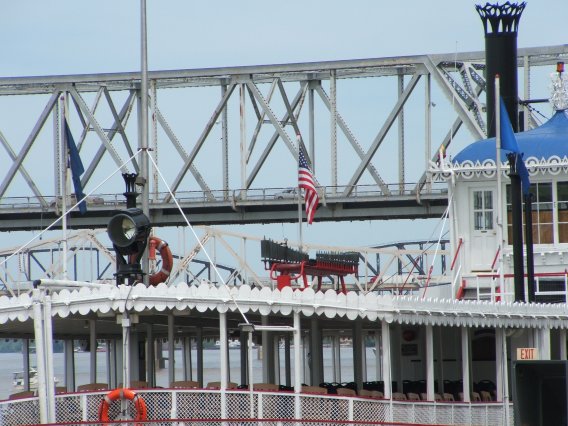 The steam Calliope on the "Belle of Louisville's" Pilot House Deck.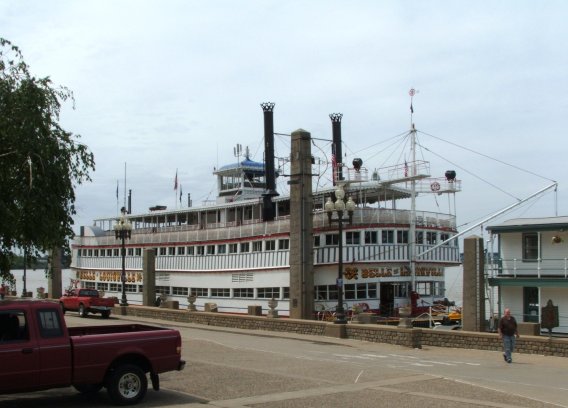 Seen from ahead the "Belle" makes an impressive sight. Note the triple steam whistle above her Pilot House.
The steam boats may now be reduced to curiosities on the rivers, but that doesn't mean that the rivers are any less busy as major transport arterials. In the next picture a single "push-tug" can be seen propelling loaded fuel barges upstream. The load was twelve barges lashed three abreast and four groups long - imagine what a fleet of road tankers would be needed to move the same quantity of refined product by road.

The Ohio River is still a major part of the transport network of this area - in this case petroleum spirit in tanker barges.
I simply have to find a way to travel these rivers by boat!
Posted by The Gray Monk at May 31, 2008 08:20 AM
Trackback Pings
TrackBack URL for this entry:
http://mt3.mu.nu/mt/mt-tb.cgi/5440
Comments
Wonderful pictures. GF loves the steamboats.
Posted by: Gorse Fox at May 31, 2008 06:06 PM