« June 2007 | Main | August 2007 »
July 31, 2007
Damning study of failure of "Youth" policies ...
If anything could have been a case of telling us what we already know it has to be the headline of the latest Government commissioned policy study. Teenagers in Britain are out of control. So tell us something we really didn't know. Better yet, tell us that the goivernment will now do what it should have done right at the outset. Purge the Civil Service, the schools and the universities of all the "touchy-feely" "reward bad behaviour" mob who have created this mess and silence the "child protection" mob who refuse to recognise the need for reasonable discipline in bringing up children. Better yet, make them pay for the long term soilutions we will now have to put in place.
THis debacle is not a revelation to any but those who have continually made excuses for bad behaviour. Those who felt that sending delinquents on expensive holidays to Africa, Disneyland and other destinations most law abiding families could not dream of sending their children to, should now be confronted and made to face their creation. They have given us a generation that does not understand restraint, does not recognise anyone's right to anything and certainly does not know how to deal with life.
There is no quick fix for this one, but, typically, the government's reaction is to throw good money after bad. More taxpayers money to reward bad behaviour. It is enough to drive the law abiding to revolution, it really is. Read the BBC news report and weep.
LONDON (AFP) - British teenagers are among the worst behaved in Europe, a study by a leading centre-left think-tank said Thursday, exposing high levels of fighting, binge drinking, drug taking and under-age sex. But the Institute for Public Policy Research, favoured by former prime minister Tony Blair, said young Britons were not to blame, accusing successive governments of leaving them to their own devices through policy failures.
The report -- "Freedom's Orphans: Raising Youth in a Changing World" -- was published as the government was set to announce a major injection of cash into youth projects as part of a 10-year strategy for children and young people. "Britain has a real problem with its teenagers," said IPPR senior research fellow Julia Margo, highlighting that children may be richer than their predecessors, more computer-literate and fashion-conscious but are "life poor. British teenagers are more likely to get into fights, hang out with other teenagers, binge drink, take drugs and have under-age and unprotected sex than teenagers in most other European countries. But it isn't their fault."
Margo said teenagers should be made to spend less time "hanging out" with each other and challenged the government to be less "touchy-feely", arguing that compulsory, not optional activities, would help reign in unruly teens. "They (children and young people) might not like it but the evidence shows that the ones who don't want to do it are the ones who would benefit the most," she added.
Outlining her intentions earlier this month, minister for children and young people Beverley Hughes said giving positive activities for young people, especially the most deprived, was a "real priority" for the government. A 115-million-pound (172-million-euro, 235-million-dollar) Youth Fund scheme has been providing activities and facilities like DJ-ing classes, childcare for teenage mothers to attend night school and a youth radio station, since 2005. The IPPR said it feared the government would only offer teenagers the chance to participate in after-school activities rather than make them whether they like it or not. Regular attendance at extra-curricular clubs helped pupils manage their emotions better, cut down on anti-social behaviour and "radically improve" life chances, it added.
Its conclusions were based on analysis of surveys of people born between 1958 and 1970 and those with young people today. They suggested that those who participated in sports or community-based activities aged 16 were more likely to be better off at age 30.
All were less likely to be depressed; single, separated or divorced; in social housing; have no qualifications; or be on a low income.
Posted by The Gray Monk at 03:47 PM | TrackBack
July 30, 2007
Boat trip on the Spree
Mausi had to go on a business trip to Berlin this week. As business was conducted successfully during the day Mausi felt entitled to a little fun in the evening, hopped onto a public transport and went to see that part of Berlin where the governmental buildings are situated. The last time she went there most of them were still under construction. The finished buildings took Mausi's breath away - they are huge and do look impressive. As intended, no doubt.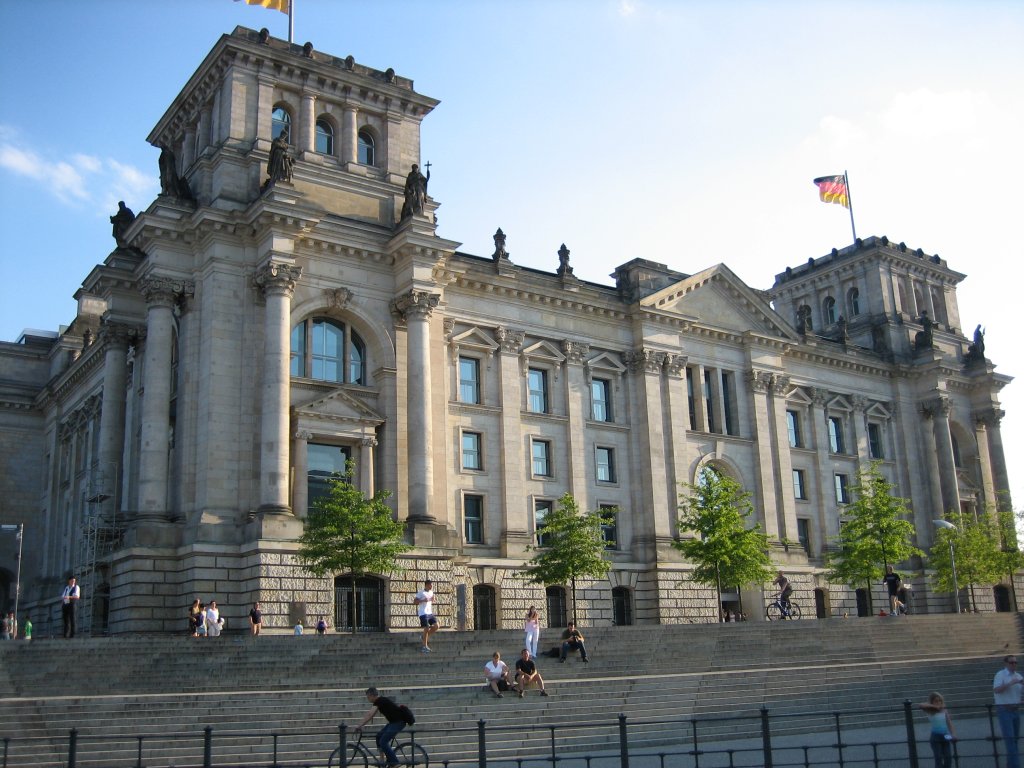 The Reichstag, the building that houses the German Parliament, seen from the river
Mausi went for an hour's cruise on the river Spree in the warm evening sunshine. A perfect ending of the day. The Spree was the former border between East and West Berlin. The Berlin Wall was about 100 m removed from the river on the East Berlin side. The 100 m strip made it much easier for the border guards to prevent people from trying to rush into the river and try to swim to West Berlin in the unlikely event that they had been able to get over the wall in the first place.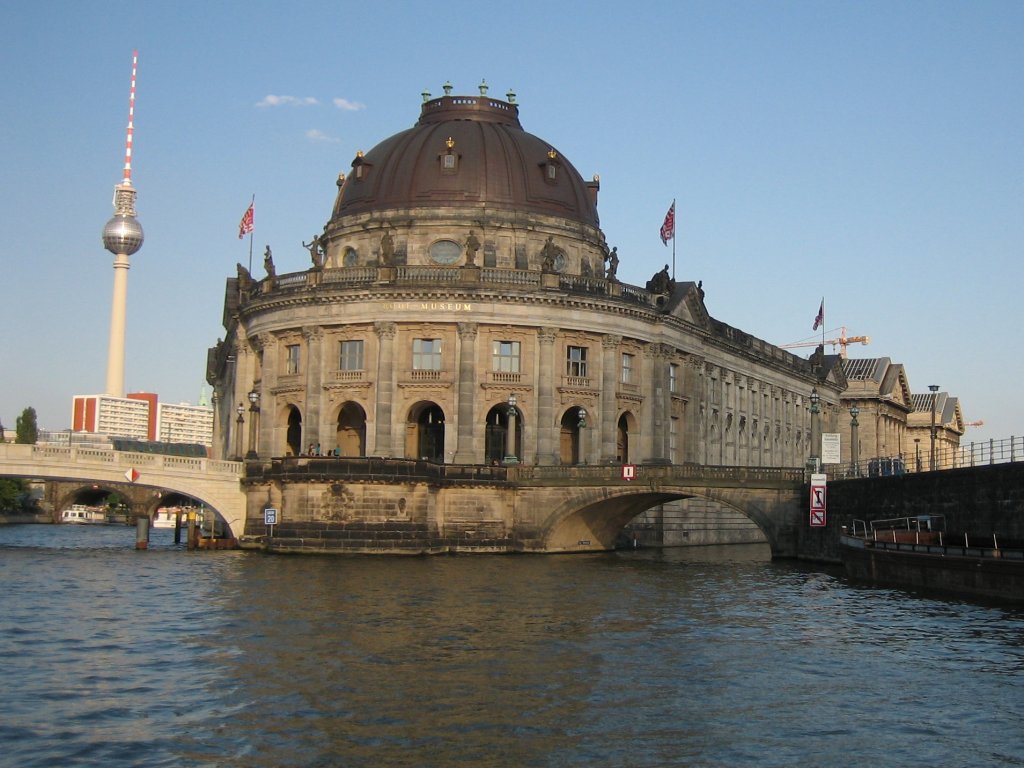 The Bode Museum on the Museum Island, named after one of its directors
The Bode Museum is one of the many museums on the so called Museum Island in Berlin. Perhaps the most famous among them is the Pergamon Museum. Bits of it can be seen behind the Bode Museum to the right. Legend says that during the last days of WW II employees of the Pergamon Museum only just prevented soldiers from tearing apart the priceless Pergamon altar and use it to reinforce the barricades. At the moment extensive renovation and restoration is going on on the museum island. Mausi is hoping for a week she can spend there one day and browse around.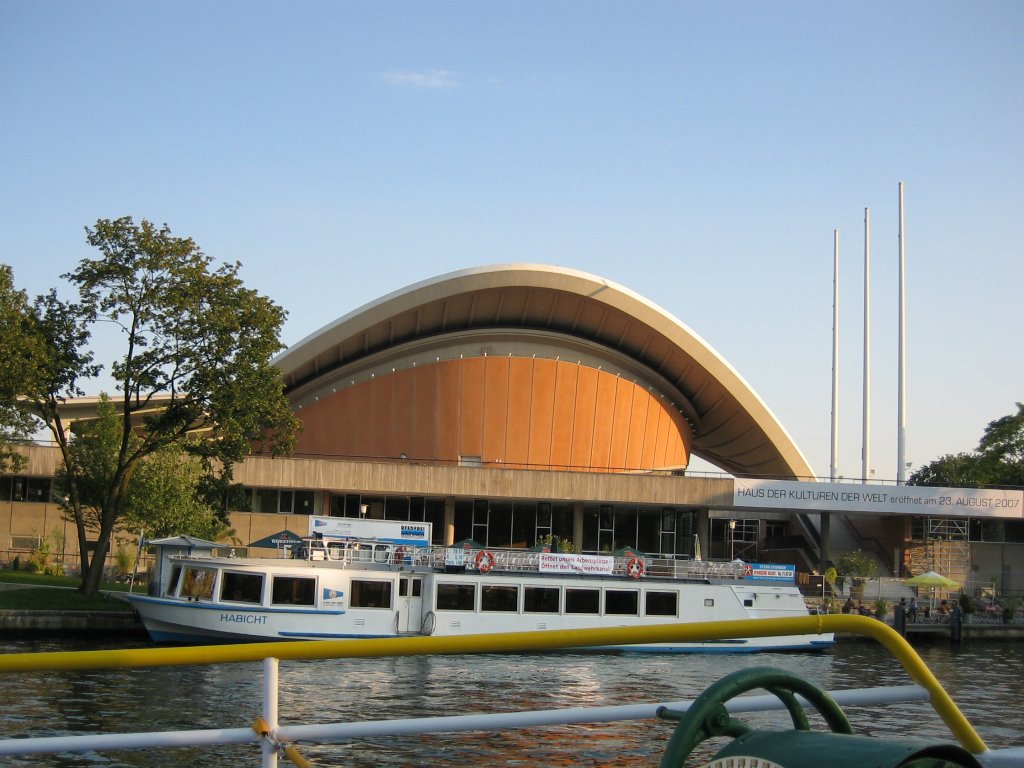 Haus der Kulturen der Welt (House of the Cultures of the World)
This building is the former Congress Centre in Berlin. Originally it was the American contribution the the World Exhibition in Berlin 1957. Due to a design fault the roof caved in in the 1980's. It has been rebuilt, however, and will be housing the cultures of the world in the future. It is one of Berlin's well known sights. Berliners have a special kind of humour and are very adept at naming things. This building they call 'Die schwangere Auster' (The pregnant Oyster).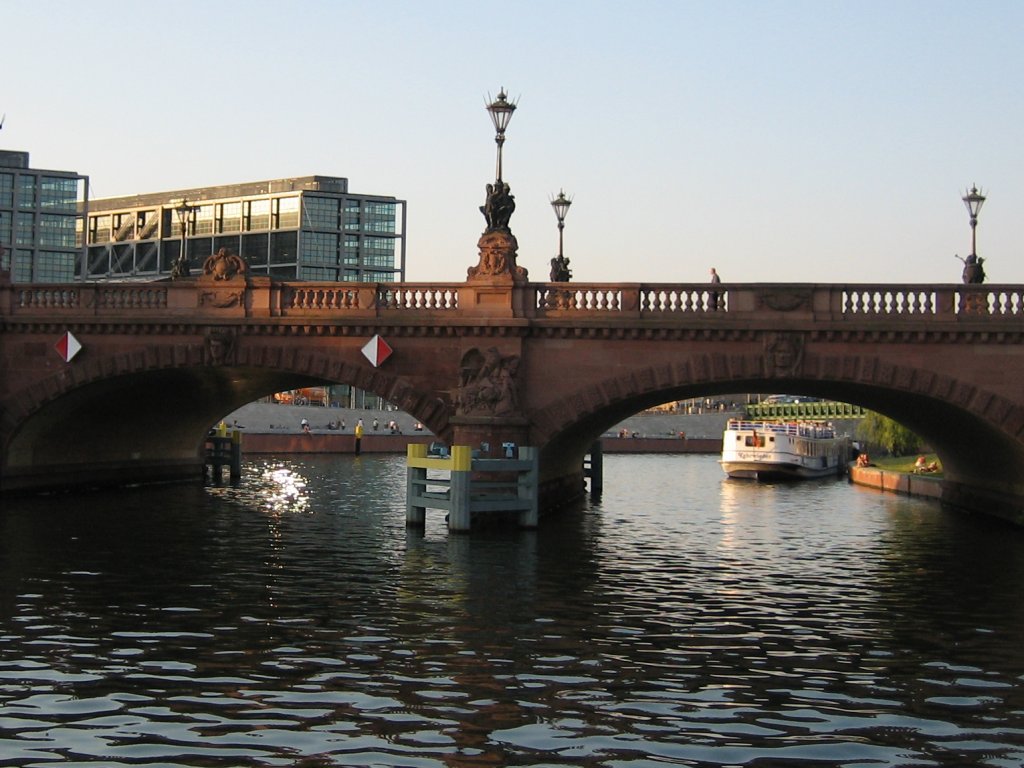 The Moltke Bridge
The so called Moltke Bridge - named after the well known Prussian Field Marshal - is one of the very few bridges in Berlin which were not destroyed during WW II. It was rebuilt a few years ago nonetheless and has now a steel core which is covered with the original sandstone. The bridge looks the way it was originally designed but also is able to withstand the demands of today's traffic. A very good idea, Mausi thinks.
Posted by Mausi at 07:09 PM | Comments (1) | TrackBack
July 29, 2007
Another view of the floods ....
A friend has agreed to my posting an e-mail he has circulated on his experience of the flood - and those of a few of his friends and colleagues. Certainly gives another view ....
Dear All
I know that as I write, some of you reading may have had a worse time than me in the floods, I hope that things are getting better
I have just been out to the garden to fetch a bucket of rainwater to flush the toilet, it really is strange to think that we will be without water for up to two weeks, it really is something that you take for granted. Kate has reminded me that on her gap year she had to fetch all of her water from a well, for others in different parts of the world that is their way of life - but it is not what we expect in Cheltenham Spa.
At Foxmoor we are lucky in that we still have electricity and we have no flood water in the house, some people have flood water in their house nothing coming out of the taps and no electricity. For those of you in the UK you will probably have seen the news that the fire brigade and the military managed to save our electricity sub station, if that had flooded the 400,000 of us that have no water would also have no power.
The train line that I use, Hereford to Oxford, then on through Didcot, Reading and to London Paddington is closed. Much of the line is badly damaged between Worcester and Oxford, no trains expected until 6th August when I will be in Cyprus. The line from Oxford to Didcot is still flooded. Yesterday I drove to the office in London, from there people find it difficult to understand the severity of what is happening, whenever we see events on the television they give us a little window on the world, but in 90 seconds no feel for what it is really like. The rain was very heavy on Friday and even those without floods coming up were affected by surface water, I heard of friends in Kensington and Fulham (west London - for my Russian readers!) who had water in their flats.
Friday was a very strange day, as the rain and flooding stated to develop it was very difficult to understand just how severe it was. I had to visit a Visa operations site in Basingstoke, when I opened the front door I didn't really want to take the bins to the end of the drive as the weather was so heavy........I spoke to Nigel Brammar and Neal Manners who some readers will know, we had planned to get together at the weekend to watch some motor cycle racing at Prescott in the Cotswolds, I suggested we might cancel........I am sure that they thought that I was being dramatic. I set off for Basingstoke in steady rain. I missed the turn in Basingstoke and had to go a little further around the ring road, I drove through a huge puddle with two cards already abandoned, as a result of my error I had to turn around and go through the puddle, this was at about 10.30, three hours later when we drove past the same location, the police had closed the road, there were six abandoned cars and somebody wading through the water that was up to their chest.
When I had arrived for the site visit, I had to put on the hat and coat that I keep for in the car for dog walking on Cleeve Hill, not really suitable business attire, the rain was really very very heavy. Relecting yesterday (Tuesday) a colleague at Visa, Harin, said that rain like that is common in the Indian sub-continent, the monsoon season...........but Hampshire is not supposed to have a monsoon season……….especially in July!
Lunch on Friday involved going to a lovely pub, an old mill......by the time that we got there the mill stream was in the car park and the landlord had the carpets up, he took us to an upstairs room and served lunch, the rain had stopped and the sun was out, there was no feeling of how awful things were not far to the north.
I left Basingstoke at 4pm hoping to be back in Cleeve by 6ish, it is only about 85miles (130km) it was then that the adventure started! Tom called me and told me to find a hotel for the night. My journey actually took about 8.5 hours, for those that know the route, I knew that the road from the M4 past Swindon was difficult and so I tried to go across country via Hungerford, Lambourne and Farringdon – normally very pretty, but huge puddles and lots of abandoned cars. I made it to somewhere between Wantage and Farringdon but got turned back by the police as the road was deemed too dangerous for anything except tractors and land rovers. I had already made a 20 mile detour via Wantage to drop off two decorators who had swamped the engine on their van, one of them had tried to fix it and his mobile phone had fallen from his pocket into the water – really not his day………..he just wanted to be dropped at a pub!!
So having been turned back I had to go all of the way back to the M4 and onto the A419, the traffic was nose to tail, I made 12 miles in two hours and thought that it would be like it all of the way to Cheltenham, another 30 miles, but I suddenly came across the problem about 200 metres of surface water about 2ft (600mm) deep and everybody proceeding with great caution, once past that I was able to knock off the 30 miles in about 45 minutes, until I reached Cheltenham. An extraordinary scene awaited me, cars abandoned everywhere at all sorts of angles, I was lucky, I managed to stay on the east side of the race course, drive through Prestbury and get home. Prestbury was amazing, the main street was like a shallow river, but passable with care. While all of this was going on James was trying to get home from the east, he traveled down the A46 until it was impassable he somehow made his way to the A40 and got into Cheltenham from the east. As some of you know he is qualified in Agriculture and is used to driving on all terrains, his language when describing some of the driving that he had seen could be described as agricultural!! In the meantime my friend Karen was traveling from Alnwick (close to the Arctic circle!) with son William and dog Scruffy to spend the weekend with us, she made it to Birmingham by 4.00pm, but the next 38 miles (64km) took her 15.5 hours as the M42 and M5 ground to a halt with the severity of the flooding. She was able to walk Scruffy on the M42 and the M5. She had plenty to eat and drink but was afraid to, without going into detailed biology, she was more comfortable being thirsty and hungry than dealing with the consequences in a lady like manner – observed by three lines of stationary traffic. It is a strange thing, we all felt guilty going to bed at about 2.00am knowing that a friend was stuck in a car on the motorway. Many of you will have seen the M5 on news bulletins.
When Karen arrived, she had a sleep and we had a lovely Saturday with a meal at the pub in the evening, we knew that the floodwater was serious at Tewks but it often is, it was only on Sunday that we really realised just how bad things were.
A neighbour knocked on the door saying that her son was working with some engineers who were trying to save a pumping station, we should fill a few pans, we did and went off to the pub for a lunchtime drink, lots of talk about the water, but the opinion was that it was scare mongering. Home, and an agreement to have a BBQ in the evening, in spite of the rain Sunday was a great evening. Not much food, the local Tesco had been stripped bare, we talked about journeys on Friday. My neighbour Dean and I were still not sure if we should head for the station on Monday morning, him for the 6.40 and me for the 7.18, the website said that journeys would be subject to delay, after another bottle we decided that it was best to work from home than to stand on a station waiting for a train that may not come. The last bottle of red was a good investment, we have a 40 minute drive to the station and may well not have made it – if we had at the time of writing the train has still not come and is not expected until 6th August, that's a long delay even by First Great Western standards.
During Monday the water stopped coming out of the taps, which is where I started, fetching water from the garden. Earlier this morning I passed a convoy of eight army lorries being delivered to Cheltenham, we can collect 12 litres of water per household per day from the centre of the village, there are police there to prevent fights, we also have "bowsers" dotted all over the place with water that can be drawn off, it has to be boiled – which would have been a challenge for many of the electricity had gone as well. More on BBC website
It would be great to hear from anybody who is still with me and has not lost the will to live!
Chris
PS I am new to commuting, but have met and talked to some of my fellow travelers, I know frowned on in some commuting circles! One of them Alastair, a latent eccentric is writing a blog, am entertaining few minutes if you are at a loose end, I am featured……so are the floods – and Sid (because I know you will still be with me!) so are two RAF officers, one a former Z4 owner
The blog – www.trainfellows.blogspot.com
Posted by The Gray Monk at 01:40 PM | TrackBack
July 28, 2007
Newsnight
Yesterday we had the Channel 4 team setting up their equipment in the Abbey so that they could broadcast "Newsnight" live from the Abbey. At the same time we had the Prince of Wales and Duchess of Cornwall touring the worst hit areas of the town and it was encouraging to hear the very positive comments from those introduced to him - especially in a Labour constituency.
How different then the approach of the Channel 4 team to their carefully selected panel. Some, like the Bishop of Gloucester who cancelled another engagement to be there, weren't even given time to talk. Nor was our Chiuef Fire Officer whose people had performed almost superhumanly for the last week. Instead they obviously tried to stir up a "blame game" and I am very pleased to say that they failed. It probably didn't make for exciting TV, but it was good to see the Environment Agency and the Severn Trent Water representatives actually being supported by the two Mayors and the victims.
The problem here was that the water levels rose so rapidly that there was almost no warning and certainly no time to implement the flood defence plan. Thos parts of it that were implemented worked well and the post disaster recovery plan is also well on track. The damage at the Myth Water Treatment plant has to be seen to be believed. It isn't just a case of flood water in the tanks and filter beds - the gantry and the intake pumps - a pair of really massive submersible horizontal pumps which normally sit 12 metres above the Severn - are gone. The river took them and their gantry. So what are the Severn Trent people doing?
Well, they are not just trying to rebuild the pumps, they are also also creating some new links between the Tewkesbury and Gloucester reticulation system and those adjoining it. This is how they have managed to get water back on the Tewkesbury system within six days. This morning they are extending that to the Bishop's Cleeve and north Cheltenham area and I have absolutely no doubt these guys will get water back on to the rest of Gloucestershire within the fourteen days they originally estimated.
Finally, in what must be the first occassion such a thing has happened, the Church Missionary Society branch in Niarobe, Kenya has contacted our Bishop and wants to send aid to those affected by our floods. A Bavarian Friewieligerfeuerwehr has contacted the Gloucestershire Fire and Rescue Service anbd offered its pumping vehicles and twenty-five firefighters and an Aid Agency also based in Germany yesterday delivered 80,000 litres of bottled water and 10,000 litres of bottled apple-tize drinks for distribution to children ....
What can one say? How different to the attitude of the media and the Westminster politicians whose only interest seems to be to find someone to blame so that the finger cannot be pointed at them.
I think that I prefer the attitude of our Town and Borough Mayors. Praise the work they various agencies are doing and have done - and then let's pull our community together to get back on our feet as quickly as possible. You cannot blame someone for the speed at which this flood arrived and we certainly cannot blame the Water supplier for the loss of a plant built by Whitehall in the 1960's on a flood plain, albeit the same plant was built above the level of the highest previously recorded flood.
It was an interesting experience watching the filming of the programme last night and I have to say that the participants displayed the best of the Tewkesbury spirit in responding.
Posted by The Gray Monk at 06:21 AM | TrackBack
July 27, 2007
We have water!
You can't drink it and you do need to boil it, but we have water in the taps! It trickled back slowly and there isn't a lot of pressure behind it, but it really makes you conscious of just how dependent we now are on our technology and infrastructures. As soon as they fail we find out just how unsustainable our modern style of life is.
These last four days without the simple luxury of being able to turn on a tap and draw water for every need has certainly brought home to me how vulnerable our entire society has become. After all, our homes depend on electricity, gas and water all being supplied - we are not able to draw water from wells, water butts or even the local stream anymore. We cannot cook or heat our homes without electricity or gas and I have watched families trying to use barbeque equipment in the rain to cook basic food for themselves. I have also seen some remarkable examples of people getting together to help each other and to share those resources and services which one may have had and others lacked.
Sadly we have also had examples of the moron mentality that seems to have embedded itself in certain sections of the community. Examples include the deliberate fouling of the street water bowsers, of "youffs" turning on the taps on these and leaving the water to drain away. It does make you want to bring back the sort of instant justice practiced in medieval times. Placing them in the stocks for public ridicule, chain gangs forced to work to repair damaged roads and bridges or dry out damaged homes, possibly even public flogging would be a suitable punishment.
But, on a positive note, I really do want to say to all those still working round the clock to restore the electricity supplies, the gas supplies and the most important of all - the water supply. Well done to you all! Not just well done - you're bl**dy marvellous!
Posted by The Gray Monk at 07:54 AM | TrackBack
July 26, 2007
Receding slowly ....
The Flood peaked on Monday so we are told and there has been a steady fall in the levels. Electricity has also been restored to most of us (as you can see - I am back online!) but the one key thing that will not be so easily restored is our water supply. That will take between seven and fourteen days. No baths, no washing up, no flushing the loo ...
Now is a good time to invest in deodorants and other "household" perfumes ....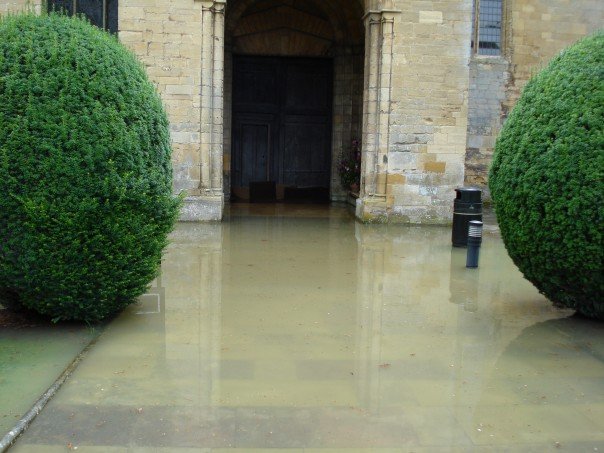 The water sneaking into the Abbey via a low drain that has reversed its flow.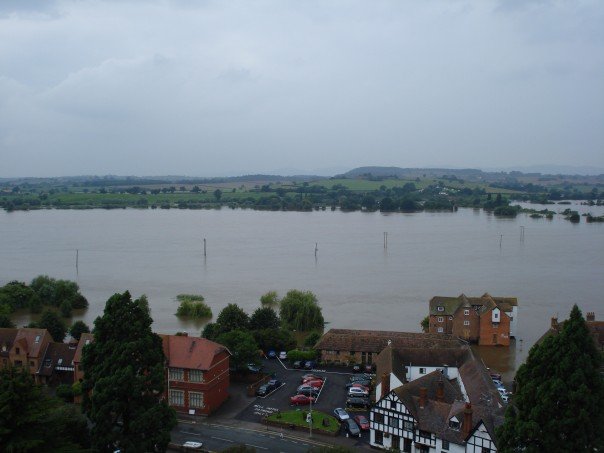 Abbey Mill and the Ham at the height of the flood. Note the water has reached the first floor.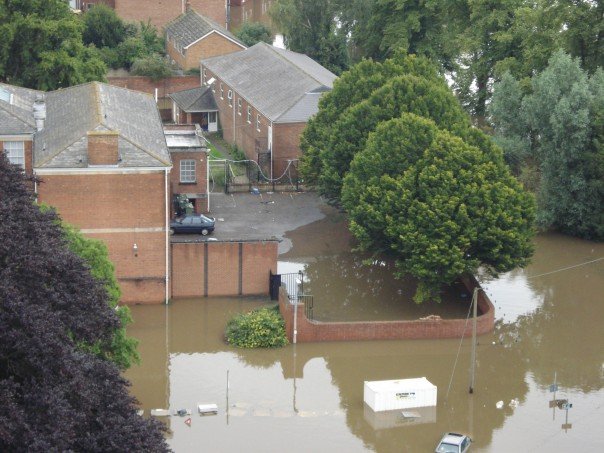 The former Abbey School in Gander Lane and Gander Lane itself filled with water.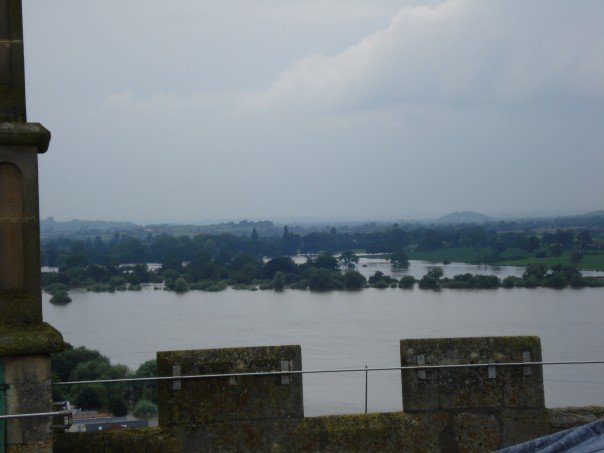 And looking west towards the confluence of the Severn and the Mill Avon at Lower Lode. The line of trees in the middle is the Severn ...
Rain is forecast for the next few days, but is not expected to produce a rise in the water levels. We will just have to hope and pray that the rivers continue to fall back from their current height and that the Water Company can get their filtration plant and pumps running again quickly.
Thanks to all who have prayed for us and supported us through this disaster.
Posted by The Gray Monk at 08:56 PM | Comments (1) | TrackBack
Recovery in the community ...
Yesterday our Bishop came to see us and to spend time with those affected by the flooding. His own home in Gloucester, though unaffected by the flood, has no running water and was without electricity for several days so he is able to identify very closely with all of us as we deal with sorting ourselves out. Many of the smaller parishes ditted around the Diocese have been devastated by the floods. Where the Abbey had a couple of inches of water at the West End, other churches have had four or five feet through them. And those are the churches, usually built on high ground ....
The houses around many of these churches are devastated. The hotels, restuarants and other businesses all face a huge clean up and loss of business in the interrim. The long term effect on everyone here is likely to be pretty harsh. Many businesses will not survive, many homes will not be repairable and sadly the death toll will continue to rise. So far we have one man missing, two confirmed dead and two babies born prematurely also dead.
It will be a very long hard road to put things right again and we will need your prayers and support to do it. Our Bishop has written the prayer below for use in all our churches as we start the recovery process, please pass it on for others to use as well.
Bishop Michael's Prayer

Creator God, hear our prayer.
As we look with dismay on the floods across our county,
we ask you to look with compassion on all who are suffering on those whose homes are spoilt,
whose livelihood is threatened.

We thank you for acts of courage and of kindness
and pray a blessing on all who rescue and relieve.

And, when the floods have gone, guide us to learn lessons.
Help us to live in harmony with the laws of nature
and in reverence for a creation you have made to be very good.

Creator God, hear our prayer.
Posted by The Gray Monk at 01:57 PM | TrackBack
July 25, 2007
Real heroes
The current flood crisis has exposed the folly of many "managers" in the Public Services, the usual crop of non-specialist filing clerks who have risen to positions of authority over services they know nothing about except what they have been told in their famous "business cases" and "briefing notes". These are the people who keep appearing on the TV and answering the inevitable question of "how do we flush the loo?" with - "conserve your bath water and use that sparingly to flush." What bath water?
It has also seen a magnificent response from the troops on the ground. Police, fire, ambulance, life boat crews, army, navy and airforce personnel, electricity workers, water suppliers and the horde of volunteers who have worked non-stop to deal with the floods, rescue people, distribute supplies and try to keep services running.
My electricity was restored, by means of a huge mobile generator which arrived at 23.00 on Monday night, at 01.00 on Tuesday morning. This meant that a team of electrical technicians and engineers worked to find the cables, disconnect the flooded sub station and then connect their generator. Elsewhere my former colleagues in the fire and rescue services have worked round the clock dealing with rescue, flooding and every other type of incident. We have crews here from all over the country and no one is working to normal time. Sleep? They take it when and where they can. It makes me proud to have been associated with these folk and wish I could still contribute to the effort they are making.
These are the real heroes of the hour, the men and women who have done the job, know what they are doing and how to do it. They are pulling it off in the face of equipment shortages, poor planning and appalling conditions. Your prayers and your good wishes for them all should be shouted from the rooftops. Make sure they hear you!
Posted by The Gray Monk at 10:42 AM | Comments (2) | TrackBack
July 24, 2007
Did the earth move for you?
The recent report of a severe earthquake in East Africa got me thinking about the huge forces at work in the surface of the planet we infest, sorry, inhabit. What is remarkable - and says a lot about the parochialism of the BBC and other "news" agencies - is that this 7.4 on the Richter Scale, barely registered at all on the Western Media, yet it killed four people and injured dozens more. Even more interestingly it occured in an area which is, not unnaturally, a very sensitive zone for earthquakes and one which, perhaps, should be more closely examined.
Earthquakes are something most of us would prefer to avoid, yet almost everyone will, at some time, feel at least a tremor in the earth. Personally I have felt three in my lifetime, all of them rather remote from where I actually was in relation to the quake zone, but still an unsettling experience. Certainly for those near the epicentre in each case it was much more alarming, damaging or injurious to life and limb than where I was during the quake itself. Frankly, that was close enough for me anyway.
My interest in matters geological wasn't, until fairly recently, much more than a passing acquaintance with some of the better known aspects such as plate tectonics and the whole issue of why volcanoes occur along fairly defined zones. But, more recently, I have been subscribing to a range of Geographic Society magazines and have learned a great deal more about this subject. One of the more interesting aspects being that geographically "inactive" areas, tend to have very poor soil, lack significant mountains and therefore usually also tend to be very arid. Mountains are upthrusts as a result of one techtonic plate overriding another, so it should be no surprise then to find that the Himalayas, the Andes, The Rockies, Caucases, the Urals and almost all "young" mountain ranges sit on the "upper" plate along these fault lines. Volcanoes tend to sit along the fault lines and, no surprises here, earthquakes are usually centred on them as well.
So why my sudden interest in the East African earthquake? Well, it's been quite a while since that area had one this big. Secondly, "rift" valleys tend to be in the same sort of geological timebomb scale as the so called "super" volcanoes. They occur when the crust ruptures suddenly due to stresses transmitted from the tectonic plate movements - and they can be utterly devastating. That is why geophysicists are watching an area running from the Bering Strait down the coast of Mongolia and into Northern China quite keenly. It is where they predict the next "rift" will take place, and if it is anything like their models predict - well, good by all mammilian species and most others as well. There are some who argue that the formation of the Great Rift Valley in Africa (and which extends from Ethiopia all the way South to the Drakensberg/Maluti Mountains in South Africa was reasponsible for one of the great extinctions in prehistory. This rift valley is also slowly tearing apart and will eventually see Africa tear into two landmasses - though probably not in anything like our lifetimes.
OK, so this was an event in a remote part of Africa, not on the tourist trail and it didn't kill any tourists from Britain or anywhere in the "civilised" world. So our media ignored it. Yet, if you stop and think about the overall picture, each quake in a sensitive zone like this does have an impact somewhere else in the world. Pressure released in the crust in one zone means a sudden increase of pressure somewhere else. Perhaps we should pay a bit more attention to what is going on under our feet. After all, the next time the earth moves - it might be exactly where we might all feel it.
Posted by The Gray Monk at 04:02 PM | TrackBack
New Blog ...
My recent post saying that Ozguru of G'day Mate had stopped blogging has had a response - and a new blog to link. Oz is a man of deep faith and his new blog reflects it....
http://ozcatholic.blogspot.com/
Posted by The Gray Monk at 06:13 AM | Comments (1) | TrackBack
July 23, 2007
Flood update
Sorry folks, I am accessing the blog through a friends computer. My home is not flooded, but our electricity supply is cut off. Seems someone's "Cost Benefit Analysis" after the last floods came up with "there would be insufficient benefit" in moving the sub station out of the flood plain.
So now we have the main distribution sub station at Gloucester about to go under water. I wonder what the cost benefit is of shutting down the power to 500,000 homes? On top of the several thousand already without powerfor the same reason?
Oh well, all my freezer is now emptied and the contenbts are in myt friends freezer. I still have gas, and I'm still dry.
The Abbey has about an inch of water in the nave as nd will require a thorough cleanup to get rid of the silt once the water goes down. At the moment everyone is concentrating on getting the people ssafely housed, fed and minimising the damage to their lives. The hotels in te centre of town havewaived their room rates and everyone is pitching in the help each other. It's good to feel part of a community that can do that. Well, that's it folks, time to get back to seeing whatcan be done. Keep the battery radio going and listen to the News.
But the next turd of a Civil Servant blatlhering from their nice warm, well lit and comfy home in the best and most expensive parts of London about how "they see no reason why more houses can't be built in flood plains and catchment areas, is likely to get my Bell Book and Candle routine and be cursed into everlasting damnation!
Posted by The Gray Monk at 10:47 AM | Comments (1) | TrackBack
July 22, 2007
More on the floods
The flooding has brought out some of the best and the worst in people. The worst behaviour has been the 4x4 drivers who charge at flooded roads and throw up a wash that has overwhelmed the sand bag defences carefully built by people along the affected roads. These same road hogs have turned nasty in several instances when stopped by the police or residents and been asked to be more considerate. And now it is difficult to believe the number of people who have driven over here to look and see .....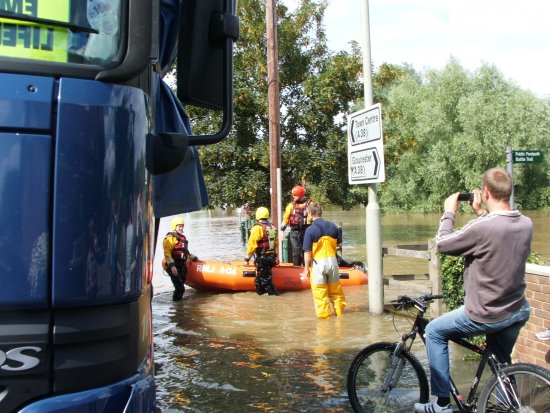 You don't often see the RNLI Inshore rescue boats running on the roads ....
The best has been demonstrated by the inhabitants of the hostelry opposite the Abbey. When asked by the Vicar to help with the sandbagging of the Abbey doors and Porch they turned out to a man (and several women!) and shifted all the Abbey's furnishings into higher areas as the water crept across the nave floor. The Abbey folk are now cooking up a huge curry to share with everyone "on the island" - and Evensong will be held outside the Pub. A number of our congregation have been flooded, but again, others who are dry have rushed to find spare beds and places for those who can be evacuated. Christianity at it's best and at work. Our Curate, new as he is, has spent his time since Saturday morning in the Evacuation Centre offering help and comfort and some more practical help as well. And the Vicar managed to hold three Masses for those able to reach the Abbey ....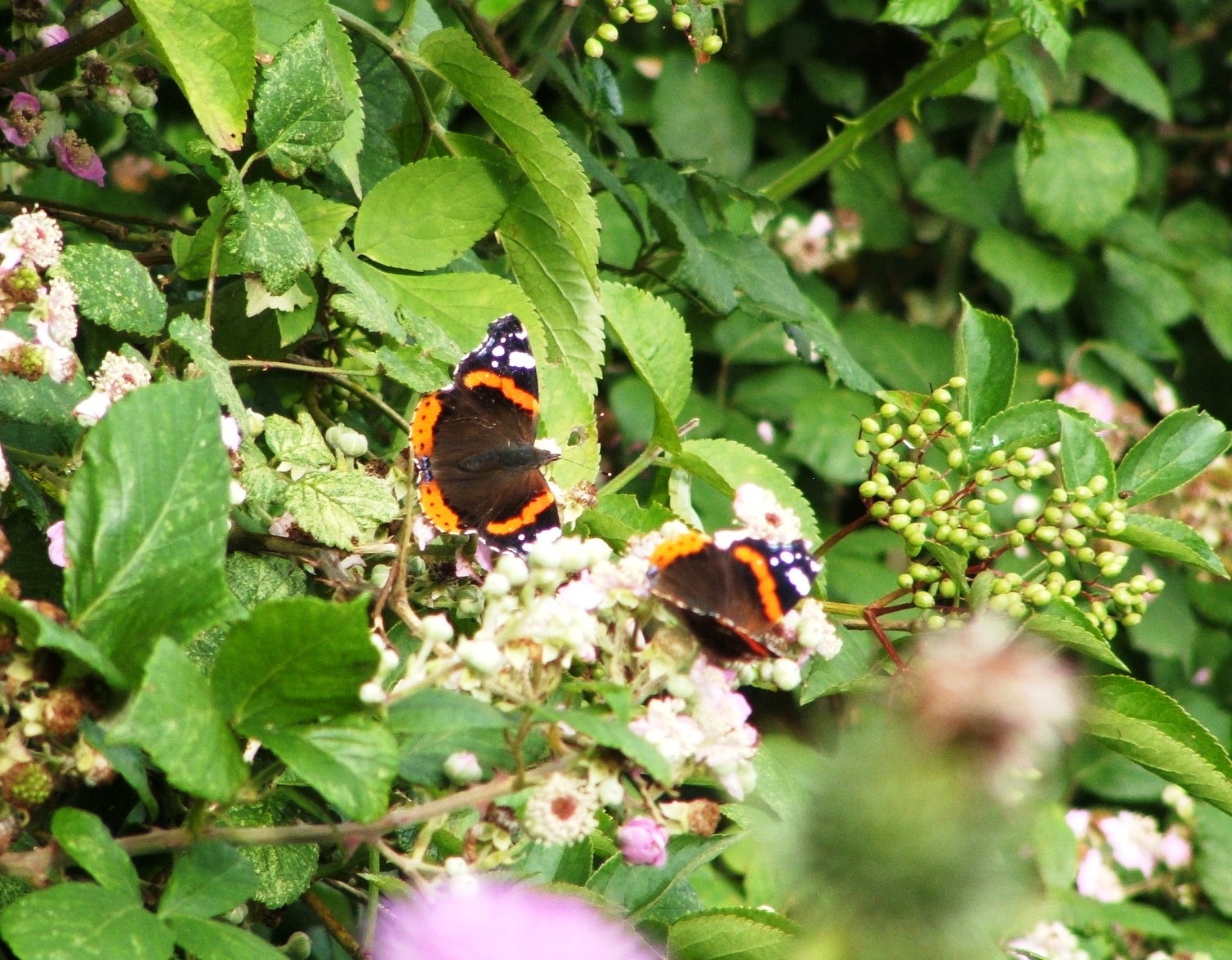 The rain has brought out swarms of butterflies and I captured these next to the flooded Mill Avon near Lower Lode.
The latest news is that the Monk's part of the town is about to lose it's power supply. No one seems to know when it will be restored, so, if I am absent for the next little while, it's because I am without that magic spark we call electricity for the next few hours/days/weeks!
Posted by The Gray Monk at 03:52 PM | Comments (1) | TrackBack
Flood Pictures
Pictures at this point say more than words.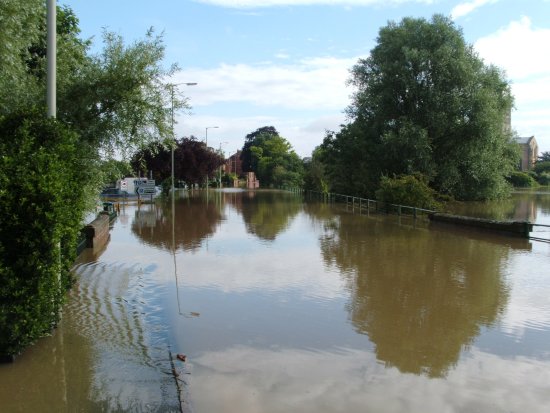 The Gloucester Road, with the flooded Abbey Terrace cotages. The water extends to the Bell Hotel and is still rising.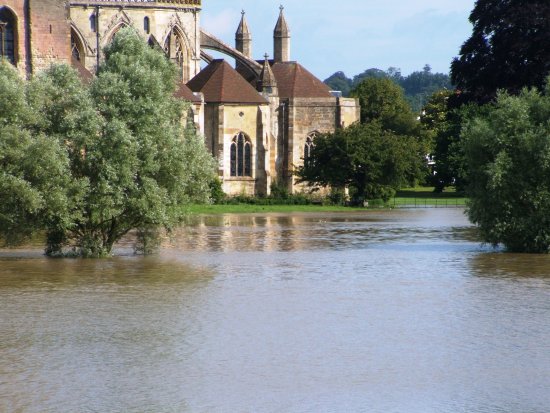 The water was last this high in 1947 and is still rising.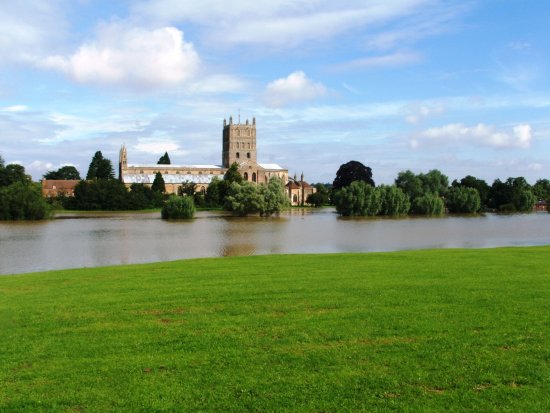 The view from the Gloucester Road as the waters continue to rise.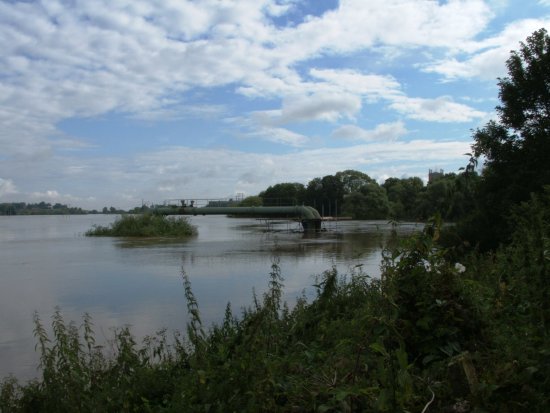 The view from the Lower Lode Road looking north across the Mill Avon towards the Old Avon and Mythe.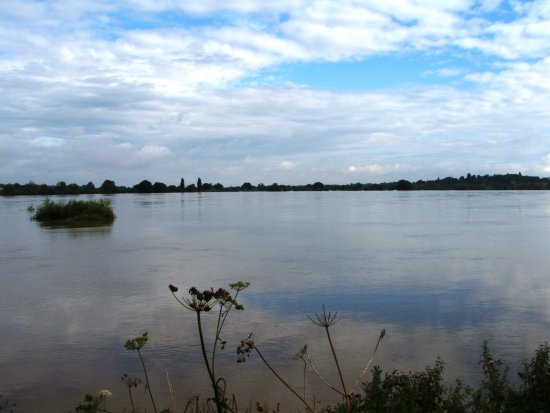 The Ham, which divides the Severn, Old Avon and Mill Avon - completely submerged.
Posted by The Gray Monk at 10:39 AM | Comments (3) | TrackBack
Sunday sermon
This Sunday is celebrated as the Feast of St Mary Magdalene, the first to see the risen Christ, the first to speak to Him and the first to know his glory. Given that tomorrow promises more rain for the area, and the Severn is rising as I type, there is a distinct possibility that I will not be able to preach at all at tomorrow's Parish Eucharist. I have prepared my sermon note anyway, as I believe that Mary Magdalen is a far more interesting figure in the gospel than Dan Browne's crude portrait makes her out to be. I also believe that she was far more influential than the traditional legend gives her credit for.
I hope my sermon note conveys some, at least, of that thought.
Update: I was right, the rising waters prevented my reaching the Abbey and many others have had the same problem.
Feast of St Mary Magdalen
+May I speak
and may you hear
in the name of God,
Father, Son and Holy Spirit.
Amen
"Mary Magdalene went and announced to the disciples, "I have seen the Lord"; and she told them that he had said these things to her."
Those of you have managed to wade through Dan Browne's book, "The Da Vinci Code" will have encountered his fictional version of why it was that this Mary was the bearer of the news of the resurrection. I do not plan to dwell on any of the fictions he has created around her – much of which does her almost as much discredit as the Medieval view, built on the 7th and 8th Century Western interpretation of the story of Mary Magdalen which has her as the "woman taken in adultery", very probably the view the majority of us are familiar with.
So who exactly was she?
Well, there is a great deal we can glean from other sources. The Coptic Church claims her as "their" apostle and she is generally supposed to have died and been buried in Alexandria. The town from which she takes her name, Magdala, was located on the shores of Lake Galilee and was a very wealthy resort and commercial centre. It is located on a major route from North to South and at the time of the first century was a popular place for the ruling families of that area to have their villas at the seaside. It was almost certainly one of the many places Christ visited regularly on his travels – and her house was quite possibly where he stayed when there.
She was wealthy, again we learn this from other sources, some of them Christian and some even have her as the woman who washed Christ's feet with her tears and anointed him with expensive perfume. Quite possibly she was a member of a noble family, and equally possibly, for it was not unusual in the Hellenic Jewish community in which she lived, a very shrewd business woman in her own right. She was almost certainly the major source of funds for Jesus' mission over the three years between his baptism by John and his resurrection. We also know from the Gospels themselves, that she loved our Lord with all her heart and all her being.
And therein lays the very crux of her importance to us – as an example of the love epitomised by the Greek word "Philos" – to love without any constraint, reservation, qualification or sexual element. Her love for Christ is the human response to the love that Christ showed to the world. Mary was prepared to do exactly as he had commanded, give up everything, her wealth, her position of influence, even her status in her love for him. As St Paul wrote and we heard in our second lesson,
"The love of Christ urges us on, because we are convinced that one has died for all; therefore all have died."
This is what the distraught Mary had to come to terms with at the empty tomb. That love sometimes means letting go of everything we hold in that love – in order to discover and even greater love. By no means an easy task, yet, she succeeded.
The strength and the depth of her unconditional love for our Lord made her the perfect candidate to be the first to see him face to face following the resurrection. She is the first to discover that in his kingdom there is a new creation, one which surpasses our understanding in this life.
Dan Browne and the later attempts to paint her as the fallen woman notwithstanding, Mary of Magdala shines out of the gospels as a woman of enormous faith and of even greater love of God. The line from Solomon's great love song,
"When I found Him whom my soul loves,
I held him and would not let him go"
Could almost have been written for her. She like almost all those who encountered him, who heard his word and understood it, however dimly, held fast to the faith they learned from him and to the love he so generously bestowed upon the world. So, as we declare the faith she and others passed on to us, as we share in the communion of the saints gathered about this Eucharist, we should give thanks for her witness and for her example of love. And we should accept the charge laid on her as our own commandment:
"Go to my brothers and say to them, I am ascending to my Father and your Father, to my God and your God."
She obeyed that commandment – and so must we.
Amen

Posted by The Gray Monk at 09:25 AM | TrackBack
July 21, 2007
And down came the rain ....
If you are wondering why I am a little tardy in attempting a post it is because I have been on my feet looking after people stranded or evacuated to the Abbey for the last twenty-four hours. I am now going to crash into bed and sleep.
If you want to know what the floods have been like, let me say this. Another three feet and the Abbey would have had very wet floors - and we would have had to move a lot of people sleeping on them. The BBC Gloucestershire has some pictures.
And now to sleep!
Posted by The Gray Monk at 07:12 PM | Comments (4) | TrackBack
July 20, 2007
Good bye to Regional Assemblies, Hallo Regional England?
Over at the blog, The England Project, I found this excellent piece on the apparent retreat by our new Ineffable Leader from the detested Regional Assemblies his predecessor tried to impose upon England. Like the author of this piece I have deepe reservations about the honesty of the government's intentions here. After all, there are eight "Regional Ministers" who face losing their fat cat salaries and probably a few hundred thousand parasitic civil service bureaucrats who face redundancy if the Regional Government plan is scrapped entirely as it should be.
This entire expensive debacle is the work of the Labour Party which sought to entrench itself in power permanently in England, as it has in Scotland (Although not presently in their Parliament by the slimmest of margins) and Wales. The grand plan was to break England up into eight semi-autonomous "regions", each with an "Assembly", thus reducing the English to a status below that of Scotland with a "sovereign" parliament, but on a par with Wales and Ulster in having an Assembly. IT did not take a genius to work out that of the eight, Labour would inevitably be able to win almost permanent control of four, leaving the LibDems with probably two and the Conservatives with three at the outside. Westminster would then have remained controlled by the preponderance of Scottish and Welsh Labour MPs. Unfortunately for Blair, we saw through it. Now Brown seem to have taken the hint, but only on a limited scale. It seems that we will have to continue to have a bunch of unelected bureaucrats and appointed "ministers" dictating to us through the vastly expensive and wasteful "Regional Management Boards" they have set up as a nice little gravy train for themselves.
One thing you will have noticed the Ineffable Leader has not mentioned and very likely won't is the "West Lothian" question. Don't hold your breath - there is no chance he will ever address that, after all, his own constituency is in Fife and nothing he decides to do to England applies to his constituents. It couldn't get any better for him, no matter how hated he is in England, he will be re-elected by his Scottish voters because he doesn't do anything to them and can't be held accountable for the MSP's misdeeds now can he.
Posted by The Gray Monk at 10:32 AM | TrackBack
July 19, 2007
Pride and prejudice?
An interesting exercise conducted by David Lassman of the Jane Austen Festival has given rise to a bit of a flutter in the publishing trade. The Society sent in a range of very thinly disguised 'sample' chapters based entirely on well known works by Jane Austen. One, entitled "First Impressions" even included the famous opening line "it is a well known fact that a single man possessed of a large fortune, must be in want of a wife." Only one editor spotted the plagiarisms and the rest evidently never even read the samples, but simply sent in standard Rejection Slips.
While the revelation has caused a great scramble among the publishers to defend their process it has also revealed the great weakness in the system of selecting who to publish. I cannot escape the feeling that Miss Austen would not see the light of day as an author in today's publishing world. The reason, I suspect, is that almost all the publishers now employ as editors people who have come through university with a Literature degree and who select and defend only those works which meet the intellectual criteria they approve of. It certainly explains, for me, the reason I have found in recent years that the majority of best selling authors cannot hold my attention beyond around page three. Recent experience in my own writing with professional editors suggests to me that they are so wedded to certain formulae and forms that they would not accept works by the likes of W E Johns, C S Lewis or J R R Tolkien at all these days. Certainly any work which doesn't have a sex scene in every chapter, isn't brimming with aliens (in Sc-Fi - preferably seeking sex with everyone else) or in which the characters aren't using the "F" word perpetually as their only adjective seem to have no chance of publication.
So what are the publisher's looking at and for? Well, they all say they want a good story, but then you run into "what is the story?" or "this reads like a pale imitation of XXXXXX's novel ZZZZZ", which when you take the trouble to look it up, never having heard of XXXXX before, you find it bears no resemblance at all. They want a good dialogue, but then tell you that "more use of narative" would make the novel more readable. One agent summed it up recently, saying, "To get into the business today a new author can't be just good, he or she has to be outstanding because the industry isn't run by editors and publishers anymore, it is run by accountants who have reduced everything to a formula for sales."
Well, perhaps the latest little tongue in cheek "test" of the integrity of the Editors and selectors who dictate who and what we read these days will result in a review of what they are doing after this. That is the optimist in me - the pessimist says, it is unlikely. In the meantime, I will keep plugging away. My next book is out there doing the rounds and I have another to seel as well. Your prayers and support are appreciated!
Posted by The Gray Monk at 12:56 PM | Comments (2) | TrackBack
Disappearing blogs
Recently I have noticed a disturbing trend among many of the bloggers I visit regularly, they are stopping blogging, or blogging very infrequently. Reasons given are wide ranging, one, "The Anchoress" states that she finds she is getting very pressurised by the strain of constantly finding topics another, my Blogfather, Ozguru of G'day mate has pressures of work and family and just finds the daily task of clearing several hundred spam comments from his blog to much to deal with at present. Then there is Skipjack who seems to be posting very irregularly, On the Third Hand likewise and a host of others who have simply vanished.
I confess that I am finding the time spent blogging very demanding now that I work for myself. Every minute I spend on the blog is a minute not spent earning anything. And it does get a bit depressing to know that what you have written passionately about is unlikely to be read by more than a handful of folks, most of them your friends who share your views anyway - or if they don't are at least prepared to discuss them with you. Are we likely to have any impact on the "Great and the Good"? Not unless they actually read what we write here, or one of their lackeys does. And even then, they are unlikely to take much notice unless you happen to have touched some raw nerve that they are already worried by.
Does this mean the Monk is about to give up blogging? Well, not yet anyway. But he is certainly having to look hard at the time he is spending on it.
Posted by The Gray Monk at 10:51 AM | Comments (2) | TrackBack
July 18, 2007
Forwarding jokes - Fun or Frustration?
Sometimes the only thing you ever seem to get from longstanding friends on the e-mail are forwarded jokes. There are two ways to react to this, annoyance at getting another joke, or to open it and enjoy it. Even if you have seen it half a dozen times before. I hold my hand up and admit to the fact that I frequently forward them on to those of my friends I rarely hear from or with whom I have infrequent contact - in the hope that they will enjoy it and that they will know that I am at least thinking of them.
Why am I rabbiting on about this you may well ask, surely there are far more earth shattering things to blog about? Well, yes, there probably are, and I'll blog about them in due course. What triggered this line of thought though was the receipt of a story which is not a joke - except in the broadest sense of the word - and which has, at its heart (as most really good stories do) an interestingly provocative truth. I have placed it in the extended post section, it is certainly worth a wider read.
The fact that it actually sums up incredibly well the entire purpose of the Christian message is also pertinent - and very, very telling.
This explains why I forward jokes.
A man and his dog were walking along a road. The man was enjoying the scenery, when it suddenly occurred to him that he was dead.
He remembered dying, and that the dog walking beside him had been dead for years. He wondered where the road was leading them.
After a while, they came to a high, white stone wall along one side of the road. It looked like fine marble. At the top of a long hill, it was broken by a tall arch that glowed in the sunlight.
When he was standing before it he saw a magnificent gate in the arch that looked like mother-of-pearl, and the street that led to the gate looked like pure gold. He and the dog walked toward the gate, and as he got closer, he saw a man at a desk to one side.
When he was close enough, he called out, "Excuse me, where are we?"
"This is Heaven, sir," the man answered.
"Wow! Would you happen to have some water?" the man asked.
"Of course, sir. Come right in, and I'll have some ice water brought right up."
The man gestured, and the gate began to open.
"Can my friend," gesturing toward his dog, "come in, too?" the traveler asked.
"I'm sorry, sir, but we don't accept pets."
The man thought a moment and then turned back toward the road and continued the way he had been going with his dog.
After another long walk, and at the top of another long hill, he came to a dirt road leading through a farm gate that looked as if it had never been closed. There was no fence.
As he approached the gate, he saw a man inside, leaning against a tree and reading a book.
"Excuse me!" he called to the man. "Do you have any water?"
"Yeah, sure, there's a pump over there, come on in."
"How about my friend here?" the traveler gestured to the dog.
"There should be a bowl by the pump."
They went through the gate, and sure enough, there was an old-fashioned hand pump with a bowl beside it.
The traveler filled the water bowl and took a long drink himself, then he gave some to the dog.
When they were full, he and the dog walked back toward the man who was
standing by the tree.
"What do you call this place?" the traveler asked.
"This is Heaven," he answered.
"Well, that's confusing," the traveler said. "The man down the road said that was Heaven, too."
"Oh, you mean the place with the gold street and pearly gates? Nope. That's hell."
"Doesn't it make you mad for them to use your name like that?"
"No, we're just happy that they screen out the folks who would leave their best friends behind."
Soooo...
Sometimes, we wonder why friends keep forwarding jokes to us without writing a word.
Maybe this will explain.
When you are very busy, but still want to keep in touch, guess what you do? You forward jokes.
When you have nothing to say, but still want to keep contact, you forward jokes.
When you have something to say, but don't know what, and don't know how, you forward jokes.
Also to let you know that you are still remembered, you are still important, you are still loved, you are still cared for, guess what you get?
A forwarded joke.
So, next time if you get a joke, don't think that you've been sent just another forwarded joke, but that you've been thought of today and your friend on the other end of your computer wanted to send you a smile.
You are all welcome @ my water bowl anytime

Posted by The Gray Monk at 08:57 AM | TrackBack
July 17, 2007
Musical interlude
Just got back from the Abbey and the enjoyment of a very well presented and performed recital. The choir was from a Methodist Church in Fort Worth, Texas and this is their first experience of singing in a building like the Abbey. I would have to say that they managed superbly and I am looking forward to their leading Choral Evensong tomorrow and Thursday. If todays performance was anything to go by, the services they sing will be magnificent.
This is one of the perks of worshipping in our Abbey Church, the music is always rich and varied and todays renditions were no exception.
Now, the music over, its back to the grindstone for this Monk.
Oh, and it's still raining in between the bursts of sunshine. Thanks St Swithin!
Posted by The Gray Monk at 01:51 PM | TrackBack
July 16, 2007
Reform of child courts
Watching the news this morning on BBC TV (Breakfast) I almost dropped my coffee when they sat two people down for a short debate on reforming the way the chid protection inductry runs the legal system for children's courts in England. Quite apart from the fact that ten times the number of children taken from their parents on a "risk assessment" by a social worker are then whisked through an adoption process and never allowed to see their real parents again, it is the secrecy with which these so-called "courts" operate that is at last causing major concern.
The way it operates is this. An allegation is made by a social worker, teacher or even neighbour. The child is whisked into "care" while the charges are "investigated", often turning up nothing at all that could be used in any regular court. Then the whole fabric of "evidence" is spun out with "assessments" by a range of "social scientist" "professionals", none of which the accused parents are allowed to see. This is then placed before a closed "court" (Protecting the child's identity is given as the reason!) and the court rules on the future of the child and the fitness of the parent without ever hearing the parents case or allowing them to defend themselves against the slanders very often contained in the "assessments". On this basis one family had three children taken into care and put up for adoption - without the parents being aware of it - on the grounds that the social workers had "assessed" the parents as not being intelligent enough to bring up children!
The figures on this and the difference between England and the other parts of the UK are staggering. Four thousand children taken from their parents on the accusations of social workers - that right, four thousand children! - are not returned and are put up for adoption. Evene assuming that some of these are at risk, at least two thirds, if the same sample is taken in Scotland, are not!
Justice cannot be served behind closed doors. That way lies totalitarianism. Justice MUST be fair to all parties and it must be SEEN in order for it to be effective. The present system has seen so many miscarriages of justice with women accused by unqualified social workers of murder, neglect and abuse, which, whgen supported by medical professionals who should be less certain of their own unsupported and unresearched theories than any other part of our justice system. Why do we demand a standard of evidence that is so high it is almost impossible to fulfil when dealing with a terrorist - but then apply a different and totally unjust rule when dealing with parents and children?
I agreed totally with the gentleman demanding a reform. It is long overdue - and it should begin with the removal of powers from social services to "investigate" in secrecy. The Rules of Evidence must be the same in all cases. The accused has a right to see the full evidence against them, and a right to be heard. They also have the right to challenge the "experts" whose expertise is increasingly being seen as entirely self proclaimed.
I doubt though that it will happen in the short term. There are now too many untrenched "experts" in the lobbies of parliament and in parliament itself. They have a vested interest in maintaining the status quo - biased and unfair as it is. After all, it keeps them in power and in all the gravy sloshing out of the "child protection" gravy train. There is most certainly child abuse. It is not new, and it certainly is pernicious and takes many forms, but I, for one, doubt it is anywhere near as prevalent and widespread as the Child Protection lobby and the media make it out to be.
Time for less hype and more common sense - and proper justice in the family and childrens courts!
Posted by The Gray Monk at 02:34 PM | Comments (2) | TrackBack
July 15, 2007
St Swithin, Agincourt - oh, and it's raining ....
St Swithin's day, according to Shakespeare, the day on which the Battle of Agincourt was fought, something we are supposed to forget these days I think. Far too patriotic or something. But legend says that if it rains today, it will rain for the next forty days. Guess what, I woke up this morning to find it was pouring ....
Interestingly an e-mail from my brother, resident in Cape Town, complains of the cold there, so I looked up his weather. It is winter there at present. OK, it IS Africa, and it is a lot closer the equator than the UK is, but it just dopesn't seem fair that their overnight temperature is only just lower than mine in wet and soggy Gloucestershire, and his daytime temperature is higher than mine. Still, given that they did have snow within forty miles of Cape Town much ealier this winter - while I was basking in nice warm sunshine, I suppose I should not complain.
Yes, and Agincourt. I wonder how the archers kept their bowstrings dry? Apparently one of the factors that led to the French defeat was that it had been raining, was raining and would continue to rain. Armoured knights and armoured horses, soggy ground and confinement for a charge don't tend to be a good mix. THose the archers wounded, fell, those behind fell on top of them and others trampled the fallen. And all the time the archers maintained the hail of deadly long bow arrows. The French lost twelve thousand the English six hundred and most of those were the sick and the women and children in the baggage train which the ever so brave Dauphin found and slaughtered in rage.
Ah well, old history now, and its raining still. I shall have to invest either in webbed feet or waders.
Posted by The Gray Monk at 11:00 AM | Comments (1)
July 14, 2007
The Random 8
I've been tagged by Cindy of Dusting my brain to reveal eight random things about myself, so, never being able to resist a dare .....
1. My childhood ambition was to join the navy and become the captain of a warship. Sadly, I never mastered enough maths to achieve this ambition, so now I write books about it instead. My father was brilliant at maths, but never could understand why I couldn't see how easy it was.

2. Took the tip off my left index finger playing with gun my father was servicing. He refused to do any more work for the person concerned for not checking the gun was safe before delivering it - and gave me a hiding for playing with it. And I spent several hours in A&E having the tip of my finger put back together.

3. The sea, boats, ships and sailing are my passion - no surprise there for readers of this blog - and I started sailing competitively aged around twelve. Won the juniors trophy aged fourteen. Probably the high point of my sailing career.

4. I have always had an urge to help others - I find it is usually fun and very fulfilling - so I joined the St John Ambulance and did voluntary ambulance and home nursing work for several years alongside being a Scoutmaster - all while earning a living in a series of unfulfilling jobs.

5. Having been selected as an Ordination candidate I went to Theological College only to find that my vision of the where's, what's and how' of worship, theology and the work of a priest was no longer the vision of those then running the church and sadly I had to give that up - and went back to unfulfilling jobs .....

6. I joined the Fire Service looking for thrills, adventure and the opportunity to help people while enjoying the work. It nearly didn't work out, but, thankfully, marriage, three terrific kids, some damned good colleagues and a lot of really interesting work I stuck it out for thirty six years ....

7. I became a Reader in the Church of the Province of South Africa, Licensed to the Cathedral of St Andrew and St Michael, Bloemfontein in 1982 - a Licence I still hold, although I am now licenced to the Abbey Church of St Mary the Virgin, Tewkesbury, Gloucestershire and in the Diocese of Gloucester. (See - God gets you in the end no matter how far you run .... ) and to think I was told when I was asked to accept the training and the Licence that it wouldn't make many demands on my time .... It could be full time if I let it.

8. My academic high point was being awarded a Master of Arts by Coventry University in 2003. It would have surprised most of my School Masters ....
OK, those are my Random 8 - now who can I tag ....
I know, VW Bug at One Happy Dog Speaks; Skipjack at SkipjckDOTinfo and The Gorse Fox. There you go folks, let's see what that produces!
Posted by The Gray Monk at 10:18 AM | Comments (5) | TrackBack
July 13, 2007
Terrorist police?
A headline recently caught my eye. As is usual with the modern media, it screamed across the newsagents. As it is not a paper I would normally read I ignored it, but the broadsheet I buy had also picked up the story so I read their version instead. It seems that our ever blundering bureaucrats, in their eagerness to "ethnicise" our society, have really screwed up this time. Many of those they have recruited to fill their "ethnic" quotas in the Metropolitan Police, and presumably other forces as well, have links to radical Islam, terrorist groups and Al Qaida. Nice one! Talk about scoring an "own goal" - they surely don't come much more embarrassing than this. It puts the old maxim of setting a thief to catch a thief in the shade.
It's either a very cunning ploy on the part of our Home Office clowns to deploy people from within Al Qaida to catch their rivals and, hopefully leave us alone, or its the most monumental blunder these blundering buffoons have yet pulled off.
What really gets my goat is that they will all continue happily in their overpaid jobs without a whisper of censure for it or even being kicked out as they should be. And we, the long suffering tax payers will have no choice but to pay their salaries, their final salary pensions and for the massively expensive and long drawn out investigations that must now take place. And they will all get "honours" for their outstanding service.
Pass me the sick bag, I think I'm going to be ill for some time.
Posted by The Gray Monk at 09:17 AM | TrackBack
July 12, 2007
History - Irish style
Today marks the Battle of the Boyne, a rather unremarkable river in the borderlands between Northern and Southern Ireland. The battle fought here in 16-- saw the overthrow of the Stuart King's and confirmed William III and Mary II on the throne of the then very disunited kingdom. Given the Stuarts record on just about everthing (Charles II was just about the only one with a modicum of sense) it never fails to surprise me that they got the support they did in Ireland, let alone Scotland.
For Catholic Ireland all that seems to have mattered was that James II was Catholic, William was a Protestant.
James landed with an army raised in France and marched north, gathering support as he went. William seems to have been not only shrewder than his wife's brother, but the better general. He landed with his army, and skirmished back and forth until he found the place he needed. James army suffered heavily at the hands of William's regulars bolstered by the Protestant supporters and troops raised in Ulster. As is ever the case in Ireland, the battle split families, set brother against brother and set up the divisions that still sunder this beautiful land.
No doubt today will see the usual "marches" and protests. It may be worth remembering that the Orange Order was a response to the formation of the exclusively Catholic Defenders of Ireland, a forerunner of the Sinn Fein and the IRA. Feeling still runs extremely high on this issue, but perhaps it is time to start healing the wounds and allowing people to lay aside the blood and hatred of the past.
Easy for me to say? Perhaps, but let us not forget that both sides have suffered grievously in this long and troubled history and the reason I live in England and not the land of my ancestors is that my grandfather refused to be a part of that conflict any longer. I love Ireland and hate to see the divisions and the bitterness. I pray that this generation though, will see, finally, the start of a better and more harmonious future.
Posted by The Gray Monk at 09:25 AM | TrackBack
July 11, 2007
One man's meat ....
After several months of very little work, I have suddenly had a call from a client I did a small investigation for late last year. It seems that my report was sufficient for the manufacturer of the vehilce concerned to pay out quite a large sum to replace the truck. Small beer really for a manufacturer who, after all, probably simply took a vehicle off his production line and gave it to the client. Everybody seems to be happy with the outcome so I guess that is a success. But, the reason for the clients call, is he's had another fire ....
This time in a different make of truck and this time it took hold fast enough to chase the driver out of the cab. As a result I am off to the wilds of Cumbria in an hour or so (Just waiting for more information) and will not be back until late-ish tomorrow. One man's misfortune is anothers bonanza as they say.
Posted by The Gray Monk at 09:10 AM | TrackBack
July 10, 2007
Creative writing ....
In case you wondered why my posts have tended to be a bit of a mixture lately I have to confess that I have been rather busy on two fronts. First I am trying to find some paying work - as a self-employed retired person I have a pension that barely pays the mortgage and need to have a steady supply of "piece-work" to keep the bank happy. The last four months have been very lean indeed so I am putting a lot of effort into chasing every opportunity I see. So far there have been lots of promises, but little actual returns ....
Then there is the sequel to my book. Two weeks ago I finally got the sort of critical editorial review I needed. It has been generally good and helpful, the downside is that it means a major rewrite and expansion to address all the issues raised. Clue - it has gone from roughly eighty-nine thousand words to a little over a hundred thousand and I haven't finished yet!
This is a tough one to crack when you also have to chase a living - but, I haven't survived this long by quitting when things got tough.
So, heads down in the pit.
Posted by The Gray Monk at 12:03 PM | Comments (1) | TrackBack
July 09, 2007
Greetings from Überwald
Last week Mausi was send to the small town of Selb on business. Selb is situated close to the Czech border in an area that is called "Fichtelgebirge" which translates into "Mountains covered in spruce trees". When you go there you can easily see why. The sight definitely triggers an überwaldish feeling in every TP reader.
Selb is famous for its porcelain factories. The first one was built in 1857 by Lorenz Hutschenreuther, which was a piece of good fortune for the town as it had suffered severe losses during a big fire in 1856. Porcelain is everywhere in Selb, the Town Hall even has a porcelain carillon.Mausi just wonders how many attempts it took to give each bell exactly the right tune...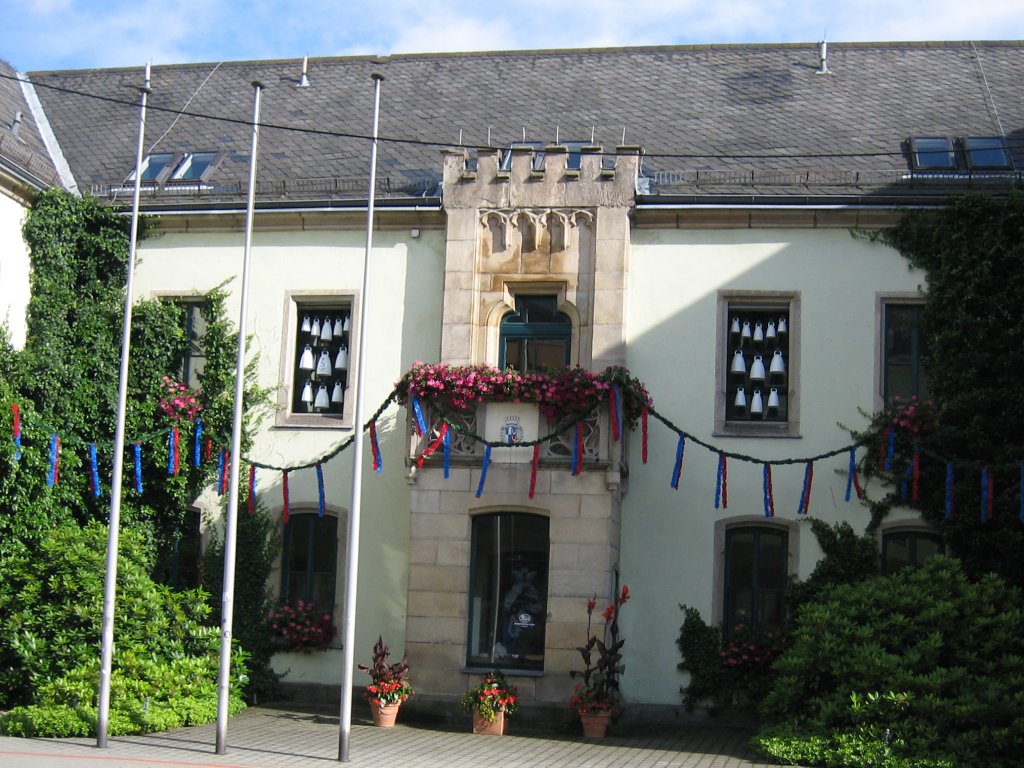 Part of the Town Hall facade with the porcelain carillon
The biggest church in the old part of Selb is the Stadtkirche, a protestant one, situated at Lutherplatz (Luther Place). It came as a bit of surprise to Mausi as Bavaria is usually a very catholic Federal State in Germany.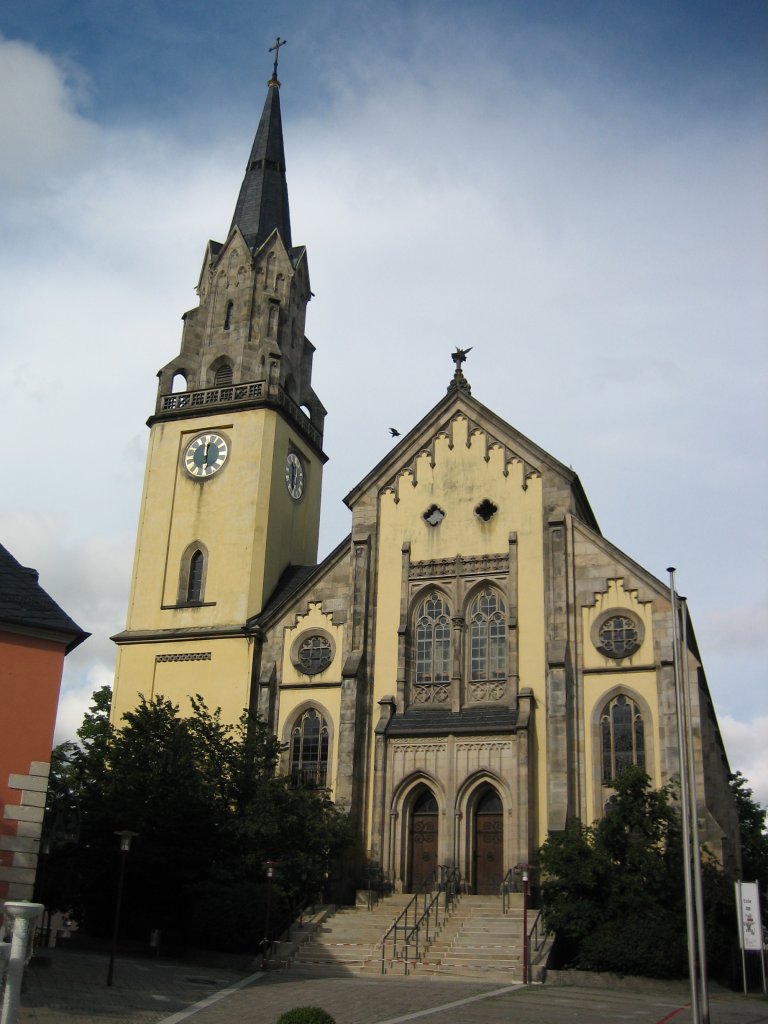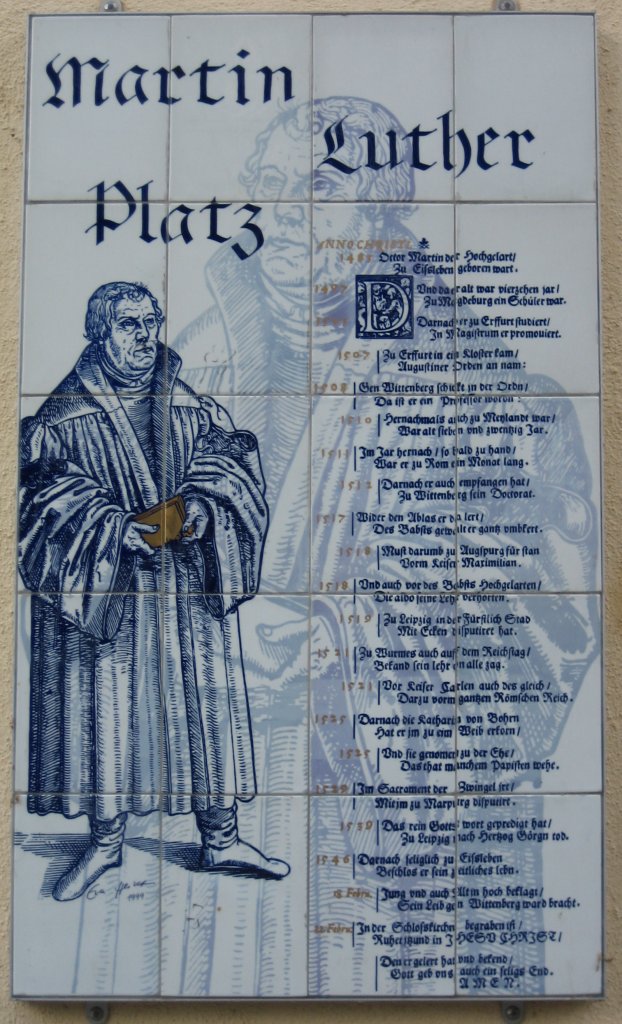 Stadtkirche and an assembly of tiles giving a short biography of Martin Luther
Selb has undoubtedly seen its best days. Some of the porcelain factories have closed down and the number of inhabitants has decreased from 24,000 to about 17,000 at the moment. Young people move to bigger towns which offer jobs and better perspectives. Mausi and her colleague had some difficulties finding a place to eat on the first evening. Most of the restaurants and pubs they passed had closed down. At last they found a nice enough looking pub and went inside. Only four people were sitting around one table, two of them the owners of the pub. When Mausi's colleague asked if they could get something to eat (it was about 7 p.m.) one of the women answered: "If I feel like cooking tonight." Definitely not the response you expect. But she then got up and vanished into the kitchen. The food, however, turned out to be quite good and the "Schwarzbier" Mausi had ordered (and which had to be fetched from an adjacent house) was delicious. Half an hour later four men turned up and sat down to play the old German game of cards called "Schafskopf". Apparently they were the only guests that were expected that evening.
It is a bit depressing when you walk through a town like that with shops on offer for sale everywhere. The only ones that seemed to thrive were hairdressers and shops for mobile phones. Hopefully, someone will come up with a bright idea before the town is abandoned for good. It's a nice little town and - as can be seen on the next photo - people try to brighten things up.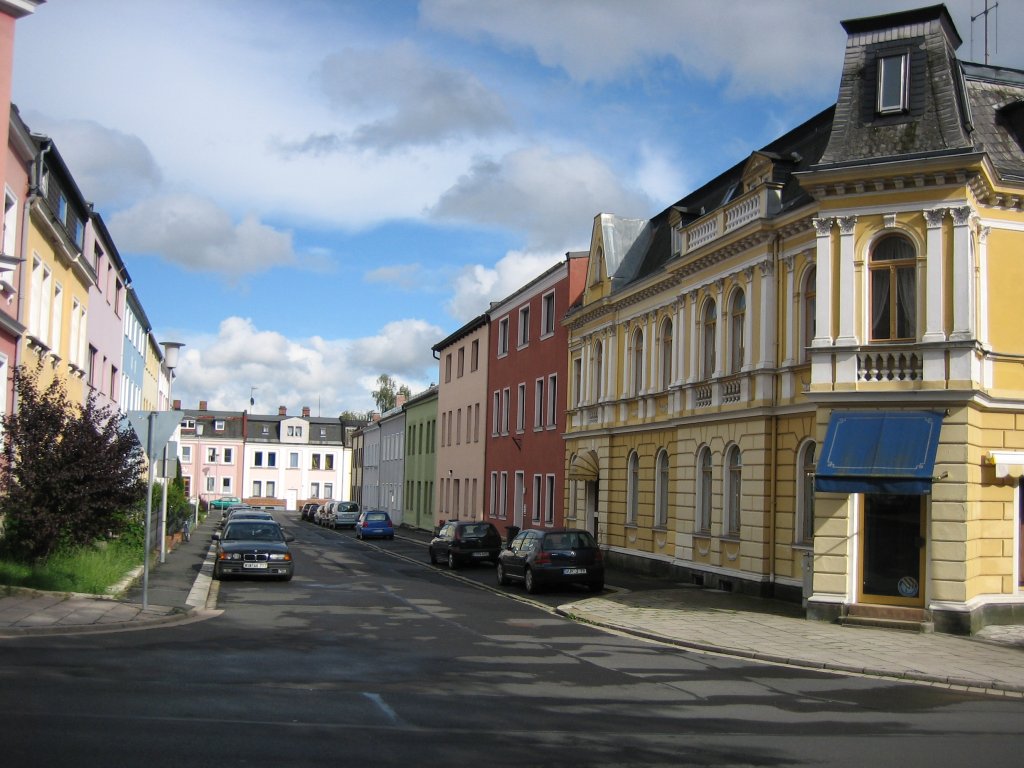 Brightly redecorated houses giving the street an almost Mediterranean flair
Walking around Mausi came across some strange sights like this house which belongs to the Rosenthal porcelain factory: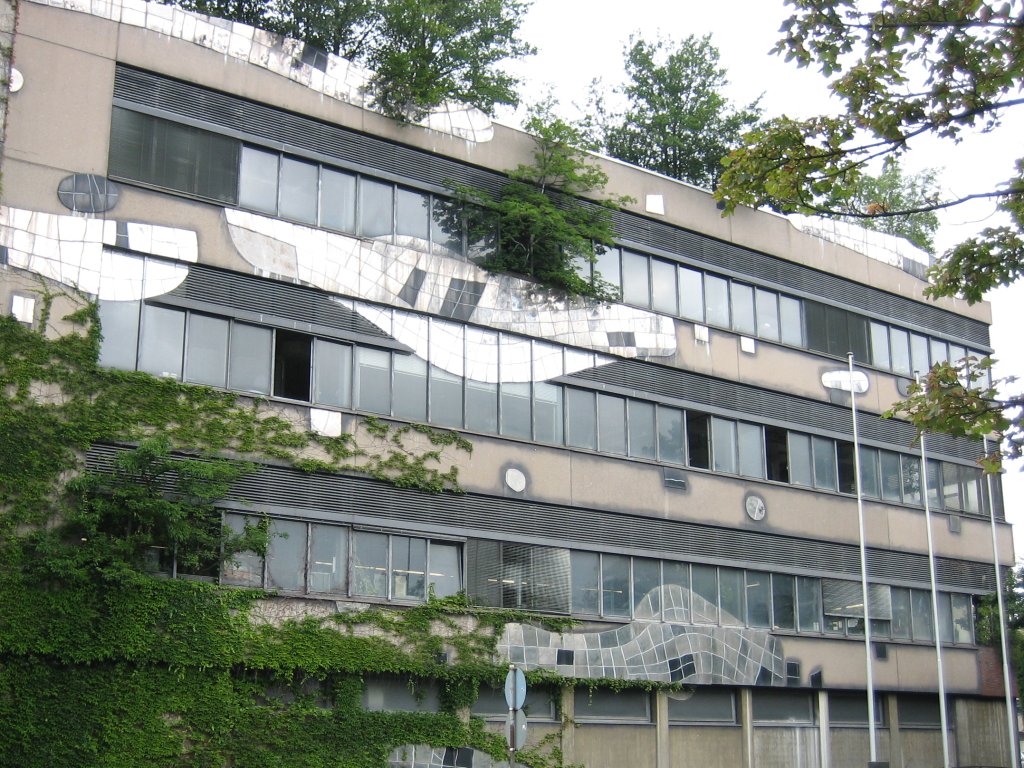 Hundertwasser facade with trees growing out of the windows
The building itself looks like it was designed in the 1970's but afterwards the facade must have been redecorated by the famous Austrian artist Friedensreich Hundertwasser. Usually his buildings display a lot more colour but this time the mosaics were probably the best he could come up with under the circumstances. One of his trademarks are trees growing on top or out of buildings.
All in all Selb has been quite an interesting experience for Mausi, both work- and townwise, and she is looking forward to another visit some time.
Posted by Mausi at 04:19 PM | TrackBack
July 08, 2007
Sunday rumbles
The Battle of Tewkesbury was fought in 1471 in May. One reason for the rout of the House of Lancaster was the fact that their troops became mired in the mud on the Bloody Meadow, then, as now, a place that is marshy and marked by a small stream that disects it. That is why the re-enactment society chose to do their re-enactment in July, when the ground is normally dry and less prone to rusting the armour. Not a bad move, until this year that is. The whole camp has had to be moved, the battle re-enactment has had to move and much fun is being had by all.
Yesterday my windows rattled repeatedly to the boom of the several "Bombards" that have come to lend authenticity (Tewkesbury was one of the earliest battles in which artillery was deployed in Britain) and the town is full of folk in medieval dress. It can be quite disconcerting - especially first thing in the morning. This year the Battle is being fought on a football pitch above the Bloody Meadow. Still on the field of battle in one sense, just a bit more level and less lumpy.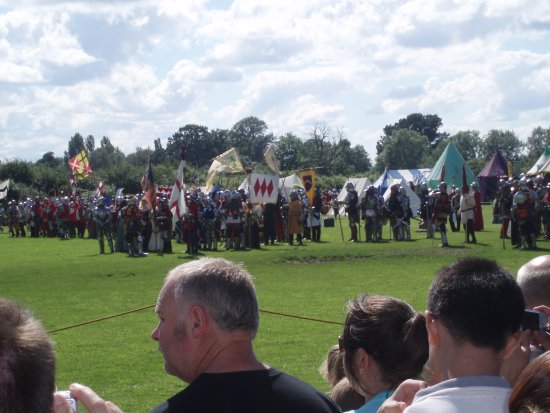 Armoured knights and men at arms form up for the Lancastrian Prince of Wales.
Asked if they were planning to watch the battle, one local remarked, "No, seen it a few times, the same side always wins."
Compline in the Abbey last night was graced by the "King" and his entourage, "Edward Lancaster" and his attendants (their heads miraculously restored to their bodies after the "beheadings" which take place in the Crescent outside the Abbey Grounds) and about a hundred other visitors. The Parish Eucharist this morning took place on the Battlefield, a small mark of memorial to the seriousness and the sacrifice of so many lives in the quest for power and wealth.
The re-enactments are fun, but we should never lose sight of the fact that many were injured, killed or stripped of all they owned in these wars. More importantly, we must ensure that we never have to walk this road again.

Posted by The Gray Monk at 01:23 PM | TrackBack
July 07, 2007
A cautionary tale
Sometimes something comes across your horizon that is worth repeating. In the extended post to this there is a reproduced copy of "The Squirrel's Tale". It is a modern Fairy Story, but the trouble is that it is one of those stories which is so close to the bone that it could almost be a Press Release - with the individuals names replaced by those of animals and insects. It really does reflect what is happening in Britain - and not just under Labour, although it is the Socialist Disease - but under every government we have had since 1945. It really does reflect the fact that hard work and prudence in managing one's affairs does not pay. There will always be some group who will see your hardearned rewards as "ill-gotten gains achieved by depriving the downtrodden".
The root of that attitude probably lies in the inequality of rewards that stemmed from the early days of the Industrial Revolution and the manner in which the labouring classes were treated. No one wants to see a return to such inequalities, but, sadly, that does seem to be the path we are now being taken down by a steady progression of ever more restrictive labour laws and the punitive taxation of those who do manage to save a little for retirement. Gordon Brown and the Treasury's breathtaking raid on Pension Funds (£8 Billion a year!) and the barefaced denial that this has had a disastrous affect on peoples lives and incomes is one example of the disconnect between Whitehall and the rest of the populace. They are genuinely convinced that their raid has not affected anyone adversely, and when presented with proof retreat behind the old mantra of "well there are bound to be some losers for the benefit of others."
I have commented on "The Squirrel's Tale" before this, but, given the recent report by the Timesonline regarding Middle Class tax evasion, it is worth commenting on it again. The scary part of this is that every example used in its compilation has a parallell in reality. Every instance has been drawn from something that has actually happened in recent years in this country. That is what makes you really sit up and take notice.
With a little luck, one day Whitehall and the gravy train passengers of Westminster might actually pay a little attention and learn something - hopefully before the entire edifice collapses about us.
A Squirrel's Tale
REST OF THE WORLD VERSION:
The squirrel works hard in the withering heat all summer long, building and improving his house and laying up supplies for the winter. The grasshopper thinks he's a fool, and laughs and dances and plays the summer away. Come winter, the squirrel is warm and well fed.
The shivering grasshopper has no food or shelter, so he dies out in the cold.
THE END
THE U.K.VERSION:
The squirrel works hard in the withering heat all summer long, building his house and laying up supplies for the winter. The grasshopper thinks he's a fool, and laughs and dances and plays the summer away. Come winter, the squirrel is warm and well fed.
A social worker finds the shivering grasshopper, calls a press conference and demands to know why the squirrel should be allowed to be warm and well fed while others less fortunate, like the grasshopper, are cold and starving. The BBC shows up to provide live coverage of the shivering grasshopper; with cuts to a video of the squirrel in his comfortable warm home with a table laden with food.
The British press inform people that they should be ashamed that in a country of such wealth, this poor grasshopper is allowed to suffer so while others have plenty. The Labour Party, Greenpeace, Animal Rights and The Grasshopper Council of GB demonstrate in front of the squirrel's house. The BBC, interrupting a cultural festival special from Notting Hill with breaking news, broadcasts a multi cultural choir singing "We Shall Overcome". Ken Livingstone rants in an interview with Trevor McDonald that the squirrel got rich off the backs of grasshoppers, and calls for an immediate tax hike on the squirrel to make him pay his "fair share" and increases the charge for squirrels to enter inner London .
In response to pressure from the media, the Government drafts the Economic Equity and Grasshopper Anti Discrimination Act, retroactive to the beginning of the summer. The squirrel's taxes are reassessed.
He is taken to court and fined for failing to hire grasshoppers as builders for the work he was doing on his home and an additional fine for contempt when he told the court the grasshopper did not want to work. The grasshopper is provided with a council house, financial aid to furnish it and an account with a local taxi firm to ensure he can be socially mobile. The squirrel's food is seized and re distributed to the more needy members of society, in this case the grasshopper.
Without enough money to buy more food, to pay the fine and his newly imposed retroactive taxes, the squirrel has to downsize and start building a new home. The local authority takes over his old home and utilises it as a temporary home for asylum seeking cats who had hijacked a plane to get to Britain as they had to share their country of origin with mice. On arrival they tried to blow up the airport because of Britain 's apparent love of dogs.
The cats had been arrested for the international offence of hijacking and attempt bombing but were immediately released because the police fed them pilchards instead of salmon whilst in custody. Initial moves to then return them to their own country were abandoned because it was feared they would face death by the mice. The cats devise and start a scam to obtain money from peoples credit cards.
A Panorama special shows the grasshopper finishing up the last of the squirrel's food, though spring is still months away, while the council house he is in, crumbles around him because he hasn't bothered to maintain the house. He is shown to be taking drugs. Inadequate government funding is blamed for the grasshopper's drug 'illness'.
The cats seek recompense in the British courts for their treatment since arrival in UK .
The grasshopper gets arrested for stabbing an old dog during a burglary to get money for his drugs habit. He is imprisoned but released immediately because he has been in custody for a few weeks. He is placed in the care of the probation service to monitor and supervise him. Within a few weeks he has killed a guinea pig in a botched robbery.
A commission of enquiry, that will eventually cost £10,000,000 and state the obvious, is set up.
Additional money is put into funding a drug rehabilitation scheme for grasshoppers and legal aid for lawyers representing asylum seekers is increased. The asylum seeking cats are praised by the government for enriching Britain 's multicultural diversity and dogs are criticised by the government for failing to befriend the cats.
The grasshopper dies of a drug overdose. The usual sections of the press blame it on the obvious failure of government to address the root causes of despair arising from social inequity and his traumatic experience of prison.
They call for the resignation of a minister.
The cats are paid a million pounds each because their rights were infringed when the government failed to inform them there were mice in the United Kingdom .
The squirrel, the dogs and the victims of the hijacking, the bombing, the burglaries and robberies have to pay an additional percentage on their credit cards to cover losses, their taxes are increased to pay for law and order and they are told that they will have to work beyond 65 because of a shortfall in government funds.
THE END
Posted by The Gray Monk at 12:36 PM | Comments (1) | TrackBack
July 06, 2007
Glasgow's response to terror ....
I think if I were a terrorist, the last people I would want to go up against are the Glaswegians .....
I once took a bus from Paisley to Anderson Street Station and made the mistake of asking the Conducter if he could tell me if I had to change anywhere as I had been warned I would probably need to do so. I needed an interpreter to explain to me what had been said. If I am honest it was not my first encounter with the Glaswegian dialect, that had come many years before as an ambulanceman, when we picked up two matelots who had been mugged and robbed. The fight when we unloaded them in Casualty (Now called A&E) and inadvertently placed them alongside their original attackers was the stuff of which legends are made. It took the Military Patrol and five Constables to quell the resulting battle. And it is also the first time I have seen someone go from near death (if you believed the list of injuries supposedly suffered) to battle crazed berserker in a split second - and I come from a family of berserkers ..... And the list of injuries suffered by the matelots original assailants post the battle was medical history.They still talk about it at the hospital in hushed tones and it's now more than thirty years ago. Their Commander told us later in cut glass accents that they were from the Gorbels. Those who know Glasgow will understand that reference, the Gorbels was the toughest of the toughest districts in that city. The Military Patrol told us the only way to stop someone from there was to take his head off and then sever all his limbs. He might stop fighting once you'd done that.
They're hard men up there in Glasgow - and you wouldn't want to be caught by them if you've annoyed them ....
So the following bit of fun was sent to me by my eldest daughter - and I make no apologies for reproducing it here. While the US is the butt of this passage it could just as easily be anywhere else - but the quotes from the Glaswegian end are typical.
Differing responses had this happened in a US airport, compared to Glasgow Eyewitness accounts.

America:"Oh my God! There was a man on fire, he was running about, I just ran for my life. I thought i was gonna die, he got so close to me"

Glasgow "Bawbag wis running aboot on fire, so a ran up n gave him a good boot, then decked him"

America:" I just wanna get home, away from here. I just wanna get home, I thought i was gonna die"

Glasgow:" here shug, am no leaving here till am oan a f*ckin' plane!"

America:" there was pandemonium, people were running in all directions, we didn't know what was happening thought i was gonna die"

Glasgow:"F*ck this fir a kerry oan, moan we ll get a pint in"

America:" We thought he was gonna blow us all up he had a gas canister, and was trying to get into his trunk, I thought we were gonna die, I just ran for my life"

Glasgow:"a swaggered by the motor that wis on fire, and the dafty couldnae even open his boot, he wis in fire annaw so a ran up n gave him a good boot to the baws"

America: there was this huge explosion, it sounded like war, I thought I was gonna die"

Glasgow:" There wis a bang, yi know when yi throw BO basher intae a fire it wis like that"

America:" I'm too traumatized even to speak, I thought I was gonna die"

Glasgow "here mate, gies 2 minutes till a phone ma auld dear, if am gonna be oan the telly a want her tae tape it"

& finally, two quotes from an eye-witness......... John Smeaton (these are real)

John just surpassed himself on the National ITV news. The interviewer asked "What message do you have for the bombers" - he replied "This is Glasgow we'll just set about you"

John did an interview on CNN and they asked how he restrained the guy and he said "me and other folk were just tryin to get the boot in and some other guy banjoed him" !
I didn't originate this and I'm pretty certain that there would be people in the US who would respond differently - I know a few anyway - but I did enjoy the Glaswegian attitude displayed here - and which I have seen on TV coverage of the event.
For the record:
Deck = means to punch to the ground.
Boot = to kick (usually aimed at the head!) It can also mean to trip so as to put victim on the ground and re-apply ...
BO Basher = Deodorant spray can
Baws = sensitive part of the male anatomy
Banjo = Go figure!

Posted by The Gray Monk at 05:03 PM | Comments (1) | TrackBack
July 05, 2007
What's in a name?
I recently commented that the River Avon which joins the Severn at Tewkesbury is one of four Avons in England. The question is why are there four? After all, it can't be that the "explorers" got confused, they are fairly obviously different rivers!
The simple answer is that it is all the fault of the Roman invaders. In typical fashion (one that British explorers at the height of Empire emulated) they would march up to a local and demand, probably in Latin, "What do you call this river?" The local, quite possibly deliberately misinterpretting the question would reply - "Its called a River. Don't you have them where you come from?" To really appreciate the joke I suppose you also have to know that the word for "River" in Brythic, the language spoken by the Brits before 43 AD, is "Affon".
The superior Roman cartographer would then dutifully note that the river he was looking at was the "River Affon" and move on, probably to ask the next local "What do you call that hill?" - only to get a similar reply.
You don't want to know how many "Hill" Hills there are around here ..........
Posted by The Gray Monk at 11:25 AM | Comments (1) | TrackBack
A coffee spill laugh ...
Reading The Gorse Fox I came across a priceless story which he has picked up in the Sunday papers. It concerns a broken down car, an RAC repairman, the wife of the car owner who tried to spare his blushes ....
Oh, just go here and read it yourself. Don't hold any liquids while you do so! You have been warned!
Posted by The Gray Monk at 06:30 AM | TrackBack
July 04, 2007
Independence Day in the US of A
Happy Birthday to the United States of America.
Have fun, but we should, I suppose, warn you that making tea with sea water is really not on no matter how big the party. But you probably figured that out already. Oh, and Baseball isn't Cricket, Football isn't really and it isn't Rugby Football either. Still, you're a pretty inventive bunch, so I guess you're entitled to amend the rules for some games from time to time.
What the heck, enjoy your day.
Posted by The Gray Monk at 09:17 AM | TrackBack
July 03, 2007
A very Middle Class revolt?
The Timesonline recently published an item discussing the fact that many "middle class" taxpayers are cheating on their taxes. Having read the item I had a small smile at the irony since the present government purports to be mainly middle and working class and are therefore now criminalising their own. While the Times writer suggested that the Middle Classes are rebelling I am not so sure. After all, they are the people who voted for a government that wanted to redistribute wealth through "fair" taxes and who supported the "fair" concept of a society based on the respect for the rights of all "minorities" even where this disadvantaged the majority.
A commentator (in the extended post below) suggests that this is a sign of a rebellion in the middle classes at being constantly over burdened with regulations, taxes and nannying. Again, I am not so sure, I think this is more about the exercise of power - the dominance of ideas. Suddenly I think the middle classes - the professionals such as lawyers, doctors, small businessmen and women, accountants and bankerrs are waking up to the fact that they have been conned. What has happened in our society is a subtle shift of power away from the electorate to a coterie of semi-dynastic fulltime politcians and civil servants. The electorate and the taxpayer no longer has a say in what is fair, reasonable or affordable, that is all decided by a small and powerful group in Westminster and Whitehall.
So, is this a middle class revolt? I would say not yet, but I suspect it could become one very rapidly if they see themselves further disadvantaged in favour of other "empowered" groups favoured by this government, and increasingly, by the "New Conservatives" of David Cameron.
Watch this space, we live in a precariously balanced house of cards. One clumsy move by the politicians or the civil service could bring the whole thing crashing about our ears. Then the only winners will be the modern Vanadls, Huns, Goths and Visigoths this government has been so assidiously courting from decades, for they already have positions within the corridors of power. Put there by the policies of "affirmative action" and "positive" discrimination - the very things the Middle-class has now come to recognise as a threat to their future and their children's futures. And the real irony of that is that these same Middle-class voters and taxpayers thought they were being terribly "liberal" in supporting them.
It can't happen here? I suggest a reading of the history of Rome from 400 to 480 AD. It was the collapse of the Middle Classes then that triggered the total collapse of the whole edifice.
The article suggests that this is a form of rebellion,' I suspect these misdemeanours are an expression of middle-class resentment and revolt. Society, they might feel, hasn't been so civil to them, so they are becoming less civil to it. This is not immorality, necessarily; it is civil disobedience.
A civil society is based on common consent and shared respect. That means, among other things, that civic virtue must be fairly rewarded.
Taxpayers and law abiders should be consulted and respected and enjoy the returns of good behaviour. They should be able to feel their efforts benefit themselves as well as others and they should be able to take pride in both. When they no longer do, their inclination to civic virtue will be undermined. They will become demoralised and disaffected and sooner or later will start breaking rules and laws they no longer consent to; illegal fox-hunting is an example.'

Posted by The Gray Monk at 08:45 AM | TrackBack
July 02, 2007
Terror in our midst.
I should think the Police deserve our praise for the quick way in which they have managed to home in on the suspects for the attempted bombings. Considering that they started out without anything to go on other than the cars and their contents they have done a remarkable job. It will have been helped by the capture of two injured bombers at Glasgow airport, but it is still a remarkable job.
It remains to be seen what these idiots hoped to achieve and precisely what their plan was, although I would suspect that it was supposed to be a co-ordinated attack with the cars in London going off at the same time as the attack in Glasgow. It may even have been the intention to recover the London cars and drive them into some target in a suicide attack. All will no doubt come out in the wash eventually.
In the meantime we have to be vigilant, we have to be unafraid and we have to weed out this enemy lurking in our midst and all those that support and conceal them. There is no excuse for this sort of cowardly attack on civilians.
Posted by The Gray Monk at 07:02 AM | Comments (2) | TrackBack
July 01, 2007
Angel orchestra
One of the glories of Tewkesbury Abbey is its great vaulted nave roof. Sixty five feet from the ground it is admittedly difficult to see without getting a crick in the neck, but it is very well worth the effort. The "Bosses" which lock and decorate the intersections of the vault "ribs" are all individual and colourful with the central spine all bearing scenes from the life of Christ. On either side of the Gospel story, an orchestra of angels all accompany the story on a variety of medieval (and some very much earlier!) instruments.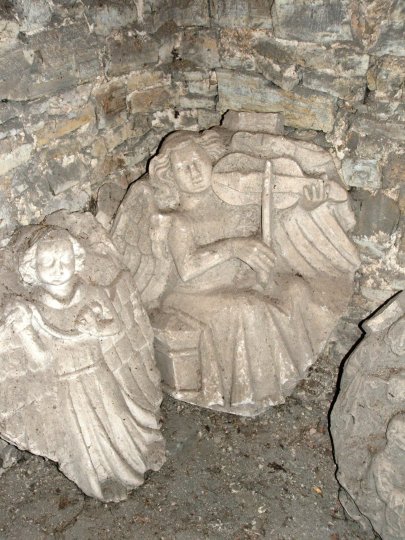 This plaster cast of one of the bosses shows an angel playing a medieval violin called a "Reebeck". The cast barely does ijustice to the real one which is brightly painted.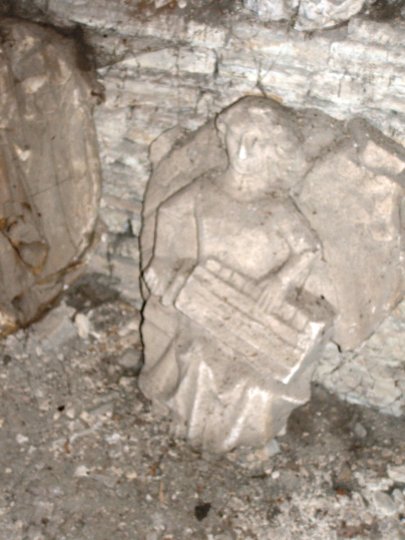 A portable organ - called a "Regale" it had free beating reeds rather than pipes and is played by pulling sliders out to sound the note. The crank operated a small bellows which provided the wind for the instrument.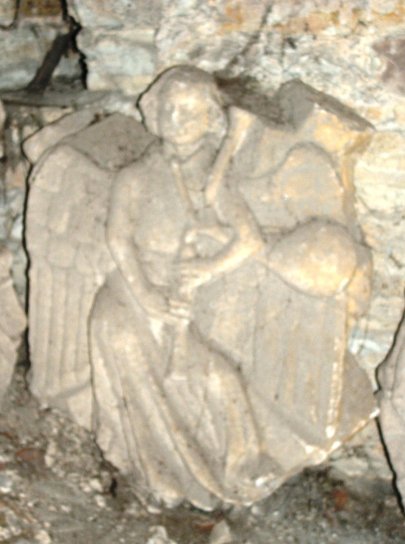 Love them or hate them, the bagpipes have been around for some time - and may have even found a place in heaven!
These plaster casts of the real bosses do not do them full justice, the originals are fabulous. What I have long found fascinating is the fact that many of the angels seem to be playing instruments more closely associated with Ireland - several of the harps are clearly Irish and not Welsh - suggesting that the carvers were brought here from Ireland. That would make sense since the principal family involved in the endowment of the Abbey are the de Clares. Those who know their Irish history will know of Strongbow - one Richard de Clare, conqueror of Ireland for the Norman Henry II (After Henry reminded him that he was a vassal of Henry's!) and the Lord of County Clare.
Do pay the Abbey a visit if you are in this area, it is always a rewarding experience.

Posted by The Gray Monk at 11:34 AM | Comments (2) | TrackBack