« Sunday rumbles | Main | Creative writing .... »
July 09, 2007
Greetings from Überwald
Last week Mausi was send to the small town of Selb on business. Selb is situated close to the Czech border in an area that is called "Fichtelgebirge" which translates into "Mountains covered in spruce trees". When you go there you can easily see why. The sight definitely triggers an überwaldish feeling in every TP reader.
Selb is famous for its porcelain factories. The first one was built in 1857 by Lorenz Hutschenreuther, which was a piece of good fortune for the town as it had suffered severe losses during a big fire in 1856. Porcelain is everywhere in Selb, the Town Hall even has a porcelain carillon.Mausi just wonders how many attempts it took to give each bell exactly the right tune...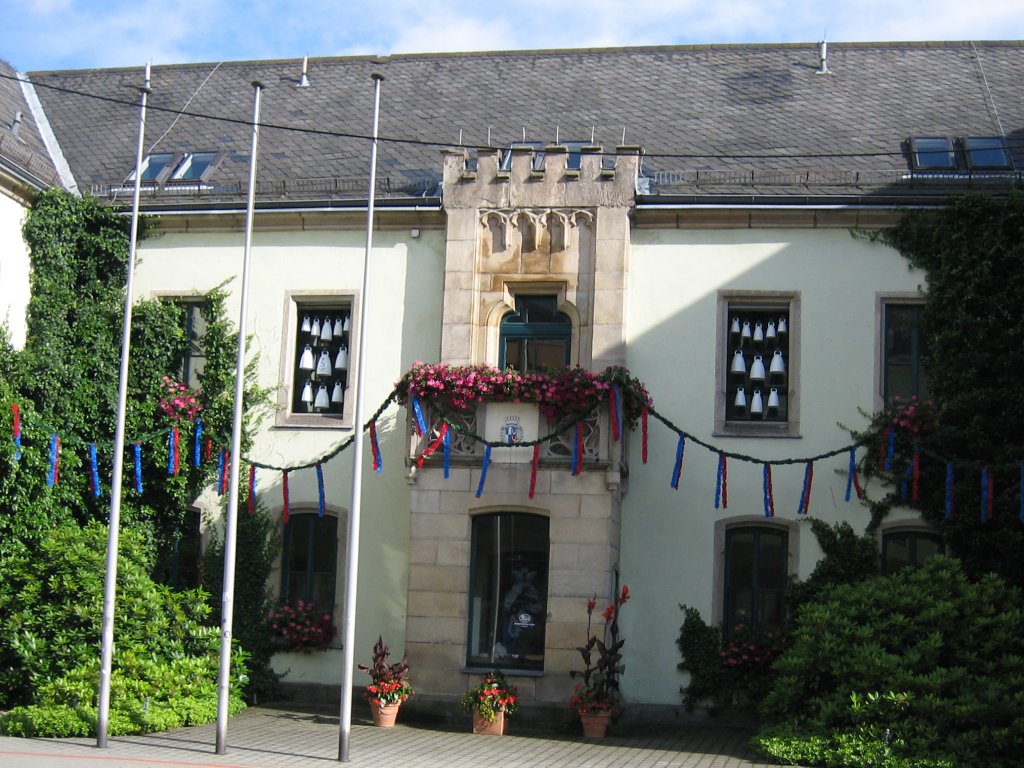 Part of the Town Hall facade with the porcelain carillon
The biggest church in the old part of Selb is the Stadtkirche, a protestant one, situated at Lutherplatz (Luther Place). It came as a bit of surprise to Mausi as Bavaria is usually a very catholic Federal State in Germany.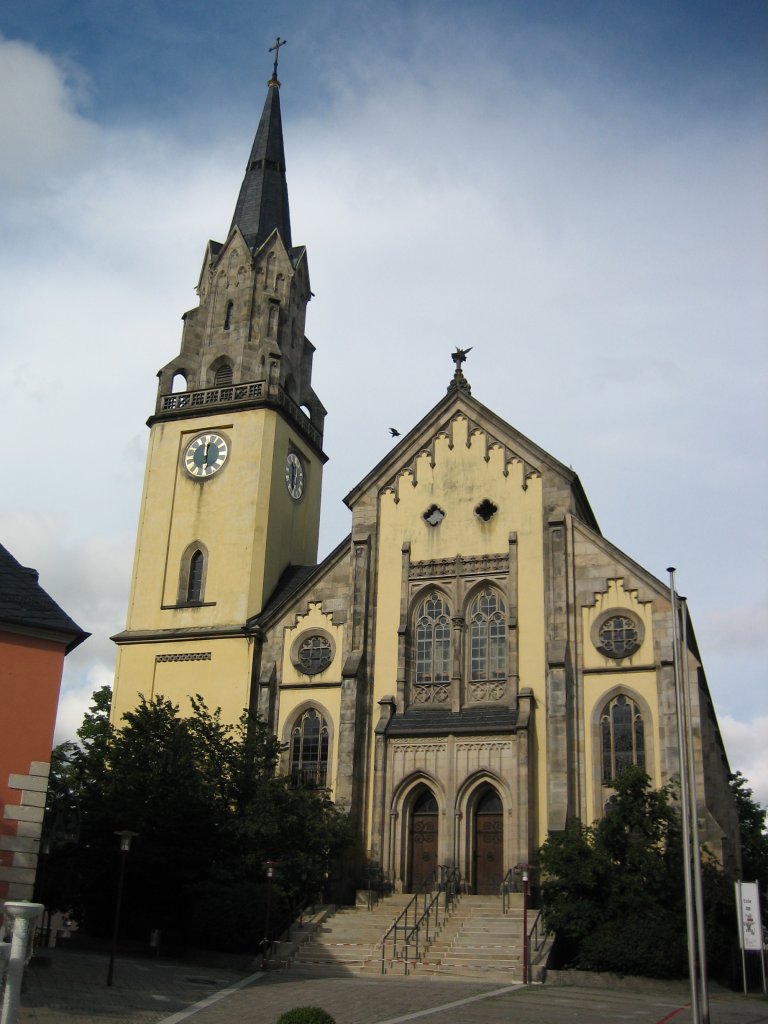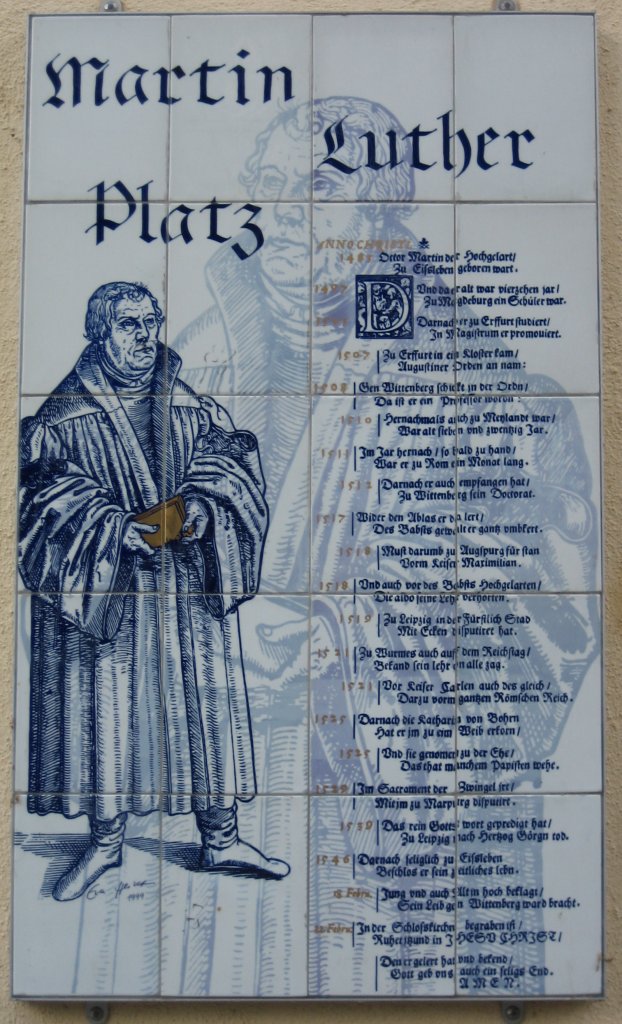 Stadtkirche and an assembly of tiles giving a short biography of Martin Luther
Selb has undoubtedly seen its best days. Some of the porcelain factories have closed down and the number of inhabitants has decreased from 24,000 to about 17,000 at the moment. Young people move to bigger towns which offer jobs and better perspectives. Mausi and her colleague had some difficulties finding a place to eat on the first evening. Most of the restaurants and pubs they passed had closed down. At last they found a nice enough looking pub and went inside. Only four people were sitting around one table, two of them the owners of the pub. When Mausi's colleague asked if they could get something to eat (it was about 7 p.m.) one of the women answered: "If I feel like cooking tonight." Definitely not the response you expect. But she then got up and vanished into the kitchen. The food, however, turned out to be quite good and the "Schwarzbier" Mausi had ordered (and which had to be fetched from an adjacent house) was delicious. Half an hour later four men turned up and sat down to play the old German game of cards called "Schafskopf". Apparently they were the only guests that were expected that evening.
It is a bit depressing when you walk through a town like that with shops on offer for sale everywhere. The only ones that seemed to thrive were hairdressers and shops for mobile phones. Hopefully, someone will come up with a bright idea before the town is abandoned for good. It's a nice little town and - as can be seen on the next photo - people try to brighten things up.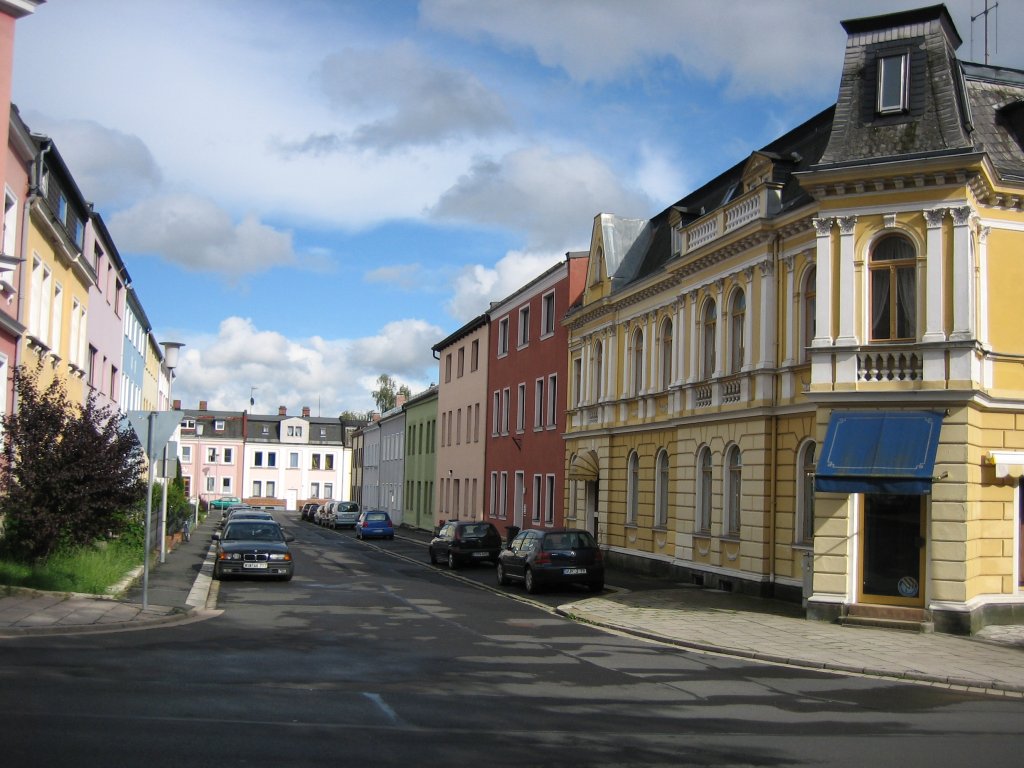 Brightly redecorated houses giving the street an almost Mediterranean flair
Walking around Mausi came across some strange sights like this house which belongs to the Rosenthal porcelain factory: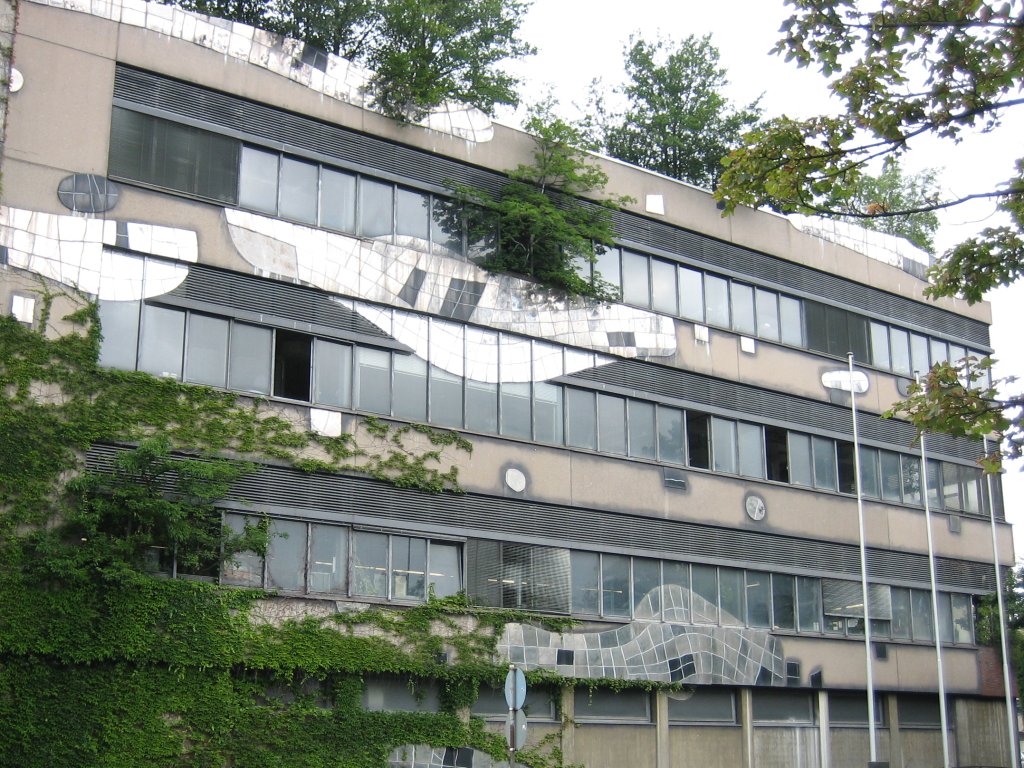 Hundertwasser facade with trees growing out of the windows
The building itself looks like it was designed in the 1970's but afterwards the facade must have been redecorated by the famous Austrian artist Friedensreich Hundertwasser. Usually his buildings display a lot more colour but this time the mosaics were probably the best he could come up with under the circumstances. One of his trademarks are trees growing on top or out of buildings.
All in all Selb has been quite an interesting experience for Mausi, both work- and townwise, and she is looking forward to another visit some time.
Posted by Mausi at July 9, 2007 04:19 PM
Trackback Pings
TrackBack URL for this entry:
http://mt3.mu.nu/mt/mt-tb.cgi/5085