« You can't be serious Mr Blair! | Main | The City of Helsinki »
June 25, 2006
Church without Bells
During the Helsinki conference I passed Tempelliaukio Square each morning on my way from the hotel to Finlandia Hall. Part of this square is the famous "Rock Church" planned and built in the 1960's. The idea of building in church in this spot dates back as far as the very beginning of the 20th century. It took, however, about 30 years for a building plan to evolve that everyone could agree on. Excavation work began in 1939 but was stopped by the Winter War. After the war, it was decided to make a fresh start: another architectural competition was launched which was won ty the brothers Timo und Tuomo Suomalainen and led to the present design. It is considerably smaller than the first ideas that went for a cathedral but spectacular none the less.
The church was quarried directly into bedrock which crops up in various places all over Helsinki. The idea behind this was to preserve this rock formation and consequently the church had been built into the rock as far as possible. The outer stone wall surrounding the curch is nade if quarried stones held together by steel bindings. It shields the church quite effectively from street noise and from people walking on the rock above.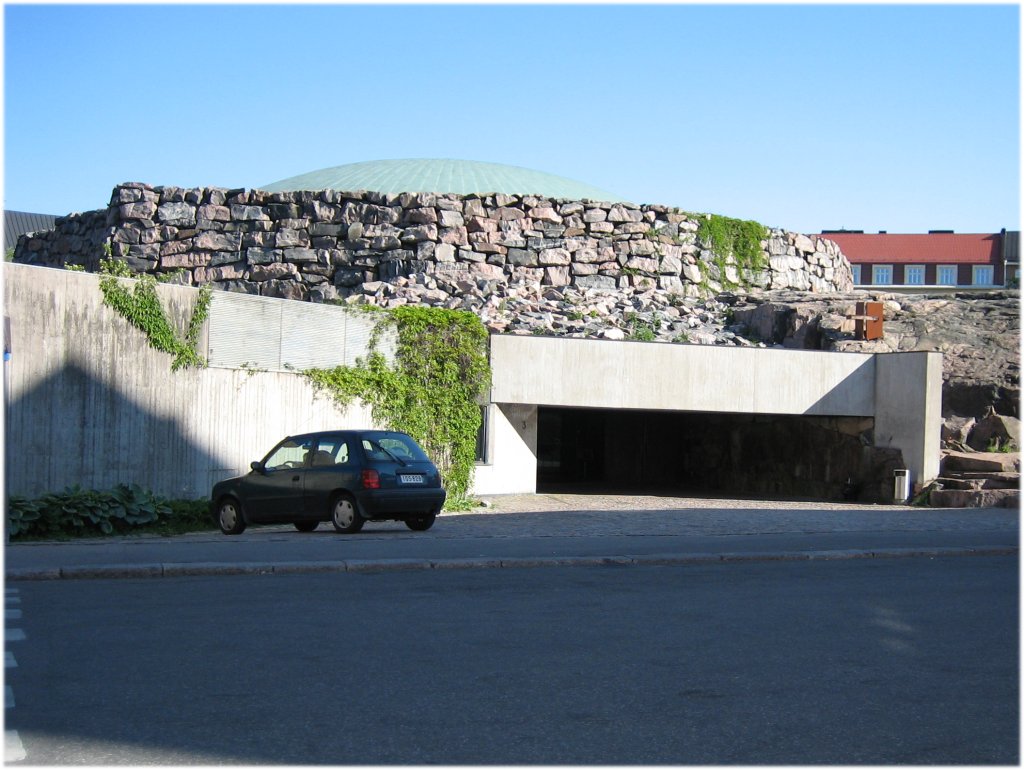 Entrance to Temppeliaukio Church
The entrance to the church is at street level which creates the impression of entering a cave and transports you right back in time to meetings of the first Roman Christians in the catacombs. After passing through a short corridor, however, you are standing in a pool of light inside the church itself.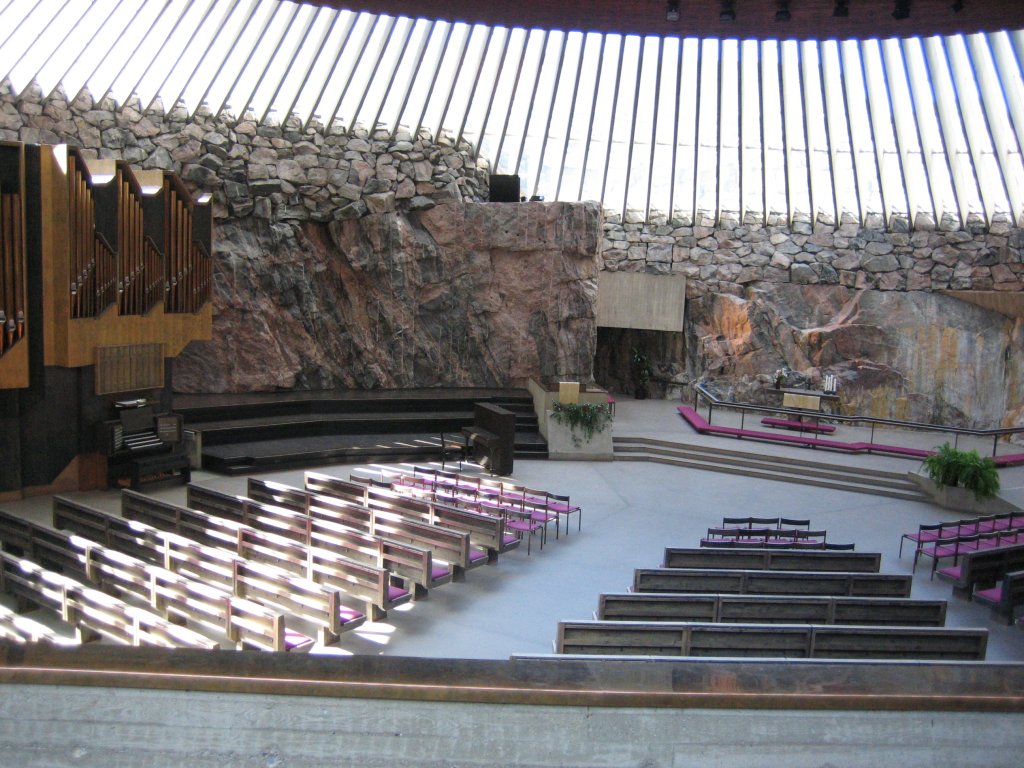 Inside the rock
The church seems much bigger from the inside than it looks from outside and provides seats for no less than 750 people. The roof consists of a copper dome attacked to the rock by reinforced concrete beams of various sizes. 180 skylights are embedded between the beams allowing the light to literally flood the room.
The walls inside are bedrock and quarried stone, the colour of the predominant red granite giving the whole room a very warm and welcoming atmosphere. The surface has been left rough for acoustic and aesthetic considerations. I would have loved to hear the organ being played in there but wasn't that lucky. Quite a unique feature is water being allowed to run through cracks in the rock face of the walls and led away through covered drains in the floor. And the altar wall is formed by an ice-age rock crevice. It seems to me that nature has found a way of easily coexisting with man in this church or perhaps vice versa?
Man put his hand to the flinty rock,
and overturns mountains by the roots.
He cuts out channels in the rocks,
and his eye sees every precious thing.
He binds up the streams so that they do not trickle,
and the thing that is hid he brings forth to light.
But where shall wisdom be found?
And where is the place of understanding?
God understands the way to it,
and he knows its place.
For he looks to the ends of the earth,
and sees everything under the heavens.
And he said to man,
"Behold, the fear of the Lord, that is wisdom,
and to depart from evil is understanding."
Job 28:9-12,23-24,28
Posted by Mausi at June 25, 2006 06:58 AM
Trackback Pings
TrackBack URL for this entry:
http://mt3.mu.nu/mt/mt-tb.cgi/4425