« Memories of travels past .... | Main | Polish travels .... »
March 13, 2006
Memories of a fun career .....
This time last year I was among very good friends in Kentucky on a valuable and really useful "tutor exchange". I wish I was back there this year, but pressures of work prohibit it completely for the moment! Still, my thoughts are very much there as several of my friends are now busily engaged in delivering another of their excellent seminars in Richmond.
The painting below is one that took my fancy when I was there for several reasons, not least that it reminded me of several fires during my early career, and of the apparatus that we then managed to do the job with. It was not unusual to see appliances with their "bonnets" (or in the US "hoods") raised in this way - if you were pumping for extended periods the engine needed all the cooling it could get!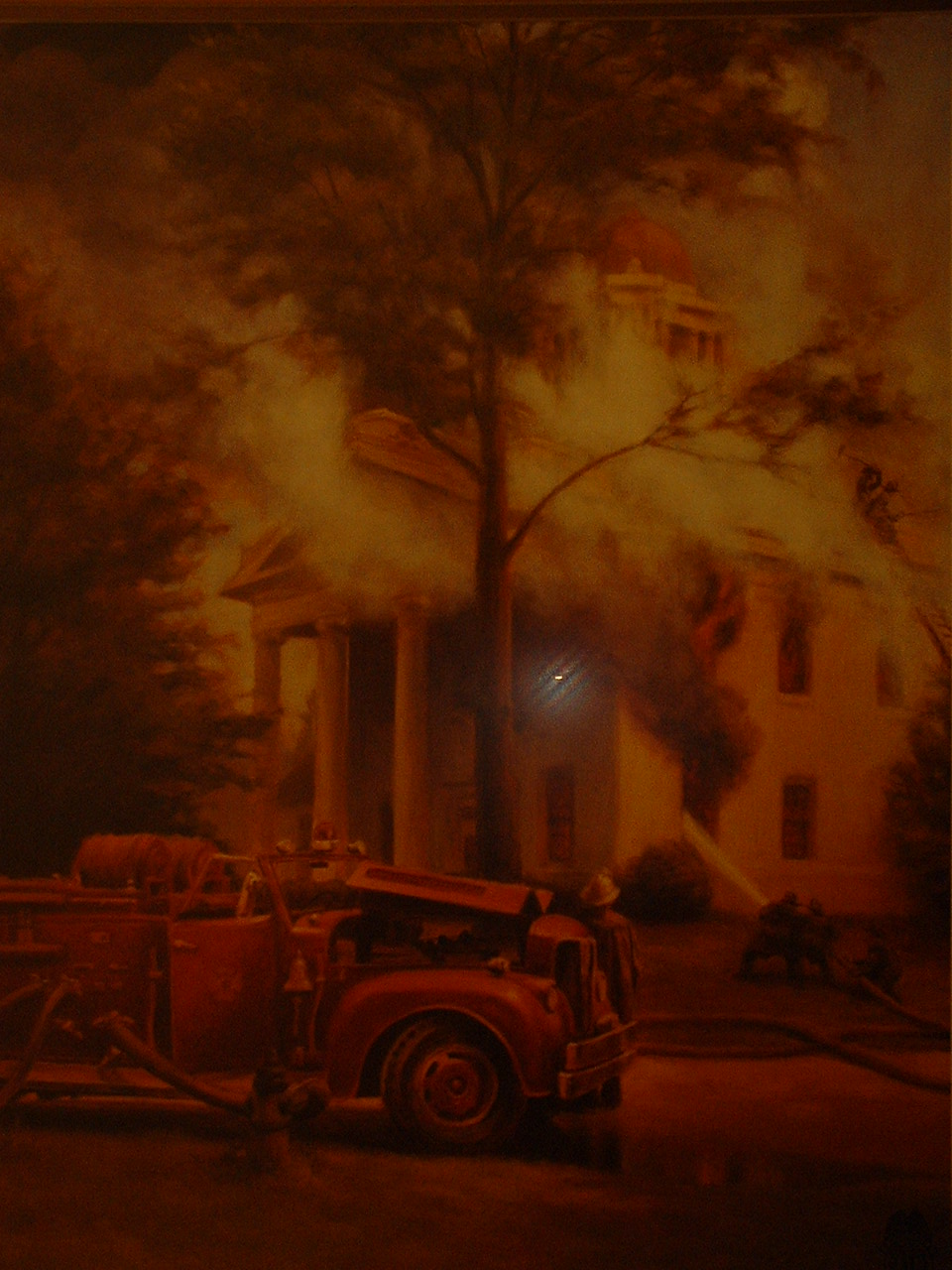 A painting of a fire scene in the late 1950's in the US, note the raised bonnet flaps - done to increase air movement and improve cooling on appliances that had no secondary cooling system fitted!
While the painting is of a fire at least 20 years before my own career took off, there were still appliances like this one "on the run" until the late 1970's when diesel powered units gradually replaced the petrol engines we had used until then. One reason we were slow to adopt diesels where I worked was down to the fact that our pumps needed to run at a higher "speed" than the diesel engines then fitted to vehicles generally produced. This changed in the 1970's as more light weight diesel engines capable of higher speeds and quicker acceleration became available.
The sight of a raised bonnet also became gradually less common as the appliances were fitted with secondary colling systems which had heat exchangers fitted to the gearbox oil, the sump and the radiator and diesel engines are generally cooler running than petrol units. Water for the secondary cooling comes from the fire pump while it is pumping and circulates through a closed loop system back to the pump where it is discharged as part of the hosestream.
Altogether now - "Aaaah, those were the days ....."
Posted by The Gray Monk at March 13, 2006 08:05 AM
Trackback Pings
TrackBack URL for this entry:
http://mt3.mu.nu/mt/mt-tb.cgi/4020
Comments
Post a comment