« Galway | Main | They are definitely among us - but where do they work? »
May 01, 2007
Back to the saltmines ...
Saturday afternoon Mausi's three weeks holiday came to an end. Mausi's had a great time during these weeks on the British Isles, and - as always - they were gone much too quickly. Mausi likes Birmingham Airport, it's much smaller than Frankfurt in Germany, much less busy, and check-in never is a problem. Except that big backpacks have to be carried around to the oversize luggage counter because the straps get hooked and mess up the automatic luggage transport system - but okay, the airport is not very big so it's no real problem.
Passing through the hand luggage control was quite entertaining. Having to take out one's laptop of a tightly packed little rucksack and squeeze it in again afterwards is a bit of a nuisance. But it got even better. Mausi had almost to do a complete striptease: coat, jumper, belt, wristwatch, pocket contents, even her shoes had to through onto the conveyor belt. At least she passed the metal detector without problems. Then she had a great time watching fellow travelers passing through the metal detector gate. Some must have been wearing quite an amount of jewellery under their clothes for the gate never stopped beeping.
The plane back to Frankfurt was only half full and Mausi had a row of three seats all to herself - unexpected luxury! Apart from a few turbulences the flight went well and on schedule. The pilot, however, was one of those no-nonsense persons who believe in coming down straight and swiftly onto the runway and then hitting the brakes full force. While the plane was rattling on to a stop Mausi asked herself if they hadn't missed the runway altogether - it decidedly felt like going cross country.
Mausi's garden has used her absence to grow into a wilderness.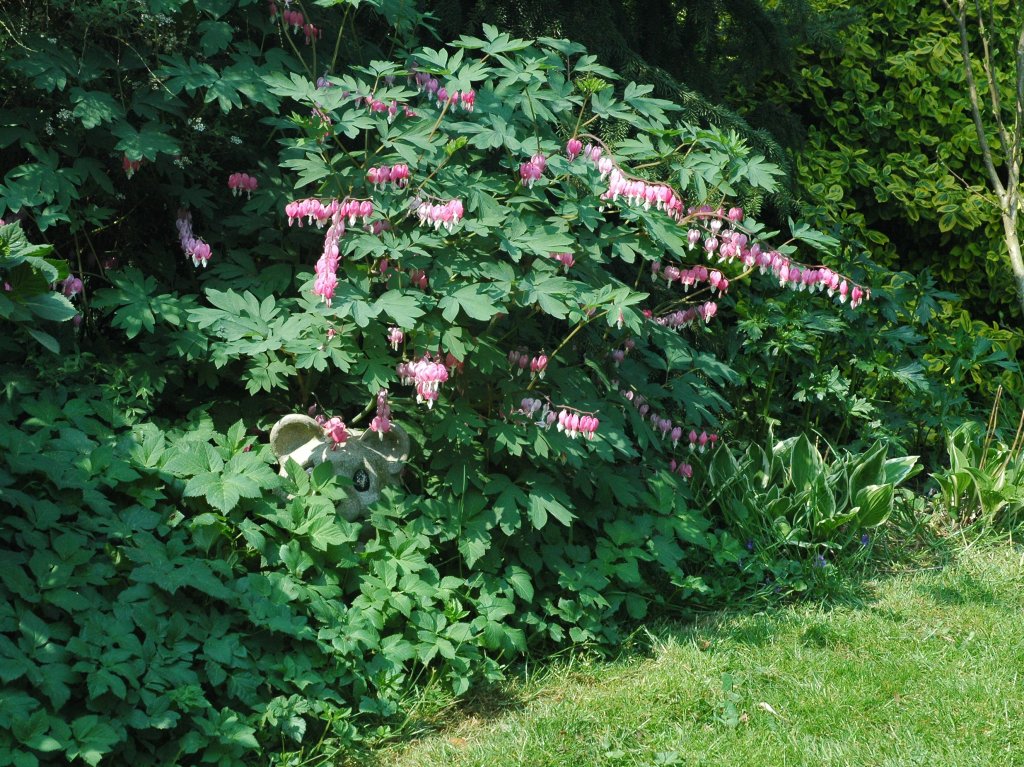 The little bear can hardly peer out from under the Bleeding Heart, also known as Dutchman's Trousers
Suddenly everything seems to have exploded into blossom, except for the rhododendrons. They always take a little longer around here. But the wild lilac and the snowball make more than up for it.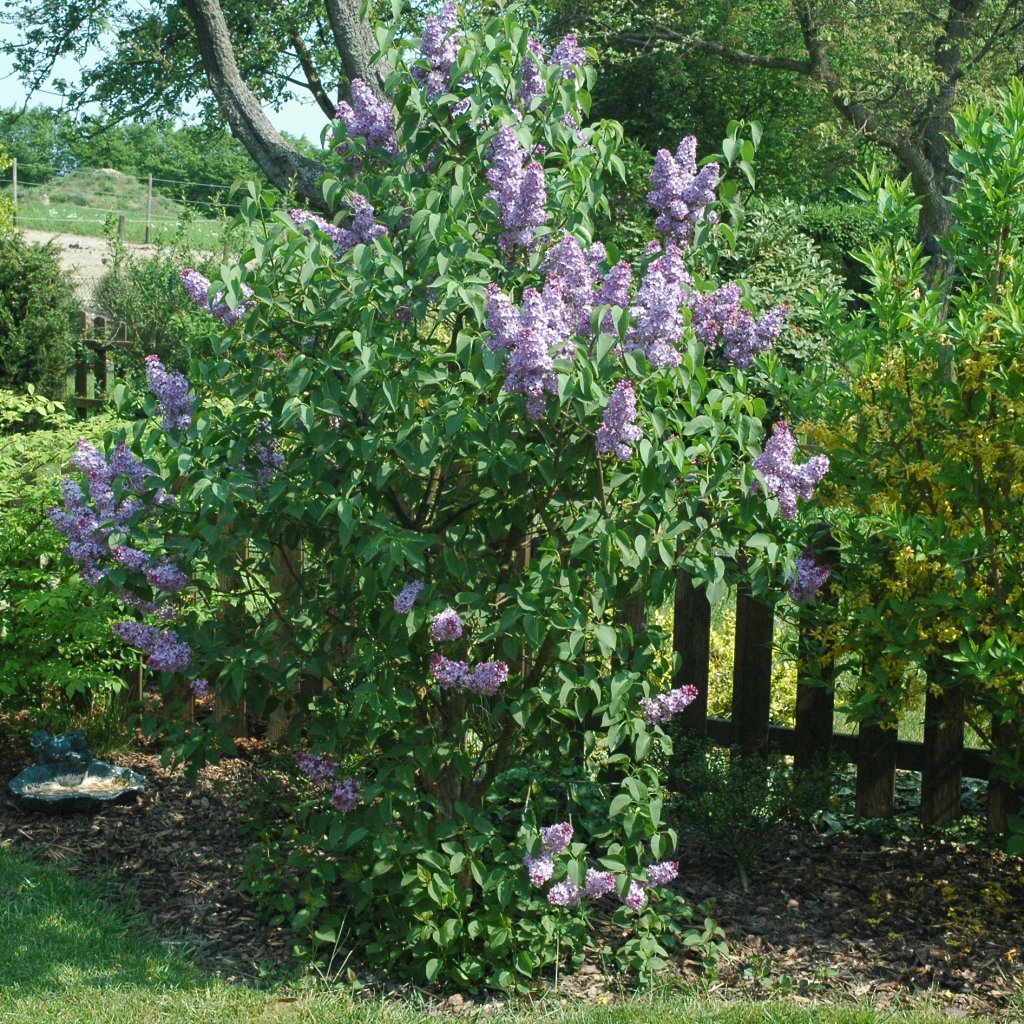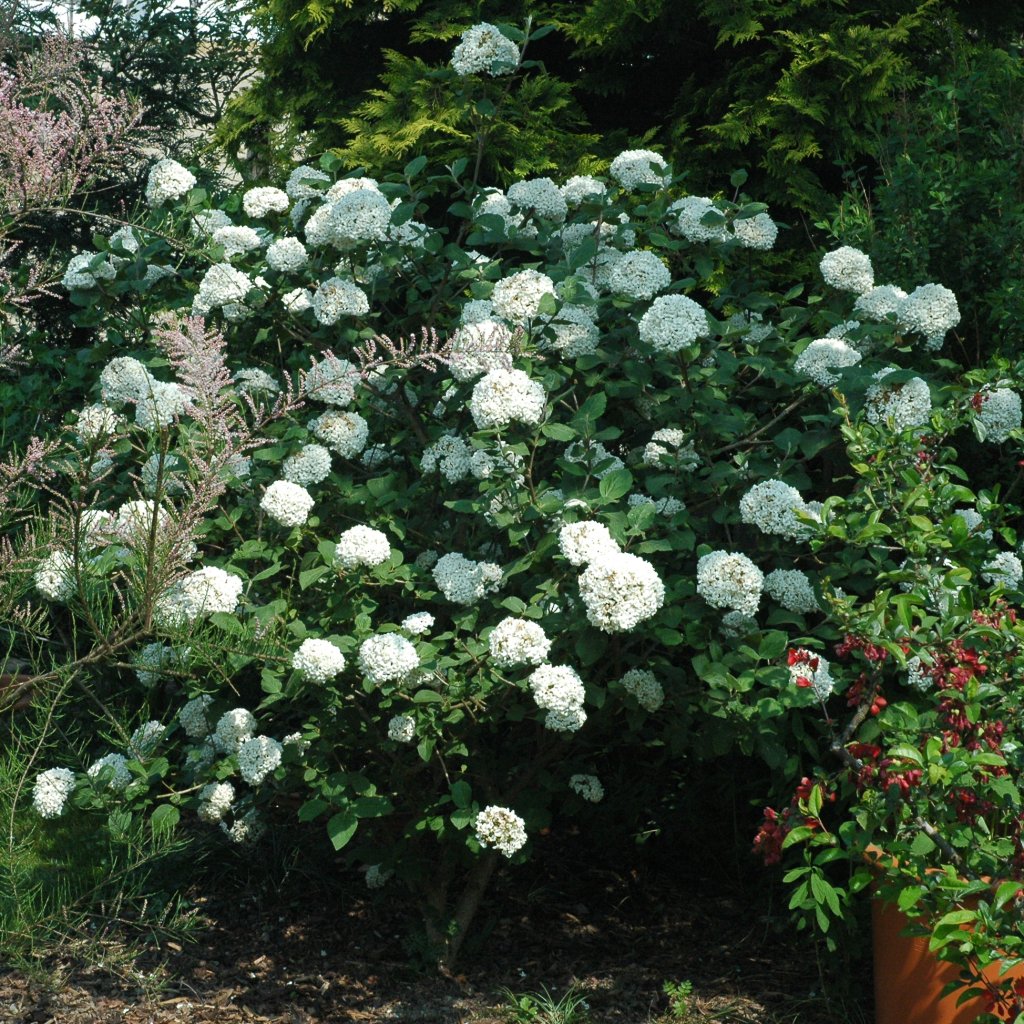 Wild lilac and a snowball called 'Eskimo' in full bloom
Their scents are overpowering. Thinking of 'Eskimo' will hopefully help Mausi make it through the present heat wave. Temperatures here were between 25 and 30 degrees Celsius during the last weeks - and it is only April. What will summer be like?
Anyways, Monday it was back to the saltmines and Mausi's stuffy little office. But she can always close her eyes for a moment and recall the incredibly green hills of England to her mind, can't she?
Posted by Mausi at May 1, 2007 02:45 PM
Trackback Pings
TrackBack URL for this entry:
http://mt3.mu.nu/mt/mt-tb.cgi/5004
Comments
Post a comment