« Historic Jamaica | Main | 'Twas a wild and stormy night .... »
February 27, 2007
The Old Naval Cemetry at Port Royal
When I visit countries like Jamaica I find myself torn between a desire to respect their desire to turn their backs on the past, particularly when it is as painful as the slavery issue, and a need to show respect to those who helped shape the future. Near Port Royal I found something however, that moved me to tears of rage! Not necessarily against the Jamaicans themselves, but against my own government. It was the Old Naval Cemetry.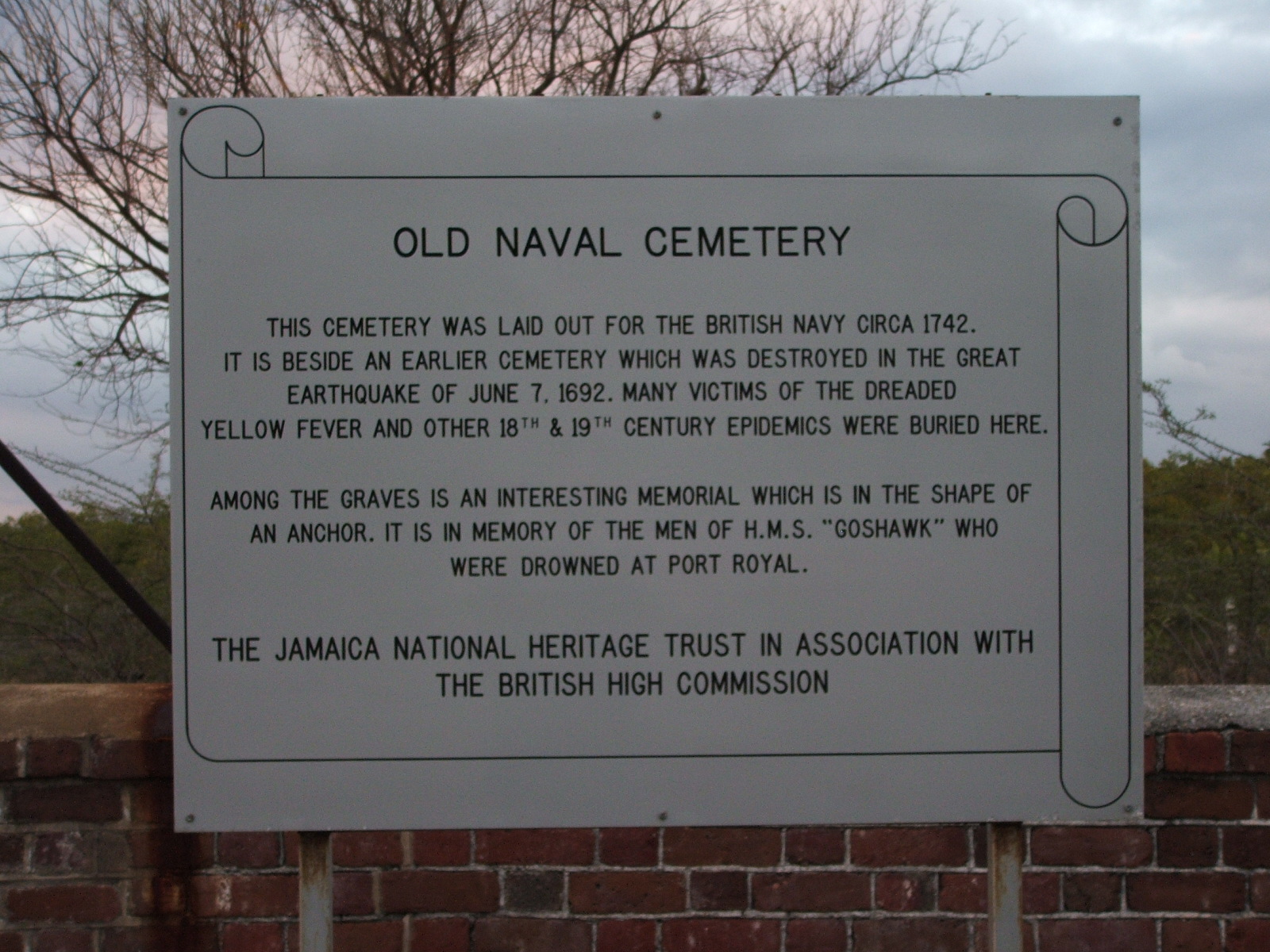 This sign is about the only thing that shows there is a cemetry here in which lie the remains of the men who stopped the slave trade, defended the island and kept the peace in these waters.
In this sandy and overgrown enclosure, lie the remains of the men who gave their lives expelling the Henry Morgans from these waters, who protected the trade for the wealthy of Europe and Britain, who suppressed the slave trade and kept the seas free for the law abiding to go about their business. They performed feats of seamanship in saving lives and in protecting their country and the ideals of their rulers - and these photographs show all too graphically how we show them our thanks.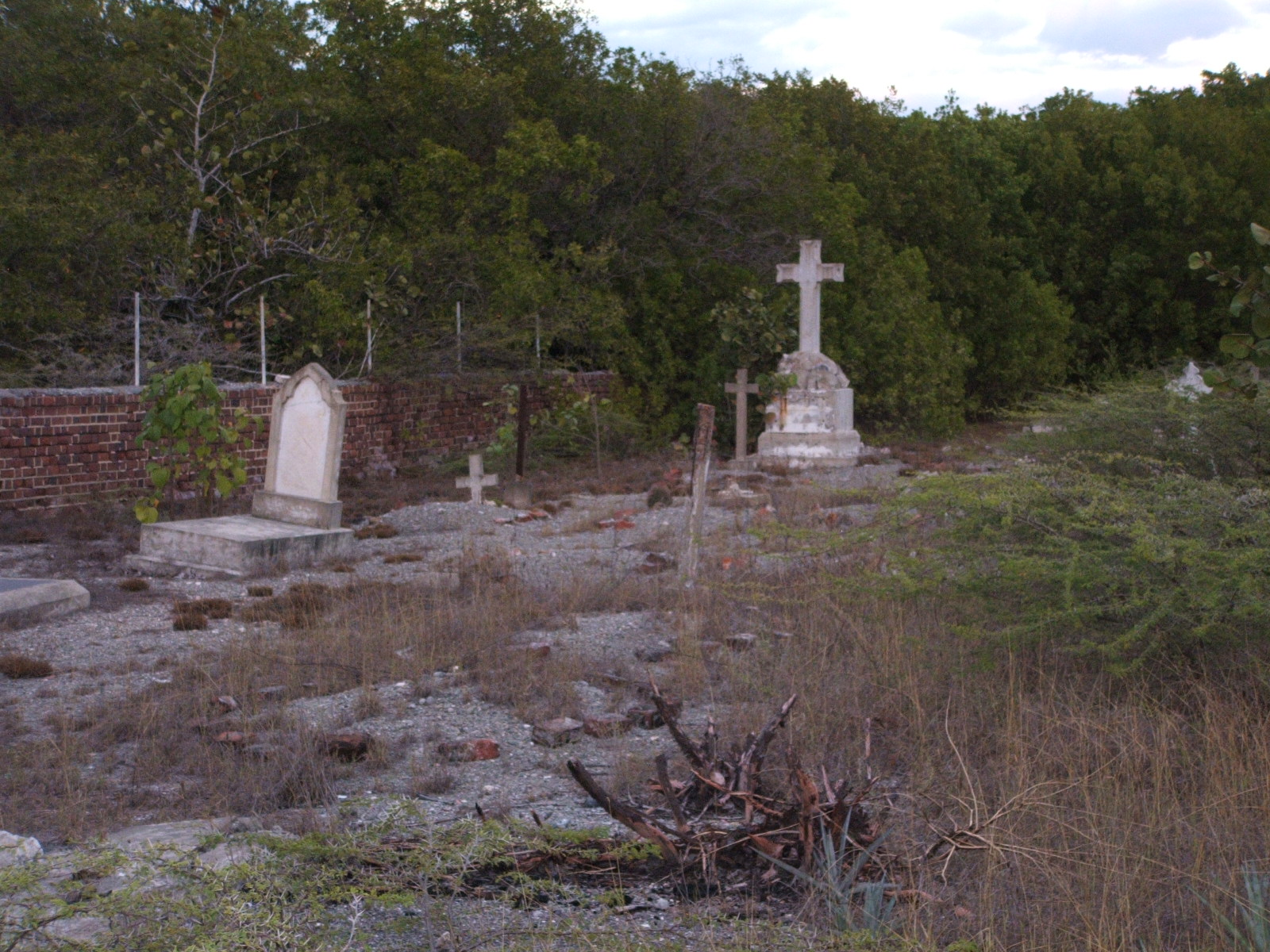 The overgrown cemetry - many graves unmarked, the markers having decayed, collapsed, or in some cases defaced or stolen.
Jamaica is a place where Malaria (Yellow Jack) is endemic, and huge numbers of the seamen who lie neglected in these graves died of it in the days before the means to control it and treat it were discovered. Yes, many possibly hoped to return home rich enough to lift their own families out of poverty, but they were rendering a service to their nation in so doing.
Successive government's can spend vast sums of tax payers money lining their own pockets, providing for the comforts of themselves and their cronies, but they cannot, it seems, provide a paltry sum to have this cemetry cleared, restored and attended to honour our dead. If there is a monument to the ignorance, stupidity and cupidity of our present generation - this is it!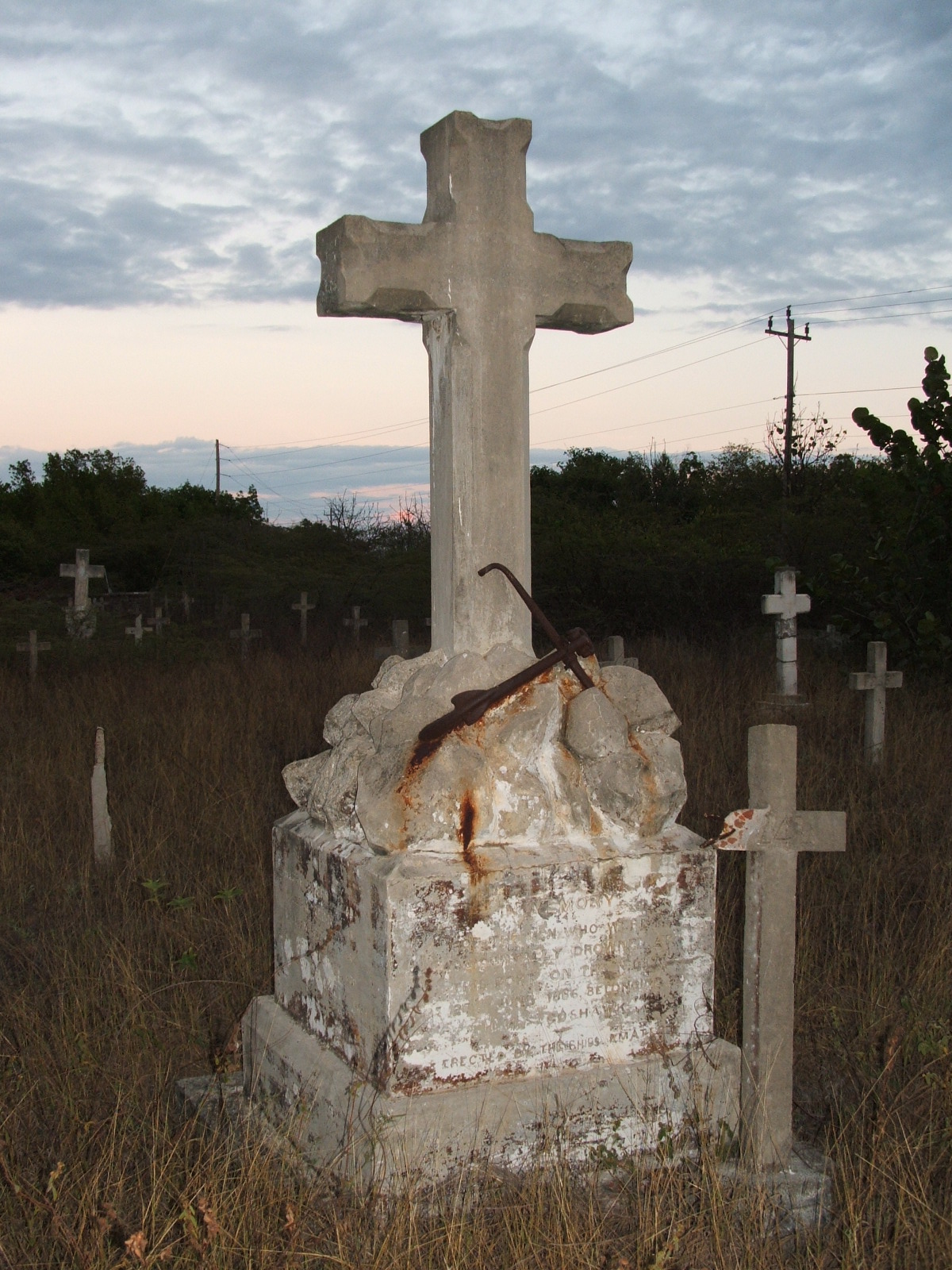 One of a pair of cenotaphs to the dead of HMS Goshawk, lost with almost all hands during a storm on these shores. The second cenotaph has had it's anchor stolen.
The Book of Sirach, also known as Ecclesiasticus, says; "And some there be that have no memorial. They have vanished away as if they had never been, and their children after them." These men have a memorial - their legacy is far greater than Blair's, Thatchers's or any of their predecessors. For it is by their efforts that we enjoyed the peace of the Pax Britannica, it is by their efforts that we live in a supposedly free and democratic society and not one dominated by dictators. We owe them some respect.
Anyone care to join me in a campaign to get this cemetry cleaned up? It is the very least we can do for the men who lie there!
Posted by The Gray Monk at February 27, 2007 07:34 AM
Trackback Pings
TrackBack URL for this entry:
http://mt3.mu.nu/mt/mt-tb.cgi/4940
Comments
HI, I HAVE JUST COME ACROSS YOUR SITE, AND TOTALLY AGREE WITH YOU. I WAS IN THE ROYAL NAVY AND TAKE AN INTEREST IN ITS HISTORY. I HAVE A FRIEND WHO WORKED IN THE CARRIBEAN ISLANDS FOR SOME TIME AND VISITED THE "YELLOW FEVER" CEMETRY. HE TOO WAS DISGUSTED AT THE STATE OF IT. HE TOOK SEVERAL PHOTOS OF GRAVES, AND ONE IN PARTICULAR, THAT HAD HIS SURNAME OF PHILLIPS ON, THATS HOW WE GOT TALKING ABOUT THE GRAVEYARD. HE TELLS ME THE GRAVES HAVE BEEN ROBBED OF THEIR BRASS PLAQUES, AND ANYTHING OF VALUE. ON A BROADER PICTURE, I CANNOT UNDERSTAND THE JAMAICAN AUTHORITIES LETTING THIS HAPPEN, AS IT IS THEIR HISTORY HERE. I AND MY FRIEND WOULD SUPPORT ANY CAMPAIGN TO PUT THINGS RIGHT.
KIND REGARDS, BRUCE........
Posted by: BRUCE PITMAN at April 7, 2007 06:46 AM
Bruce, I intend to raise this issue again. Watch this space.
Posted by: The Gray Monk at April 7, 2007 10:34 PM
I totally agree with you. There are a lot of projects Jamaica needs to under go to restore our History. Although Piracy and slavery brought the Island down, it is part of our History, Legends that our land is Famous for. As in other countries, the good and the bad are monumented, Jamaica has a Diverse History of so many cultural backgrounds, we lose sight of who these people were, how they contributed to the island, what their struggles were, and how Jamaica was and can be still an Island of Adventure and Paradise.
Many people who travel to Jamaica would love to know the History, Slavery, Pirates, Earthquakes, Fires and all....
Jamaica could make a killing on tourist lectures and such.... if they just cared enough about themselves and past, and the future of their country.
Posted by: Sarah Azan at May 29, 2007 05:06 PM
I found the article about HMS "Goshawk" interesting. William G Nicholls one of the men drowned off Port Royal was a grand uncle of my husband. An article in the Times (27th June 1886) states that fourteen sailors lost their lives and it was one of the Goshawk's small boats which capsized. Is there another article somewhere telling of the sinking of the ship "Goshawk"?
Posted by: Pat at June 23, 2007 12:03 AM