« The Heads beneath the Scarves | Main | Bit of Fun ... »
September 17, 2006
Mausi, the Hunter
You know, sometimes I wonder what is going on inside the head of Mausi, the Cat. One moment she is enjoying the warm September morning sun on the grass ...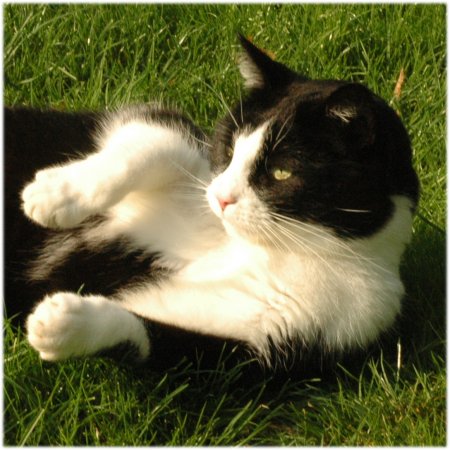 ... and the next moment a sound has been picked up by her radar ears and off she goes, jumping the fence and vanishing into the neighbouring field. A few minutes later she is back bringing in her kill.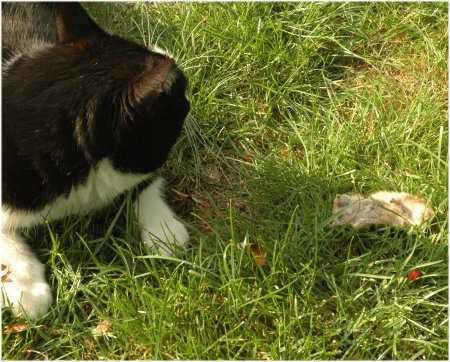 This time it is a vole and she won't even eat it. She rather leaves it lying around for one of us to give a proper burial. Which we did, of course. It is not that she doesn't get stuffed with tinned food in the house. She wouldn't have to hunt for mice. Alright, they probably taste better than the tinned ones, juicy and fresh, I suppose. But then why does she kill even those she has no intention to eat at all?
Sometimes I think she hunts down everything that is smaller than she is and moves around the garden without her specific permission. A misinterpretation of her duties as a cat? This afternoon she gave a giant dark-blue dragonfly a speculative look. But then decided that it would take too much effort and cunning and went back to sleep. 1:0 for the dragonfly!
Posted by Mausi at September 17, 2006 08:06 PM
Trackback Pings
TrackBack URL for this entry:
http://mt3.mu.nu/mt/mt-tb.cgi/4667
Comments
Post a comment