« Kentucky ramblings | Main | Cruising around Helsinki »
July 02, 2006
Helsinki Cathedral
Visitors coming to Helsinki by ship are greeted by the outline of a strikingly white cathedral towering above the town. It is undoubtedly one of the landmarks of Helsinki.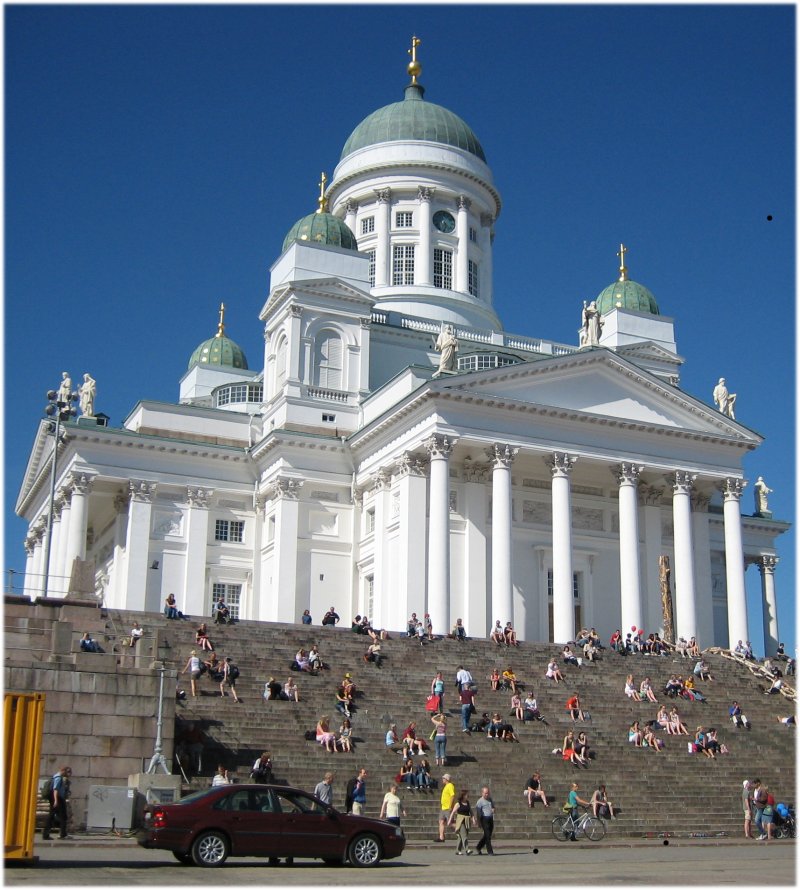 45 granite steps lead up to the cathedral and make a splendid resting place for the weary tourist
The cathedral was designed by the Tsar's favourite architect, Carl Ludwig Engel, and completed in 1852. The layout of St Nicholas Cathedral is a regular cross, much in the style of a Russian Orthodox Church, although it is a Lutheran church. 93% of the Finnish population are Lutherans. The four small domes which can be seen on the photograph were added to the original design after Engel's death.
Although the white colour looks brilliant on the exterior of the cathedral against a dark blue summer sky it makes the interior of church looks bare and even austere.

Inside St Nicholas Cathedral
Three niches are occupied by the famous reformers Martin Luther, Philipp Melanchthon and Michael Agricola. Michael Agricola was born in the small town of Pernaja in Finnland in 1510. He went to Wittenberg in Gemany as a student to learn more about the reformation from Luther and Melanchthon. Returning to Finnland three years later he started the refomation process in Finnland and also invented the written language of Finnish. If your eyes and your tongue have ever struggled through the pronounciation of run-on Finnish words (like Pohjoisesplanadi = North Esplanade) - now you know who's to blame!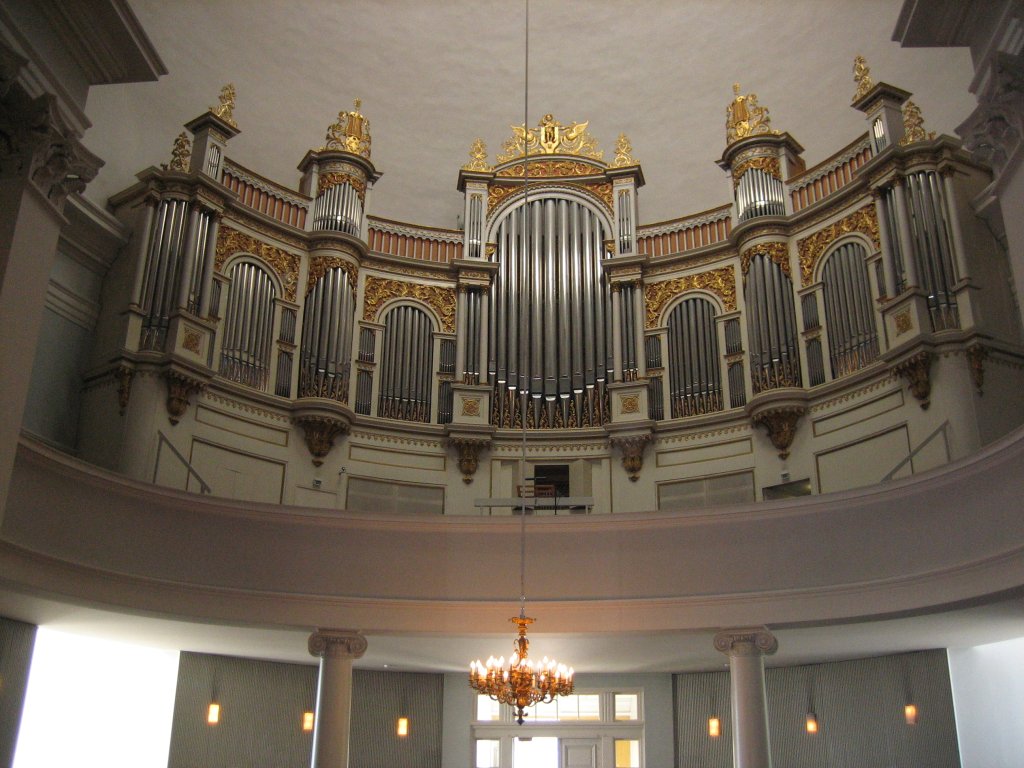 The organ, on a balcony opposite the altar
To me the cathedral looks well suited for an organ concert but for a service I would prefer Temppeliaukio Church any time - it had a much more welcoming and hospitable atmosphere. But if ou ever come to Helsinki by all means don't miss the opportunity to judge for yourself.
Posted by Mausi at July 2, 2006 03:52 PM
Trackback Pings
TrackBack URL for this entry:
http://mt3.mu.nu/mt/mt-tb.cgi/4445
Comments
I've enjoyed viewing your photos and comments of Helsinki and Finland. We're going there this week then on to Russia.
Posted by: Norma at July 4, 2006 09:35 PM
Thank you! I hope you'll enjoy Finland as much as I did.
Posted by: Mausi at July 4, 2006 09:46 PM
I absolutly loved visiting this place.
It is absolutly beautiful in every way,
I hope to live there when I am grown up :]
Thanks for posting the photos! Mine got lost.
.x
Posted by: Peter Morris at May 23, 2007 09:25 PM