« Heading North | Main | Modelling the Great Britain »
April 19, 2006
Visiting UU's library ....
The slightly less than soft "Ooook!" as I snapped the picture below warned me that I had strayed much too far in L-Space and wandered into a library where the books need physical restraint! Mausi and I had gone to see the famous Mappa Mundi - photographs definitely discouraged - and found ourselves wandering among the shelves of what can only be the model for the UU library.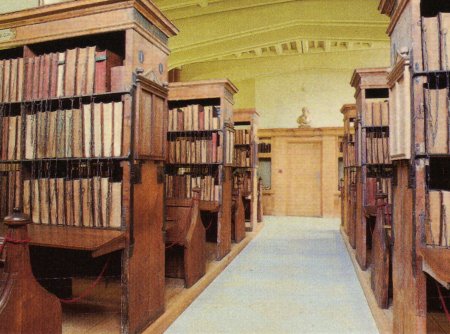 A small section of the "Chained Library" at Hereford Cathedral
The library at Hereford Cathedral contains books dating back to the 1300's and has a number of first editions - possibly the only editions - of works by Erasmus of Rotterdam, Martin Luther and others. This collection has had mixed fortunes down the years, having been variously stored in chests, in musty rooms and then for almost five hundred years in the Lady Chapel in public use. Many of the older books are on scrolls - not in this section of the library - and the oldest accredited is the Hereford Gospel book dating to the 1340's. This is still used during the installation of a new Dean or at the enthronement of a new Bishop.
Hereford has enjoyed mixed fortunes down the years - originally built by St Aethelbert, a Saxon Bishop, the cathedral was attacked and burned by an outlawed Saxon Earl and a Viking army. All the clergy were killed in the raid and many of the townspeople were also killed or taken as slaves. The present Cathedral was started in 1097 and is still very much a living place of worship within the heart of a very ancient city.

Posted by The Gray Monk at April 19, 2006 03:27 PM
Trackback Pings
TrackBack URL for this entry:
http://mt3.mu.nu/mt/mt-tb.cgi/4183
Comments
Post a comment