« Modelling the Great Britain | Main | Inside the SS Great Britain »
April 21, 2006
Travelling on the SS Great Britain
Before she became a freight ship the SS Great Britain was origally intended to transport passengers from Europe to America and back. A journey on board a ship like that must have been quite interesting to say the least. No fancy shopping malls or large sized cabins as we have on some modern cruise ships nowadays. The top deck was divided by a fine white line between First Class and common passengers. Every group had to keep to itself. Space on the topdeck was furthermore taken by a stable to keep an ox or two and guarantee a certain supply of fresh meat. Whatever space was left and not taken up by the crew or their equipment was the passengers' to enjoy a breath of fresh air in.
And they most certainly needed that! Below deck passengers, even first class ones had to squeeze in wherever possible.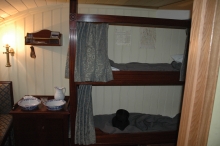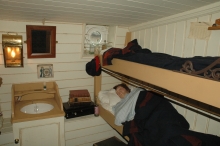 Size of first class cabins
The cabin to the right might seem a bit bigger but there are two more bunks hidden behind the door on the left side. I can't imagine how people were able to get enough fresh air in such close quarters when the weather was bad and they were forced to keep the porthole shut.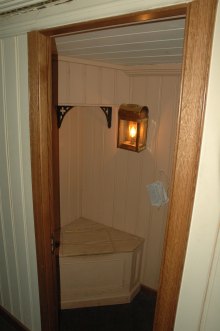 &nbsp: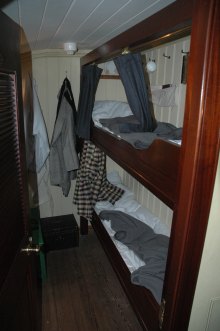 The loo (left) seems to be a rather comfortably sized room compared to another of those cabins (right)
But even the officers were not much better off - as a look into the Purser's cabin tells us. It cannot have been much fun having to work in such confined spaces especially in bad weather when the ship started rolling about.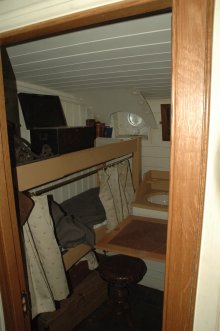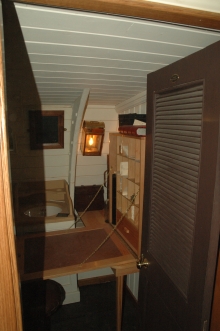 The Purser's office and sleeping quarters
Probably to keep passengers amused and entertained and from falling into a depression during their long voyage across the Atlantic ocean meals must have been the highlight of the day. It shows in the design of the First Class dining room which has been magnificently restored recently.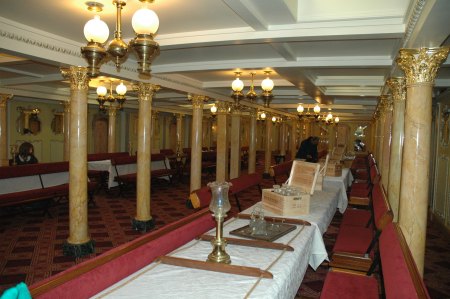 The grand First Class Dining Room
Posted by Mausi at April 21, 2006 01:07 PM
Trackback Pings
TrackBack URL for this entry:
http://mt3.mu.nu/mt/mt-tb.cgi/4197
Comments
hello i went on this ship and it is so good how they have got it back to its home.
Posted by: emily at May 26, 2007 07:27 AM