« Let the music speak .... | Main | Medieval madness? »
July 12, 2008
Medieval Tewkesbury
This weekend we have a medieval camp and fair in Tewkesbury - and a re-enactment of the battle fought here in 1471. I Have to admit that it is a bit weird to walk down High Street and be confronted by Medieval Lords, Ladies, Knights and Peasants all in correct clothing and some even wearing hefty swords. Notably Mister Plod and his consorts don't try to intervene on that aspect - mind you, I wouldn't particularly want to argue with someone carrying a pole axe either!
The Fair is an experience. There are booths for armourers, fletchers, sword makers, furniture makers and even tent makers. There are New Age crystals, incense and food for vegetarians. There are musicians, stuntmen and "Fools" - and everywhere there are soldiers of the two armies, in their hauberks, armour and accouterments.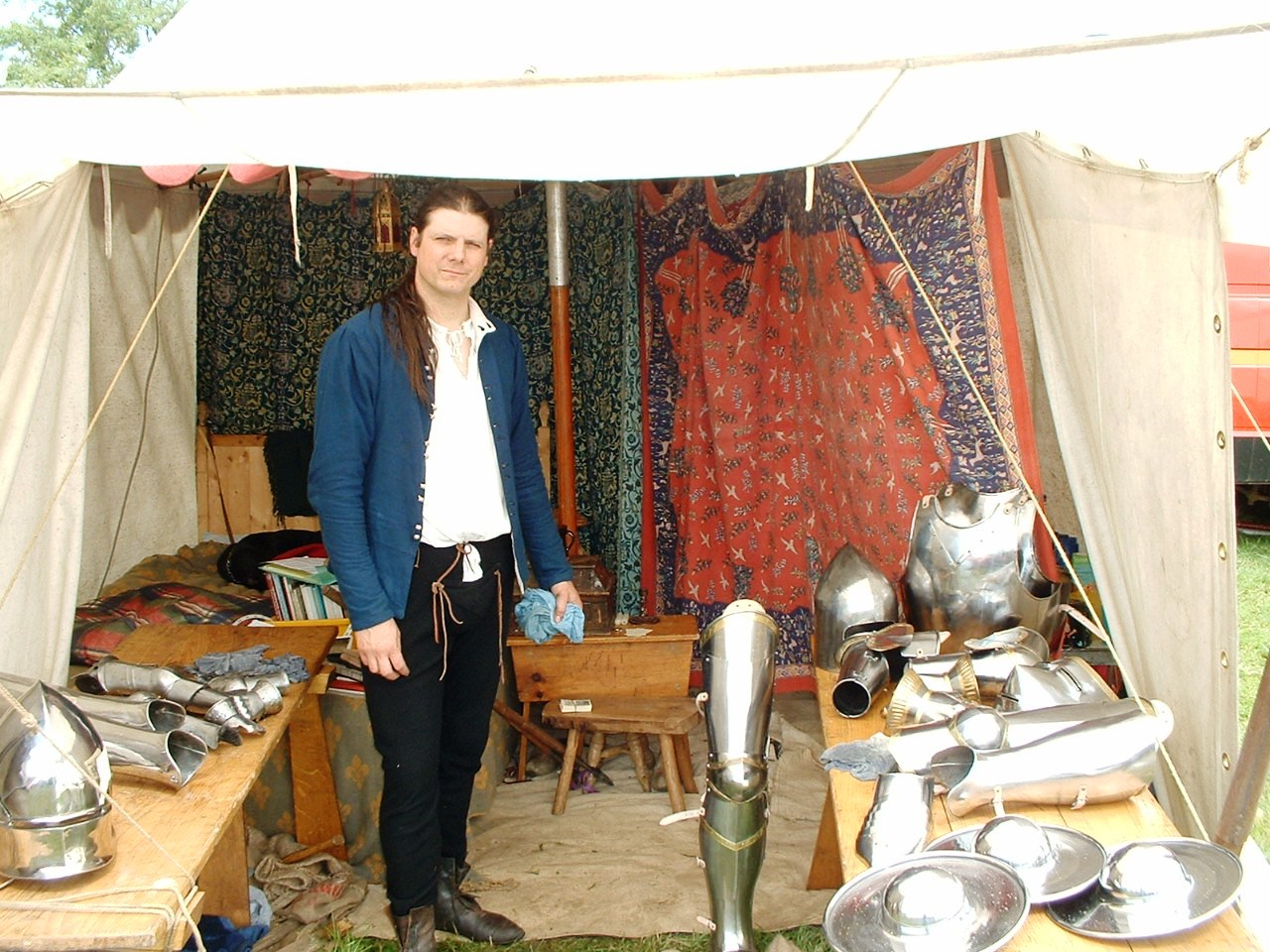 An Armourer with his wares - anything from a full suit of armour to a replacement greave.
The stall holders make a living from their wares, many coming from very far afield to be here. This year I have encountered people from Germany, from Poland, from Hungary and the US. Though I have to admit that I did blink when confronted by an man in chain mail and the surcoat of the Duke of Gloucester (Later to be Richard III) speaking with a strong Mid-Western accent!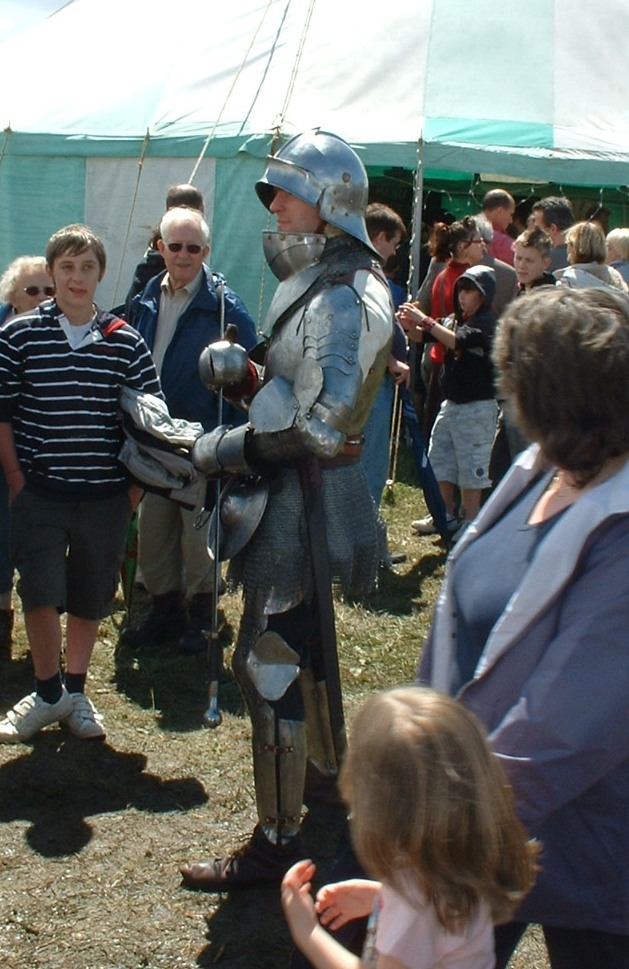 An armoured knight explains his weapons and his armour to admirers.
Most of the Re-enactors take their roles seriously and the realism includes "getting into the part" completely. So from the moment they arrive to the moment they leave they try to camp in the same way as their medieval counterparts, they try to cook medieval food and even their tents are wonderful medieval concoctions completely furnished with the sort of camp furniture used in that period - and if you think it was rough and ready, think again. Some of it would do very nicely in a modern house, better designed and better built and looking than much of what you can buy in the furniture stores.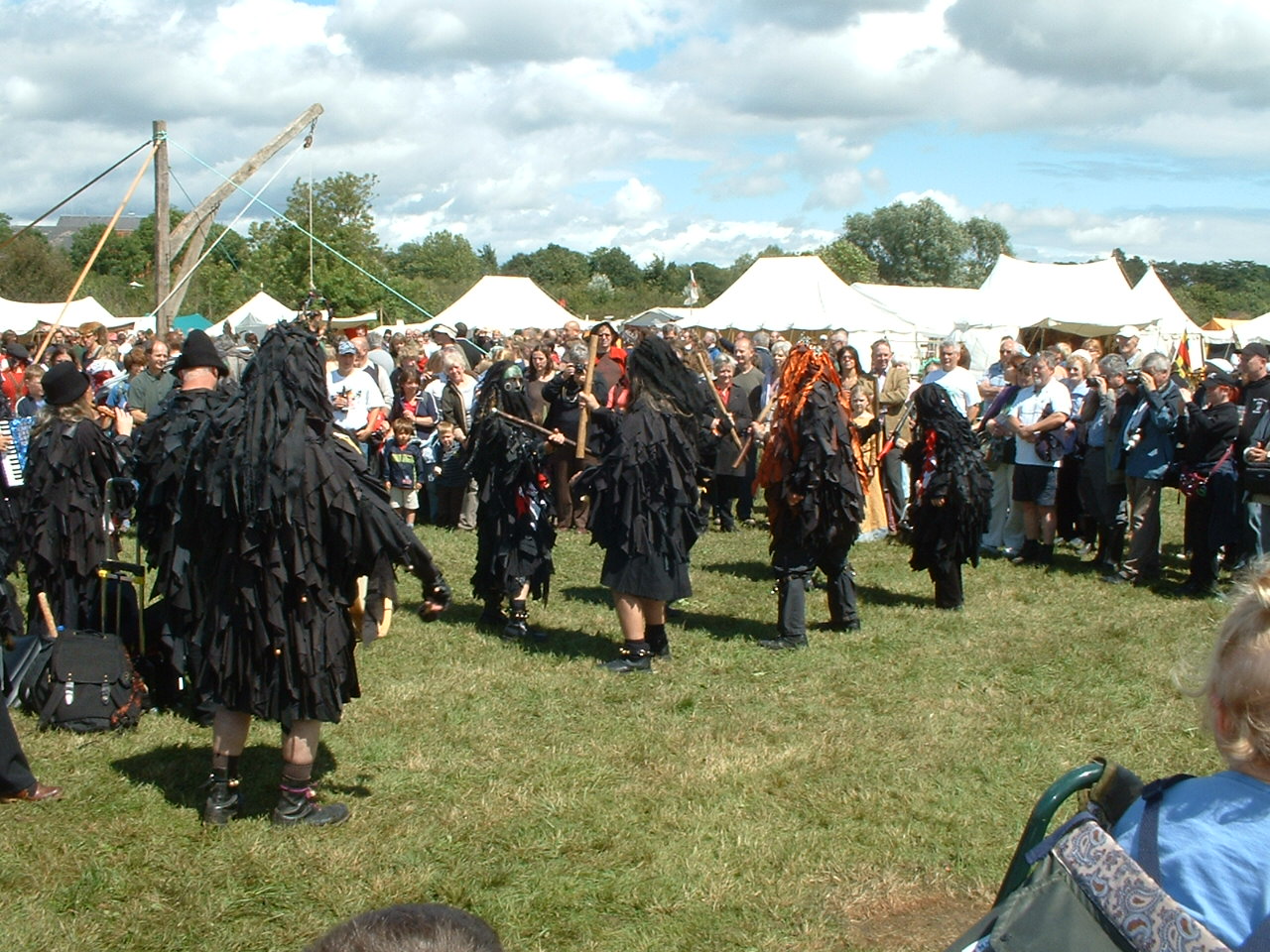 What is a Fayre without entertainment - this Black Morris were very good indeed. The Black Morris is supposed to be a representation of Moors, but other authorities say it arose after the Black Death.
Morris Dancing is a very ancient tradition and is really a fertility rite. The Morris has its origins in a rite supposed to be performed at Lughnassad - 1st February - which marked the start of Spring and signalled the lambing season and spring planting. Now it is performed mainly at Fayres and through the summer at numerous country pubs - sorry Village Greens - to amuse and entertain the tourists. But secretly, so the dancers can track down the best ales in the country.
All in all, the medieval festival is a lot of fun and swells the population of this town by a considerable number. Long may it continue.

Posted by The Gray Monk at July 12, 2008 08:05 PM
Trackback Pings
TrackBack URL for this entry:
http://mt3.mu.nu/mt/mt-tb.cgi/5492
Comments
How do I always manage to miss the medieval fair?

Posted by: The Postulant at July 28, 2008 02:14 PM