« Time for root and branch reform of Westminster ... | Main | Sandstone Country »
February 26, 2008
Berlin revisited
Some days ago Mausi had to go to Berlin again on business. This time it promised to be fun as Mausi was allowed to go by plane instead of the usual tedious journey by train. The only drawback was that Mausi had to get up at 4.30 in the morning to reach the airport in time. 4.30 a.m. is definitely not Mausi's time of the day.
At the airport Mausi showed a printout of her electronic ticket a member of the Lufthansa personnel and was directed to one of those check-in machines. Mausi doesn't like them much, one never knows what mischief they are up to next. And indeed - Mausi entered her name and booking code and the machine offered to print her boarding card next. Only it didn't, it printed a receipt and the plainly refused to print the boarding card due to technical problems. Mausi was ready to faint. In the end she was saved by a very competent and friendly young Lufthansa lady who effortlessly dealt with the complaints of three passengers at the same time and managed to get Mausi's boarding card out of another machine. Mausi hastened to the gate.
As soon as boarding was completed the captain welcomed the passengers and concluded his little speech with the words: "As usual we are missing one passenger. For security reasons we have to unload all baggage ...." Great! However, at this time in the morning passengers are mostly business people who don't carry big suitcases with them. So after all the plane left almost on time.
In Berlin Mausi was met by her boss and his driver. The boss was dropped off at the Ministry of Interior and Mausi was driven to the Bundeskanzleramt, where she was to give a presentation that morning. It is situated in a bend of the river Spree. A very beautiful spot.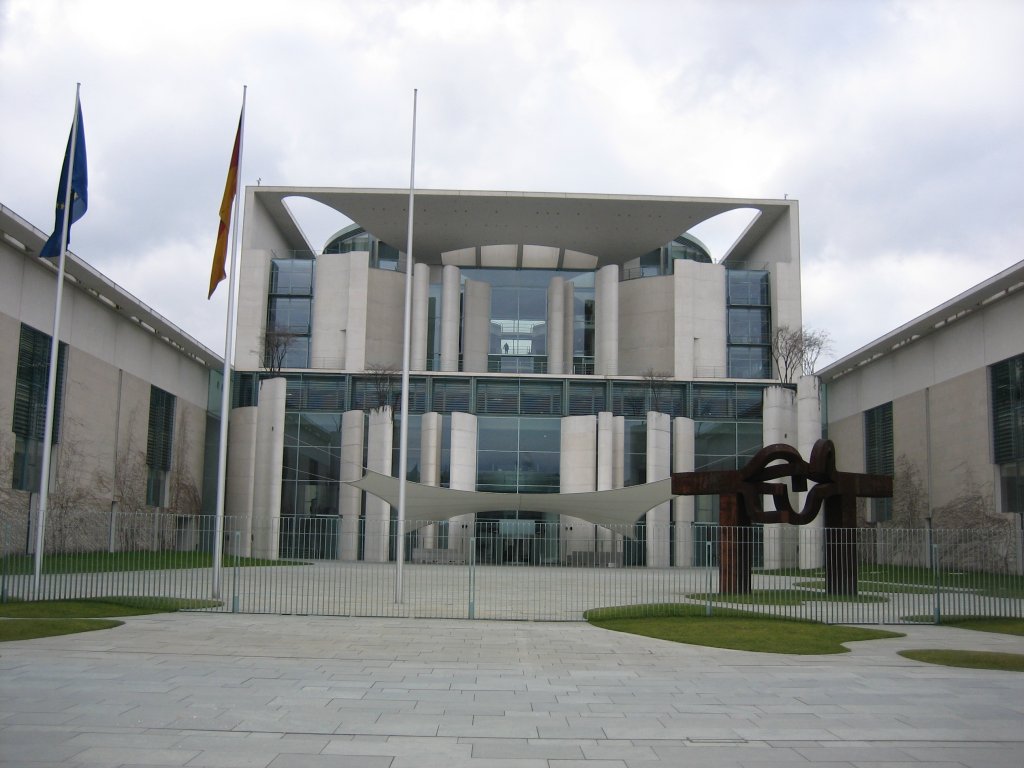 The Bundeskanzleramt, which includes Angela Merkel's offices
Mausi was lucky to get inside. That morning President Ehud Olmert form Israel was expected and security was already tight. When he finally arrived, the Bundeskanzleramt was sealed off and not even Mausi's boss could get in. He was late for the meeting and not amused. Mausi's presentation went well and early in the afternoon she found herself in a cold and foggy Berlin with a couple of hours to spend as she liked. After a bit of lunch Mausi decided to take the Underground and to go the Sony Centre which she hadn't seen before.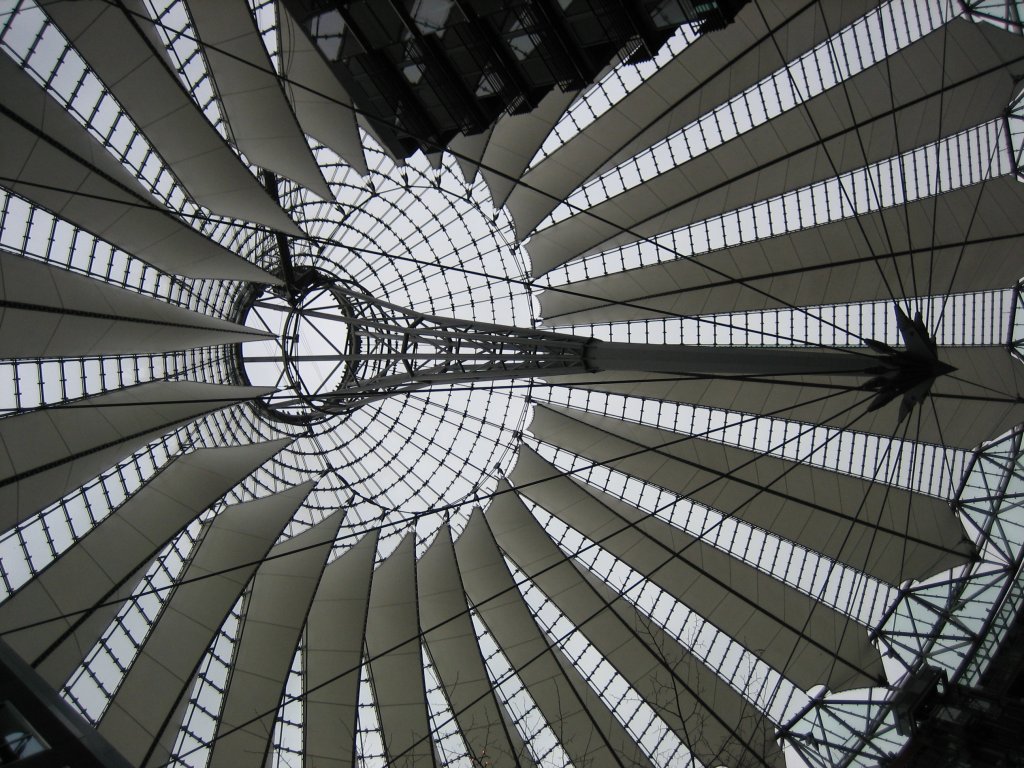 Roof structure of the Sony Centre
The Sony Centre is a shopping mall, with the shops built around an atrium. Lots of events are taking place in the atrium space and the roof structure is a real eyecatcher. Mausi did some window shopping and then went outside to find herself standing eye to eye to a Lego giraffe.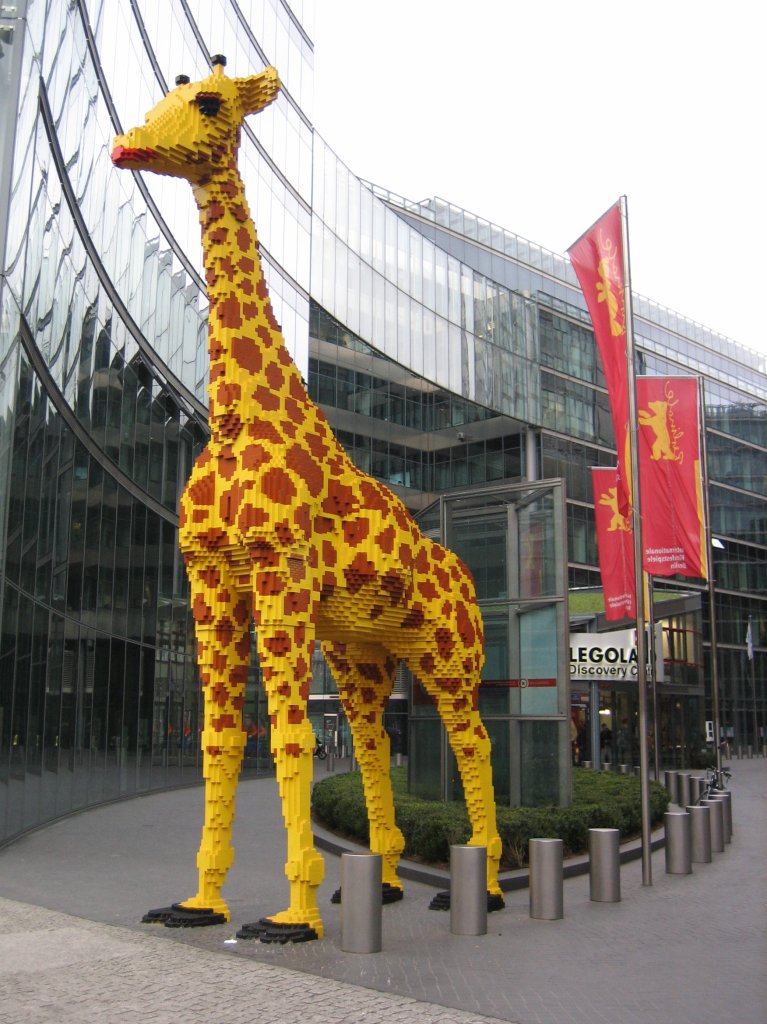 Mausi just wished she had had enough Lego pieces as kid to build something like that
Slowly the fog was getting through all layers of Mausi's clothing. She warmed herself up with a cup of delicious cappuchino before setting out for the airport again. This time the plane was an hour late. It had been to Paris before flying to Berlin and guess what: the French air traffic controllers had been on strike again causing Mausi's plane to depart late.
Mausi arrived home again at 21.00 hours. It had been a long day. Berlin is interesting in small doses but much too big for Mausi's liking. One does feel a bit lost there.
Posted by Mausi at February 26, 2008 08:50 PM
Trackback Pings
TrackBack URL for this entry:
http://mt3.mu.nu/mt/mt-tb.cgi/5338