« 9/11 | Main | Of Gorse and Abbeys .... »
September 12, 2007
Travelling the Oceans
Mausi loves to go by ship whenever she has an opporunity to do so. She would however draw the line at travelling oceans in tiny nutshells. She was fascinated when she learnt a long time ago how cleverly people from the South Pacific navigated from island to island in tiny canoes closely observing the wave patterns. When coming close to an island waves would be reflected on it and a ring of calm water would form around the island where the incoming and reflected waves would cancel themselves. So these seafaring people would know an island was near even if they couldn't see it yet.
Another of these astonishing feats was accomplished by Captain Bligh of the Bounty when he and those who wanted to follow him were abandoned after the mutiny in a tiny lifeboat. By discipline, strict rationing of their provisions and Bligh's brilliant navigation by charts that only existed in his head they finally reached Timor and safety.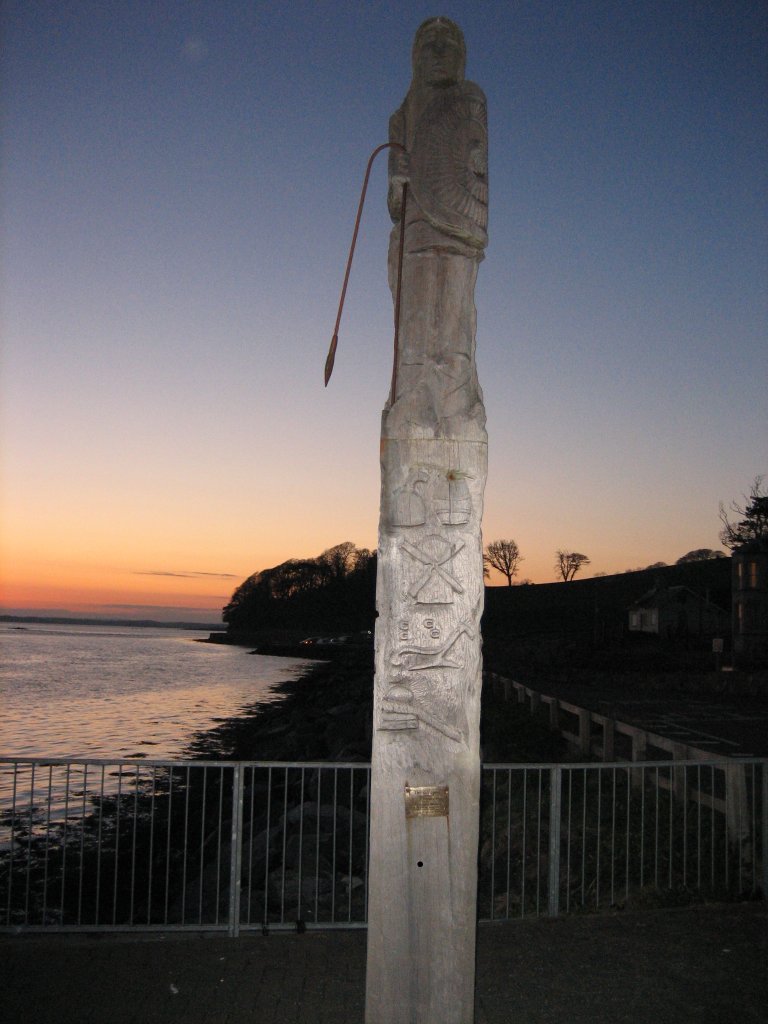 Mausi's been wondering what would be easier - crossing the southern oceans in oppressive heat or the northern oceans in mind numbing cold as the Vikings did. Alright, their boats were bigger than canoes or lifeboats but Leif Erikson still went to Newfoundland in an open boat. One can hardly imagine nowadays how incredibly harsh life on those Viking boats must have been with cold winds and even colder water gushing into the boat in bad weather and no real shelter for the seamen. The Norsemen left their footprints all over Europe and especially the islands of Western and Northern Europe. Mausi encountered this specimen in Portaferry, a village in Northern Ireland at the Southern end of the Ards peninsula. The wooden Norseman is guarding the entrance to Strangford Lough, a name which is derived from the nordic "Strang Fjord". Before the invasion of the Norsemen it was known as Lough Cuan. The Norsemen have long gone but the name obviously stuck. Looking at the photo now brings back memories of a lovelylate evening walk along the waterfront of Portaferry. As then Mausi still feels sorry for the Norsemen because some clown thought it good fun to bend his weapon....
Posted by Mausi at September 12, 2007 08:14 PM
Trackback Pings
TrackBack URL for this entry:
http://mt3.mu.nu/mt/mt-tb.cgi/5161
Comments
Post a comment