« Motoring anarchist - the manufacturers nightmare | Main | Alternative blogging »
June 13, 2007
Revisiting the past
The Monk has been busy recently, in between writing, trying to earn enough to pay the bills and the Abbey, searching through some of the accumulated detritus of several lives. In so doing he is turning up old photos and recalling long buried memories. The picture below, taken around forty five years ago, is of the Monk's father and mother in his father's favourite little ship. A thirty foot motor whaler built for the navy and, in this guise, operating as an all weather rescue launch for the local yachtsmen.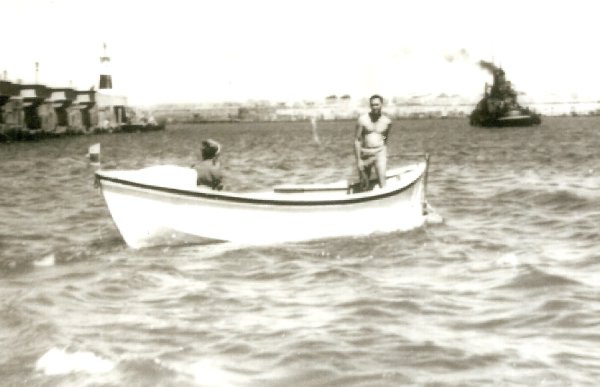 Aptly named "Buffalo Bill", this thirty foot motor whaler (built with a hard chine hull as a kit boat in 1940 - 44) performed sterling service for many years more than she had been designed to last.
My father was a consumate seaman and taught me a huge amount about boats, boat handling and seamanship. It broke his heart when this boat was destroyed when someone took it out in his absence because someone else had decided to go sailing in borderline weather and then needed rescuing. What the party who launched Buffalo Bill did not know was that there were two fuel switches, one isolated the main tank, the other the pump and filter system, unless both were ON the engine had only the fuel in the filters and lines - enough to get her to the casualty as it happened, and into danger herself. She was smashed to pieces on the breakwater which can be seen behind the tug. My father got to the launching place in time to watch his boat destroyed.
The design itself was simple, these boats were designed to be mass produced for the wartime navy and they were built with a rigid keel, on the same dimensions as a Montague Whaler, but, instead of the rounded bilge of the Montague, they had a hard chine shape. It was easier and cheaper to make. The engine was a simple four cylinder petrol unit, in this case an Austin, driving through a simple gear box operated by a lever, forward ahead, back for astern. Effective, seaworthy and all weather capable. On several occasions I saw my father, or was with him, when he took this boat in through breaking surf to retrieve someone and their boat from a beach or a rock lined gully.
It is how I choose to remember him, standing proud in the sternsheets of his pride and joy.

Posted by The Gray Monk at June 13, 2007 05:08 PM
Trackback Pings
TrackBack URL for this entry:
http://mt3.mu.nu/mt/mt-tb.cgi/5055