« Pilgrimage | Main | That mouse had better not try anything .... »
June 18, 2007
More blasts from the past ....
Sorting out a range of things including old photographs can bring back floods of memories, some good some bad. The picture below falls into the first category. It shows a very young Monk about to join one of the crack racing boats as centre hand. The boat is a "Sharpie", a twenty-two foot racing machine built in oak and extremely fast when properly handled. It took a crew of three to manage the sails, the rig she is wearing here is the basic Jib and Mainsail, and she carried tthree different spinnakers for racing and could change the jib for a genoa rig.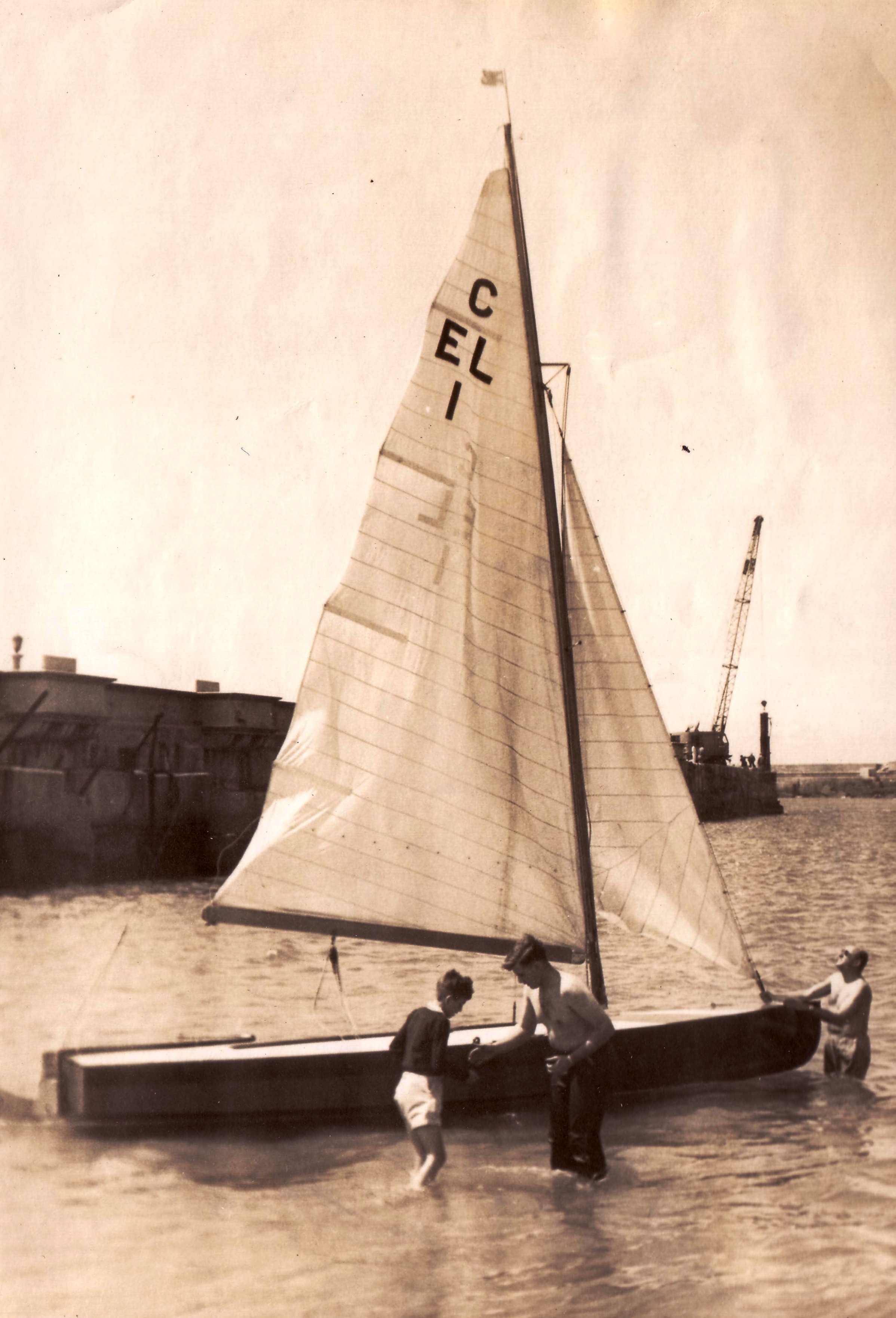 A very youthful Monk gets some final instructions from the Forehand of the Sharpie "Panga" just prior to a race.
The big burly chap talking to the Monk was the forward hand, a big jovial Hollander named Theun Boot, and his position on the crew was a vital one since without his weight on the trapeze gear keeping her upright would have been even more of a battle. The crew on these boats were the manpower to handle sails and the moveable ballast to keep the boat as upright as possible and it could be exciting and hard work. The man holding the boat was the owner, a superb seaman and racing skipper with a distinguished wartime record behind him. "Wolfie" Haukohl, was, despite his name in the Royal Navy during WW2.
The Sharpie Class were expensive boats, but fabulous at sea and in a hard blow. Fast, as only a hull of this type can be, the crew worked hard, but the reward was to go steaming past the rest of the fleet in any race. Even better was the sensation (which the Monk got when quite a bit older and larger!) of lying out over the water ojn the trapeze gear while the boat tore across the seas under full sail and reaching spinnaker. Of course, if it went wrong, it got very exciting, very quickly - as when a stay broke on another boat while the Monk was out on the trapeze. Think sling shot - with the Monk as the shot ..... I was some distance from the boat when I hit the water.
Safe? Probably not, in those days no one wore a lifejacket to sail, they got in the way. Knowing that, you took care of yourself, but hell, we lived, we survived some spectacular capsizes (The monk managed to do a power dive with his Fireball - aptly named Extravagance) and learned the art of living. I doubt if today we'd be allowed to do a quarter of what we did in these wonderful days "messing about in boats".
It was men like these that taught the Monk everything he knows about boats, sailing and seamanship, a debt of kindness to a small and probably annoying boy he can never repay.

Posted by The Gray Monk at June 18, 2007 03:05 PM
Trackback Pings
TrackBack URL for this entry:
http://mt3.mu.nu/mt/mt-tb.cgi/5062