« Guest posting | Main | Big Brother is taxing you... »
June 01, 2007
Back to the future
Last holiday weekend, my wife and I went to Scotland to visit family in Dumfries. It was a chance to catch up with everyone, and also to bathe in nostalgia. Since I'm now nearer the century than my birth day, I've been doing a lot of reflecting on the past, as well as looking forward to the future. I've also discovered I'm a natural conservative, and I abhor change for changes' sake. However, some things are almost timeless, and I would like to share with you my experience when visiting a haunt of my youth.
On Bank Holiday Monday I decided to go fishing on Lochrutton loch, about 5 miles from Dumfries. The small village of Lochfoot nestles along the northern shore.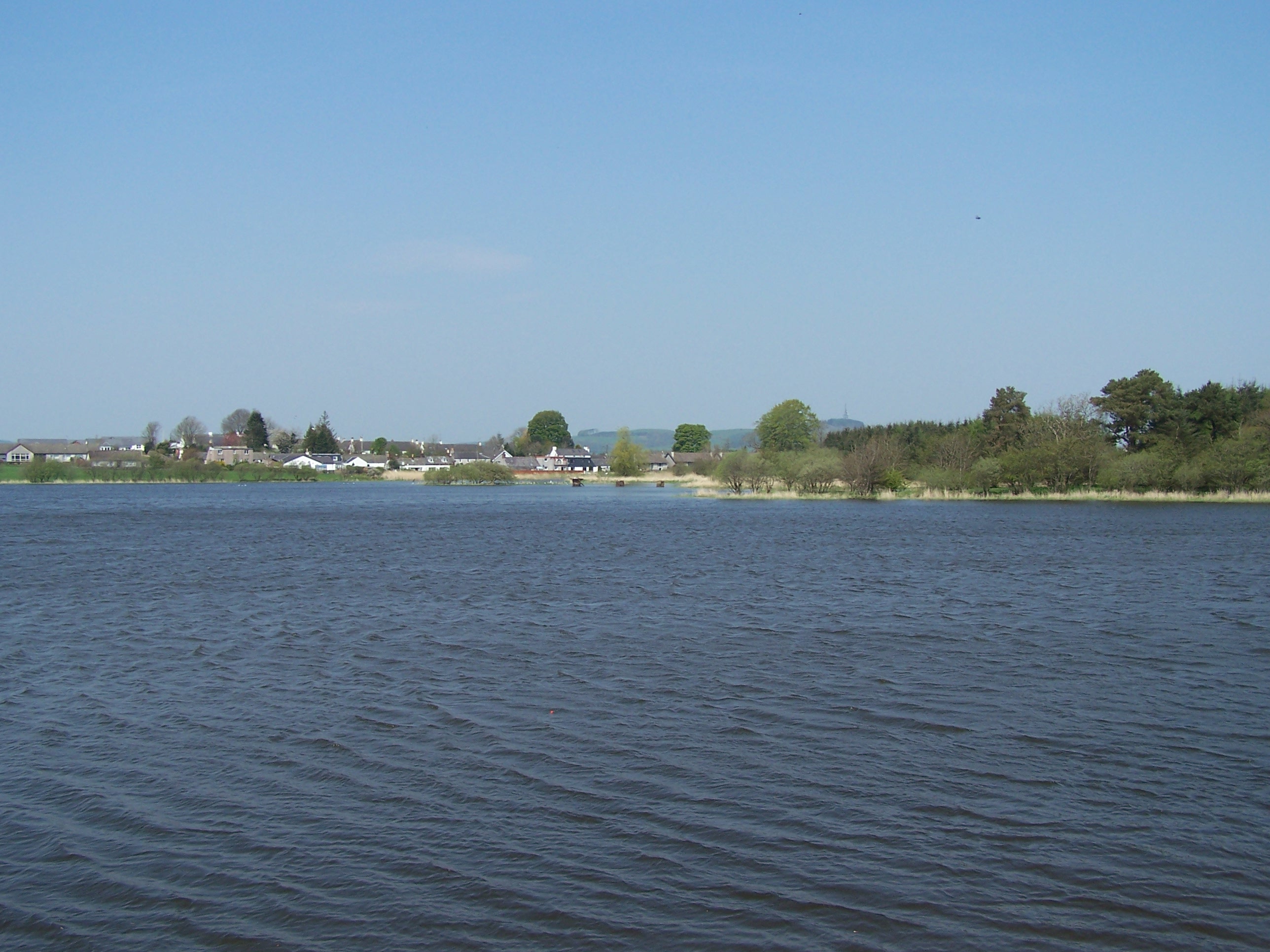 The village of Lochfoot seen across the Loch.
This a large, windswept and relatively shallow lowland loch, probably formed at the end of the last Ice Age. It has a very interesting feature – a crannog. Crannogs are a type of ancient loch-dwelling found throughout Scotland and Ireland, while one has been discovered in Wales in Llangorse Lake. Most are circular structures that seem to have been built as individual homes to accommodate extended families. Other types of loch settlements are also found in Scandinavian countries and throughout Europe.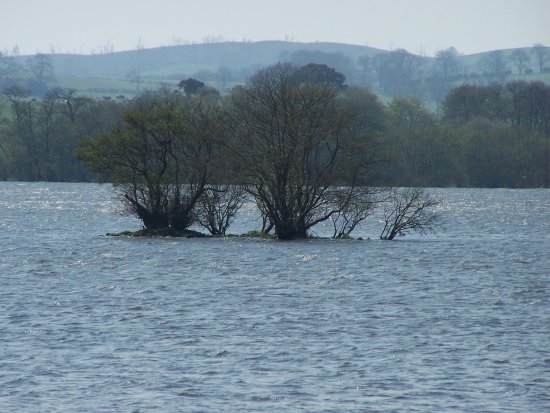 Seen in 2006, the crannog is barely above the water.
Crannogs are also known as artificial or modified natural islands and they were as much a product of their environment as the period in which they were constructed. The one in the middle of Lochrutton appears to have been last occupied in the 13th century. For further information see:
Lochrutton Crannog
Last year when I visited, all I could see were some trees sticking out of the water. This year the crannog was more visible, due to a drop in water level.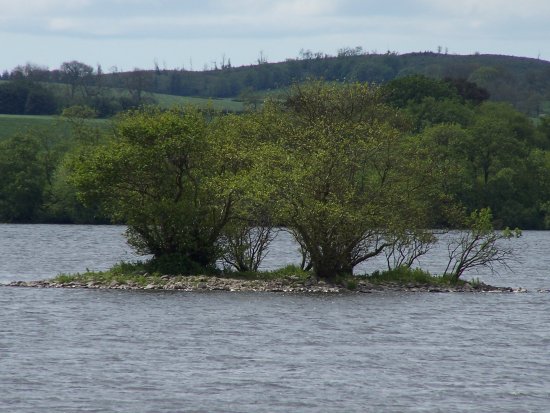 The Crannog as seen this year, with the stony structure revealed.
I got to wondering who lived there, and what sort of life did they lead? I also got to reflect on my agnosticism, which came about after my father's early death in 1969. It was after this traumatic period that I was given an old fishing rod and reel, with the purpose of giving me an interest, and probably to keep me out of mischief – I was 13 at the time! One of the first fish I caught was a wee perch from Lochrutton, and I spent many a happy day fishing there in my school holidays and weekends, after cycling all the way there. I am so grateful I was given this opportunity, as it has lasted a lifetime (apart from a small break of about 10 years due to getting married and raising a family!). It has helped me to find serenity and peace of mind through life's troubles, much the same as many readers of the Monk find comfort in God and Church.
I used to attend church before my father's death, but since then I have gained solace and serenity from Mother Nature, who embraces me every time I wet a line. As I sat under my brolly (well, it was a Bank Holiday and I was in Scotland!) to shelter from the wind and showers, I was aware of the swallows with their beautiful aerial dancing displays as they dived to the loch's surface in search of insects. I also caught a hard-fighting pike of around 8lbs. Small, but perfectly formed, I slipped him back to his environment after unhooking him. He sulked in the margins for ages before moving off to wherever he lived. He lives as his ancestors have done for millions of years. As I looked up at the sky, with its mixture of large rain clouds and blue sunny patches, I even had a conversation with my Grandmother. She passed away many years ago, but I cannot believe that all the love that she had within her simply disappeared into the earth when she was buried. My understanding of science is that energy can neither be created nor destroyed. Love is a type of energy in my opinion, so what happens to it when we die? It's got to be eternal, hasn't it?
What is the point I am making here? Well, I mentioned my agnosticism earlier. Have I replaced the God I thought I believed in with something else? I believe I have, through Mother Nature. I have no doubt that there are great forces at work in this universe. Those same forces formed the environment I am so enthralled with. The loch was there 800 years ago when the crannog-dwellers were alive. There may even have been people living on it long before that thousands of years ago. It will still be there 1000 years from now, barring some dire global catastrophe. Even though I was wallowing in nostalgia, I realized that in the future, someone else will be enjoying the experience I was having too.
On a final note, my experience was marred by the presence of litter all around the area I was fishing. This is despite the local Community Council threatening to ban fishing if it continues. Most anglers cherish their environment, but sadly, the morons who leave it behind don't give a fig about anyone else, so what do we do? I did pick up some, but not all of it, as I had to carry a lot of gear back to my van. I hope that you have enjoyed my story and may your God go with you.
Slim Jim
Posted by The Gray Monk at June 1, 2007 05:36 PM
Trackback Pings
TrackBack URL for this entry:
http://mt3.mu.nu/mt/mt-tb.cgi/5041