« High Speed Dogs | Main | Getting noticed ..... »
May 20, 2007
Harry's birthday ....
A bit of photoshop style retouching has removed most of the damage to the picture I posted on Friday. I have now taken this cropped version for today for a special reason. Today would have been his birthday. He died in 1977, sixty years after this picture was taken. I remember him as the best grandfather a boy could have, generous, loving and always there when I needed him.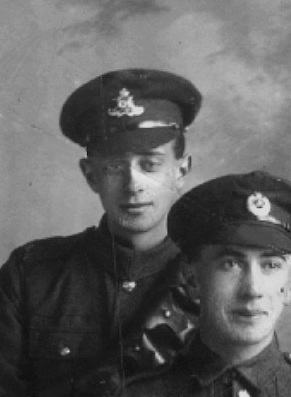 The taller man is Bombadier Henry Nelson Heron - the real Harry.
May he rest in peace, he and his friends have more than earned it.

Posted by The Gray Monk at May 20, 2007 07:57 AM
Trackback Pings
TrackBack URL for this entry:
http://mt3.mu.nu/mt/mt-tb.cgi/5027
Comments
Posted by: vw bug at May 20, 2007 03:58 PM