« Himmelfahrt | Main | High Speed Dogs »
May 18, 2007
Fragments from the past
The photograph below came to me today from my brother. It gave me quite a strange feeling since it shows my grandfather and several of his friends, one in particular, the model for Ferghal O'Connor in my books. The picture was takken in December 1917 in a professional studio, probably in France. Three of them are wearing the cap badge of the Royal Garrison Artillery which means that this was probably taken on either the Somme Front or near Ypres. Why did it give me such a strange feeling? Well, I have photographs of myself in a similar pose, but in a different uniform - and it was like looking in a mirror.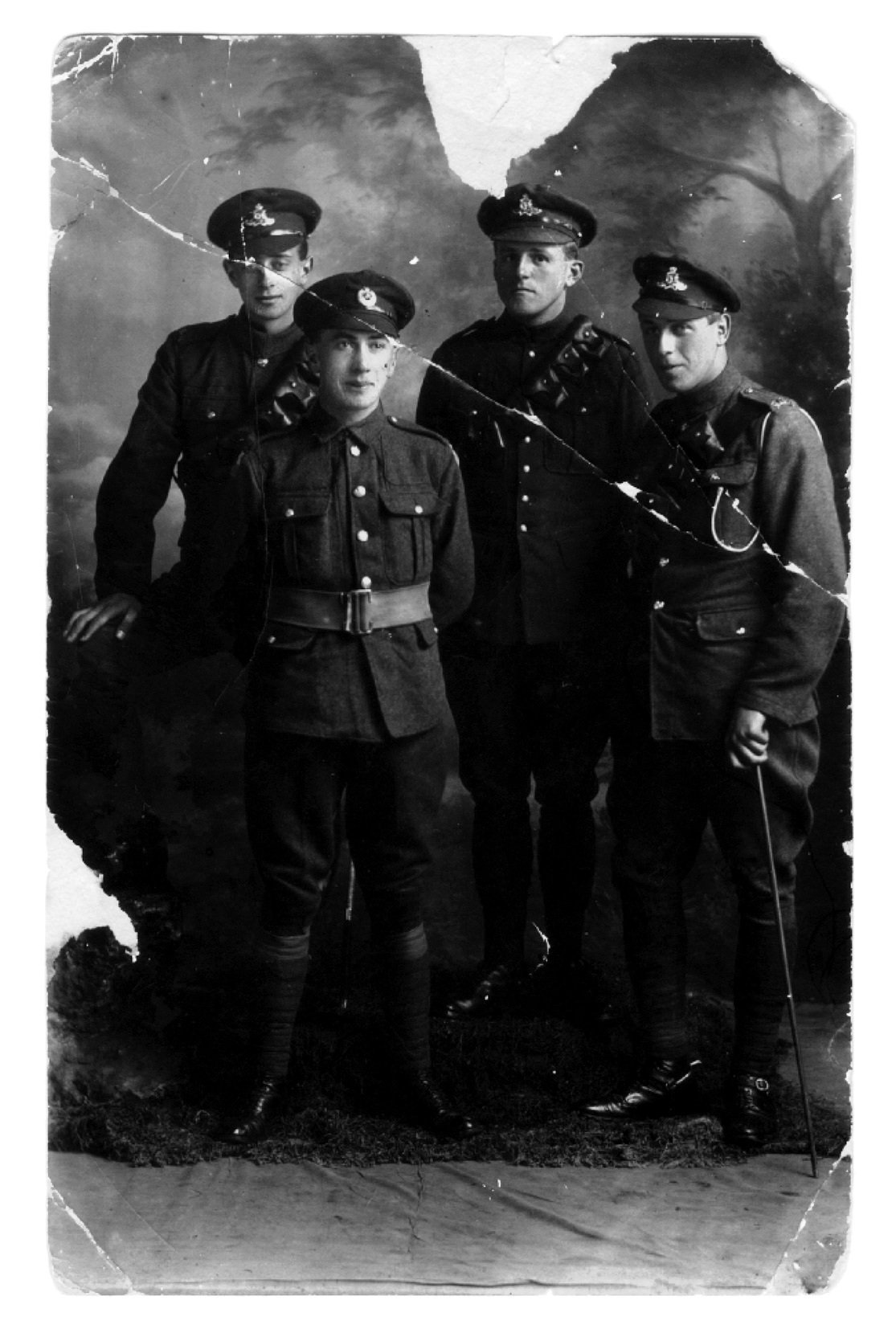 Bombadier Henry Nelson Heron is the man on the left, partly behind the shorter man in front. His best friend is the man stood next to him. They were 17 when this picture was taken - but they have the eyes of men who have been to hell and back.
This pair ran away in 1915 and joined the the Fusilliers in Enniskillen, part of the 36th Ulster Division. They were committed to battle on the Somme in July 1916 and they spent three days, lying wounded in a shell hole in no-man's land, having fallen on the first day to the machineguns. They survived only because the flies swarming on their wounds laid egs which hatched and the maggots ate the necrotic flesh. They kept their injured limbs (my grandfather lost most of his right thigh) only because the doctors didn't expect them to survive. Once recovered, they were sent to Winchester to recuperate, then found to be unfit for service as infantry - so were re-posted to the RGA.
I had not appreciated just how alike we were in looks until I showed this to a friend who knew me at the same age. On Sunday, I will remember 'Ada as we, his grandchildren, called him. It would have been his 107th. He gave his youth for our present, and what have we done with it?

Posted by The Gray Monk at May 18, 2007 01:49 PM
Trackback Pings
TrackBack URL for this entry:
http://mt3.mu.nu/mt/mt-tb.cgi/5024
Comments
I love pictures with stories behind them. Which is one of the reasons I blog with pictures. Thanks for sharing this with us... and what have we done? A lot... Just not all of it to our liking.
Posted by: vw bug at May 18, 2007 10:47 PM