« Disgraceful incompetence | Main | The joys of public transport .... »
March 21, 2007
Definitely a change of .....
A friend recently sent me the image below. It took me back to my 'teens, when I used to sail a fourteen foot long dinghy out to sea from the Yacht Club of which I (and my family) were members. Located on the Indian Ocean coast of South Africa and being the country's only river harbour it used to see a lot of interesting sea creatures. And sailing a dinghy of the Sprog Class meant you generally had a lot of opportunity to meet some of them rather too close for comfort.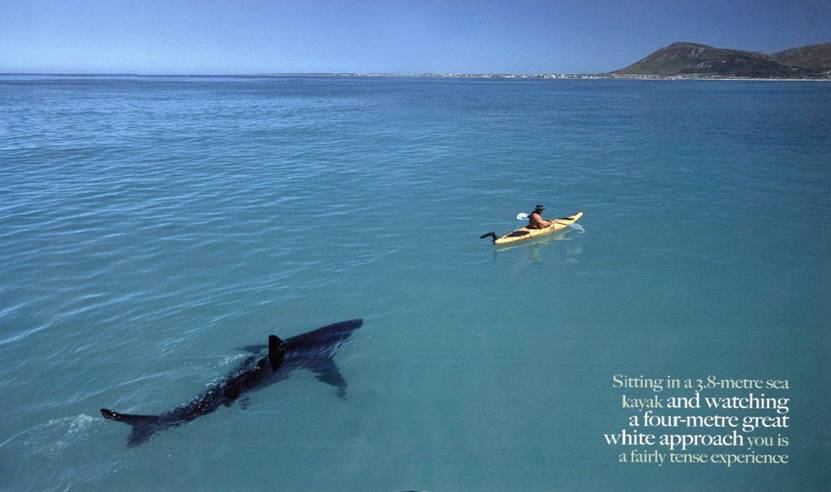 Definitely the time to act very calmly, and try to give the impression you really aren't edible!
Sprogs were exciting boats to sail. Fast, lively and very handy, they required a skipper and a forehand. Fourteen feet overall, they were Bermudan sloop rigged (Jib and Mainsail) and the hull was a streamlined version of the GP14 type common in the UK at about the same time. The Sprog had a small cockpit and was narrower on the same length as the GP14. Her sail plan was also slightly larger and, well handled, liked nothing better than to get up on her chines and plane through the water.
Anyway, I sailed one of these from about my fourteenth birthday until I left East London for Port Elizabeth after leaving school. On one occassion my crew and I, sailing well out into the harbour entrance, in light airs, encountered a shark that was bigger than our boat. We learned a lot about sharks in the hour or so it spent following us around the course. Good thing we didn't know that this particular type was known to occassionally attack boats. Apparently some of them had discovered that edible goodies came in boats ....
The picture took me back to the moment we first saw our shark. It was about the same size as this one ........

Posted by The Gray Monk at March 21, 2007 09:21 AM
Trackback Pings
TrackBack URL for this entry:
http://mt3.mu.nu/mt/mt-tb.cgi/4965