« A poetic Grey Monk | Main | Potential for a Darwin award? »
November 08, 2006
Doing my thing ....
The picture is an old one - but it makes me go off into the realms of memory - happy ones - so I'll share it. It was taken in 1983 and shows the Gray Monk doing what he enjoys most of all, sailing! Extravagance is the only boat he has ever owned and probably will be. She was an Olympic Class Fireball with the pennant number K1013 and was one of the most exciting boats anyone could possibly want to sail.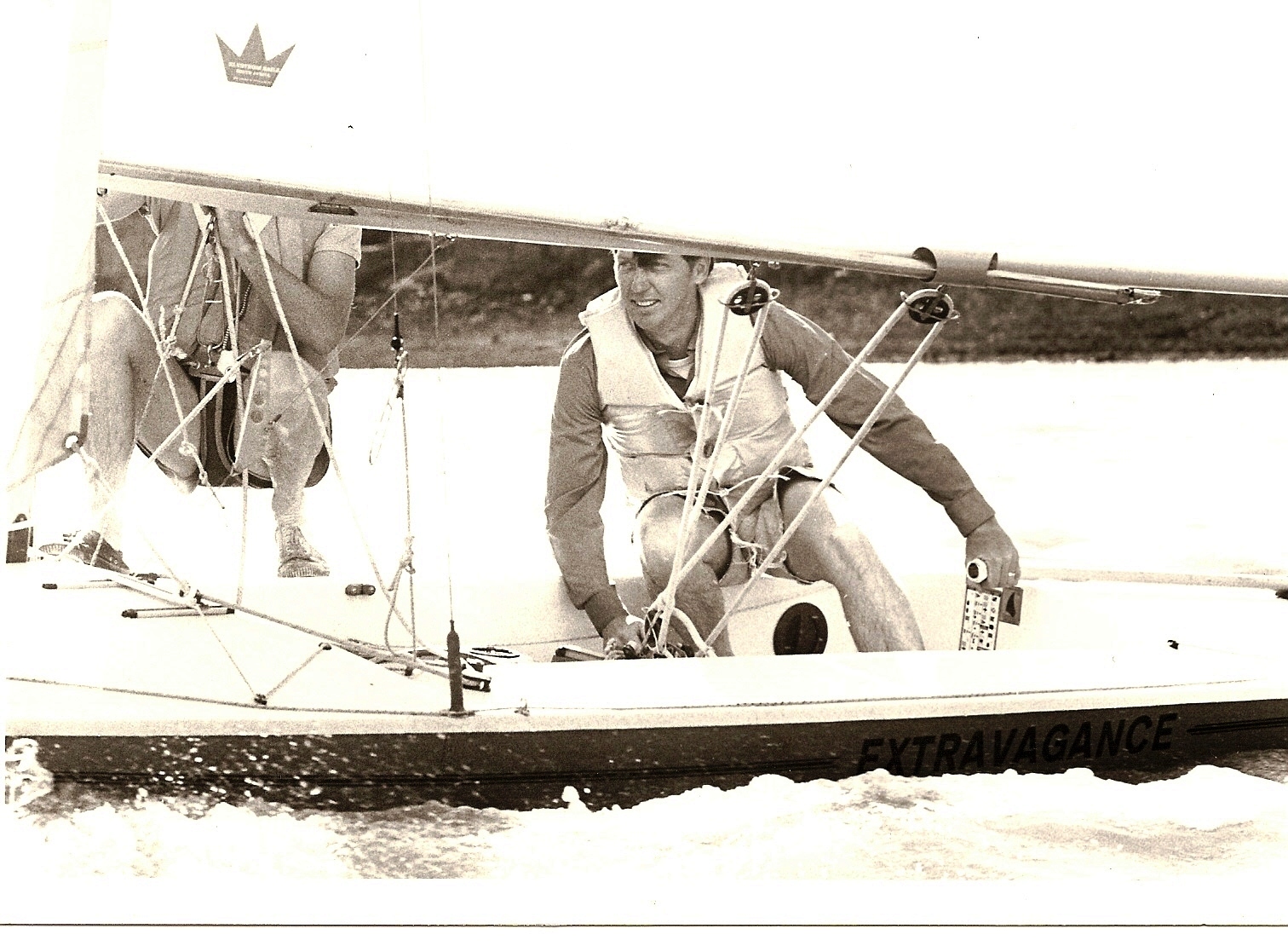 Extravagance gathers way on a broad reach. The Monk's crew, believe it or not, in this photo was the Sub Dean of Bloemfontein Cathedral.
Fireball's are fast and demanding craft to sail, with only the helmsman/skipper and the single crewman. With every sail set it carries a mainsail, jib and a spinnaker and the centre board gives an overall depth of 3 feet and nine inches. On a reach, with the the wind abeam or over the quarter these boats will get up and plane across the water and even when working to windward, Extravagance was inclined to lift her nose and get onto a plane, something which could work against you in some conditions. Our record run with her was an occassion when we overtook a motor boat towing a water skier. The look on the faces of the speed boat skipper and his tow were priceless.
I have sailed dinghies since I was about fourteen, having started in a Sprog, a boat about 14 feet overall and quite lively and fast. As a Class they are similar to the popular GP14 in the UK, but narrower and faster. They were very popular in South Africa until the advent of the Hobycat which killed off many dinghy clubs because the Hoby's, while faster on the straight runs, invariably cluttered up the marker bouys and got in everyone else's way. Eventually the Hoby's squeezed the dinghies out of the races and finally out of the clubs. A great shame, because, while I will concede that they are fun to sail, they are not good sea keepers. I'll take a dinghy any day.
Ah, for the pleasure of a boat in my dotage - but probably not another Fireball!

Posted by The Gray Monk at November 8, 2006 08:58 PM
Trackback Pings
TrackBack URL for this entry:
http://mt3.mu.nu/mt/mt-tb.cgi/4770