« The Fifth Season | Main | The Art of being Punctual »
November 12, 2006
Autumn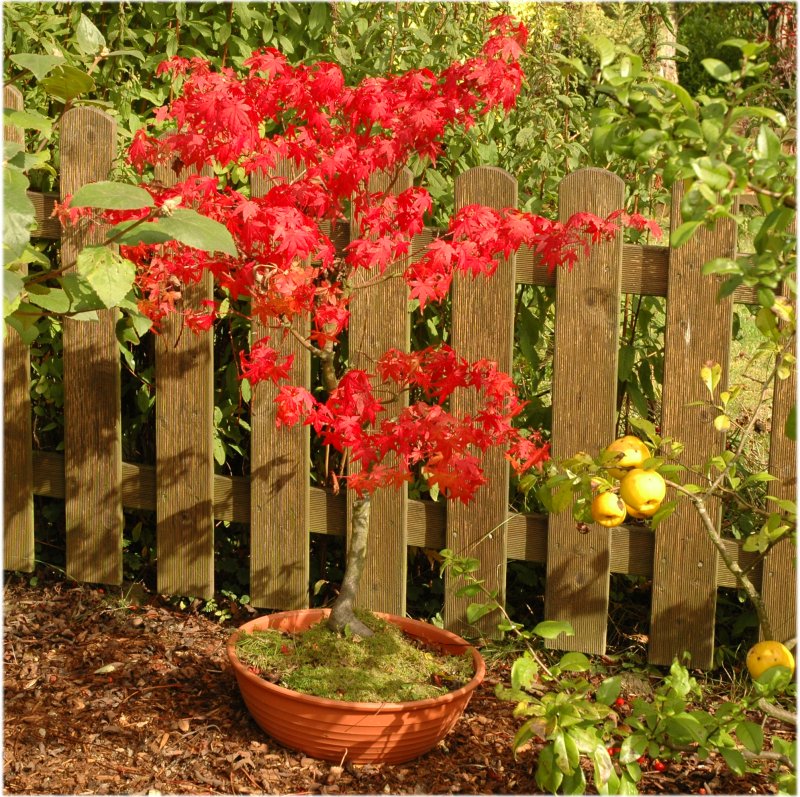 One of hte things I like about living more or less in the country is that you do not need the calendar on the wall to tell which time of the year it is. Every year I am fascinated by the first fresh green in spring which I can watch creeping up our hill every day when coming home from work. But even more spectacular are the colours of autums. One of my favourite inhabitants in my garden is this little maple tree which I try to cultivate as a bonsai tree. I got it when it was still a single twig, about 10 cm high. It has now been in my possession for 25 years. A very hardy little fellow, easy to keep even in winter who always greets autumn clad in this bright red colours.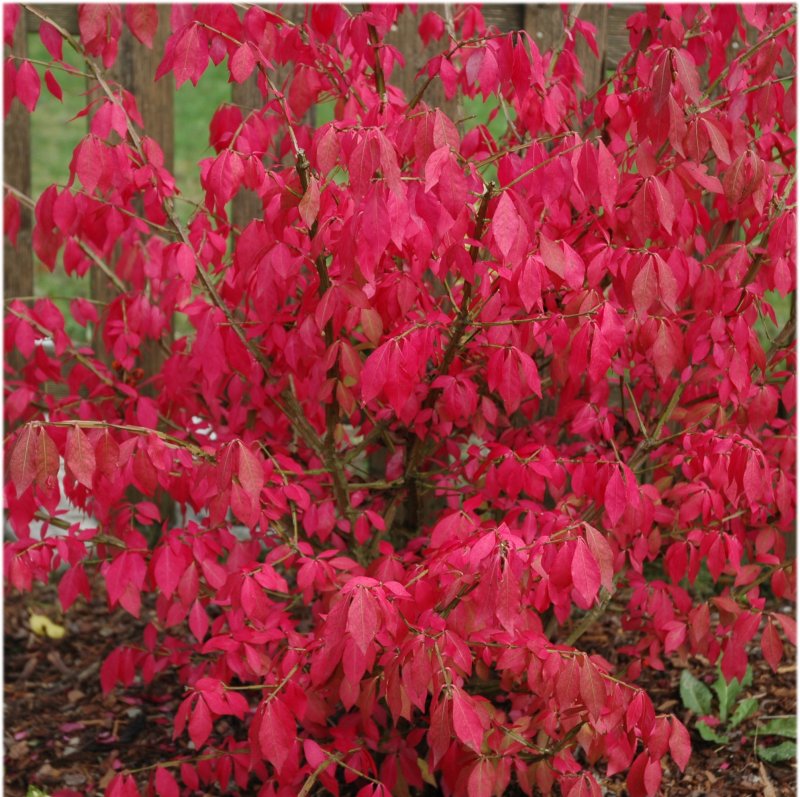 Another red autumnal dot in the garden is this Winged Spindle, a member of the Euonymus family which for some reason is called 'Pfaffenhütchen' (a little clergyman's hat) in German. I think, the fruits of some spindle trees or shrubs resemble hats as they are worn by the clergy in some countries. Whatever - the red colour is just great.
Another unmistakable sign of autumn are the wild geese and cranes flying south. I always enjoy watching them. Luckily, we live en route and are able to watch them almost every year. It never ceases to amaze me how they keep their formation despite their constant change of positions. And they are talking all the time. I'd certainly be out of breath before long if I had to keep flying and talking for hours at the same time. This year they were rather late. We've had a very warm October and they probably have been discussing if it was worth going south at all. Now they are all on their way and I wish them luck and a safe journey to their destination.
The rest of us who stay here are now looking forward to a comfy time indoors. With the storms howling outside and the rain pounding against the windows there's nothing like sitting inside with a cup of tea and a good book. We are ready for you - Winter!
Posted by Mausi at November 12, 2006 10:27 AM
Trackback Pings
TrackBack URL for this entry:
http://mt3.mu.nu/mt/mt-tb.cgi/4785
Comments
Beautiful pictures. I must laugh, I was looking around yesterday to see if there was anything I could take pictures of to show a change of season in Florida. I might post it later, but it looks like only the cypress trees change. grin.
Posted by: vw bug at November 12, 2006 12:08 PM
Thank you. That's one of the advantages of living so far away from the equator, you know - you really notice the change of seasons. I don't think I would want to live on the Azores or Canary Islands where the weather is more or less the same all year round and the foliage around you just green all the time.
Posted by: Mausi at November 12, 2006 09:04 PM
Wonderful. The Gorse Fox is quite jealous. For years, the Silver Vixen and gorse Fox would celebrate their wedding anniversary by selecting another acer to add to their growing collection. very few, however, survived the move to the coast. The salt winds and shade-free garden cut most of them down within a few months.
Posted by: Gorse Fox at November 13, 2006 11:06 AM