« Cruising around Helsinki | Main | A Dulcimer lay .... »
July 04, 2006
Don't park that ship here ....
My thanks to a former colleague and new reader of this blog for the photographs in this entry. The harbour entrance to the City of East London (South Africa in case you were confusing it with that other small city in the UK) is very tricky at the best of times. East London is South Africa's only river harbour and the tides and flows from the river make entering and leaving quite an artform. The city always had the services of three huge tugs (680 gt and developing around 100 tons bollard pull each under full steam power) but these have been replaced by small Schottel and Voith-Schnieder tugs of less than half the weight and bollard pull.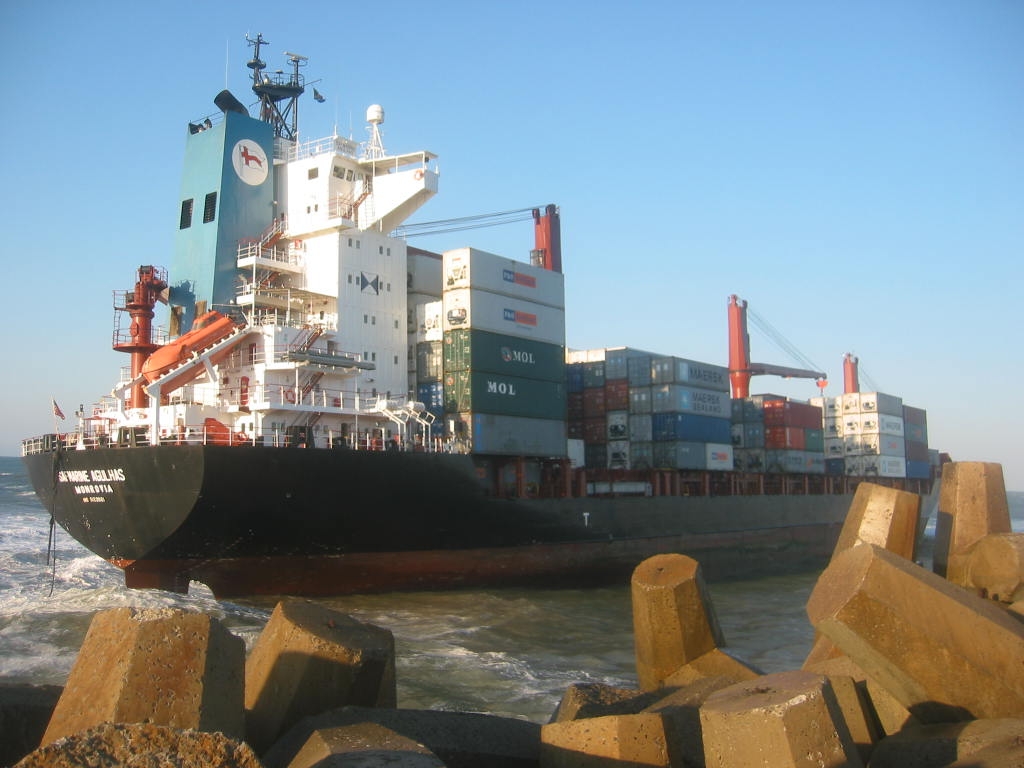 The SA Agulhas hard aground on the West Bank - the wrong place to try and park any ship at this port!
The latest casualty at this port is the SA Agulhas, a Safmarine "feeder ship" which collects containers for distribution along the coast, dropping off and picking up as she goes. She lost power as she cleared the bar at the extreme end of the Western breakwater that extends for almost a mile into the Indian Ocean at the mouth of the Buffaloe River and was taken by the tide, wind and current onto the shore behind the breakwater. This is a very rocky shoreline and thus far attempts to pull her off have failed.

The SA Agulhas aground off the Western Breakwater at East London. The entrance channel is in the forground and is between the viewer and the short pier visible with its fixed beacon in the picture.
In recent years several ships have been stranded in this position - all of them still there. The Agulhas would seem to be the latest victim of the unmanned engine room scenario so many ships now operate under. Minimal manning means that the engine room is frequently not manned at all once the engines have been started and run up to operating temperature. This, in turn, means that the "running maintenance" that used to be done by the oilers and greasers is also no longer carried out - and engine failure due to undetected minor problems suddenly becoming bif ones is becoming a more frequent problem. When an engine fails and cannot be restarted in a position where the ship is close to the shore, the results can be very expensive indeed.
Posted by The Gray Monk at July 4, 2006 10:37 AM
Trackback Pings
TrackBack URL for this entry:
http://mt3.mu.nu/mt/mt-tb.cgi/4453
Comments
Post a comment