« An avalanche of broken intentions .... | Main | The ethics of gene research »
June 21, 2006
Finlandia
As you might have read I went to a conference last week in Helsinki. The venue was Finlandia Hall designed by the famous Finnish architect and designer Alvar Aalto (1898-1976). You have probably come across one of his well known design elements, the wave, which makes for example his vases recognisable everywhere. But he is also famous for his monumental buildings. Finlandia hall is undoubtedly one of them.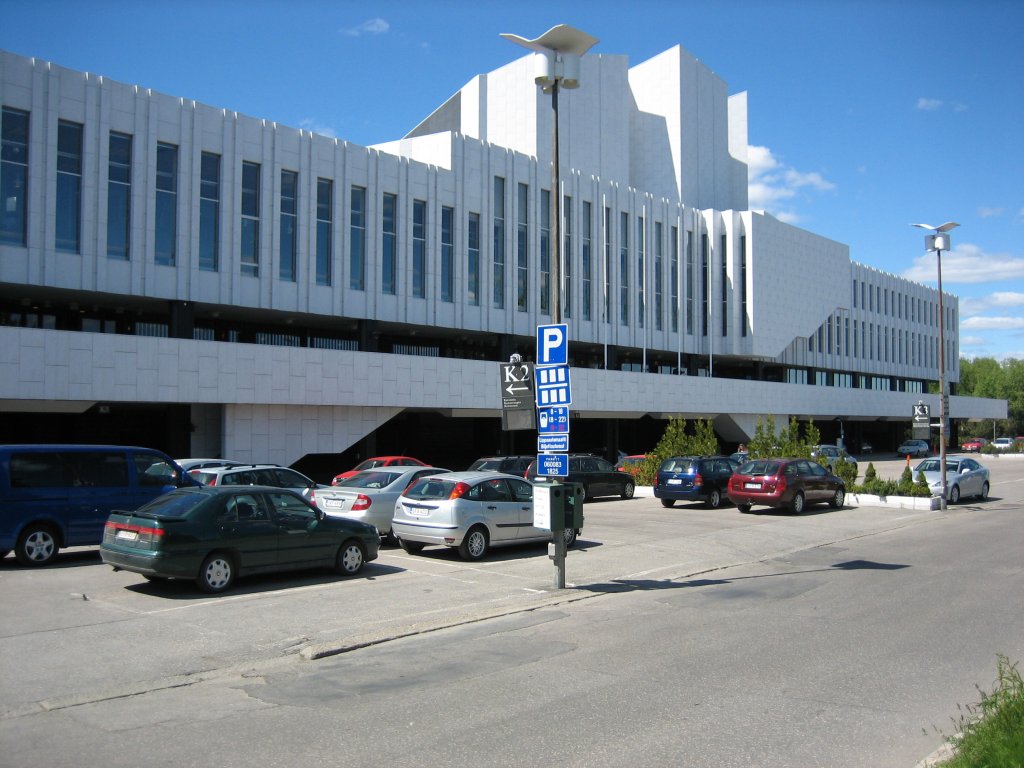 Part of the Eastern front of Finlandia Hall
Alvar Aalto intended Finlandia Hall as part of a whole ensemble of buildings comprising - among others - an opera house, an arts museum, the city library and a number of other public buildings. This ensemble was supposed to form a new central square opposed to the existing monumental square in the old city centre. The new aquare should symbolise the independence of Finland won in 1917. This was to be further emphasised by a Freedom Avenue (Vapaudenkatu) leading from the new square into the old city centre. This ambitious plan was never fully carried out, though, especially the Freedom Avenue bit but Finlandia Hall at least was built from 1967 to 1972.
The building is a striking in many ways. Lots of white marble from Carrara in Northern Italy have been used in its exterior and interior construction. The marble on the outside of the building contrasts nicely with black granite giving the whole building a friendly but elegant appearance. The reason for using white marble was Aalto's wish to introduce Mediterranean Culture into Finland. Looking at the Helsinki of today I would say he has been very successful indeed.
Finlandia Hall is a combined congress and concert hall with many separate rooms for conference purposes and musical performances. It can easily accomodate up to 3,000 visitors.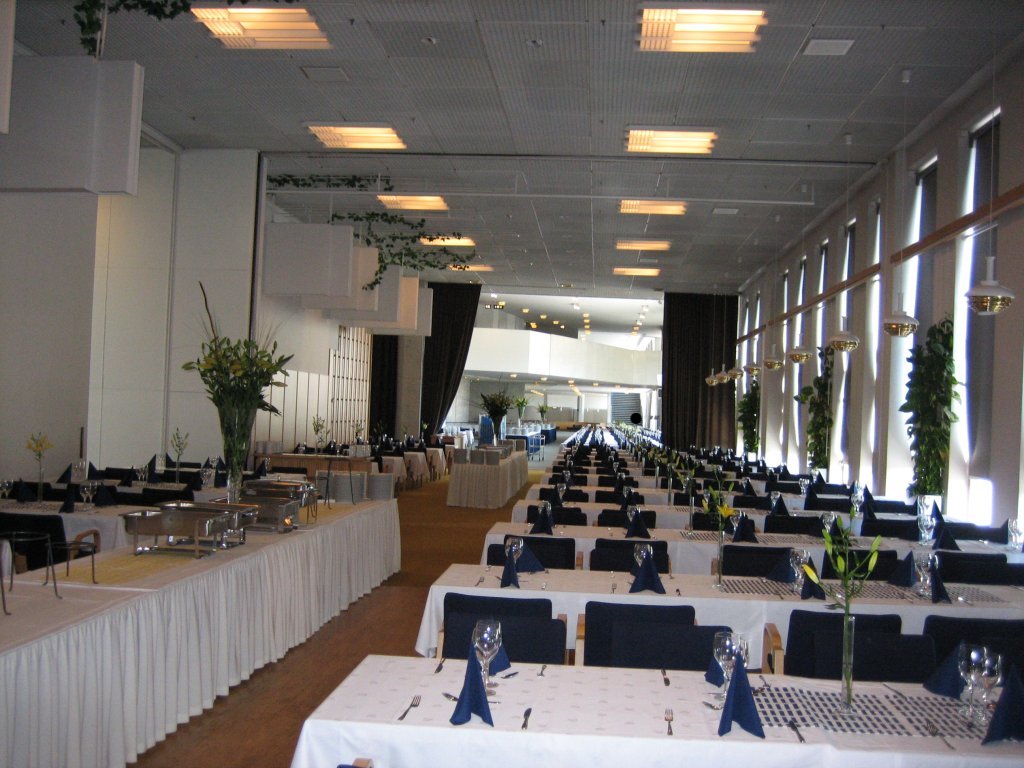 Tables laid for lunch for the 845 delegates
The architecture of the building is interesting to say the least, though not always very practical or user friendly. As there were several parallel sessions during the conference finding another lectures room would sometimes lead to quite adventurous walks through corridors and staircases. The overall impression, however, was one of a spacious, light-flooded building.
Typical for Alvar Aalto was meticulous attention to detail and high-quality construction. In Finlandia Hall every lightning fixture, every piece of furnituze, all mouldings, panels and flooring materials were especially designed for the purpose. The result is stunning in its simplicity and reflects Aalto's conviction that architecture should not attract attention itself but only serve as a background for human beings.
Posted by Mausi at June 21, 2006 08:35 PM
Trackback Pings
TrackBack URL for this entry:
http://mt3.mu.nu/mt/mt-tb.cgi/4409