« Stolen statues | Main | Bears in Europe »
June 04, 2006
A quiet day
Last week I met an American lady who has worked here in Germany for three years and is due to return to the United States in the near future. She told me that one of the things she really had to get used to at the beginning of her stay over here is the fact that all shops are closed on Sundays in Germany. She could not buy groceries, she could not take her clothes to a dry cleaner and there was quite a lot of other things she could not do either. But she also said that after a while she quite liked it because she got more things done on Saturday and then really had the Sunday to herself to enjoy a bit of piece and quiet or meet friends. Eventually Sunday became a special day of the week not just one where you caught up on the household chores you were not able to do while out at work. And she also said she'll miss that day when she goes back home.
Being used to a quiet Sunday myself all my life I have never thought much about it. Not until I stayed for a holiday with the Gray Monk. It came as a bit of a shock to me that we were able to go shopping for our Sunday lunch after church and that while we were eating the neighbours were out in the gardens noisily mowing their lawns and clipping their hedges. It made me realise just how much I enjoyed a really quiet day of the week. In Germany lawn mowing on Sunday is strictly forbidden. You may pull out a few weeds, though, if you do it quietly.
On today's post I'd like to share the photo below with you. In my opinion there's nothing like a view of the sea to put you in a tranquil mood. I hope you enjoy the photograph as much as we enjoyed the real thing on our way from Oban to Craignure.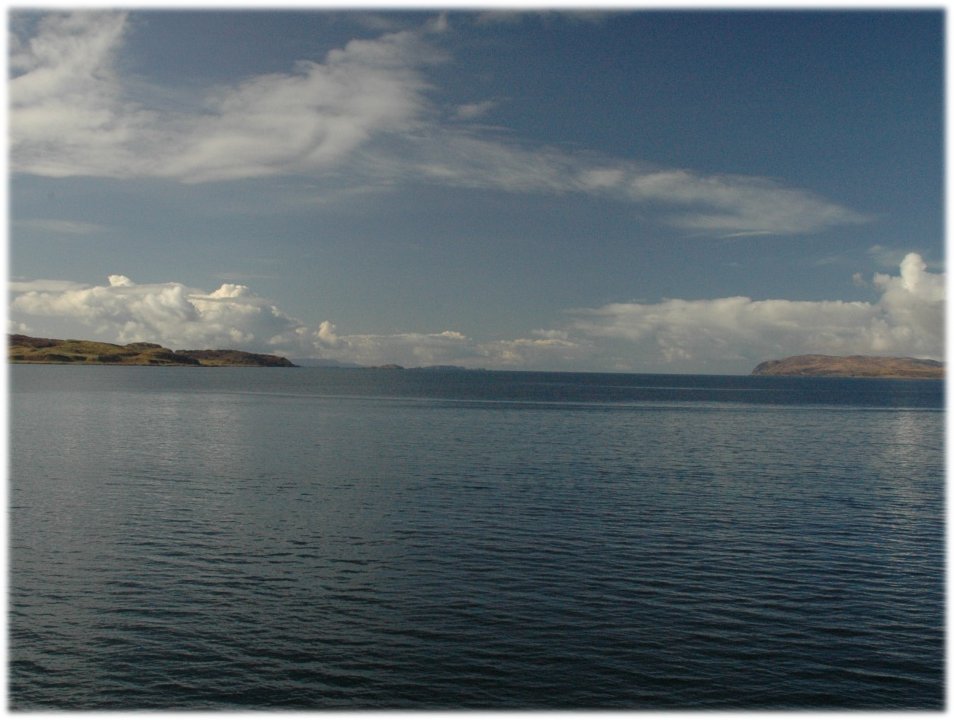 The sea between the Scottish West Coast and the Isle of Mull
Have a quiet day!
Posted by Mausi at June 4, 2006 08:34 PM
Trackback Pings
TrackBack URL for this entry:
http://mt3.mu.nu/mt/mt-tb.cgi/4349