« Guest Post | Main | This 'n that..... »
May 04, 2006
I came down from the Isle o' Skye ....
As the song says, "let the wind blow low, let the wind blow high ..." We left Mull with a fairly strong wind kicking up a small "chop" in the Sound of Mull, the channel between Mull and the mainland, on a ferry which runs from Fishnish to Lochaline. Then we took a very scenic route North and West on a single track "A" Road round Loch Sunart and following the A861 up the West coast to Mallaig where another ferry could be taken to Skye.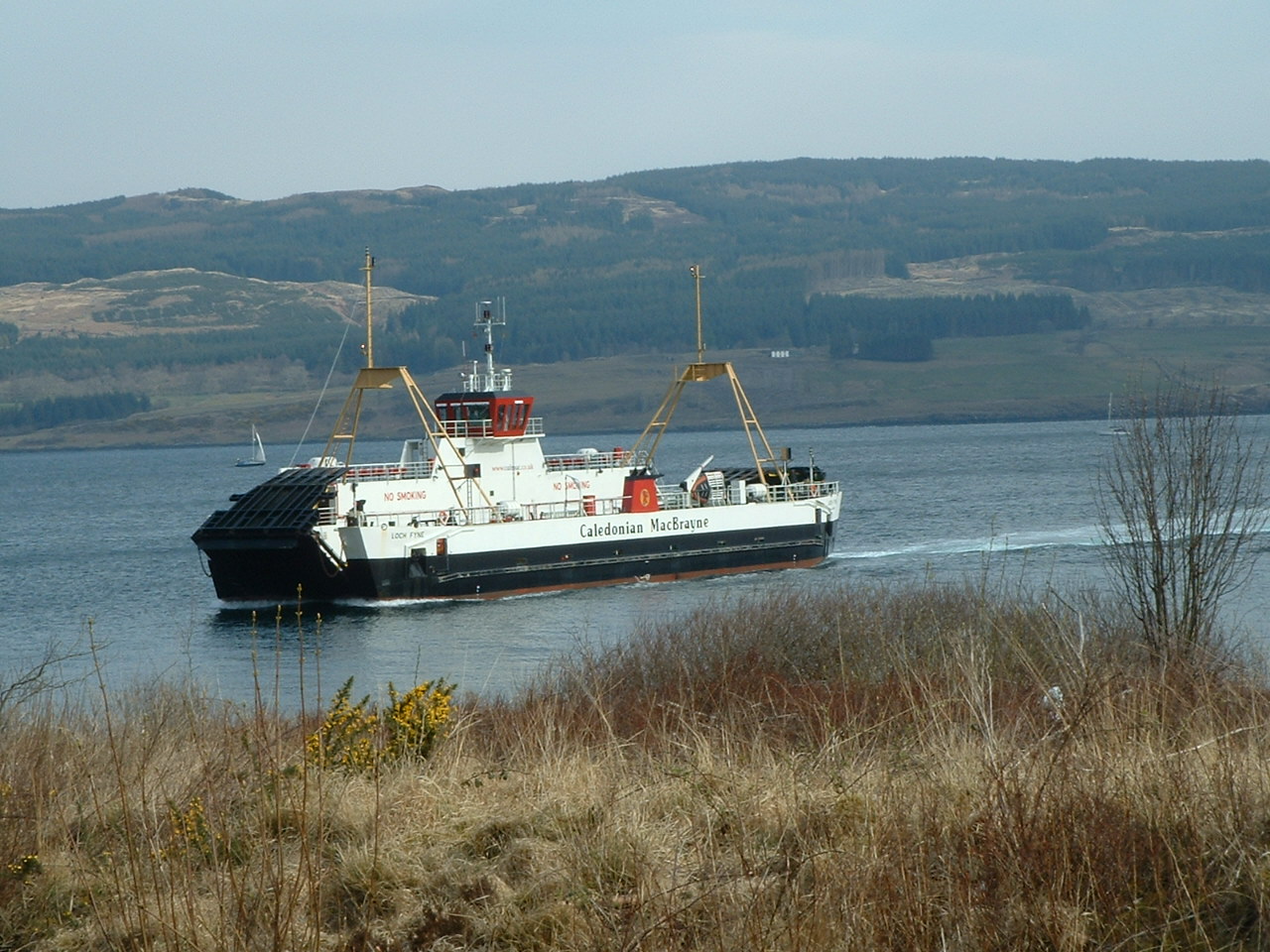 The small ferry that runs between the quanitly named Fishnish and the mainland town of Lochaline, seen approaching the Fishnish end of the run.
By the time we reached Mallaig, the weather had turned quite nasty - the rain driving at you with intent to wet, and the wind aiding and abetting in no uncertain terms. The sea in the Sound of Sleat was decidedly mobile, great lumps of water moving fairly swiftly, a real contrast to all our previous ferry trips and the boat ride to Staffa. That said, the ferry from Mallaig to Armadale is more than capable of dealing with the seas in this Sound and although a little lumpy, the trip was accomplished fairly smoothly.
Now it must be said that Skye can be one of two sorts of place. Beautifully tranquil and heavenly, or wet and windy as the other place! The drive from Armadale up the again single track A Road to Harrapool and thence to Portree was accomplished in really spectacular rain and wind. The windscreen wipers coped with the rain, the driver was a little less sure about coping with the sheep being blown off the hillsides and across the roads! That said we arrived safely, found, through the Tourist Information Office, a comfortable B&B and then set about exploring for a place to eat.
Portree was full of film crew on that day, something being made which stars Robert de Niro apparently, and all the hotels were fully booked as were most of the B&B's with a view of the more scenic parts of town, but we did manage to find a restuarant with superb food and a view out over the harbour. We can definitely commend to anyone who is planning to visit Skye a trip down onto the main quay in the tiny harbour, walk down to the end of the quay and just past a pink painted B&B you will find a small restaurant. Staff and food are great!
Islands can be very interesting from a weather point of view - we went to bed with wind and rain shaking the trees and lashing the streets - and woke to bright sunlight and gentle breeze the next day!
More tomorrow!

Posted by The Gray Monk at May 4, 2006 06:21 AM
Trackback Pings
TrackBack URL for this entry:
http://mt3.mu.nu/mt/mt-tb.cgi/4238