« Reforming the Lords - again? | Main | Spring has sprung, the grass is ... »
April 04, 2006
The march of progress ....
Visiting some of my old stamping grounds in South Africa a little over a year ago, I managed to get a couple or three of pictures of appliances from my past. Although I never actually used either of these "in anger" I did have a hand in the preservation and restoration of the older one of the pair, a 1932 Leyland Metz 85 foot turntable ladder unit. The one closer to camera is a Dennis F12 chassis carrying a 100 foot Metz Turntable ladder and belonged to the Johannesburg Fire Department at the time I was serving in Bloemfontein.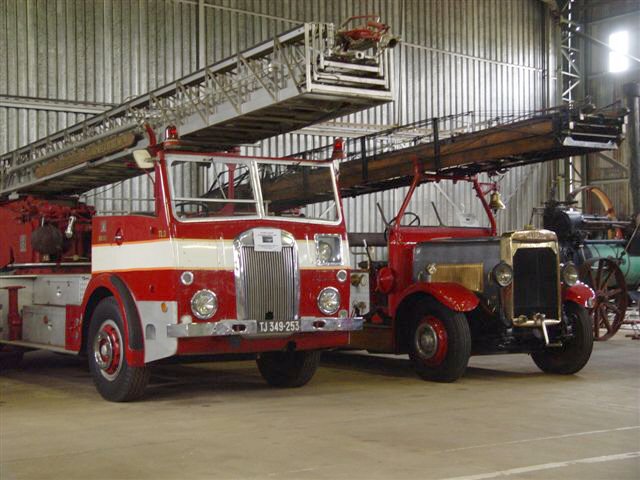 A DENNIS F12 chassis and Metz 100 foot turntable ladder stands proudly next to a LEYLAND chassis carrying a wooden trussed 85 foot Metz ladder. The Leyland dates from 1932 and the Dennis from 1961. Both are now the property of the Bloemfonetin Fire Museum.
The Dennis is powered by a Rolls Royce RB 80 8 cylinder, 8 litre petrol engine which, under load, achieves around 4 miles per gallon, the Leyland has a straight eight cylinder 9 litre capacity long stroke engine with horizontal carburation. This can be interesting if she backfires during start-up!
The museum in Bloemfontein is managed by the Bloemfontein Fire and Emergency Service and is based on the Station at Ehrlich Park on the Southern side of the city. It is home to a number of unique and unusual appliances and pieces of equipment including the 1932 Pump version of the Leyland TTL and a Morris Stanley pump built on a small Morris Commercial chassis and dating from 1930. The little Morris is still operational, although she is now treated with the respect due to an old lady of over 90 summers! It is well worth the time and effort to visit if you are passing through Bloemfontein!

Posted by The Gray Monk at April 4, 2006 04:20 PM
Trackback Pings
TrackBack URL for this entry:
http://mt3.mu.nu/mt/mt-tb.cgi/4126
Comments
Post a comment