« Challenging philosophies. | Main | Good Friday Liturgy »
April 13, 2006
Brunel's great ship
This is the 200th anniversary of Isambard Kingdom Brunel's birth. Isambard who? Probably the greatest engineer of the Age of Industrial growth, this man was playing with materials and ideas others had not even dreamed of - and he had some spectacular failures as well as some huge successes. His bridges are still in use, a tunnel under the Thames driven through clay and lined with brick was the idea of his father and finished by IK in partnership. The disasterous "Great Eastern" - the world's biggest steamer when launched and which bankrupted all but her last owners, was probably his greatest failure, but his successes where even more spectacular.
One of these, the impressive and unique "ss Great Britain" is preserved in Bristol in the Great Western Dock where she was built. The ship was so innovative and so huge that many predicted disaster from the moment she was conceived - yet she served valiantly from launch in 1845 until damaged off Cape Horn and seized by the Falkland Islands Comapny as a wool store and isolation hospital. Finally, in the 1930's she was towed round the island from Port Stanley and sunk in shallow water in a cove from which she was finally recovered in 1970 and brought hom to Bristol. Now she is being restored and visitors can see at least some of the genius that was Brunel's greates achievement.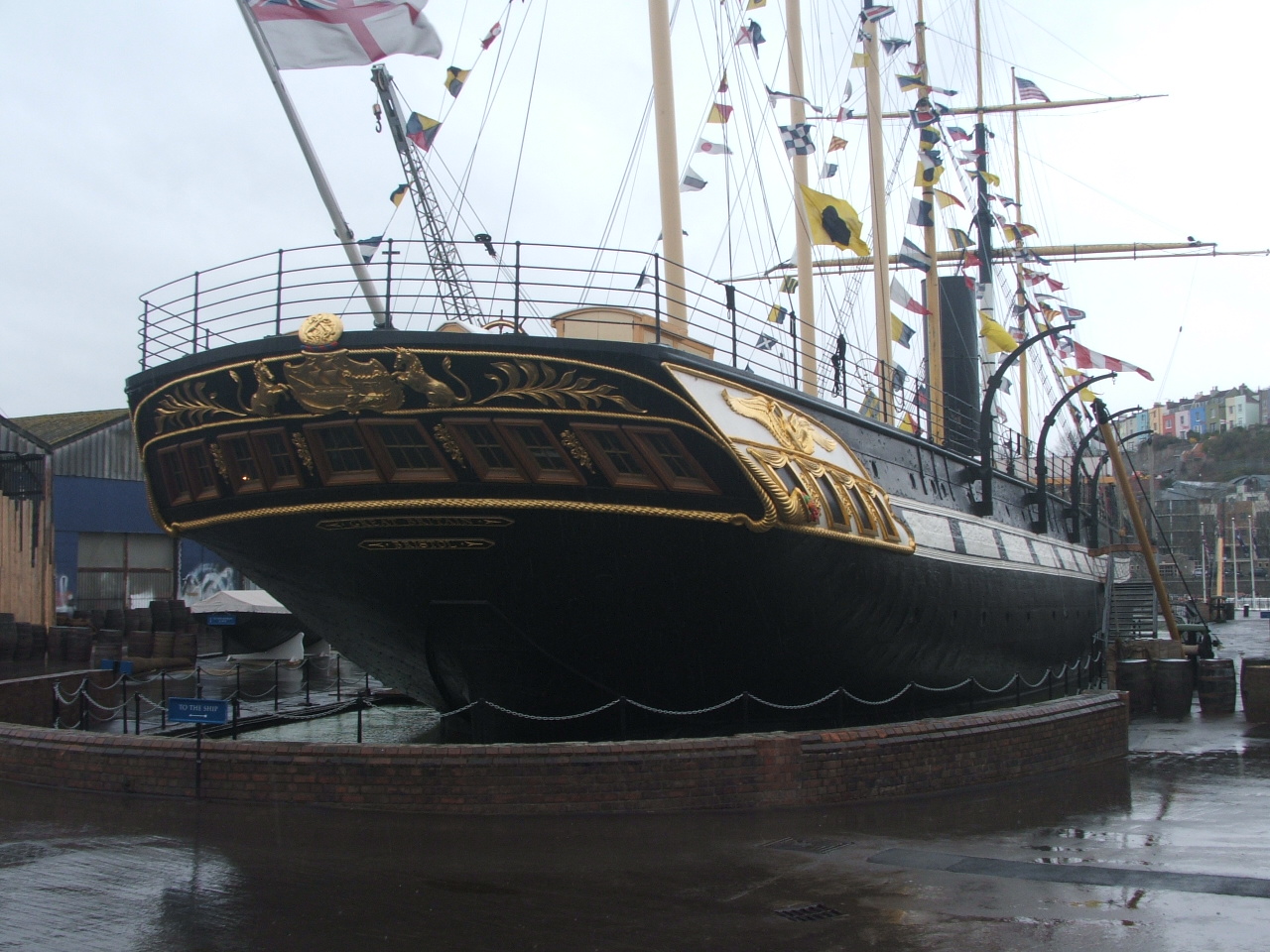 The beautifully restored upperworks of the "Great Britain" as she lies in her dry dock.
Present work includes the reconstruction of the engines Brunel designed to drive this then leviathan of the ocean - an inverted steam compound engine that used a huge flywheel to drive a proppellor shafte via massive iron chain belts. Everything on this ship had to be designed from start - Brunel had no previous examples to work from of anything like this scale (His previous ship, the Great Western was a composite hul and much smaller - also using paddle wheel propulsion) and included having to design an efficient screw propeller, a balanced rudder which made her easier to steer than many smaller ships, and much of the engines themselves. His spacing of the frames, construction of the double bottoms and even the working of the wrought iron plates that made her hull strakes all had to be calculated and designed from scratch. Even the interiors did not escape his attention to detail and these were as lavish in parts as they were functional elsewhere.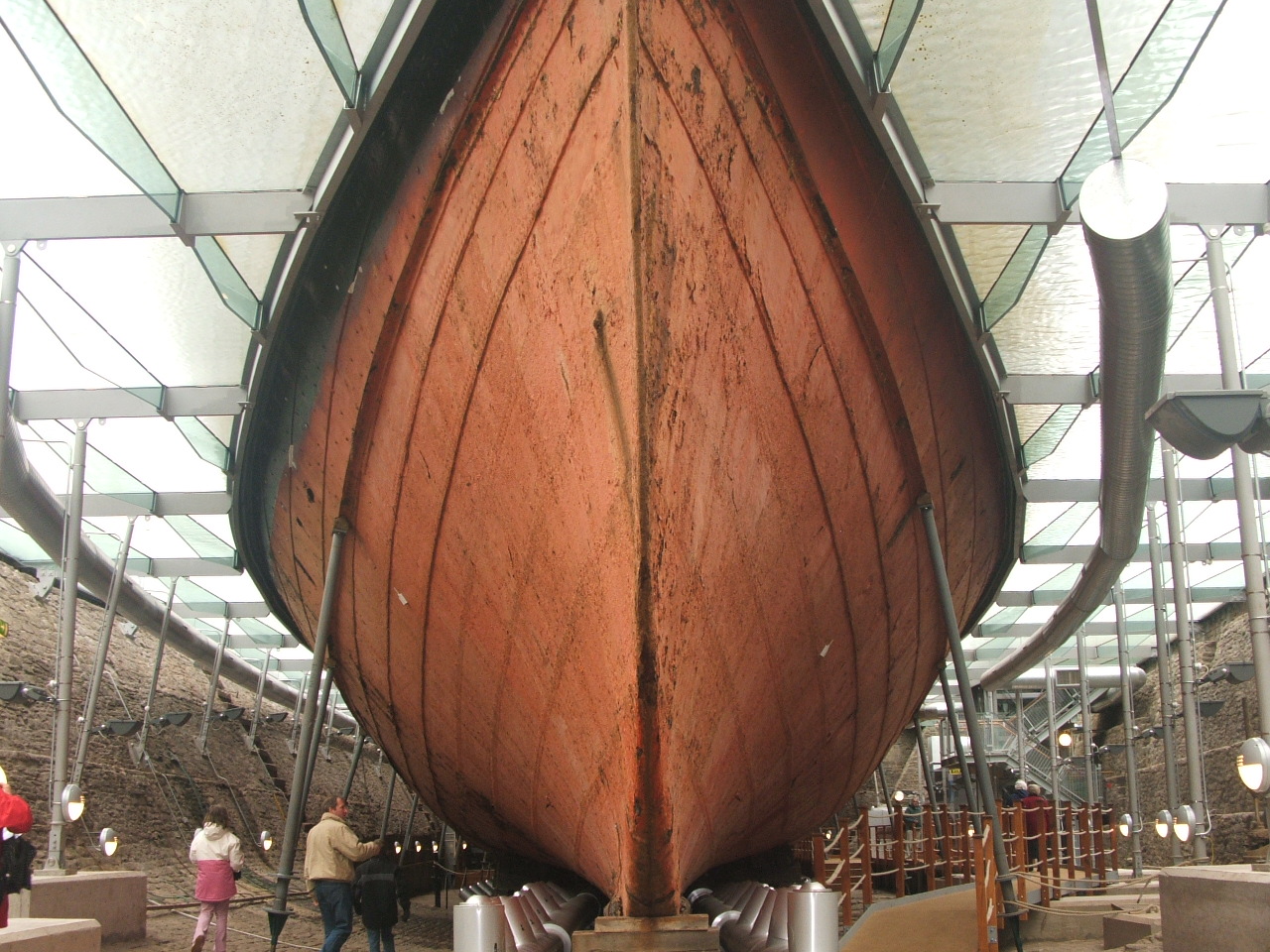 The fine lines of the "Great Britain's" underwater hull can be admired from the floor of the dock in which she is preserved. Her gracefull hull form gave her a very efficient entry and exit at bow and stern and meant she had a fair turn of speed under both steam and sail.
She burned 30 tons of coal per day under steam and carried sufficient to steam across the Atlantic and have a small reserve. Once she was switched to the Australian emigrant run she had to rely on sail power and was converted to sail only. She proved very successful on this and on her next manifestation carrying coal to Australia and wheat home.
Watch this space for a little more on this wonderful ship - I have a whole slew of pictures of her interiors and some more on her other features!
Posted by The Gray Monk at April 13, 2006 07:01 AM
Trackback Pings
TrackBack URL for this entry:
http://mt3.mu.nu/mt/mt-tb.cgi/4177