« London Transport (an oxymoron) | Main | Spare the rod and spoil the child ..... »
January 22, 2006
Old Houses
The Odenwald (Odin's Wood) is an area in the South of the Federal State of Hessen, where I live. It's a lovely landscape with soft sloping hills and, of course, a lot of woods and forests. Over the centuries it has always been a favourite hunting ground. It also offers a grand view into the valley or rather the plain that is occupied by the River Rhine.
One of the most famous and beautiful towns of the Odenwald is certainly Michelstadt. "Michel" is an old German word meaning "big". It seems quite small, however, nowadays and you can easily walk along the city wall around the old town. It is beautifully kept and restored and the half-timbered houses are quite a sight as I found out last summer.
The most famous building of Michelstadt is the Old Town Hall. It was built in 1484 and it is still in use! What really intrigues me is that it was actually built eight years before Columbus discovered America! The oak beams that form the structure of this building are more than 500 years old! And they still look good.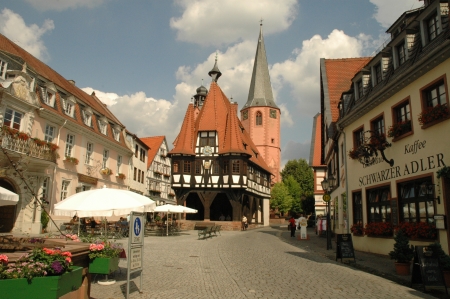 Market place with the Old Town Hall
The lower open hall was used as a court hall. An iron rod the length of an "Elle" (yard) is incorporated into the left oak pillar. So disputes about the correct length of a piece of cloth could be settled on the spot. In bad weather the market stalls would move in there as well.
The upper hall was used for various purposes: council meetings, Catholic Church (the one behind the town hall is Lutherian), hospital, school room and others. Council meetings took place in there as late as 1973. Then the room became too small. Nowadays it is used for representative purposes and as a registrar's office.
I hope the oak pillars and beams will carry on another 500 years! Houses like this make you aware by how much history you are surrounded.
Posted by Mausi at January 22, 2006 05:23 PM
Trackback Pings
TrackBack URL for this entry:
http://mt3.mu.nu/mt/mt-tb.cgi/3864
Comments
i am inthe process of redecorating an old bathroom with white tile and would like to paint the tile and an old porceline tub . i would also like to paint old z-brick any suggestion?
Posted by: kristy atha at March 16, 2006 01:26 PM
No I haven't. I am afraid I am not really an expert on the interior of old houses.
Posted by: Mausi at March 16, 2006 06:50 PM