« Merry Christmas | Main | Signs of stress? »
December 26, 2005
Kununguak
The Gray Monk's posting from December 11 'Searching for a spiritual meaning' set me off thinking what had been the heroes of my youth. Certainly not pop stars. We probably didn't have so many then. Instead I was absolutely fascinated with polar explorers like Roald Amundsen and many others. I read up every book I could find on them in the library and wished very much I could have taken part in a polar expedition myself. Even today I am dreaming about spending in year on Spitzbergen.
Well, at least I've made it to Greenland and was able to visit the birthplace of the famous Danish explorer Knud Rasmussen, who was born in Jakobshavn in 1879. His father Christian worked there as a parson and philologist. I am not sure the church of Jabobshavn today is still the one Christian Rasmussen worked in but it may well be.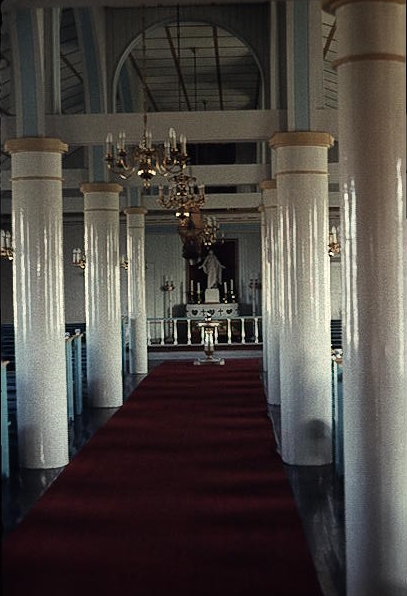 Inside Jakobshavn church
Knud Rasmussen's playmates were mostly Greelandic people from whom he not only learnt their language but also their way of living and surviving. The Innuit always had a deep respect for him and called him 'Kununguak' which means 'litte Knud' for he couldn't have been more than five feet.
During his famous expedition from 1902-1904 he spend the winters among the Innuit in the polar region. From 1906-1908 he conducted ethnographic studies in the Nortwest of Greenland and founded the trading post Thule in 1910. Thule served as a starting point for seven further expeditions between 1912 and 1933 into the North as far as the Bering Strait.
Knud Rasmussen died in Copenhagen on December 21,1933. Legend says he had eaten a Greenlandic delicacy: birds are rolled up in big stripes of fat and buried in the earth. After some months they are dug up again and eaten. Obviously this time he fell ill after the meal and never recovered from it.
Today Jakobshavn is one of the 'bigger cities' at the West coast of Greenland Scandinavian style houses like the municipality building mix with rather ugly multi-storeyed ones as can be seen on the left of the photo below.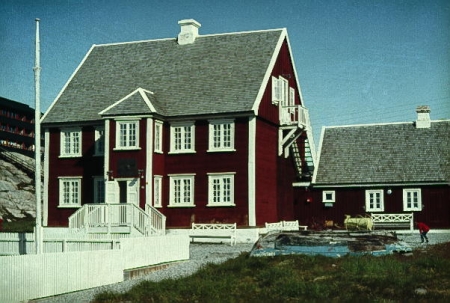 Municipality building of Jakobshavn
The government made Innuit people give up their traditional way of living and settled them in flats instead. That caused a lot of problems, at least twenty years ago. Two of them were unemployment and alcoholism. Apparently it is not as easy to change traditional ways of living as some well meaning bureaucrats think. Jakobshavn had (and probably still has) as fish factory. But they had trouble finding people to work there in summer. Because in summer people take out their boats and go fishing themselves. That way they probably earn less money than in the factory but have a lot more fun. Whoever would change a day out in the open among beautiful icebergs and the sun on one's face for a day inside a sticky and humid fish factory with no view at all?
Posted by Mausi at December 26, 2005 05:10 PM
Trackback Pings
TrackBack URL for this entry:
http://mt3.mu.nu/mt/mt-tb.cgi/3630