« Tommy Atkins | Main | Yew Power »
November 19, 2005
Sunny expedition
Being a cat I seldom fail to be amused by my people. Two years ago they set out on an expedition to the north of the Scottish mainland to watch the annular eclipse in the early hours (4.44 a.m.) of May 31,2003. I should perhaps tell you that He is a hobby astronomer and over the years has become a keen watcher of the sun. He usually prefers a warmer climate for his holidays but the prospect of watching an eclipse easily overcame whatever doubts he had about spending time in Scotland.
They insisted on a cat sitter for me during their absence and asked a friend of theirs to stay with me. I could have managed very well on my own with a little bit of assistance from our neighbours who are great friends of mine - but who am I to object to a personal slave? And to own the truth, he looked after me very well.
My people packed up their camping equipment, a few spare clothes and set off in the middle of May. Camping in Scotland in May - they must be mad. They told me afterwards that they were almost washed away by a firs class rain storm when camping at the foot of Ben Nevis during their first week. But the weather gradually improved from then on.
On May 29 they reached their observation post at the camp site of John o'Groats and secured a place next to the beach with a beautiful view of the sea. Only a few campers were present at the site although the newspapers had said that thousands were to be expected for the event at the Scottish coasts.
The next morning they decided to take a long walk along the coast. It was a beautiful day, rather sunny with a gentle breeze from the sea. They walked until they reached some steep cliffs around midday where thousands of seabirds were nesting.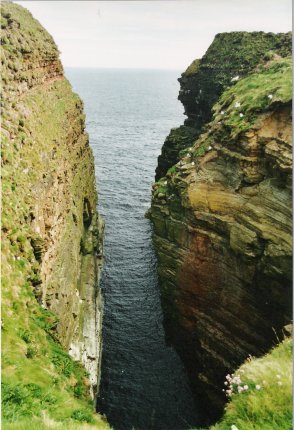 Seabirds certainly have a way of picking a place with a view ...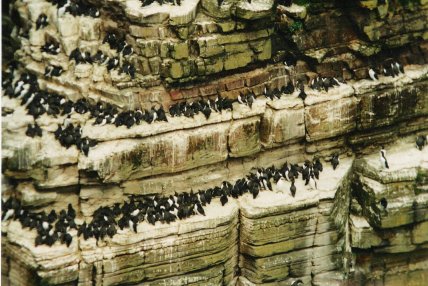 ... catproof but rather crowded!
When they came back in the late afternoon the atmosphere on the camp site had changed completely. Whereas in the morning there had only been a few tents it was now absolutely packed with tents, caravans and people and bustling with activity. The biggest tent belonged to a local TV broadcasting station. The TV people were already interviewing the hobby astronomers about the oncoming event. Whoever was not being interviewed was busy rigging up his telescope to be prepared for next morning.
Apparently nobody got much sleep that night and He was up and out of the tent at least an hour before the eclipse was about to start. At last the long awaited moment had come: and he saw NOTHING! Absolutely nothing! Of course, whoever knows a bit about the sea knows that there's a good chance of a bit of mist rolling in from the sea at sunrise. Watching a solar eclipse at that time of the day might be difficult! On that day of all days the mist was even thick enough to totally obscure the sun for hours. What a pity.
As I said before: people are funny. Fancy, going hundreds of kilometers to see nothing. Could as well have stayed at home with me!
Posted by Mausi at November 19, 2005 08:27 AM
Trackback Pings
TrackBack URL for this entry:
http://mt3.mu.nu/mt/mt-tb.cgi/3470