« Pensions and politics .... | Main | Crime, punishment and rehabilitation »
November 29, 2005
Preserving old glass
One of the great treasures of the Abbey is it's beautiful collection of 14th Century stained glass in the Quire clerestory. Quite how it all survived the attacks of the iconoclasts and the ravages of several civil wars, religious turmoil and the ravages of time, we will probably never know in full. But time has caught up with us! Condensation is slowly destroying the pigments - particularly on the North facing side - and it is also destroying the leading which holds the whole window together.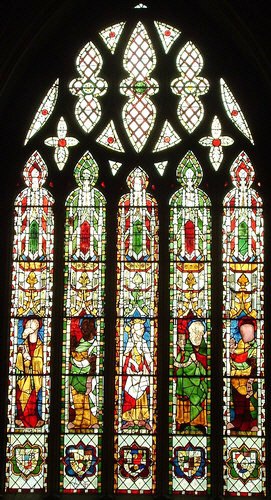 One of the magnificent 14th Century windows in the East Quire range of the Clerestory, depicting Kings and Prophets.
The time has now come for us to spend mega money on doing something to preserve them for the future. We have to install an outer glazed element to effectively create "double glazing". This is a technique called "iso-thermal glazing" and it allows a constant natural airflow between the inner and outer glazing generated by natural "convection" currents and which prevents the formation of condensation on the inner window. The problem is the money. The Abbey, despite its historical importance and unique history, receives no funding from government, lottery or local government. We have to raise it all ourselves.
Thus, as I have mentioned before in an earlier ramble, we are launching a Campaign to raise £2 million to carry out essential repairs - and the windows will absorb around £250,000 of that. The rest goes on repairing and replacing stonework, repairing aging timbers, and other essential works to keep a 900 year old building standing. Anyone wanting to contribute to this can contact the Campaign Manager through the Abbey website.
Every contribution will be a great help!
Posted by The Gray Monk at November 29, 2005 06:01 PM
Trackback Pings
TrackBack URL for this entry:
http://mt3.mu.nu/mt/mt-tb.cgi/3057